With Valentine's Day upon the horizon why not find some sweet inspiration with these beautiful cakes and bakes laden with love and romance. They're perfect for Valentine parties, intimate dinners or to finish a romantic wedding reception with finesse!
Here's 5 Valentine's cake design ideas that you're bound to fall head over heels for!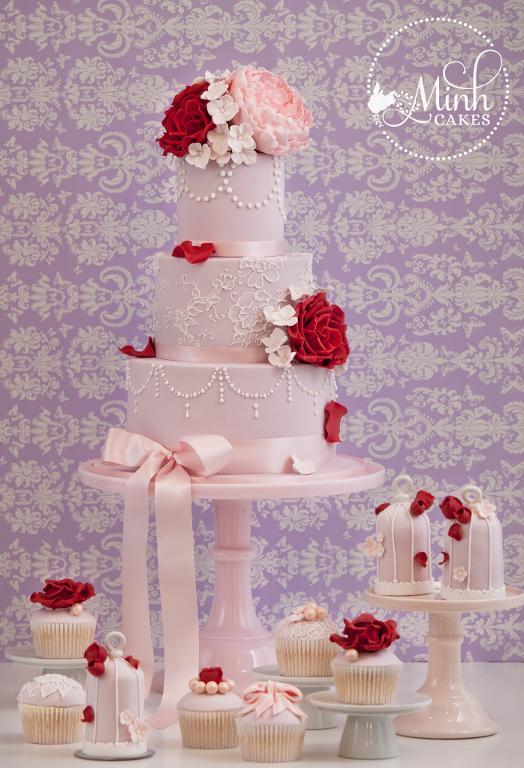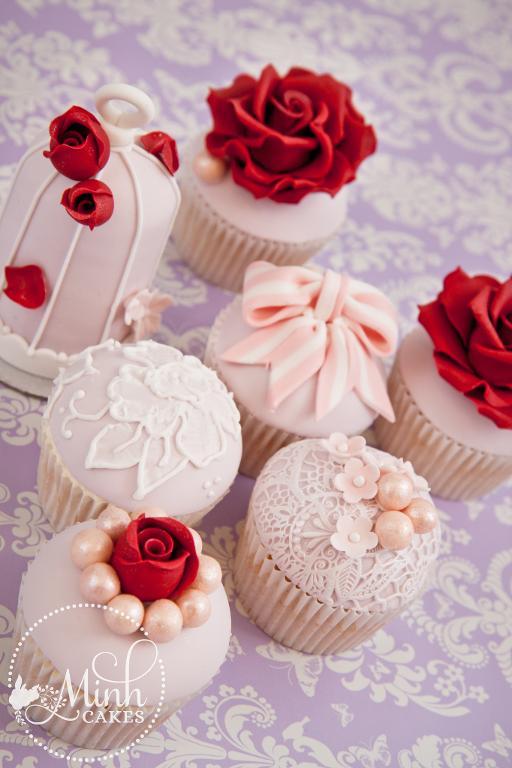 Photos via Bluprint member Minh Cakes
Pink with red rose cakes and cupcakes
This gorgeous collection of cake, mini-cakes and handcrafted cupcakes are just perfect for a romantic celebration! We absolutely love the simple yet elegant color palette combined with the different techniques and textures from fondant accents, intricate lace to royal icing brush embroidery!
To discover how to create stunning sugar roses why not sign up for Nicholas Lodge's The Ultimate Sugar Rose class today and begin your journey to designing and decorating breath-taking cakes that will always take center stage!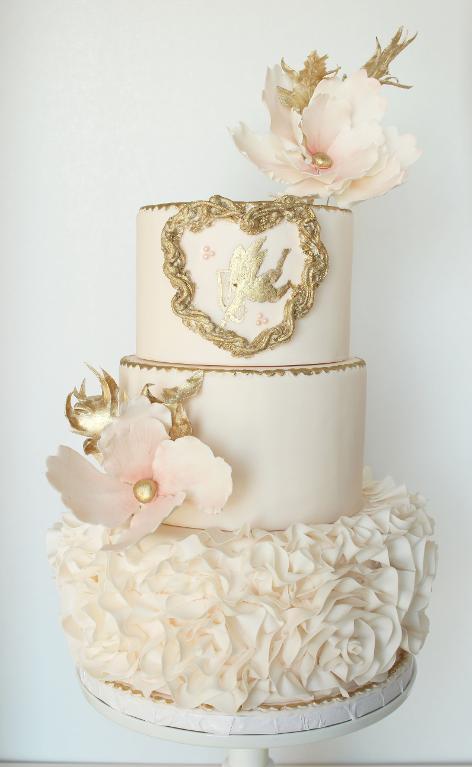 Photo via Bluprint member Cocoa Lane Sweeterie
Golden cupid cake
This elegant cake is not only modern and chic, but evokes just the right amount of Rococo-influenced style to make it simply unique! The fondant rosette ruffles on this cake are to die for aren't they? Just look at how soft and silk-like they are — they certainly look like they were taken from a couture gown!
To discover how to create sumptuous and delicate fondant ruffles, sign up for Maggie Austin's fabulous Fondant Frills class today! You'll also learn how to create stunning sugar cabbage roses, maker your own gum paste and make on-trend ombré influenced designs!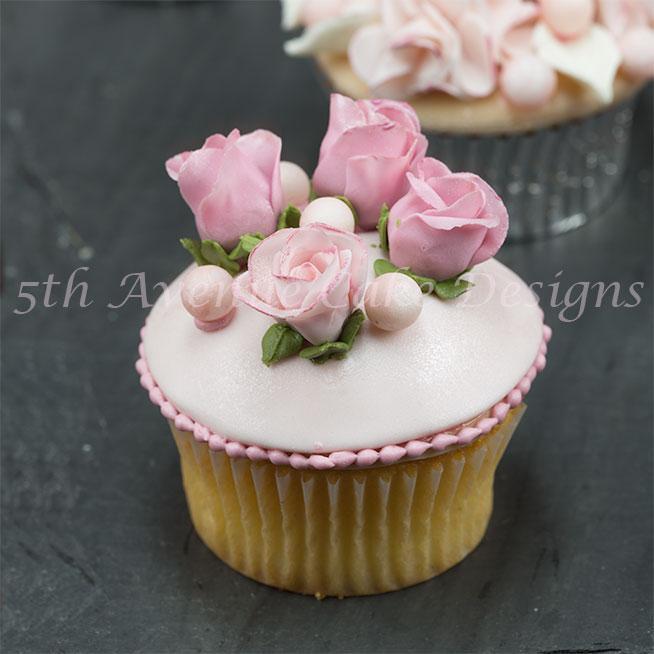 Photo via Bluprint member Bobbiesbaking's
Rose adorned cupcake
Cupcakes are always a wonderfully sweet and petite way to show your appreciation for someone you love. Why not adorn a freshly baked cupcake with miniature pink roses dusted with shimmer and surrounded with elegant sugar pearls?
The gorgeous cupcake above is simple and expertly made with a variety of fondant accents and techniques.We also love the tiny details added with royal icing from the green rose leaves to the tiny pink pearl border!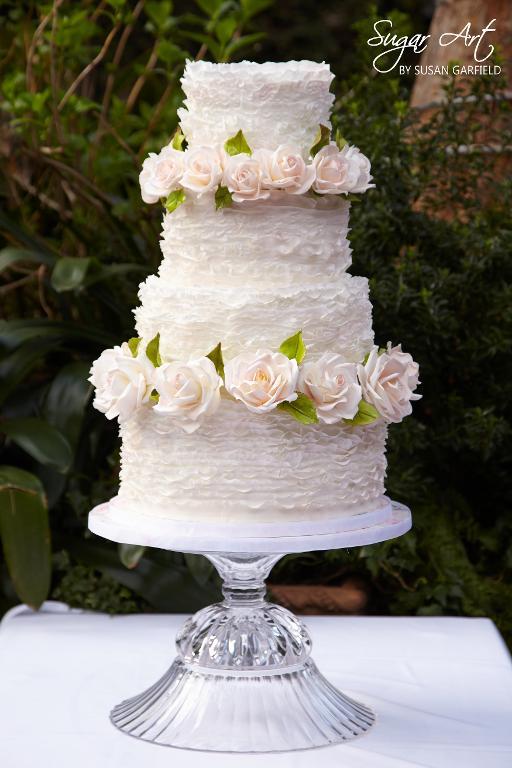 Photo via Bluprint member SugarArtBySusan
Ruffles and roses wedding cake
This ruffled wedding cake is fabulous and so sumptuously textured it'd be such a shame to cut into it! All 4 tiers are positively covered with delicate fondant ruffles — perfect for a romantic party!
To create a perfect sugar rose why not sign up for Nicholas Lodge's The Ultimate Sugar Rose class today — you won't be disappointed! You'll discover vital tips, tricks and techniques that will take your flower making skills to the next level.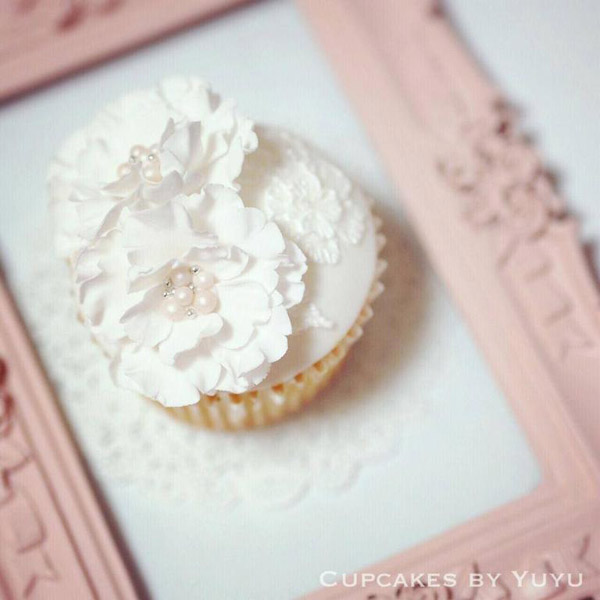 Photo via Bluprint member cupcakesbyyuyu
Open peony and brush embroidered cupcake
This wonderfully sweet and pretty floral adorned cupcake is perfect for presenting to a loved one. We love the attention to detail and jeweled elements from the sugar pearl centers of the tiny open peonies to the delicately painted brush embroidery added to the fondant icing. The incredibly subtle ice pink and ivory hues help keep all of the attention focused on the intricate design of this couture-influenced cupcake.
Discover some incredible ideas, designs and techniques with the help of Jennifer Shea's The Perfect Cupcake class and sign up today to begin creating your own stunning petite treats!
Creating a heart-melting cake or a romantic whirl of cupcakes is a sweet and delicious way to show your loved one just how much you appreciate them.
Obviously, anything incorporating a love theme is perfect for carefree and vibrant wedding receptions and parties too. Find inspiration in any (or all) of the above delights and get designing your own romance-inspired cake now!
Which sweet treat do you love: cakes, cupcakes or both?