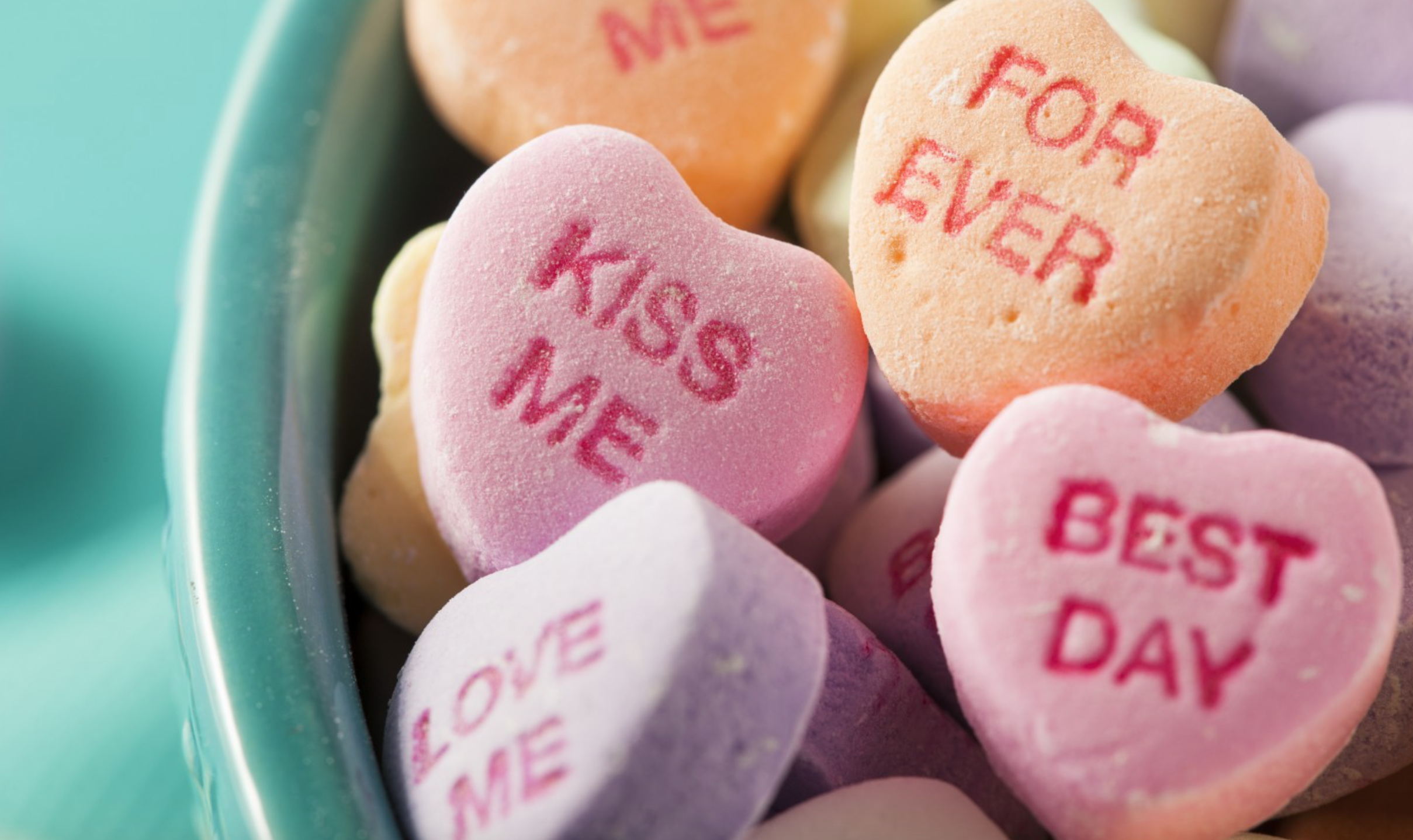 Store-bought conversation hearts are cool, but you can make 'em even sweeter in your own kitchen. With this recipe, you can customize colors, flavors and sweet sayings for Valentine's Day and make your own conversation hearts — what's not to love?
Homemade Conversation Hearts
Yield: 50 to 100 hearts, depending on size
What You Need
Ingredients
1 packet (¼ ounces, or 2 teaspoons) unflavored gelatin
½ cup water
1 tablespoon light corn syrup
2 pounds (a typical weight for a large bag) confectioners' sugar, plus extra for dusting your work surface
Assorted flavoring extracts of your choice (we used clear vanilla extract)
Assorted food colors of your choice (we used liquid food coloring)
Tools
Heart-shaped cookie or fondant cutters
Plastic wrap
Rolling pin
Gloves
Edible markers
Instructions
1. Make the Dough
Place the corn syrup, gelatin and water in a small saucepan. Heat on medium heat for 30–60 seconds, stirring constantly, until the gelatin is completely dissolved. Remove from heat. Pour the gelatin mixture into the bowl of a stand mixer fitted with the paddle attachment. With the mixer on low, add the confectioners' sugar one cup at a time, mixing until completely incorporated. Pause to scrape down the sides and bottom of the bowl with a rubber spatula as you add more sugar. Pro Tip: Don't use a hand mixer. The dough will be so thick that mixing it will be difficult with the less powerful mixer. You'll see the mixture progress from a thin consistency, like a glaze, to a thick, opaque dough with a texture like clay. When you handle it, it'll be very firm but pliable.
2. Knead
Dust your work surface and hands with confectioners' sugar. Remove the dough from the mixing bowl and knead as if it were bread dough. Add more confectioners' sugar as needed to prevent the dough from sticking. Knead until the dough is no longer sticky, but smooth with a satin-like sheen on top.
3. Color and Flavor
Divide the dough by how many colors you want to create and roll each into balls. Cover the dough with plastic wrap until you're ready to use. Pro Tip: If you'd like to flavor and tint all of the dough the same flavor and color, you don't have to divide the dough. Simply knead in about 1 teaspoon of flavoring and several drops of your chosen color. While wearing gloves, knead your first ball of dough with a few drops of food coloring and a small dot of flavoring until the color is evenly distributed. Pro Tip: You don't need much food coloring to get the traditional pastel hues of conversation hearts. For flavor, 2–4 drops should be enough if you've divided your dough into 4 or 5 portions, depending on how strong you'd like the candies to taste. Repeat this step until all the dough is flavored and colored. When not in use, cover the dough in plastic wrap so it doesn't dry out.
4. Shape the Hearts
Dust your work surface and rolling pin with more confectioner's sugar and roll out the dough to your desired thickness. For fat candies, roll to about ⅓" thickness. For thinner candies, ¼" thickness works well. Good to Know: The thinner the dough is rolled, the more fragile the finished candies will be. Cut out hearts from the rolled dough. The size of the hearts is up to you — you can use tiny cutters for an authentic look, though take note they'll be harder to write on. Pro Tip: This dough isn't well suited for re-rolling, so cut the hearts as close together as possible. If you do try to re-roll, the dough might crack.
5. Let Them Dry
Wait 24 to 48 hours for the hearts to dry before writing on them. If you write too soon, they will bleed (even if they firm up quickly). You can do a test by writing on the bottom of one and letting it set for 10 minutes. If it doesn't bleed, you can start writing your words of love on top.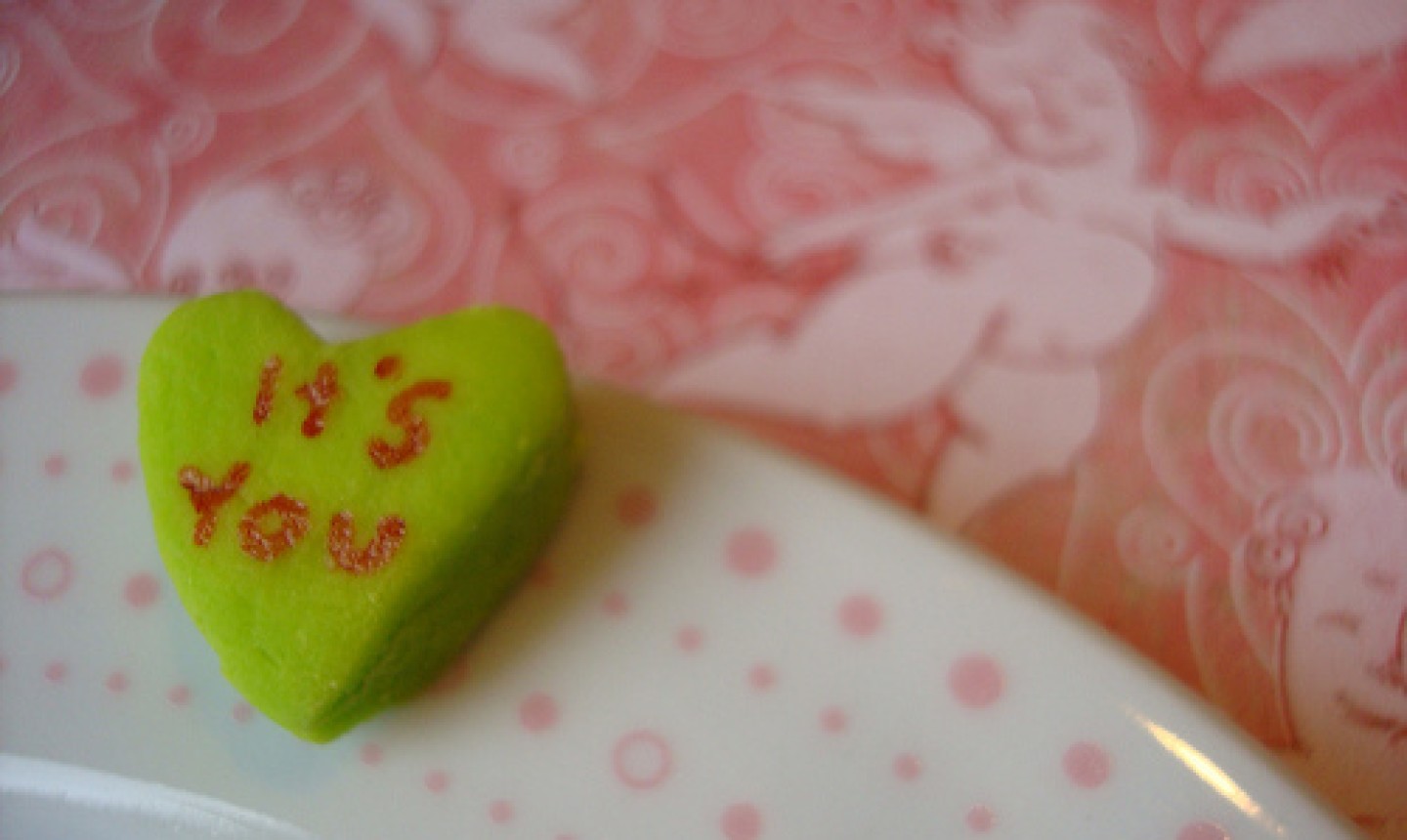 Let the hearts dry for 30 minutes after writing. Then they're ready to gift!