Sometimes you really don't need to spend hours or even days painstakingly creating realistic sugar flowers for your latest cake. Sometimes a delicately ruffled fondant flower is enough to add a touch of elegance to your creation.
Ruffled flowers are perfect for cake designs that need the focus to stay on other aspects of the cake and they're wonderfully unimposing for designs of the more modern persuasion too! With this in mind we've created a fabulously easy tutorial on how to create a frilled fondant flower — perfect for adorning everything from three-tiered cakes to tiny cupcakes.
Add a little ruffle and flair to your next design with ruffled fondant flowers!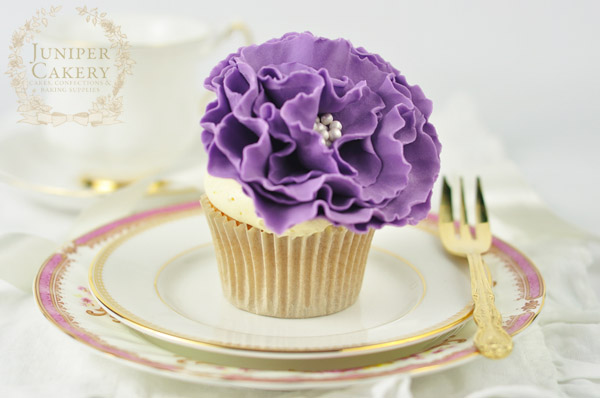 Photos via Juniper Cakery
Materials needed:
CMC or Tylo powder
Fondant rolling pin
3 circle cutters in descending sizes
Flower forming cup, saucer or teacup
Plastic wrap or kitchen paper towels
Cornstarch to dust
Edible sugar pearls (optional)
Foam pad
Large ball tool
Food safe paintbrush
Edible glue
Step 1:
Roll out your fondant that has been mixed with a little CMC or Tylo powder to a thickness of approximately 2 mm.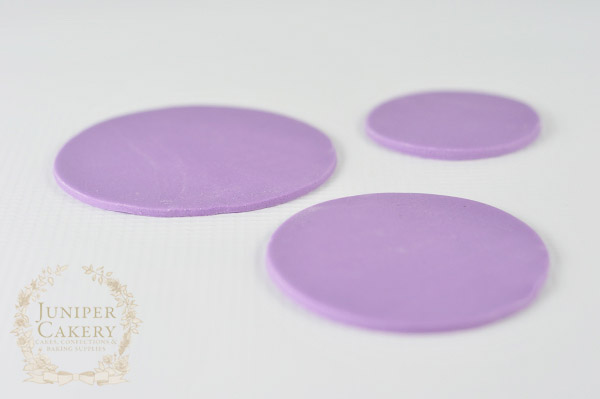 Step 2:
With your circle cutters cut out two of each size from the rolled fondant. You should be left with 6 circles of fondant in three sizes.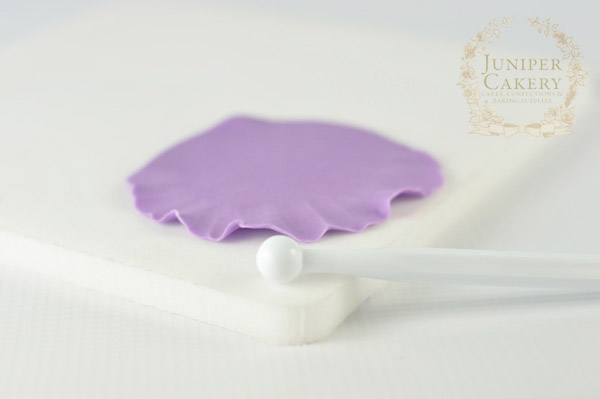 Step 3:
Repeat this step with every fondant circle from the largest to the smallest piece. Place a circle (remember to begin with the large size, then medium and then finish with the smallest circles of fondant) on the foam pad and thin/ruffle the edges with a ball tool. Do this by carefully dragging the ball tool across the edges of the circle.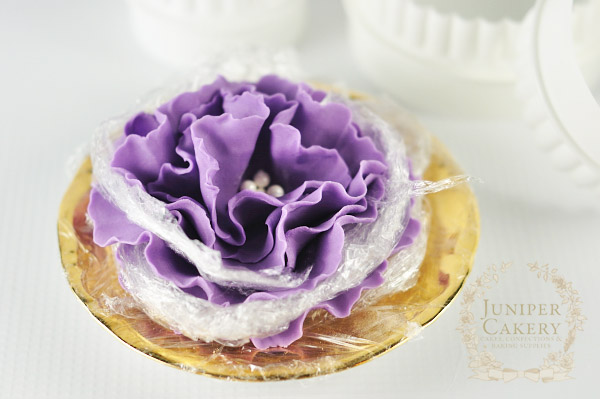 Step 4:
Line your flower forming cup, saucer or teacup with plastic wrap or kitchen paper towel. Place your large ruffled fondant piece first, add pieces of plastic wrap or kitchen towel around the edges, dot a little edible glue on top and lay on your next ruffled circle. Tweak the ruffles and add small wads of plastic wrap or paper towel to hold the ruffles in place. Repeat with all fondant circles from the largest size to the smallest.
Step 5:
This step is completely optional depending on how ruffled your flower is. If you can see into the center of your bloom why not stud the middle with edible sugar pearls and a little edible glue!
Step 6:
Leave your ruffled flower to fully set. This may take a few hours depending on how humid or warm the climate your working in is. Once your flower is ready (carefully touch a ruffle to check if it has hardened) you can gently attach it onto your cake or cupcake with a bit of royal icing or melted white chocolate! Why not customise your ruffled flower further and use scalloped edge circle cutters, delicately paint a gold trim onto each ruffle or perhaps even vein each circle lightly to create a petal-like texture to each piece!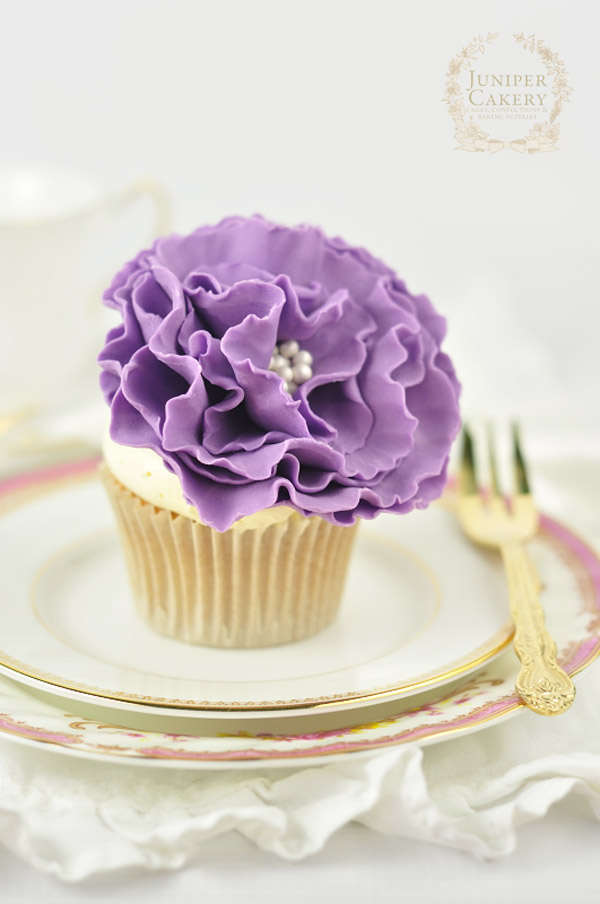 [box type="shadow"]
Ruffled fondant flowers work perfectly alongside pretty frilled cakes!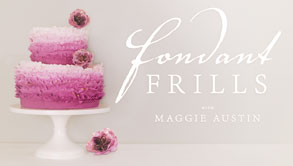 Elicit "Ooh-La-Las" with elegant ombré cakes! Get step-by-step guidance and personalized advice from couture cake artist Maggie Austin, without ever leaving the convenience of your kitchen. Watch nine easy-to-follow video lessons anytime, anywhere, forever, and bookmark your favorite concepts to return as often as you'd like. With our 100% money back guarantee there's no risk in trying this online Bluprint class!

Sign me up! >>

[/box]
What's your favorite flower to create?