If you're not one to pour your heart out just because it's Valentine's Day, let a quintessential holiday treat — conversation hearts — do the talking! Incorporate these sweets into your Valentine's Day cupcakes with this sweet and simple fondant conversation heart tutorial, along with an adorable Kawaii character!
Sweet talk your loved one with fondant conversation hearts to top your Valentine's Day cupcakes!
Creating a conversation heart out of fondant is extremely simple, making it the perfect cupcake topper for Valentine's Day, especially when you have to make multiples.
What you need:
Fondant in white, black, pastel pink, yellow, orange, green and purple
Two ¼" wooden dowels 
Medium heart cutter
Red and black edible markers
Powdered sugar
Round decorating tips Nos. 3 and 10
Water/edible glue and brush
Pink shimmer dust and brush
White gel paste
Toothpick
Small bow mold
Optional: Alphabet cookie stamps
Fondant conversation heart cupcake topper tutorial
Step 1: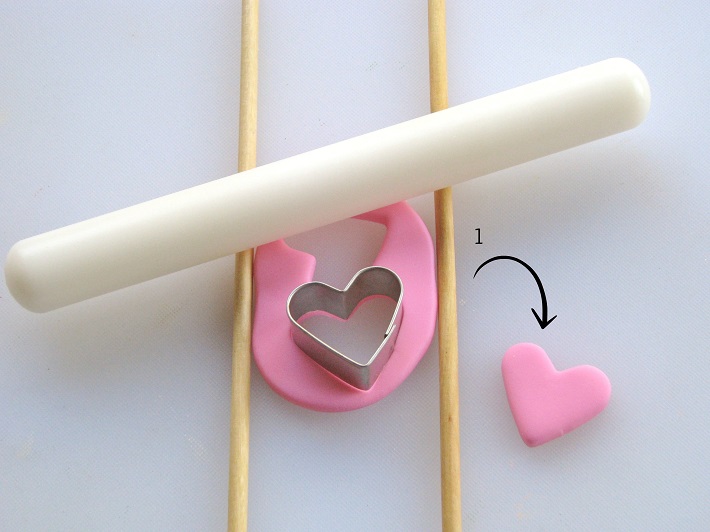 Start out by coloring fondant the traditional pastel colors of the classic candy: pink, yellow, orange, green and purple. Of course, you can always change it up with any color you like!
Roll out one color of fondant thick, using of the ¼" wooden dowels as guides. This helps you to roll it out fairly thick to resemble conversation heart candies and, at the same time, make sure they all remain uniform.
Use the medium heart cutter to punch out heart shapes, and don't forget to smooth out the sides to remove any strays left from the cutter. Repeat this step with the remaining colors and allow them to dry (at least overnight).
Step 2:
Once the fondant hearts have dried sufficiently, you're ready to write your messages! Feel free to use the traditional sayings, or get creative and modernize them a bit. Or, if you're making the Valentine's Day cupcakes for a party, you can leave them blank and allow guests to write their own messages!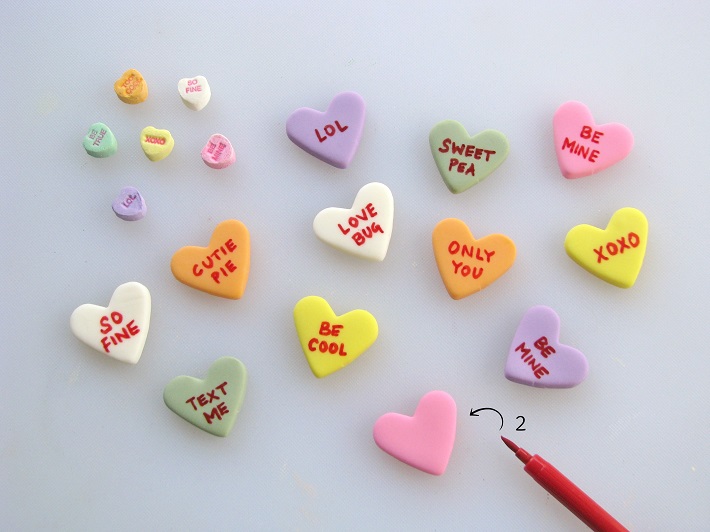 With a red edible marker, carefully print your desired text onto the heart toppers. Don't press too hard, as the ink will soften the fondant and seep directly into it. 
You can also paint the letters with the combination of gel paste color mixed with a clear alcohol (like vodka) if you're more comfortable with it or do not have edible markers, though I find the markers much easier.
Once the ink has dried, use a brush to lightly dust powdered sugar over the toppers, which gives them a chalky look.
Step 3: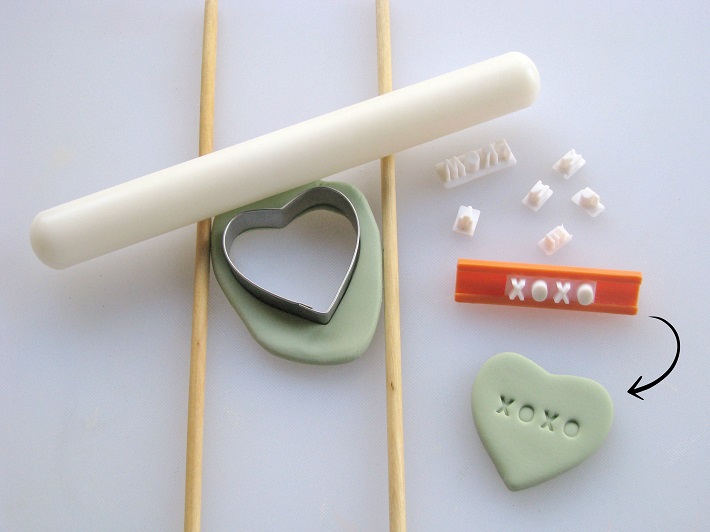 Another option is to use alphabet cookie stamps to impress the letters directly into the fondant. My stamp set came with loose letters, along with some pre-formed words. They also often came with a stamp holder — if you have one too, make sure to insert the letters with the word written backward. Depending on the size of your stamps, you might need to make bigger hearts to fit your messages.
Kawaii heart cupcake topper tutorial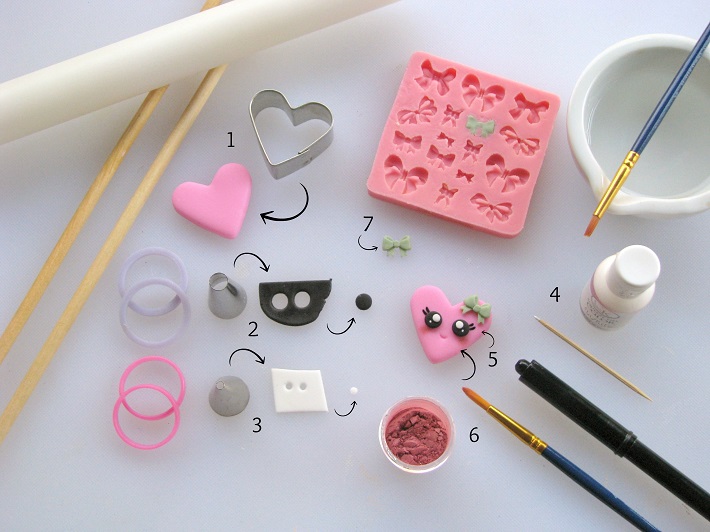 Step 1:
Roll out fondant (in your desired color) thick with the rolling pin and ¼" wooden dowels as guides. Punch out a heart with the medium heart cutter.
Step 2:
Roll out black fondant with the rolling pin and 1/8″ guide rings. Punch out two circles with round decorating tip No. 10 for the eyes and glue them to your fondant heart. Use the same decorating tip to make the mouth: Hold it at a 45-degree angle and gently press down to make a small indentation.
Step 3:
Roll out white fondant with the rolling pin and 1/16″ guide rings. Punch out two circles with decorating tip No. 3 for the pupils and glue them over the black fondant eyes.
Step 4:
Dip your toothpick into white soft gel paste and dab it next to the white pupil on one of the eyes. Repeat with the other eye.
Step 5:
Draw little eyelashes on the sides of the eyes with the black edible marker.
Step 6:
Lightly brush pink shimmer dust onto the cheeks of the heart with a brush. Be careful not to put too much! Tap your brush to remove some of the excess.
Step 7:
If you want to dress up your Kawaii heart character, place some different colored fondant into your bow mold, allow it to take shape, then gently remove it. Glue the bow to the heart to finish her off and allow it to dry thoroughly before embellishing your cupcakes!