Whipping up a tasty treat for your sweetie doesn't need to require a lot of time or effort! The easiest heart cake ever comes together in a flash with NO carving required. Spend more time nuzzling your honey bunny and less time in the kitchen by finishing this simple heart cake with one of my four fast and fun decorating techniques. 
Make the easiest heart cake ever!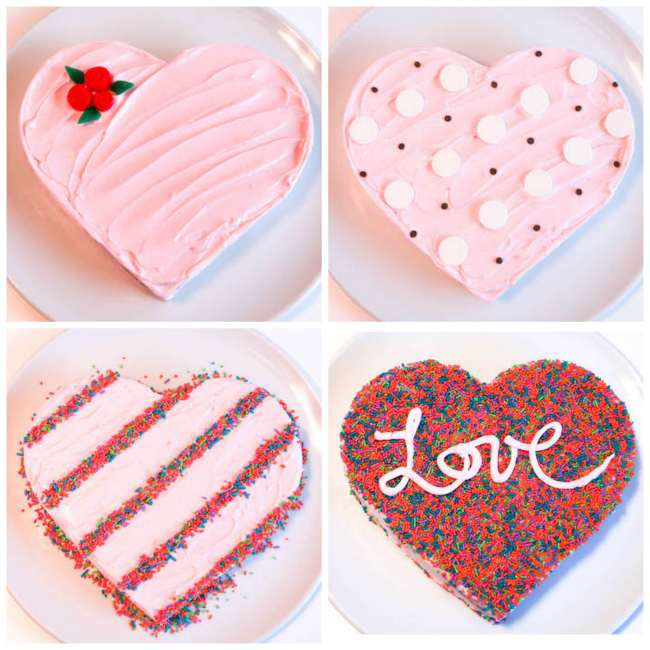 Images via Erin Bakes. 
Supplies for a simple heart cake:
6″ round cake
6″ square cake
Knife
Optional design supplies:
Pink and green taffy candy
White coating chocolate disks
Mini chocolate chips
Parchment paper
Rainbow sprinkles 
Step 1: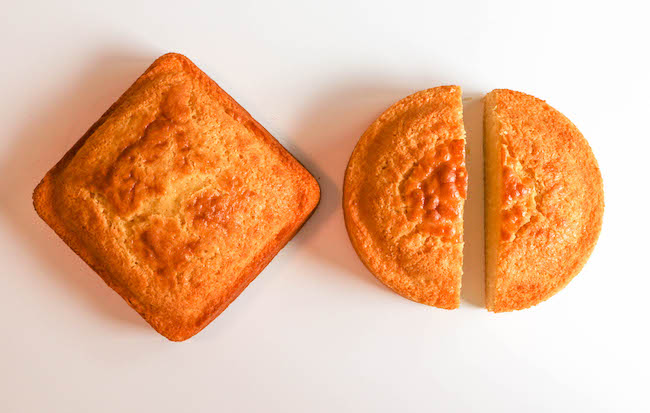 Cut the round cake in half. I used a 6″ round and a 6″ square cake. This technique will work with any size cakes round and square cakes, as long as the diameter of the circle is the same as the length of the sides of the square. 
Step 2: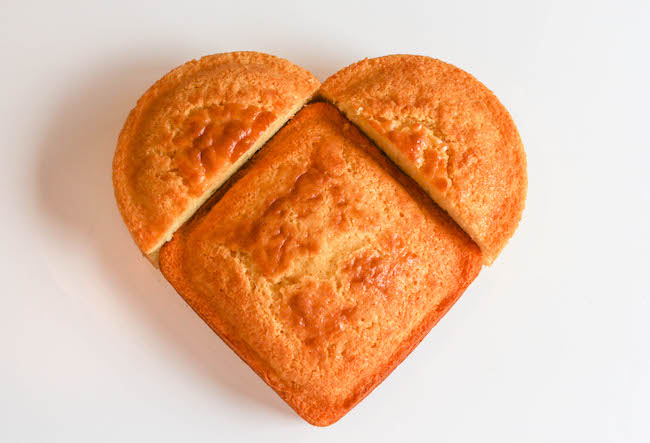 Place one half of the round of cake beside the square cake so that the flat edge sits flush against one of the sides of the square.
Place the other half round so that the flat edge sits flush against one of the adjacent sides of the square. Sounds way more complicated than it really is! In about 30 seconds flat you'll have yourself a sweet and simple heart cake. ❤️?
Step 3: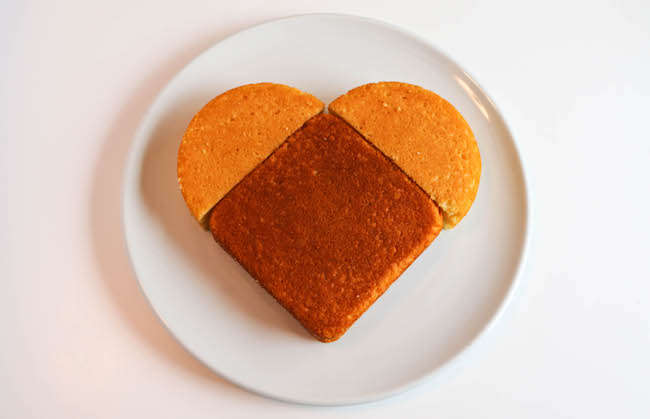 Trim the tops of the cakes to make them level (here's how). Flip the cakes over. The flat surface of the cakes will be easier to ice and decorate. 
Step 4: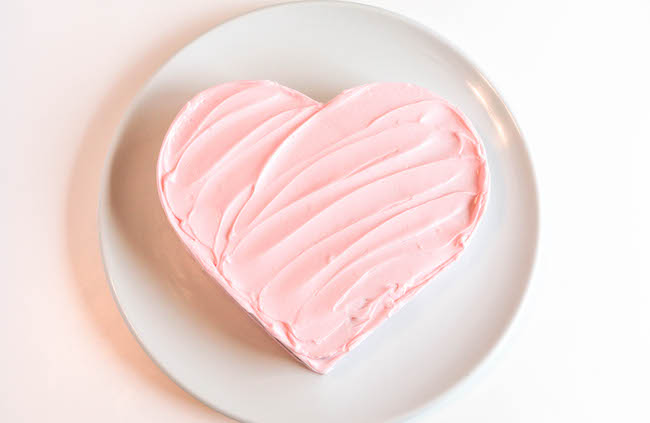 Ice the cake with buttercream and decorate! 
4 fast and fun ways to decorate a heart cake
1. Candy roses
Roll up a piece of flat, chewy taffy candy (like Air Heads). Cut the roll in half and sit the rolls on their cut sides in a little cluster. Cut a square of green taffy candy in half diagonally to make leaves. 

2. Polka dots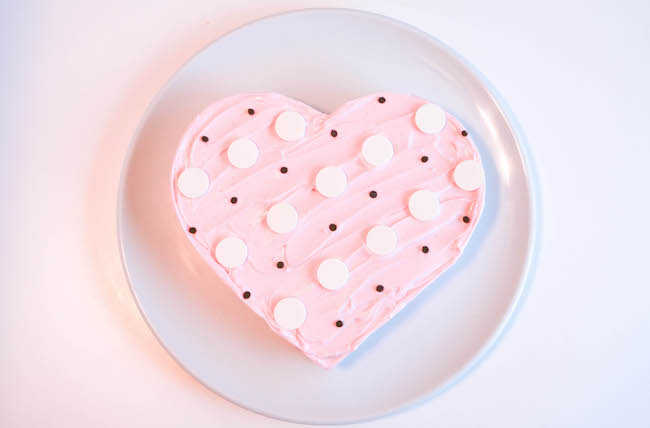 Arrange coating chocolate disks and chocolate chips that have been flipped upside down on the cake in a graphic dot pattern. Any round candies can work for this design.
3. Sprinkle stripes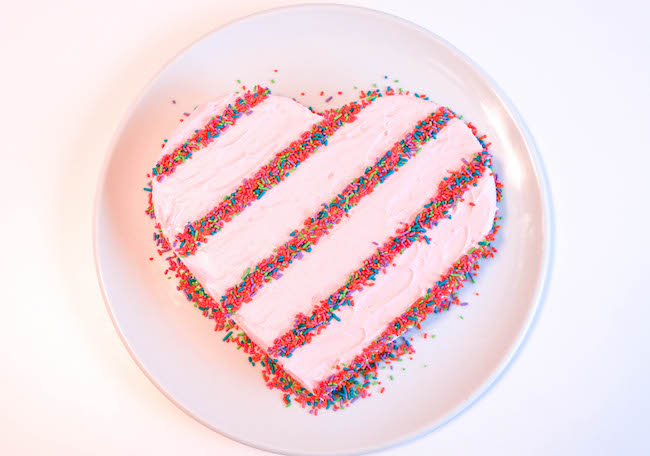 Cut strips of parchment paper and lay them across the top of the cake, leaving gaps between the strips. Fill the gaps with sprinkles and remove the parchment strips.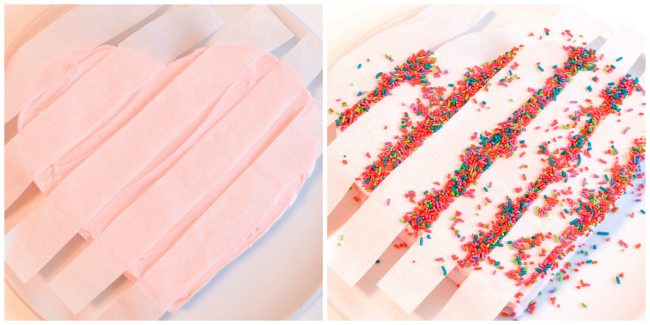 4. Coated with sprinkles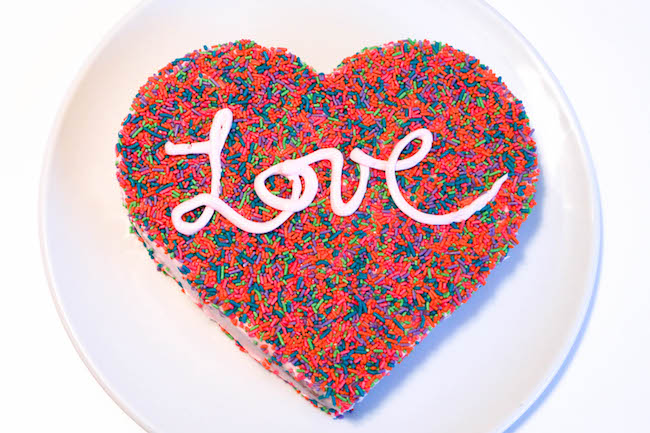 Top the cake with an even layer of sprinkles. Lay a piece of parchment or waxed paper on top of the cake and smooth it over with the palm of your hand so that the sprinkles stick to the cake. Remove the paper and serve — or pipe on a festive message with buttercream. 
Pin this post to save it for later!