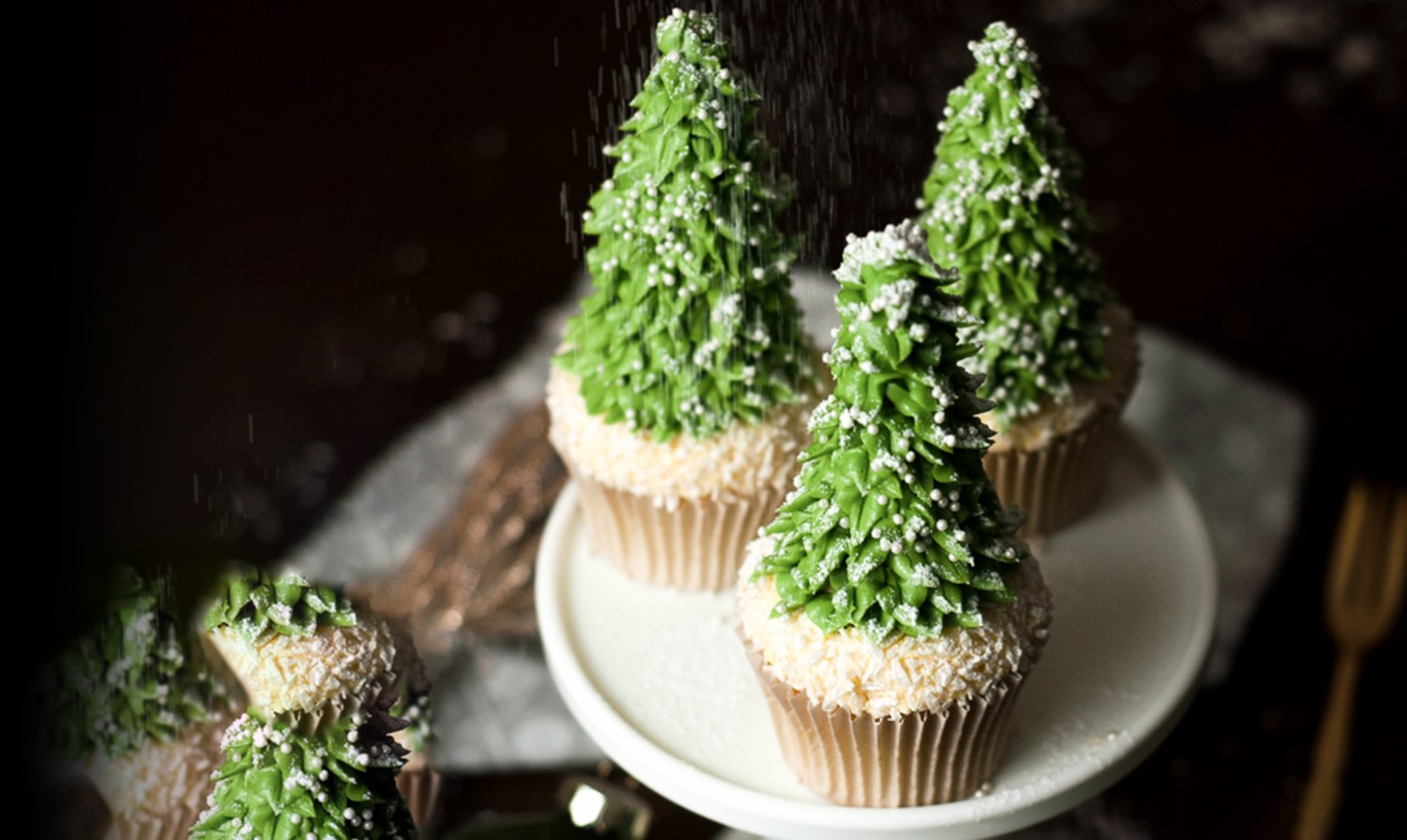 Whether you're throwing an epic holiday party or just baking something for the fam to enjoy, the holidays are the perfect reason to go all out with your cakes. Get all the Christmas cake design inspo you crave, then head to the kitchen!
1. A Festive Unicorn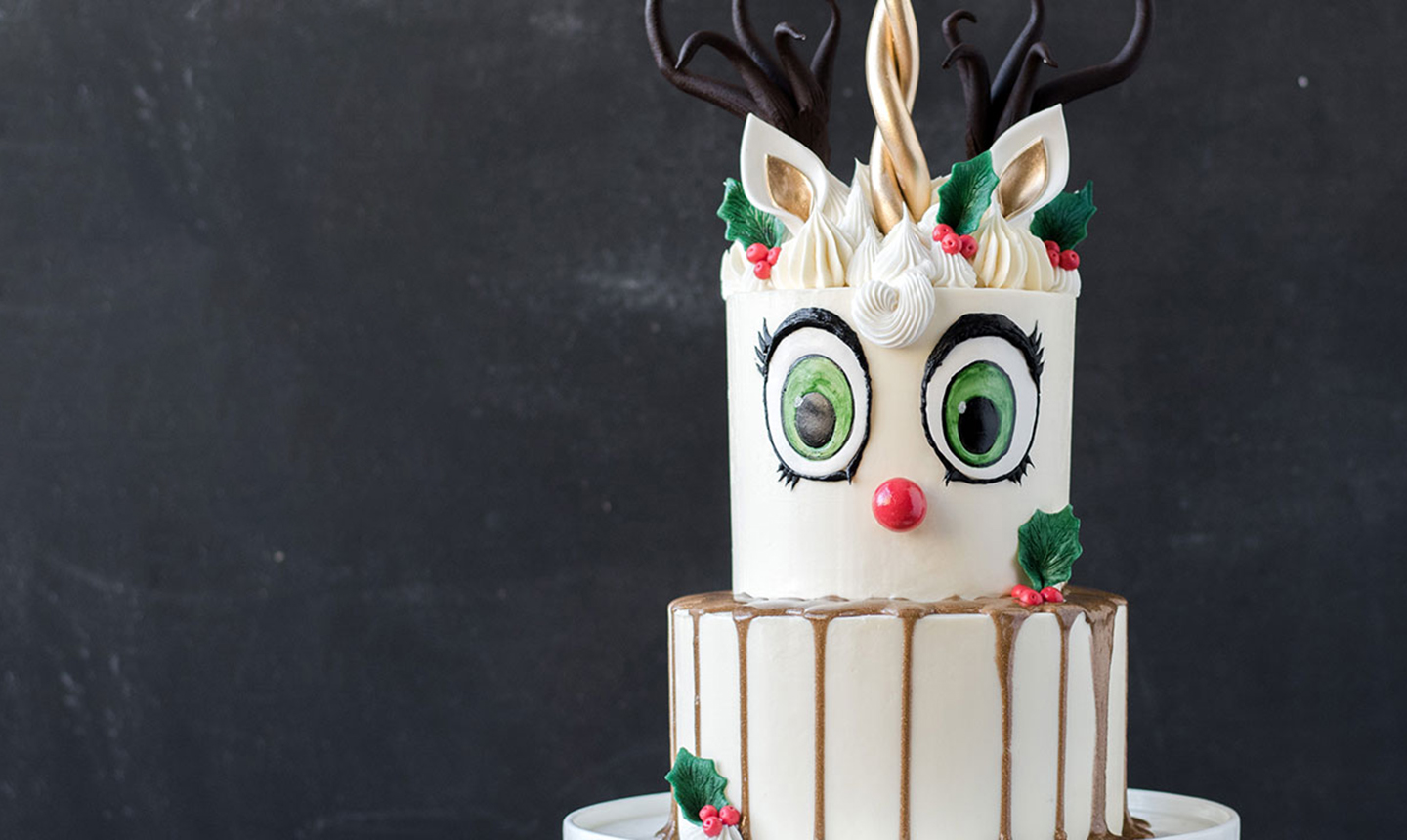 With its modeling chocolate antlers and braided gum paste horn, this unicorn reindeer cake is pure holiday magic. Especially when it's decked out with DIY holly leaves and berries, big buttercream rosettes and gold mirror glaze.
MAKE IT
2. Pom-Pom Power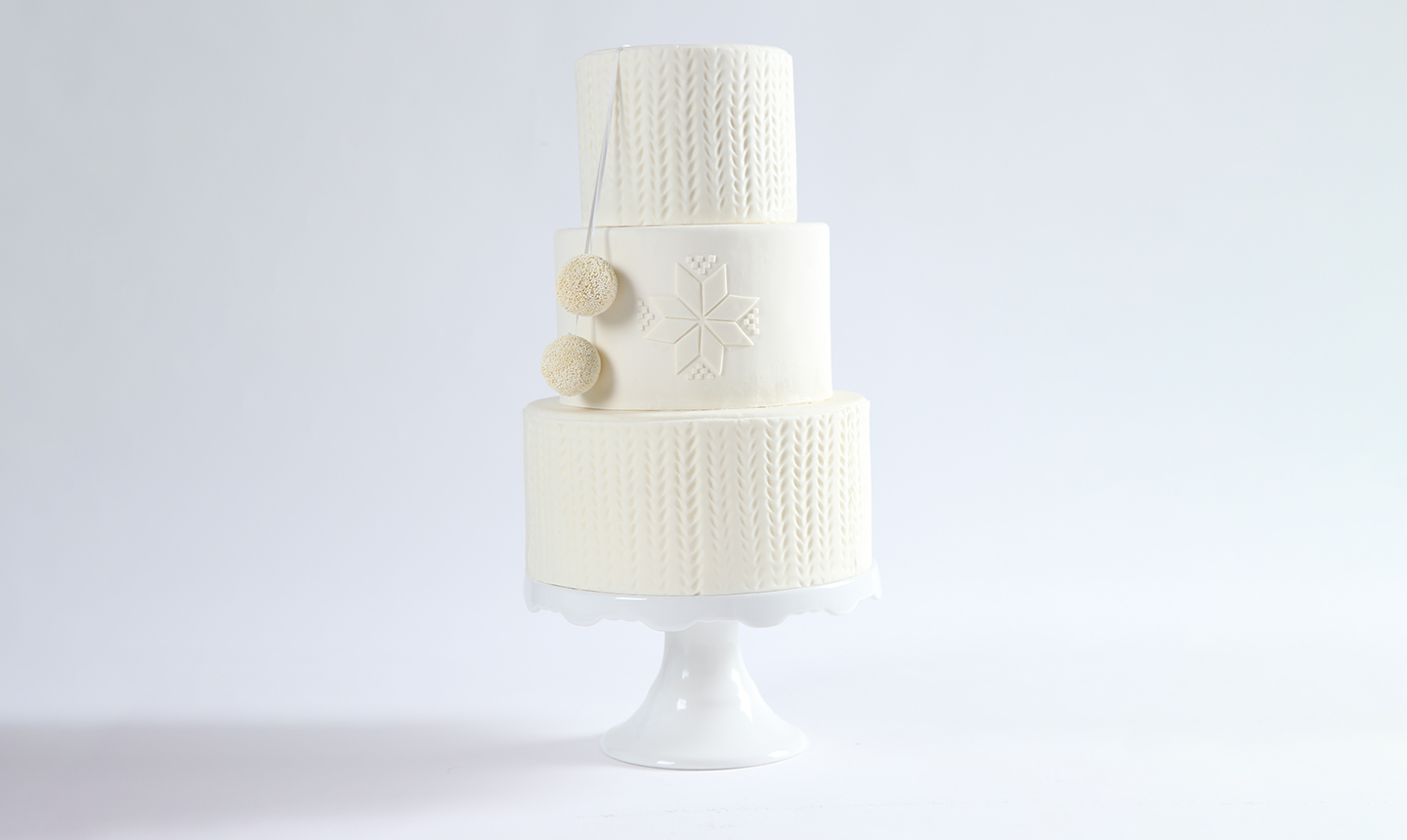 The subtle star gives this white tiered cake an elegant look we can't get enough of. Make the sweater-like texture on the top and bottom tiers by pressing braided ropes into the fondant before it's draped on the cake, then craft the cute (but non-edible!) pom-poms to add a little whimsy.

MAKE IT
3. The Hippest Snowman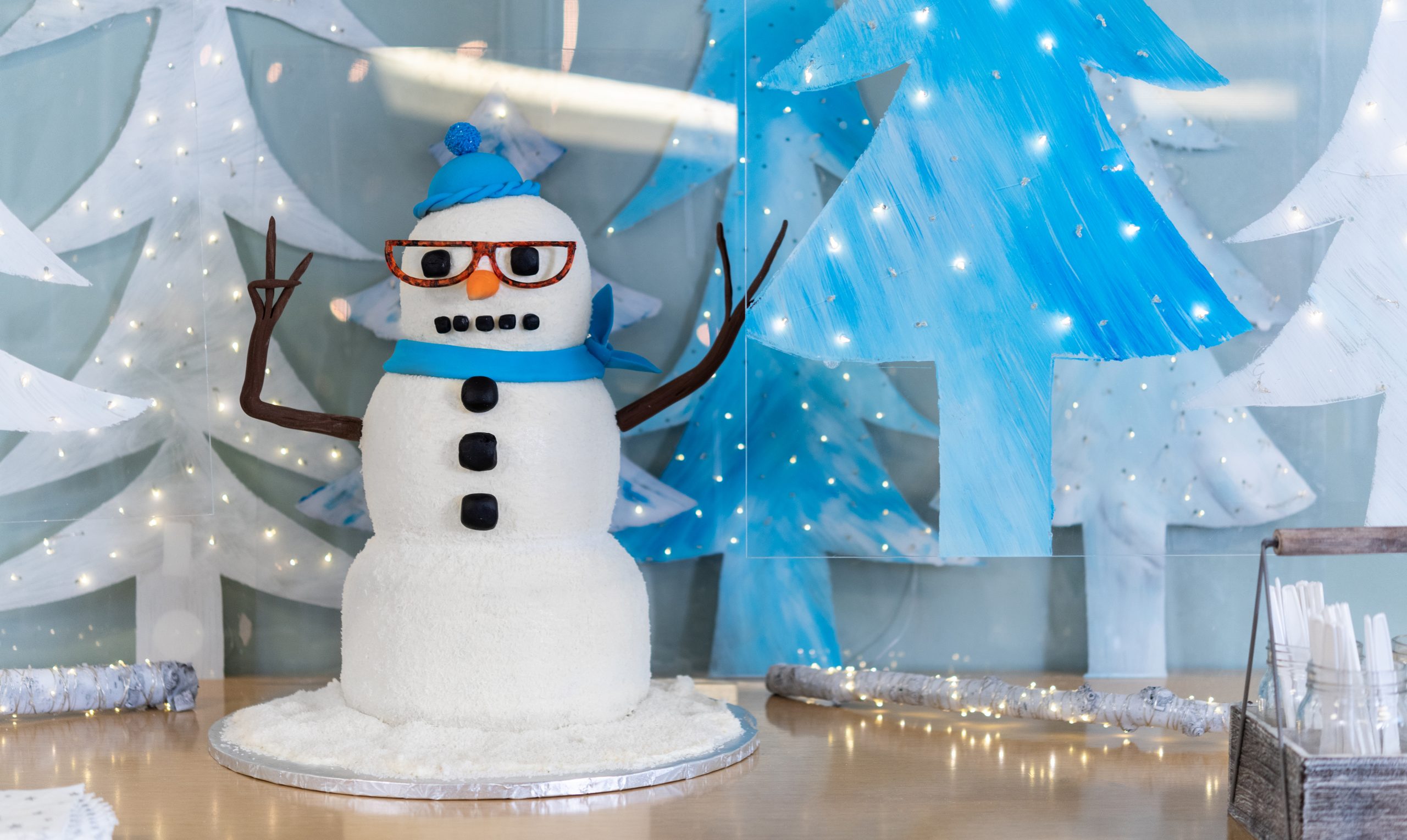 This snowman would probably roll its eyes if its design went mainstream, but let's be real: it's too cute not to. The tiers are filled and covered with coconut and Swiss meringue buttercream, then sculpted into domes and decorated with fondant and modeling chocolate embellishments.
MAKE IT
4. Lifelike Blooms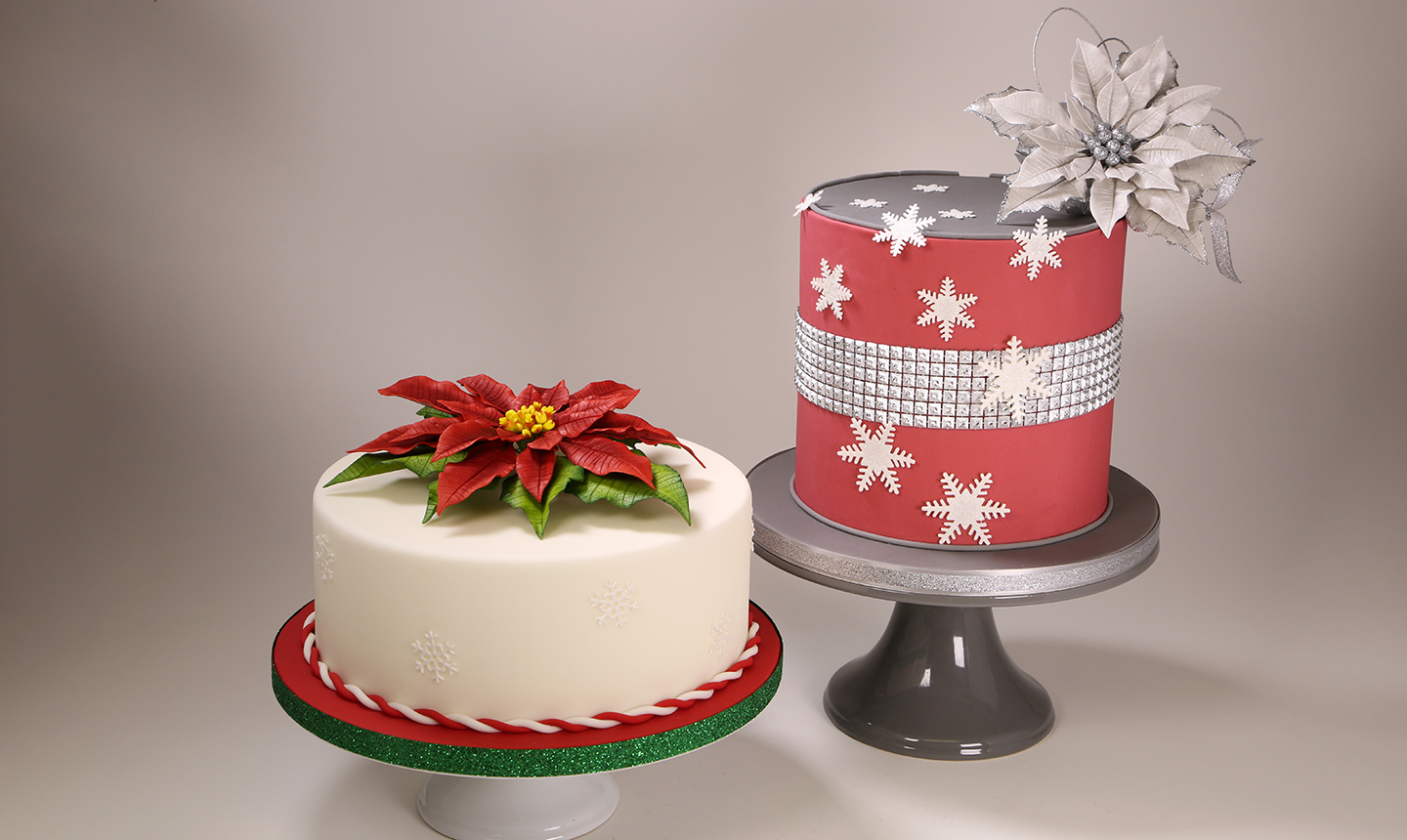 Those aren't real poinsettias, but we can see why you (and your guests) would think so! These hyper-realistic sugar flowers are a beautiful way to top off any cake, but if you want something a bit more beginner-friendly, you can always pipe your poinsettias with buttercream instead.
MAKE IT
5. A Sugary Dream House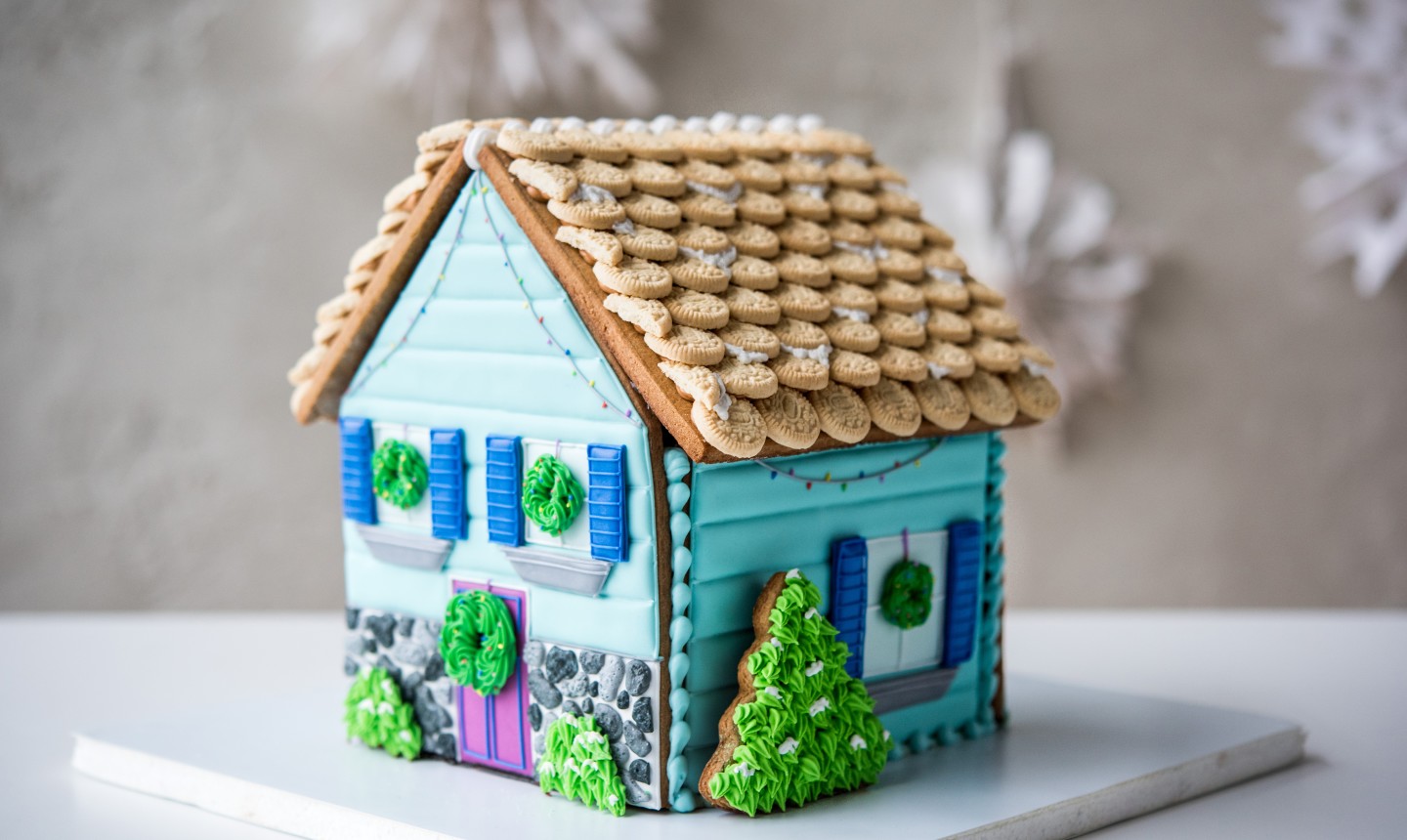 Flex your piping skills and create the most gorgeous gingerbread house. Make it 3D by using scrap pieces of gingerbread for the shutters, bushes and trees!
MAKE IT
6. Whimsical Winter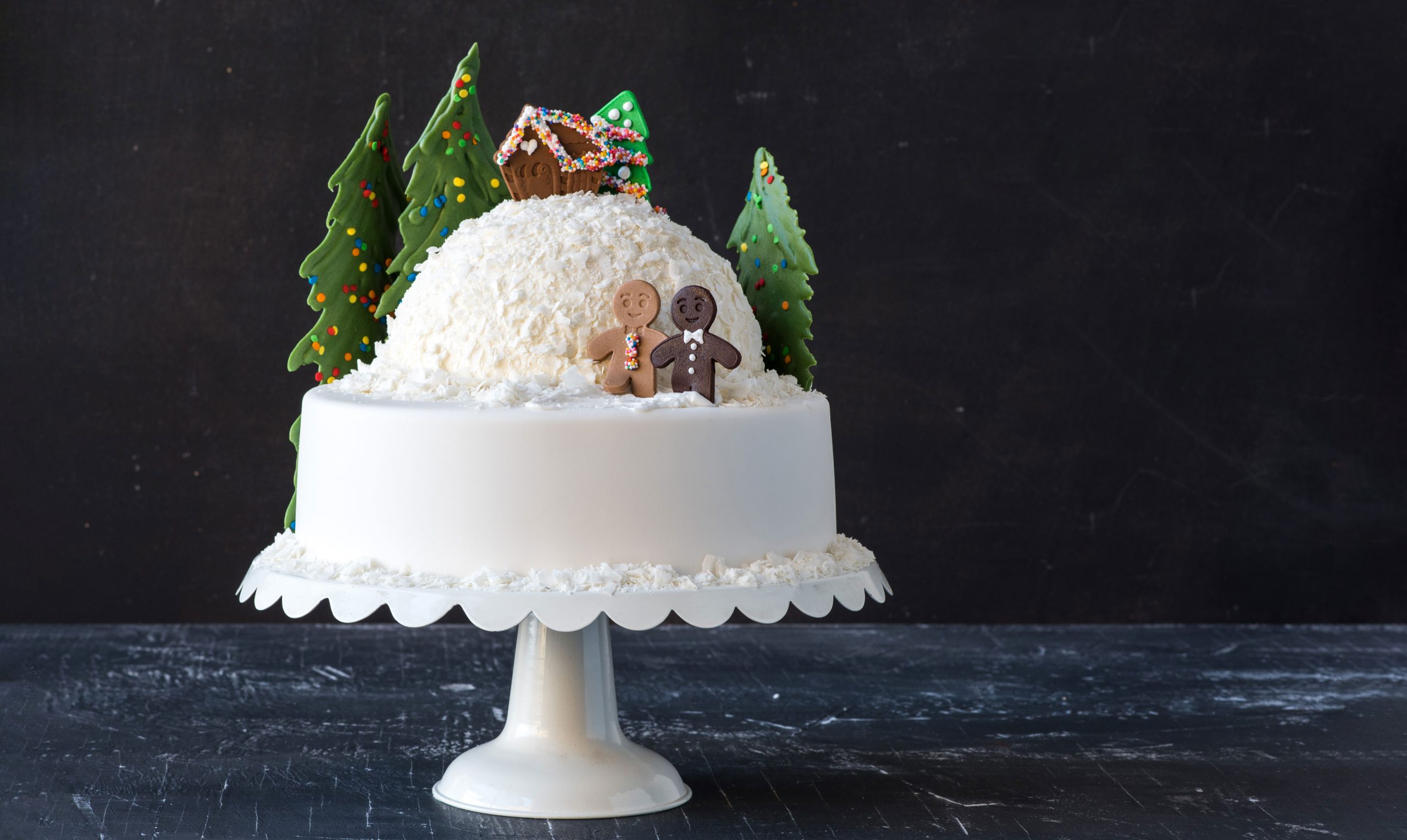 With a dome mold, there's no sculpting required for this Christmas cake. Simply bake and coat with a heaping amount of coconut, then make the trees and gingerbread with fondant and cutters. It couldn't be easier!
MAKE IT
7. Ugly Sweater Season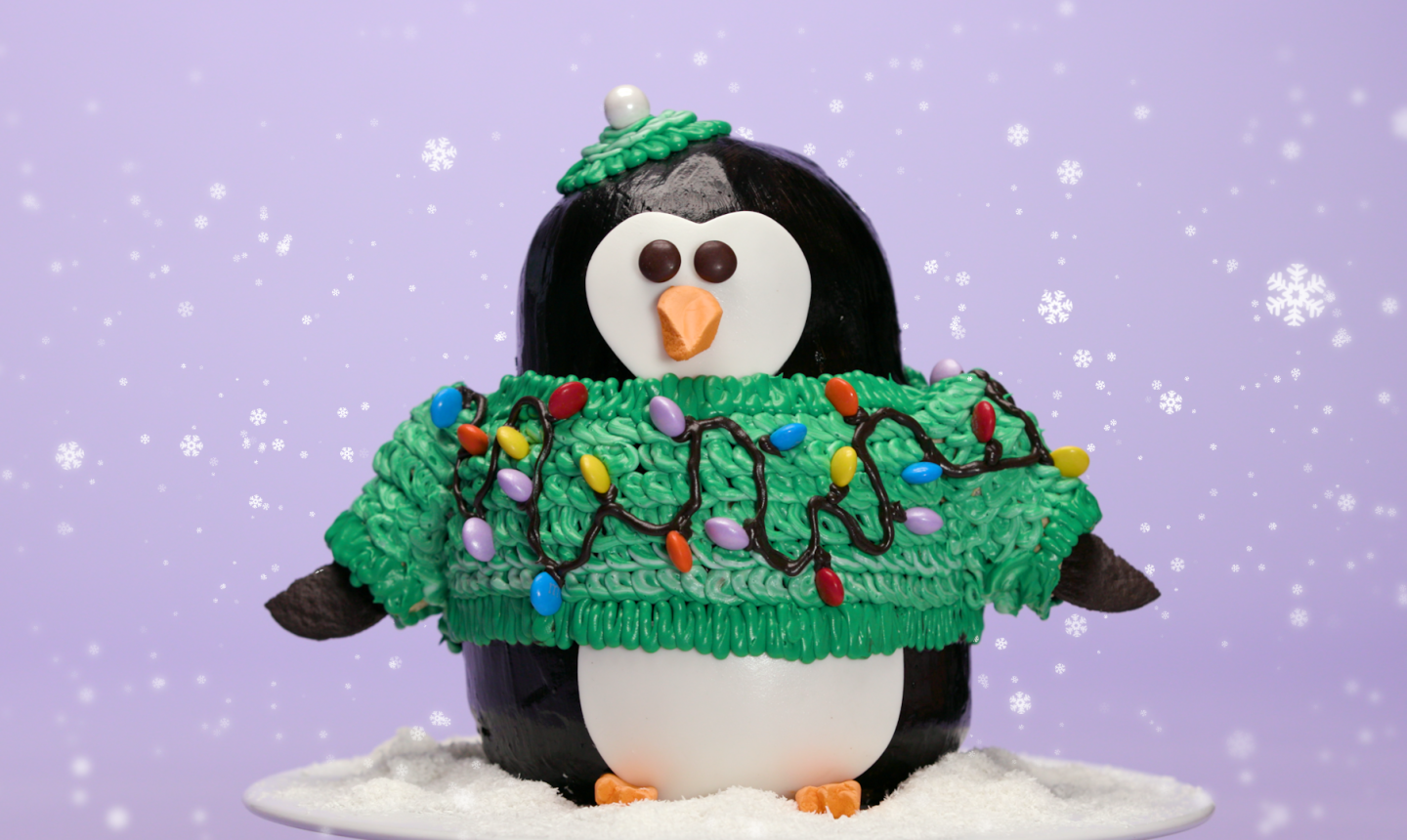 This sweater was made for waddling, and the adorably plump penguin is so fun to sculpt and decorate. Use candy, buttercream, fondant, cookies and ice cream cones to bring him to life, then design the sweater with simple piping techniques.
MAKE IT
8. He's Melting!
Hone your fondant skills and build a snowman before he melts away! There's no sculpting required, so it's totally beginner-friendly. You can even make melted snowman cupcakes to match!
MAKE IT
9. Mini Ginger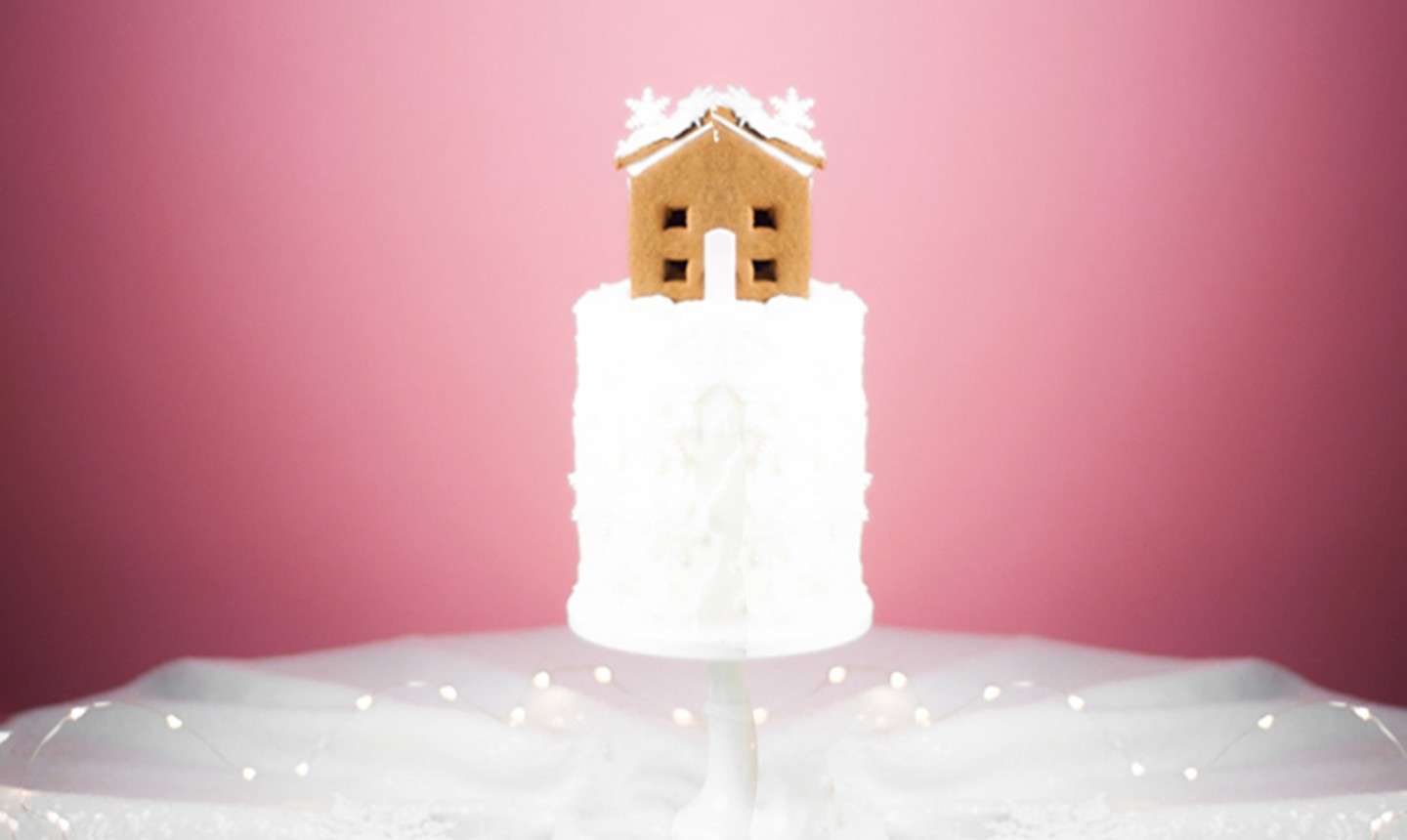 Amp up a run-of-the-mill cake with a mini gingerbread house. Just make sure to steer clear of buttercream and frost your cake in royal icing — it'll help hold your house upright, whereas the buttercream can lead to a gingerbread disaster.
MAKE IT
10. Winter Wonderland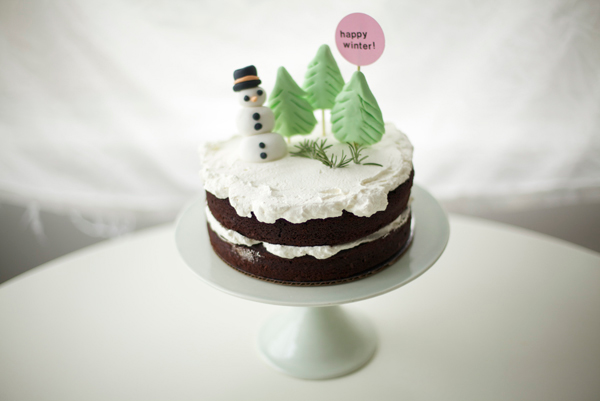 Naked cakes are totally trendy, and they make fast, easy winter cakes. Whip up a batch of chocolate cake and ice the top in whipped cream snow. You can even mold some quick fondant toppers to make it more festive.
MAKE IT
11. Candy Cane Cupcakes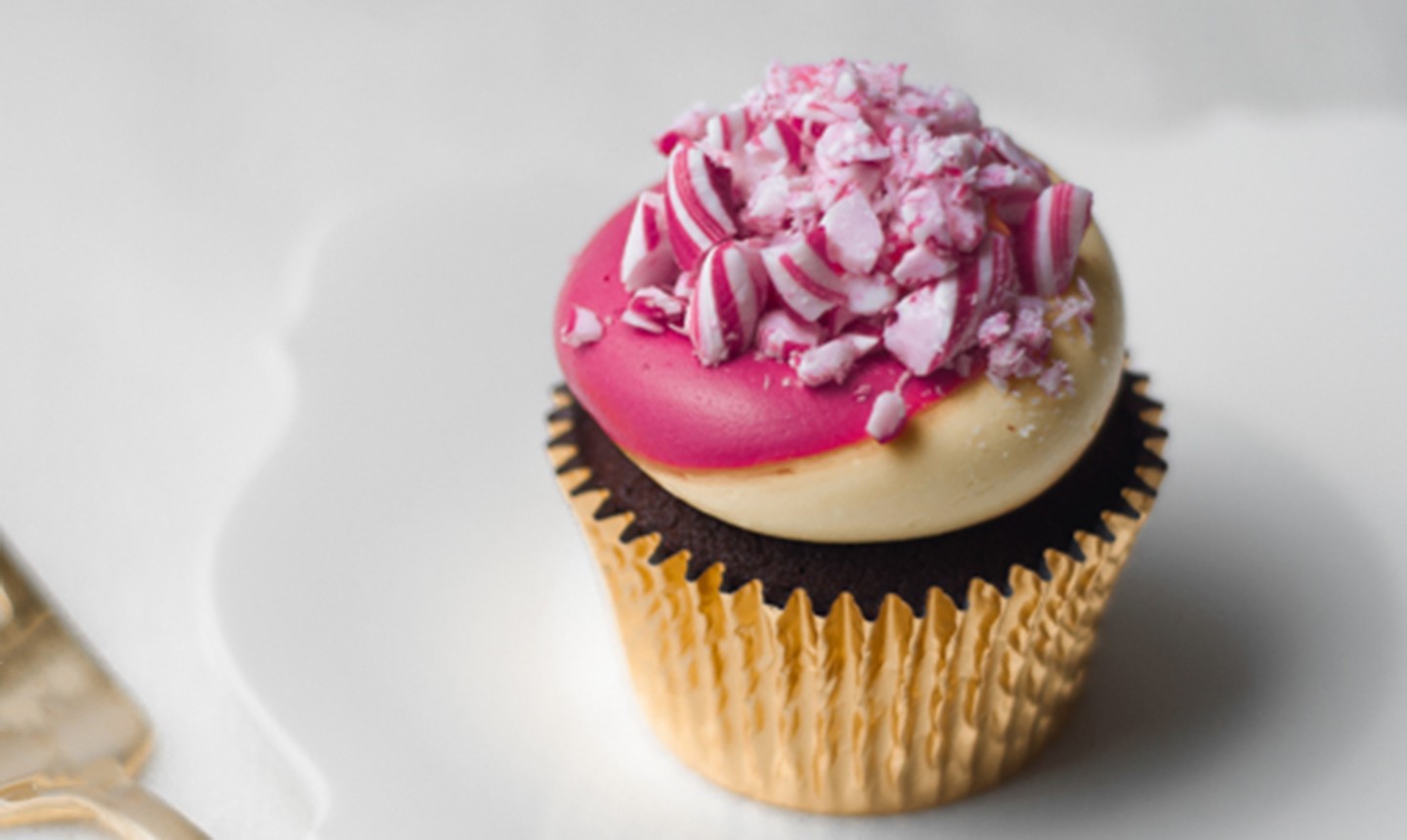 Hey, peppermint lovers: you won't want to snack on any other sweet this season. The buttercream is loaded with peppermint extract, and when you top it off with crushed candy canes it's a delicious burst of seasonal flavor.
MAKE IT
12. A Fondant Blizzard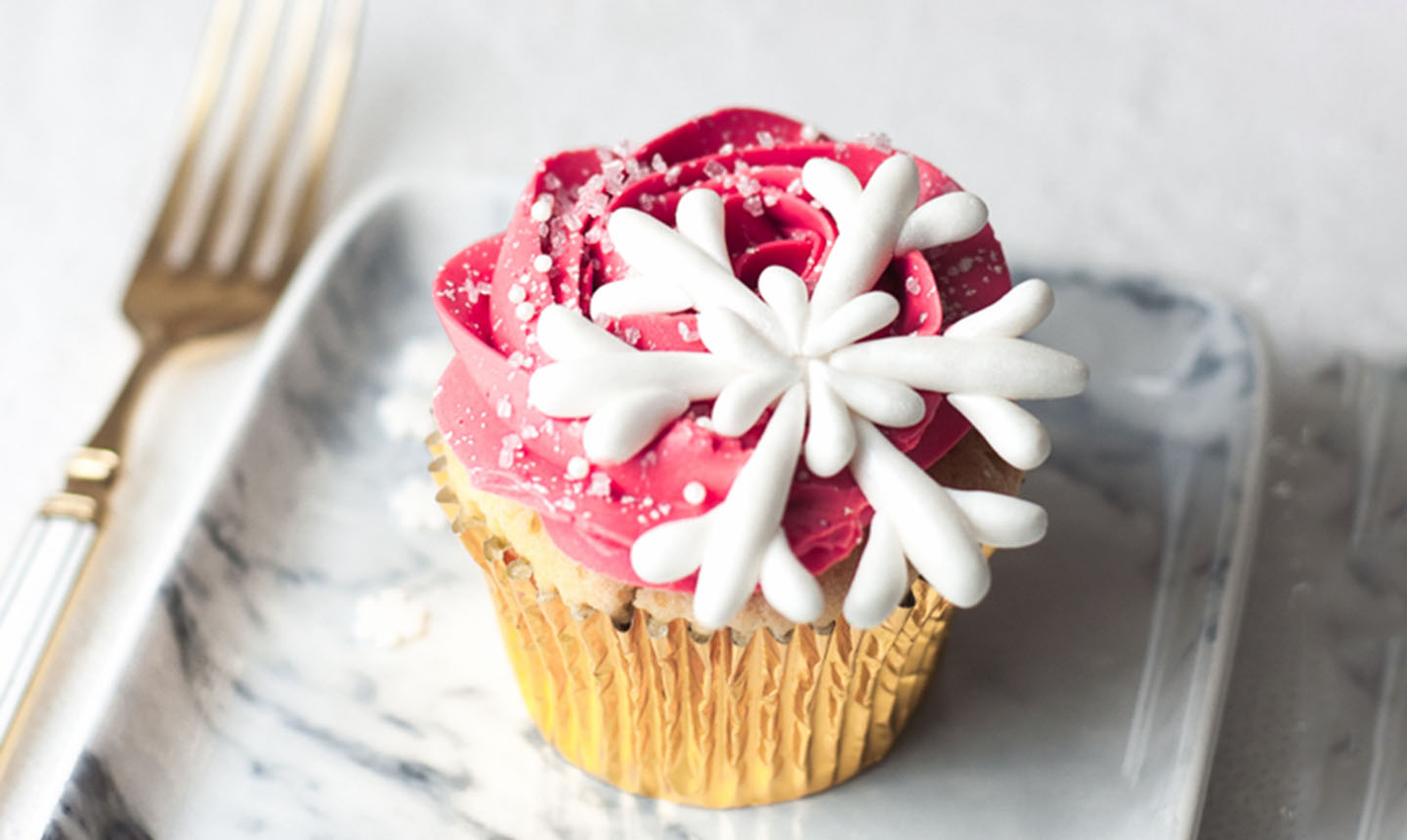 The best thing about these fondant snowflakes? There are no molds or cutters required. Simply roll out white fondant and assemble each piece with edible glue, then add them to your cake (or cupcake). Easy peasy.
MAKE IT
13. O Christmas Tree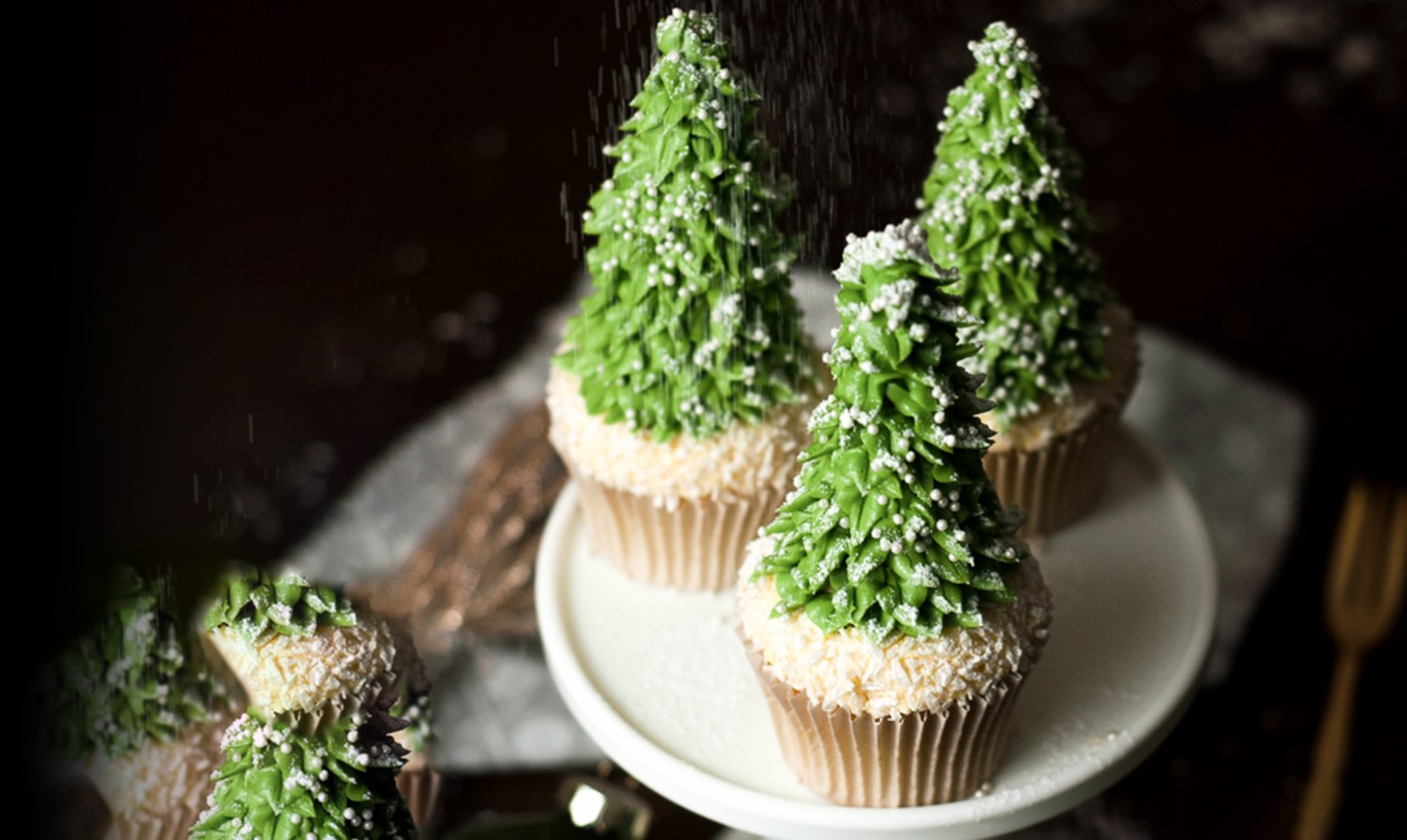 These fancy evergreens are much easier to make than you'd think, and it's all thanks to a hidden ice cream cone! Pipe green buttercream up each cone, then decorate your trees so they're merry and bright.
MAKE IT
14. Deck the Halls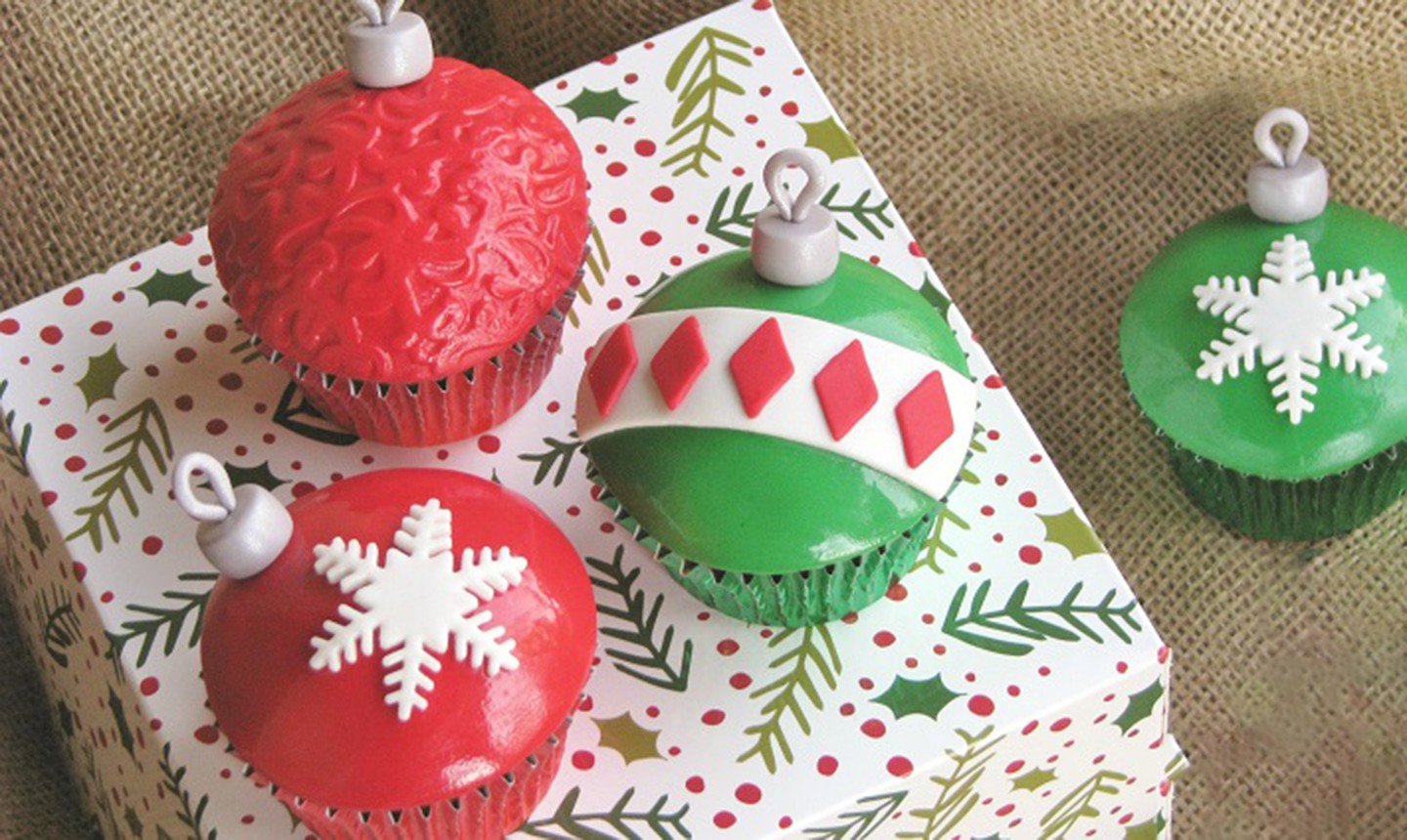 Dress up your cupcakes with ornaments that are cute enough to hang on your tree! Serve them at your holiday party, or even host a cupcake decorating night so everyone can design their own.
MAKE IT
15. Hey There, Kris Kringle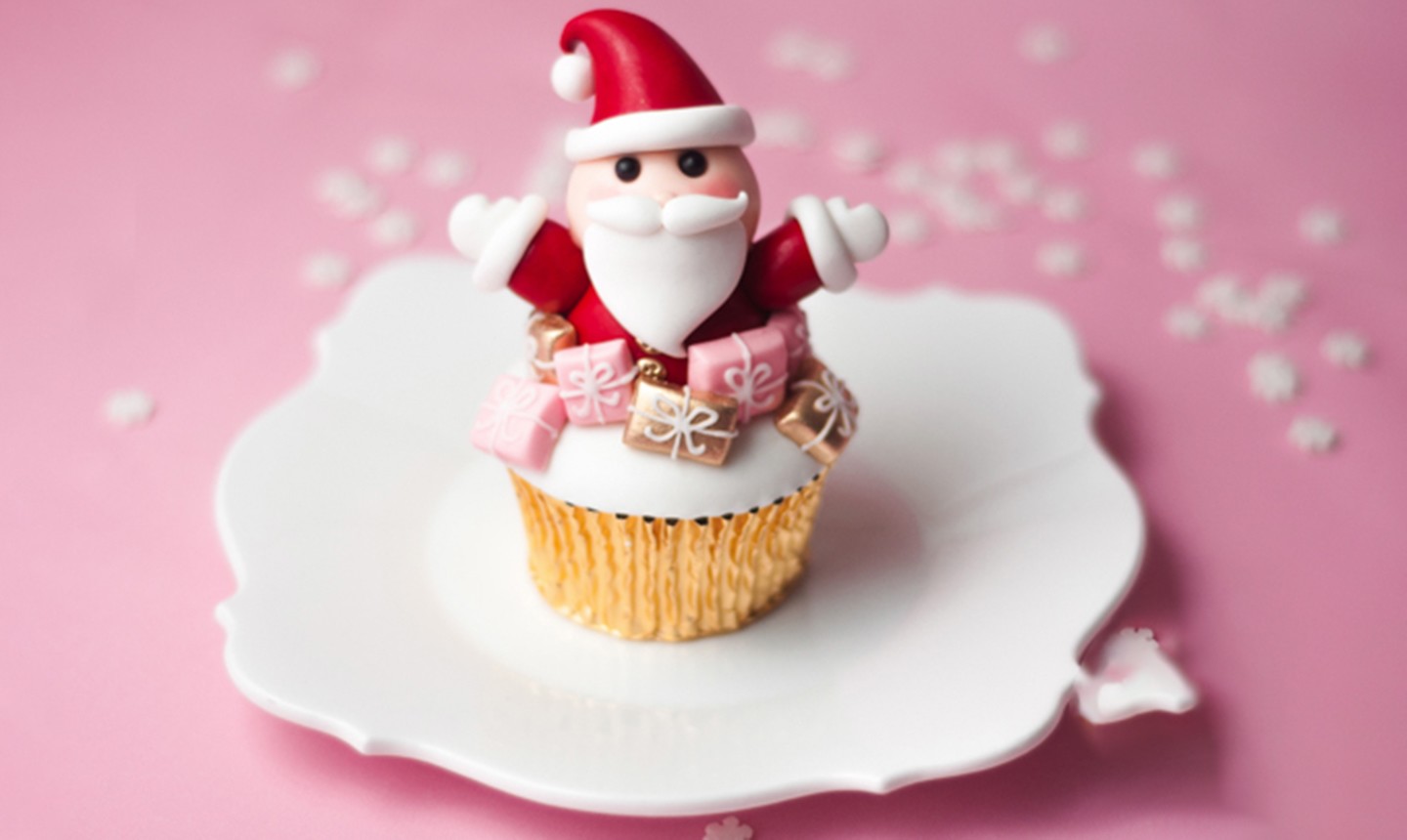 Santa Claus is coming … to your cupcakes. Sculpting a mini St. Nick from fondant is hassle-free thanks to edible glue and toothpick anchors, and it makes for an incredibly adorable topper.
MAKE IT
16. Elf Magic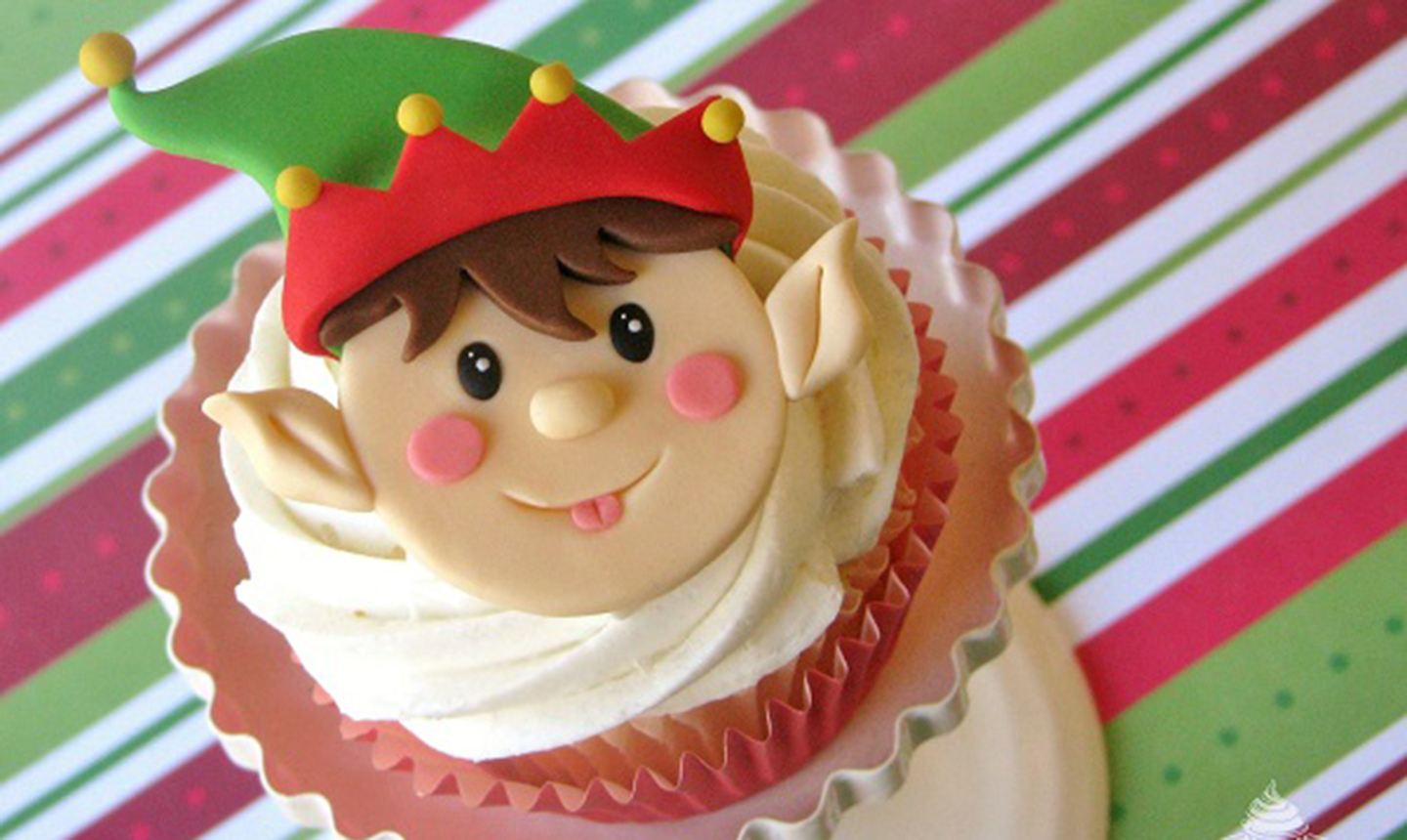 If a 3D fondant figure is a little intimidating, never fear — you can sculpt a simpler 2D (but still so sweet) topper for your Christmas cupcakes instead. Just make sure you have plenty of colors and fondant tools to play with!
MAKE IT