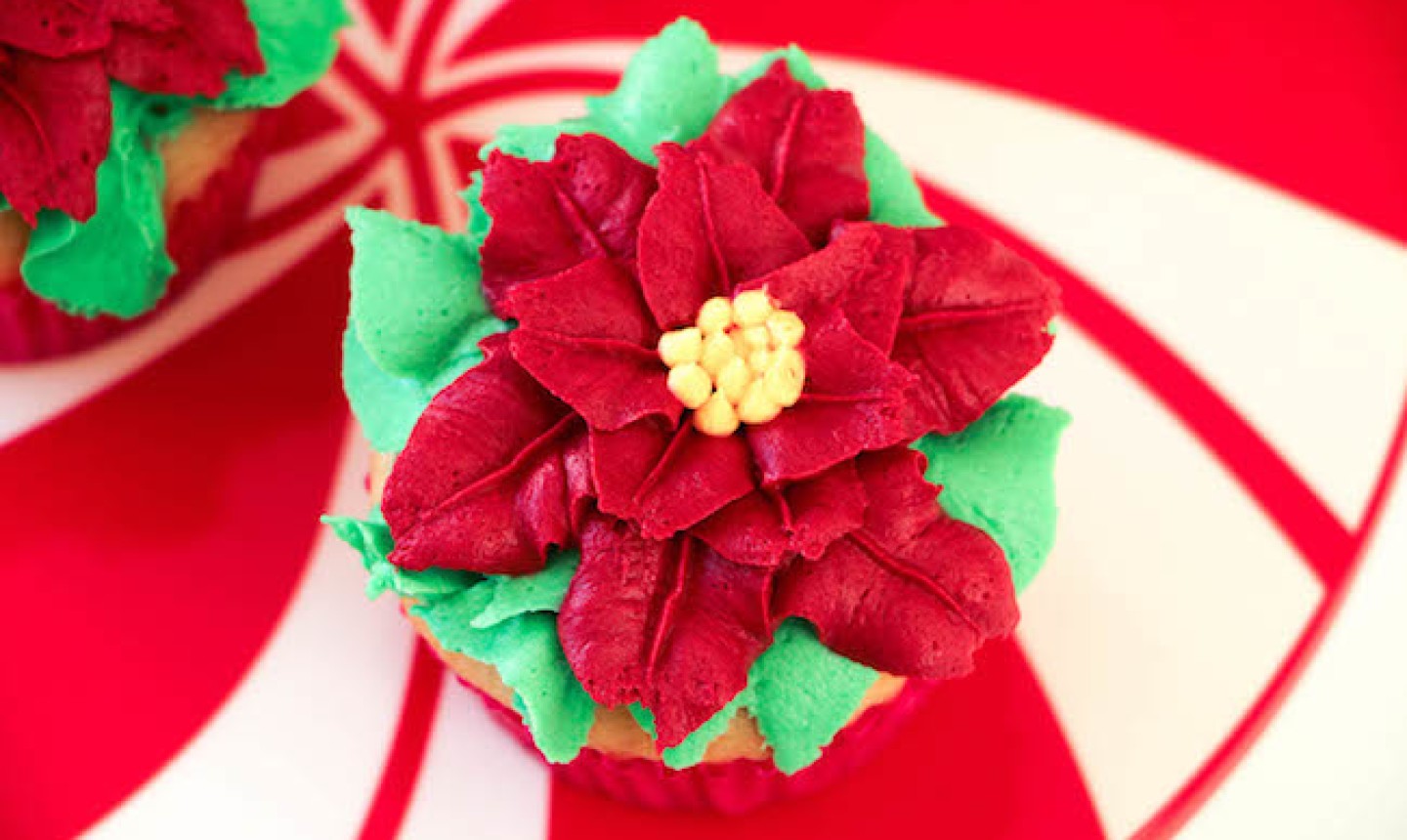 Fact: the best flowers are buttercream flowers, and the same is true for poinsettias. This holiday design is beautiful, festive and totally deserves a spot on your dessert table.
How to Pipe a Buttercream Poinsettia
Level: Easy
What You Need
Buttercream (Swiss meringue or American buttercream work great)
Leaf piping tips, small and large
Small round piping tip
Piping bags
Red, yellow and green food gel coloring 
Icing bag stand (optional)
Good to Know: The red parts of a poinsettia are not petals; they're actually called bracts. The tiny yellow center is technically the flower.
Instructions
1. Prep Your Buttercream
Make a batch of your favorite buttercream recipe. We used American buttercream in this tutorial, but Swiss meringue works just as well.
Divide the batch into three small bowls and color your buttercream red, green and yellow. You'll want a large amount of green and red, so only set aside a small portion for yellow.
2. Pipe the Leaves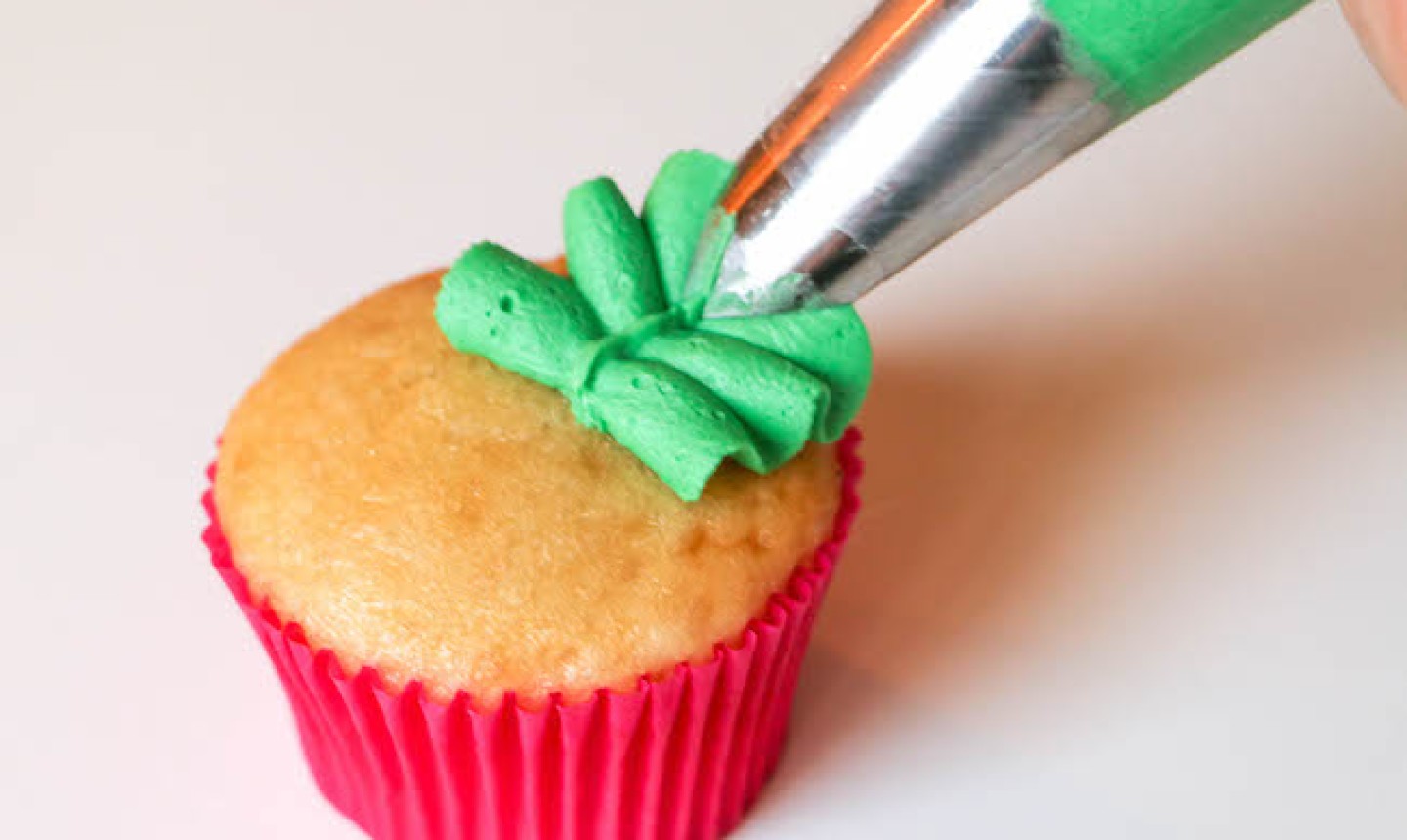 Spoon the green buttercream into a piping bag fitted with a large leaf tip. Pipe big, fluffy leaves, starting at the center of the cupcake and working out. To create the ruffles, pipe slowly and use lots of pressure. (It might help to practice on parchment paper first.)
The rest of your poinsettia will be built on top of this foundation, so completely cover the top of your cupcake. Or, if you're piping onto a Christmas cake, go big with your leaves!
3. Pipe the Red Bracts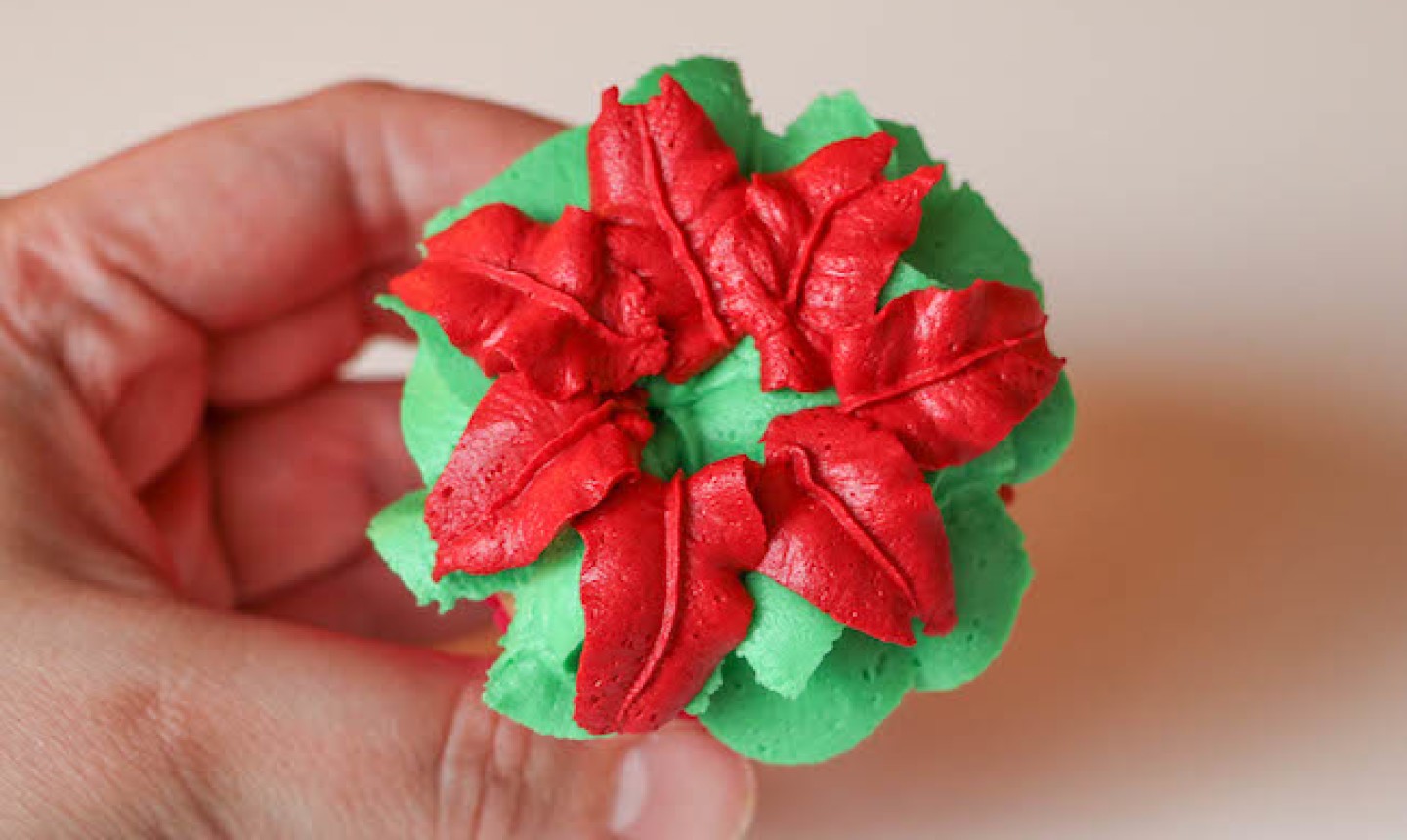 Spoon the red buttercream into another piping bag fitted with a small leaf tip. Begin piping about ½" away from where you'd like the center of the flower to be. Unlike with the green leaves, release your pressure halfway through your bract to achieve this flatter leaf-like look.
Work in a circle, leaving room in the center for a second layer of bracts.
4. Add the Second Layer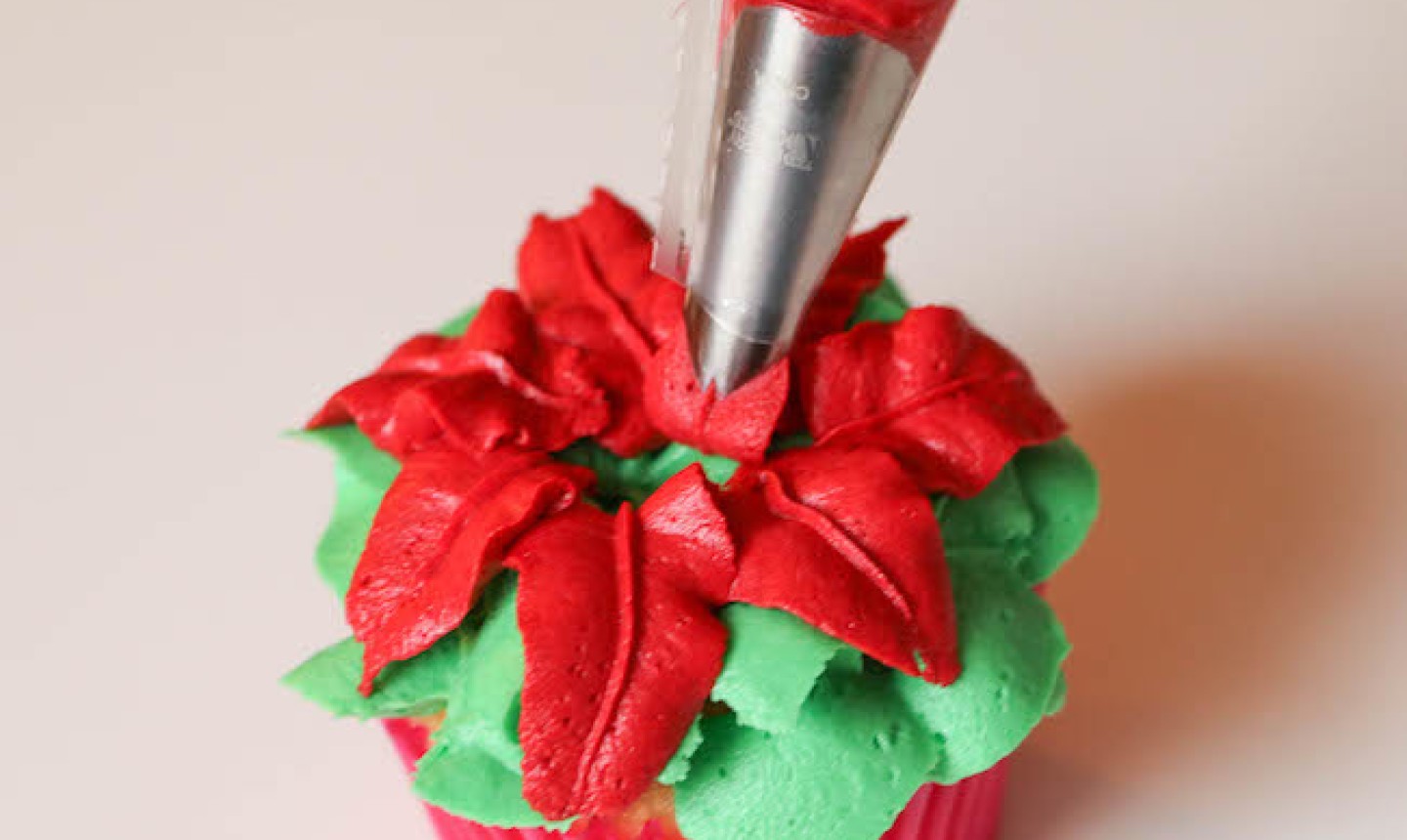 Pipe smaller, shorter bracts in the center of your larger ones. Stagger your design so the smaller ones overlap where two larger bracts meet.
5. Finish the Flower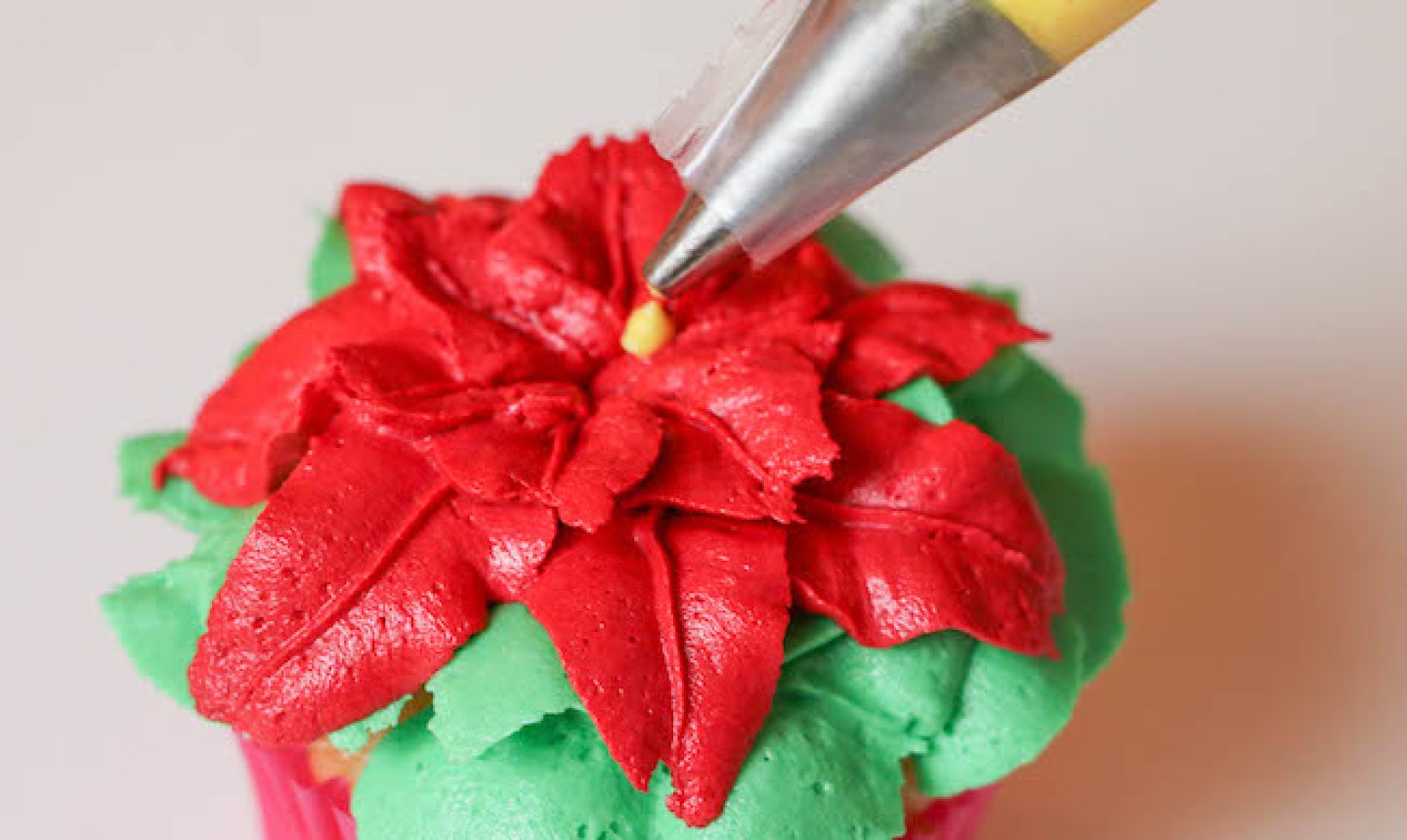 Spoon yellow buttercream into a piping bag fitted with a small round tip. Pipe a cluster of small dots in the center to form the flowers.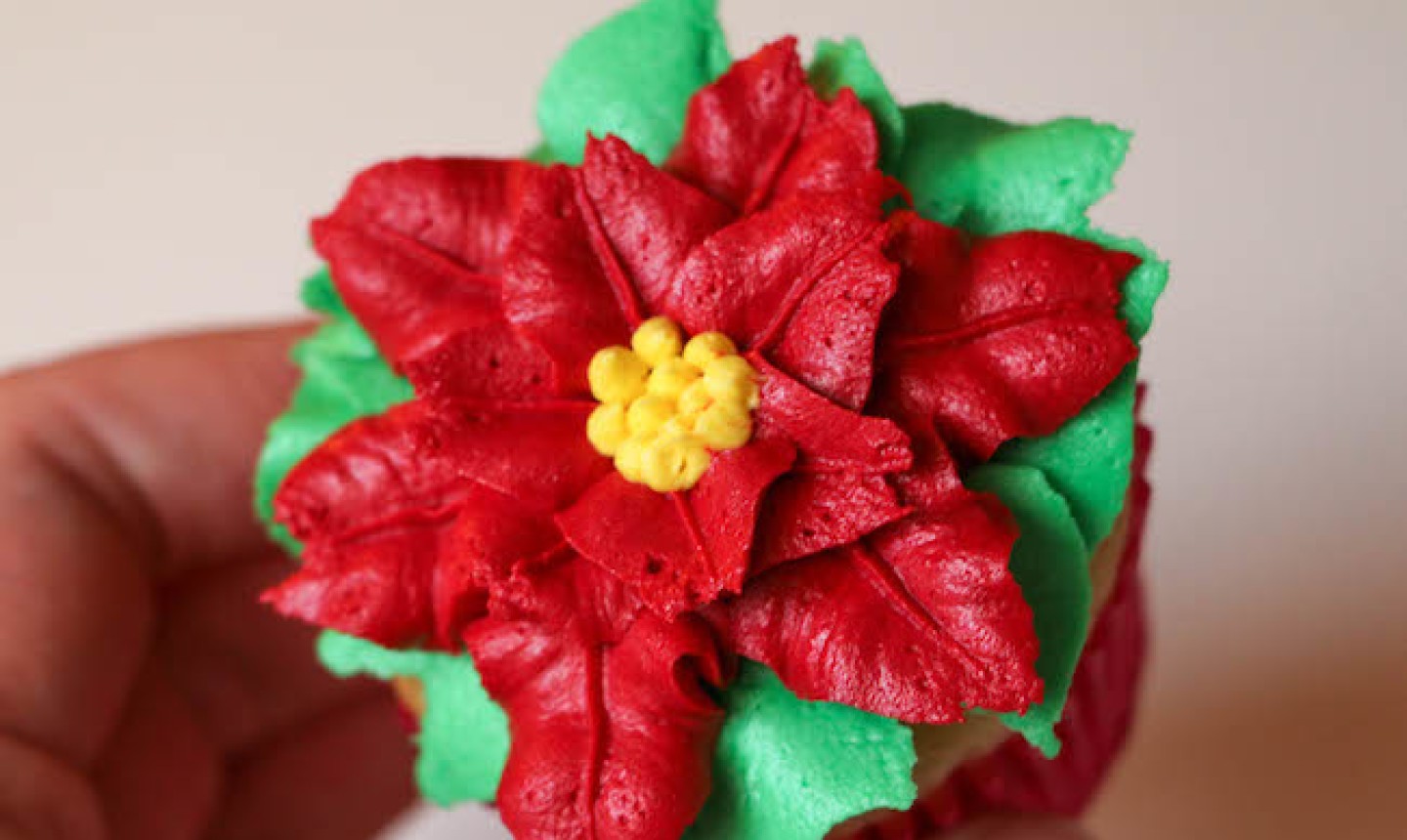 Design these beauties on holiday cupcakes, cakes, cookies or any other dessert you want to make more festive.
Photos by Erin Gardner
Looking to learn cake decorating? Check out our Startup Library: Cake Decorating now!