If you're a cake decorator, chances are you've amassed an impressive collection (or what some might call hoard) of piping tips and nozzles. It's important to learn how to choose the right piping nozzle for your cake. But even if you have quite a bit of royal icing and buttercream piping experience under your belt, it can still be tricky to visualize what your design will look like by the tip alone.
But don't stress — here's a handy visual guide to each type of piping tip.
Open Star Piping Nozzles
Open star tips like the Wilton 1M (above left) and the Wilton 4B (above right) are super popular for frosting cupcakes.
Open and closed star tips are very popular when it comes to frosting pretty cupcakes. They can create lightly textured ruffles when swirled continuously and, when used at an angle, these tips create small shell-type dollops of buttercream or royal icing — perfect for adding cute borders at the base of iced cakes. Otherwise, piped directly overhead and in short bursts, they make "gems," which are great for piping out meringue kisses, mini-cupcakes or tiny bursts of buttercream on top of a homemade cake.
Closed Star Piping Nozzles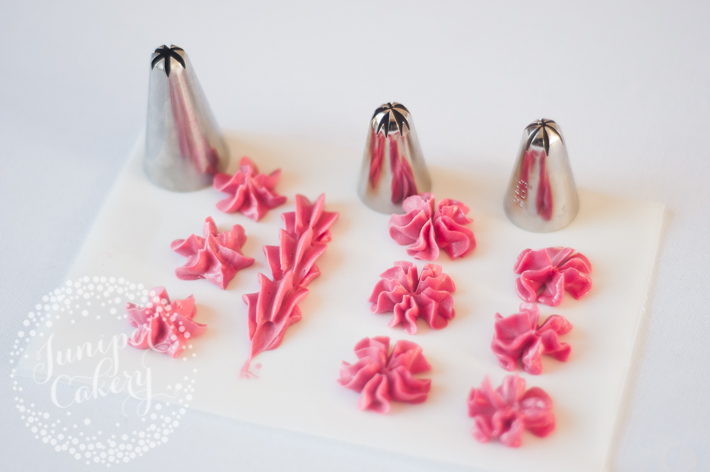 The Ateco 846 (left), Wilton 1F (center) and Wilton 2D (right) are all common piping nozzles for closed star designs.
These types of nozzles and tips are perfect for piping ruffled buttercream on top of cupcakes as well as adding borders to cakes or cookies, depending on their size. Closed star tips create a more defined texture than open star tips because the tip's ridges are tighter.
Plain Round Piping Nozzles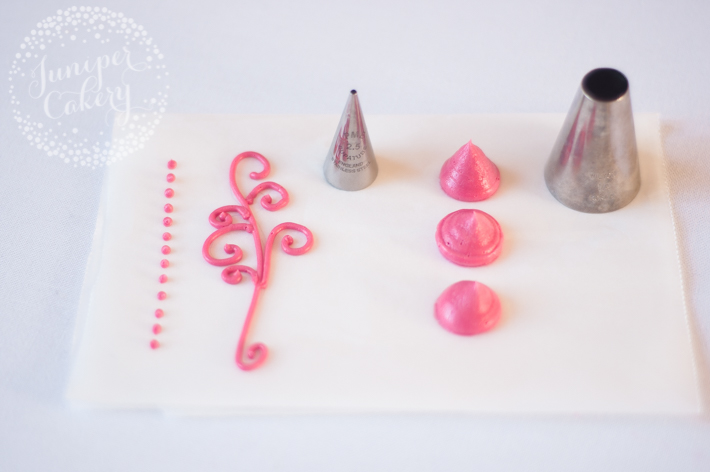 The scrollwork and dots on the left were piped with the PME Supatube 2.5 nozzles. The Ateco 808 was used to pipe the generous dots to the right.
Use plain round piping tips to pipe simple and rounded swirls on your cakes and cupcakes. In small sizes, these nozzles are great for adding dots of details onto cakes, adding centers to sugar blossoms, or even for piping out names. Small seamless tips (such as the PME Supatube range) are perfect for piping swiss dots onto cakes with royal icing.
Petal or Ruffle Piping Nozzles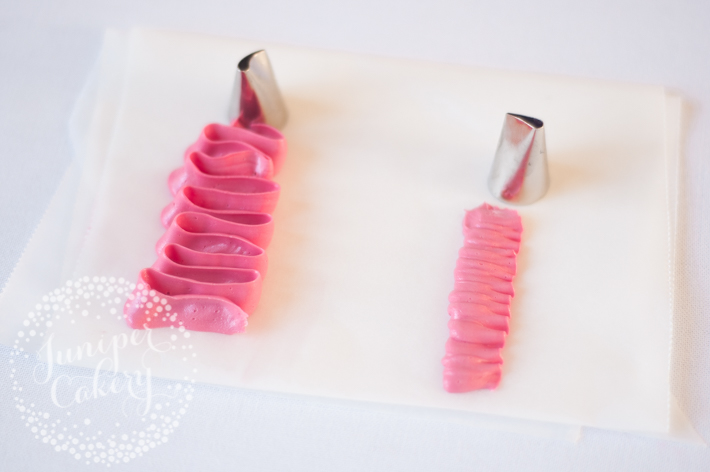 For 3D ruffles, use the Wilton 124 (left). The Wilton 104 (right) can be used to pipe subtle frills with buttercream.
The name says it all! These tips are ideal for adding gorgeous buttercream ruffles to cakes or for piping out impressive flowers on top of cupcakes and cookies. Always make sure that the fatter end of the piping tip is closest to the cake, with the thinner end facing upwards. This will ensure super delicate and defined ruffles and petals!
Leaf Piping Nozzles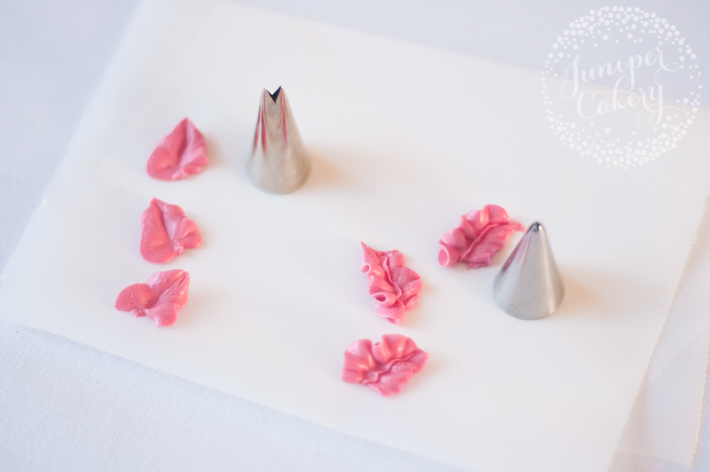 The photo above shows two main types of leaf piping tips. The one on the left, the Wilton 352, has a large V notch, which creates a smooth leaf that is full at the base and tapered towards the end. The tip on the right with the smaller opening, the Wilton 67, has a cut along the top and sides with a tiny notch in its middle. This helps make a more ruffled leaf.
Piping tips that help you create pretty leaves are handy for adding quick detail to floral cakes and cookies. They're also perfect for adding foliage to drop flowers or to rosette-piped cupcakes. The trick is to practice holding your leaf tip at different angles to find out what works for you.
Specialty Piping Nozzles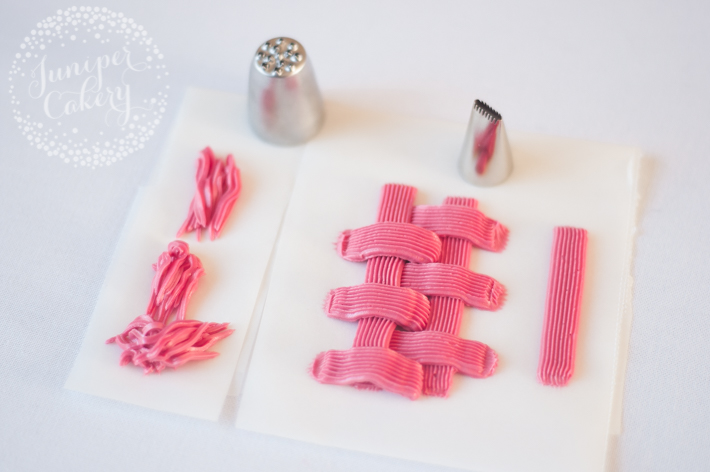 For the grass effect on the left, we used the Ateco 133 tip. The basketweave pattern on the right is made with the Wilton 48 piping nozzle.
There are some quirky and fun specialty piping tips out there. One of our favorites is a tip that pipes out a grass-like effect. They're fun and while you'll find that you may not use them often, they're still pretty handy to have in your toolbox. Another fun option is a tip that creates a basketweave texture.