We think people love mini cupcakes as much as regular cupcakes and maybe even more. (Because cuteness.) But somehow there are hardly any mini-cupcake recipes, which makes no sense at all. So we're here to teach you how to make 'em and how long to bake 'em.
You might think mini cupcakes would be less work than the regular kind. Sorry, no. You'll be doing the exact same motions, except you'll be filling twice as many cups. Plus mini cupcakes are tricky because it's hard to get the batter into those tiny cups cleanly.
The recipe here is for vanilla mini cupcakes topped with vanilla buttercream. There's enough batter for five dozen minis, but the yield is four dozen (two 24-cavity pans) because I find that the average person owns no more than two mini-cupcake pans! Use the extra batter to bake five or six regular cupcakes. They're not as cute, but still delicious.
Mini Cupcake Math
Use the following rules of thumb if you want to convert a recipe for regular cupcakes or cake into one for minis.
Mini cupcakes take about two-thirds as long to bake as regular cupcakes, give or take a minute or two.
Mini cupcakes take about half as long to bake as a 9-by-13-inch (quarter sheet) cake, plus or minus a minute or two.
Vanilla Mini Cupcakes
Ingredients:
¾ cup butter at room temperature
1¾ cups sugar
2 large eggs
2½ teaspoons vanilla extract
2½ cups flour
2½ teaspoon baking powder
½ teaspoon salt
¾ cup milk
½ cup heavy cream
Instructions:
1. Preheat oven to 350 F.
2. In a large bowl, using a stand mixer with the paddle attachment or handheld mixer, cream together butter and sugar. Add the eggs one at a time until incorporated. Add vanilla extract.
3. Combine flour, baking powder, and salt. Mix milk and cream together. Add flour mixture and milk/cream mixture in three batches, starting and ending with flour mixture. Continue to beat on medium-high for 1 minute.
4. Use a cookie scoop to fill lined mini cupcake pans.
5. Bake for 14 to 16 minutes or until a cake tester comes out clean.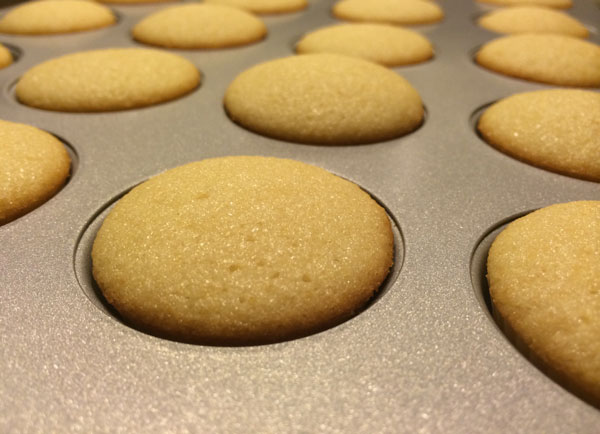 If you have any questions at all, please feel free to ask! Leave a comment below!