Ho! Ho! Ho! Christmas is on it's way, and we are getting ready with Christmas cake pops! These tiny treats can bring Christmas joy to faces young and old this season. Learn how to make three variations of Christmas cake pops, including Santa, snowmen and beautifully drizzled cake pops, with this step-by-step photo tutorial!
How to make Santa cake pops
Let's start with the big man himself: Santa!
To make the perfect cake pop, one needs the perfect cake. Learn how to bake a cake to perfection in The Wilton Method®: Baking Basics and try this delicious Buttermilk Cake Recipe. If you're newer to the cake pop world, be sure to check out our tutorial on how to make cake pops.
Step 1:
Start by dipping your cake pops in chocolate or Candy Melts that are the skin color of your choice. Let them dry while you warm up red candy melts.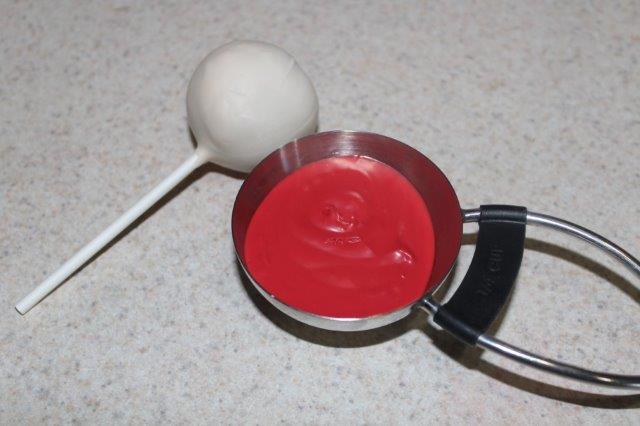 You will only need a small amount of melted red chocolate. Warm the Candy Melts and place them in a small shallow bowl. I used a 1/4 cup measure.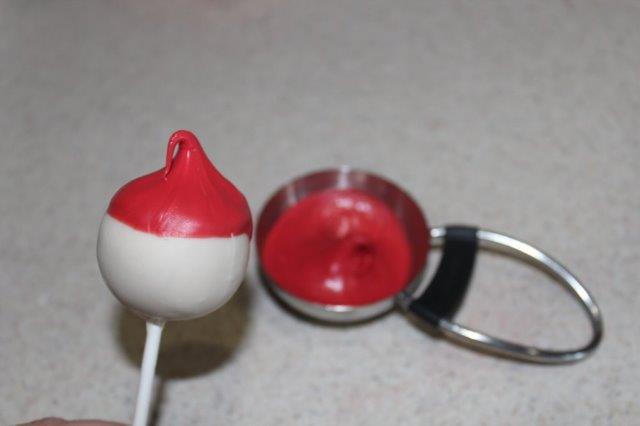 Step 2:
When dipping the Santa hat, only press about 1/3 of your cake pop into the red Candy Melts then slowly pull it straight upward to form the little curl on top. Add a small white or pearl dragee to the end of the curl.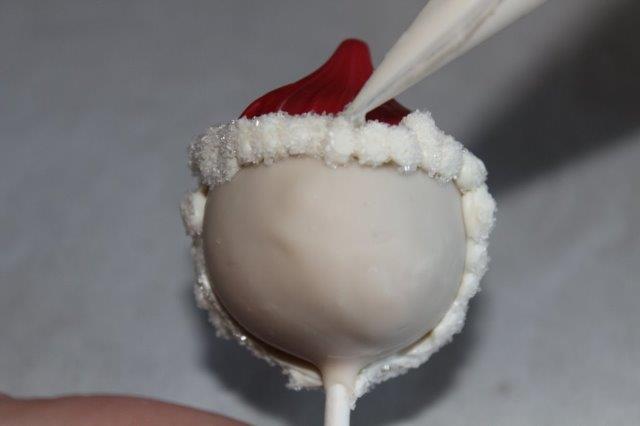 Step 3:
While you are waiting for the hat to dry, melt white chocolate or Candy Melts and place them in a disposable piping bag. Cut the very tip off the piping bag, leaving a very tiny hole. Pipe around the bottom rim of the hat in a shell pattern, and then continue piping the beard and mustache. We want the beard to look fluffy, so use the shell border technique to finish off the beard. If you want to add a little sparkle, sprinkle on a little clear or white sanding sugar on the beard and rim of the hat.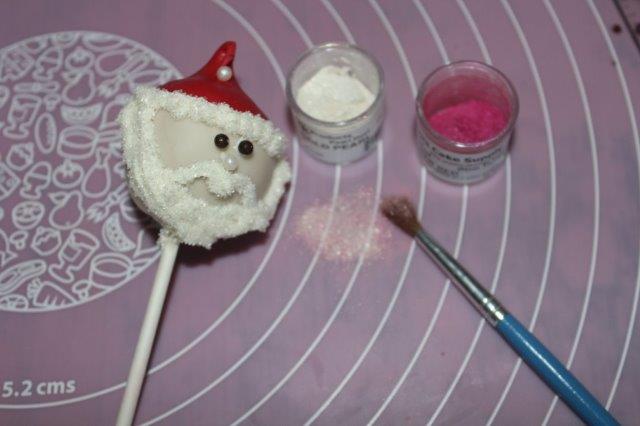 Step 4:
To help your Santa look even more jolly, use a small paintbrush to apply a very light coat of pink luster dust to his cheeks and nose. Add his eyes by using two small black dragees and a pink dragee for his nose. And there you have an adorable Santa ready for any party!
How to make drizzled Christmas cake pops
These little beauties are super quick and easy.
Step 1:
Simply dip your cake pops in any color you choose, let them dry, then melt a different color or the same color and place it in a disposable piping bag. As with the Santa cake pops, cut a very tiny hole in the tip of your piping bag and make sure your chocolate is thin, this will give you the best results.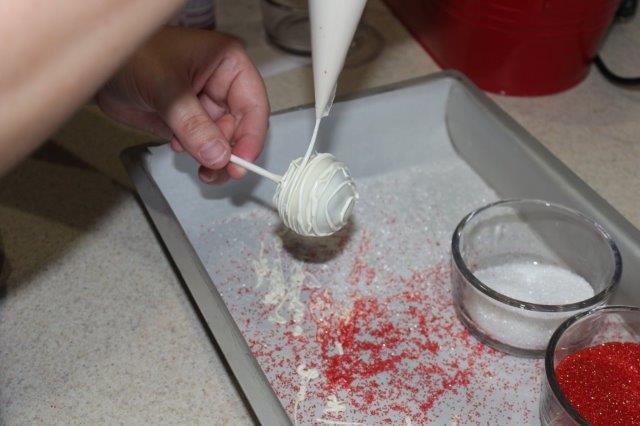 Step 2:
While holding your cake pops horizontally over a pan or piece of parchment paper, twist the cake pop while moving your piping bag back and forth. You want to hold your piping bag a few inches above the cake pops so that the chocolate drizzles over it rather than piping on it.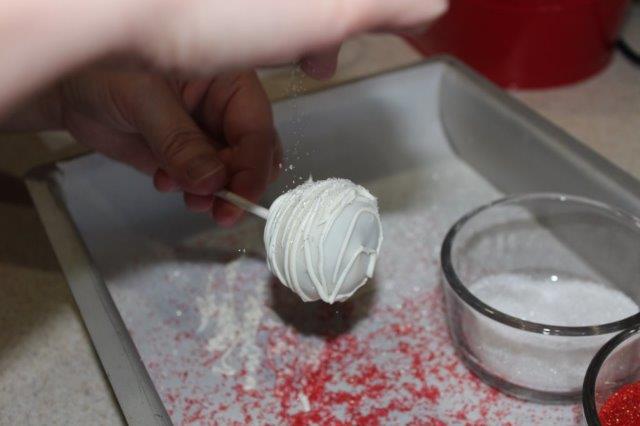 Step 3:
Immediately sprinkle sanding sugar, luster dust or any of your favorite homemade sprinkles onto the cake pops so they attach to the melted drizzles.
How to make snowman cake pops
Snowmen are so cute in their top hats, so why not share the joy with your friends and family!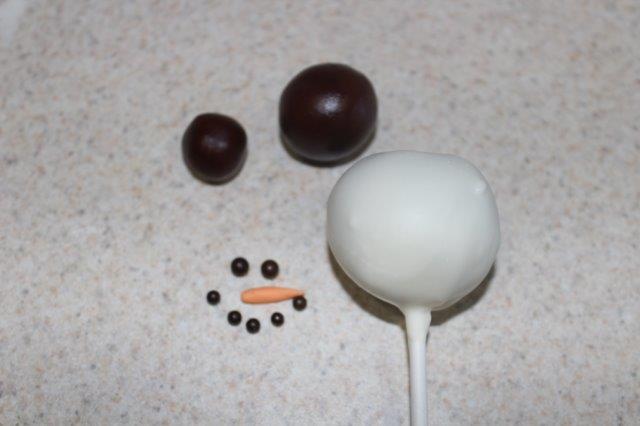 To make the snowman, you will need five small dragees and three medium dragees. You will also need either black or brown fondant or modeling chocolate. (I used modeling chocolate.) You will also need a tiny piece of orange fondant or modeling chocolate for the carrot nose.
Step 1:
Cover your cake pop in white chocolate or Candy Melts and let them dry. While you are waiting, split your modeling chocolate into a small piece and a medium piece.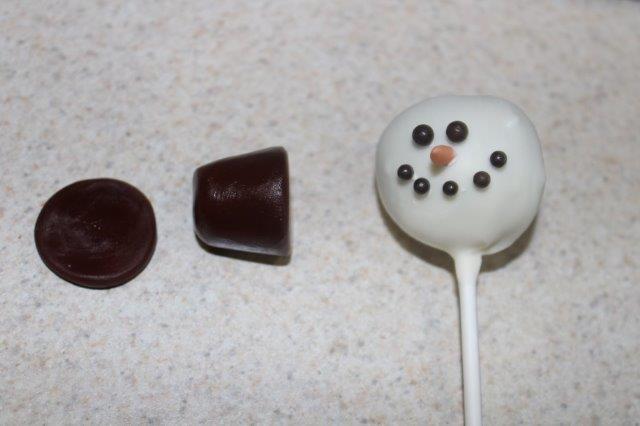 Step 2:
Squish the small piece of modeling chocolate into a disk — this will be the rim of the hat. Form the medium piece into a cone with a flat top — kind of like a Rolo candy — so the top is larger than the bottom. Attach the eyes, mouth, and nose using a tiny dab of melted chocolate to secure them to the cake pop. Use melted chocolate to attach the hat also.
Are you making any cake pops or other decorated treats this Christmas?