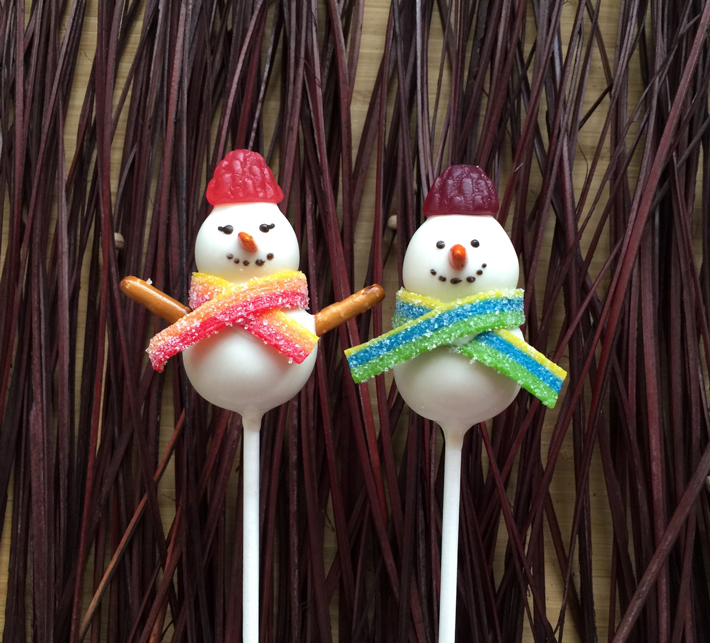 Building a snowman is a must for any snowy day, but these snowman cake pops are equally sweet to make. Whip up a whole batch for your little ones to enjoy when they come in from playing out in the snow.
Snowman Cake Pops
Level: Easy
What You Need
Cake pop dough, ready for shaping
White candy melts
Black or brown candy melts (you only need only a couple wafers)
Raspberry gummies or gum drops
Candy-coated sunflower seeds
Rainbow sour belts
Mini pretzel sticks (optional)
Lollipop sticks
Wax paper
Toothpicks
Cake pop stand
Cookie scoop
Knife
Instructions
1. Shape the Snowmen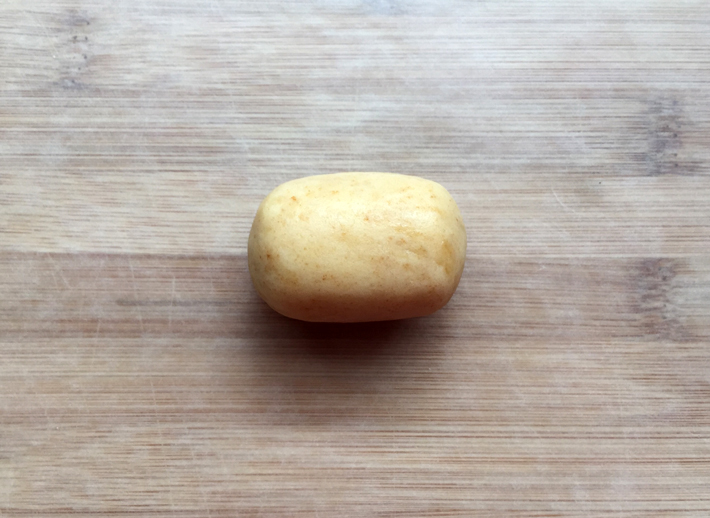 Line your work surface with wax paper and use a cookie scoop to portion out your cake pop dough. Roll each scoop into a smooth ball, then shape the ball into a log.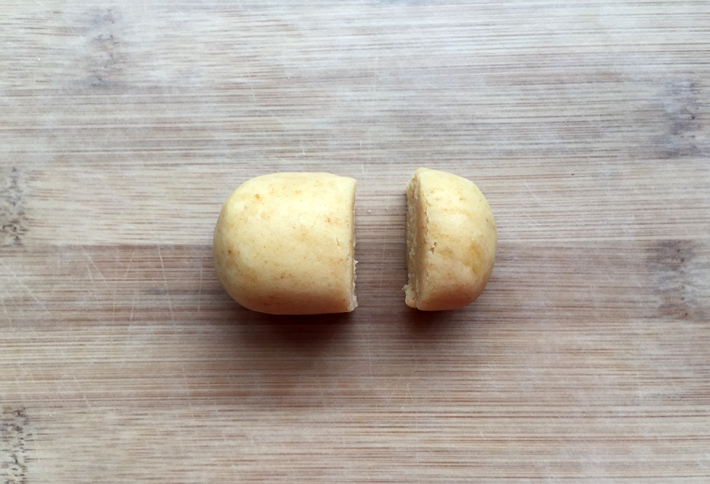 Use a knife to cut ⅓ of the dough from the log.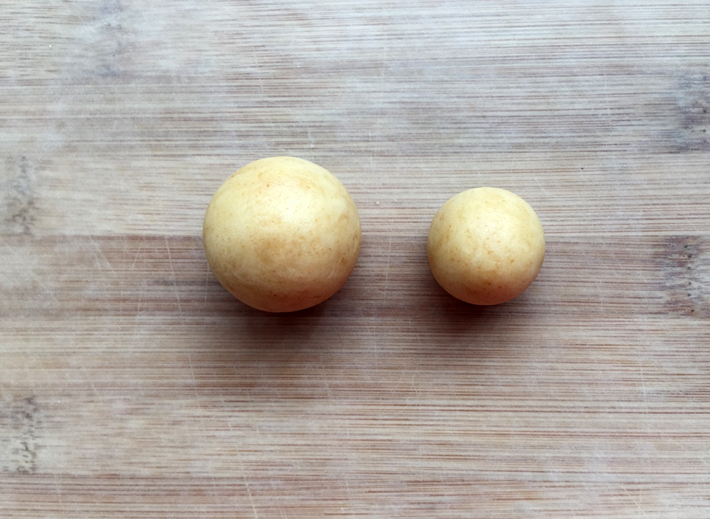 Roll both pieces into balls to form the snowman's head and body. Once you have all the pieces formed for your cake pops, place them in the refrigerator.
2. Prep Your Candies and Coating
As the dough chills, prep your work space so you have all the candy you need within reach. If you're using pretzel sticks for arms, break them into smaller pieces now.
3. Build the Snowman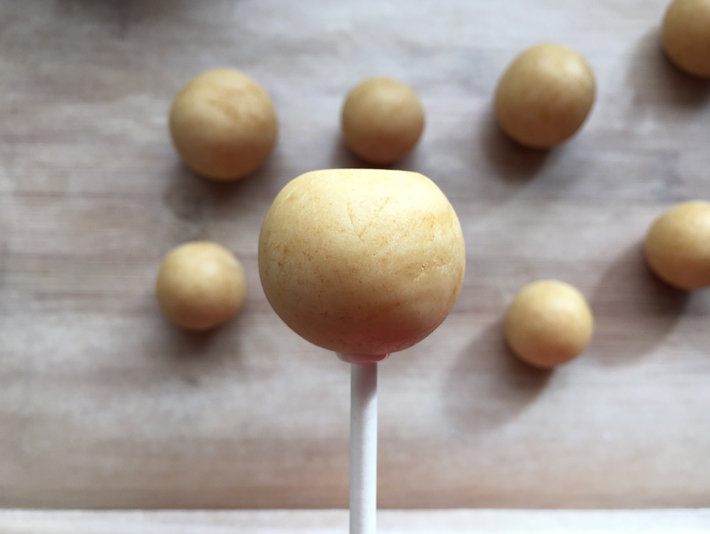 Remove the dough from the refrigerator and grab your lollipop sticks. Dip each stick ⅓" into the melted candy coating, then push into a large dough circle to create the snowman's base. Do this by placing the dough on your work surface and pressing the stick down into it, so the opposite end flattens slightly. Repeat for each cake pop.
Dip the flatter top side of each cake pop into the white candy melt (being careful not to submerge) and add the smaller dough circle for the head.
4. Dip
Once the dough balls have dried together, dip each cake pop into the white candy melts. Gently shake off any excess and use a toothpick to pop any air bubbles.
5. Decorate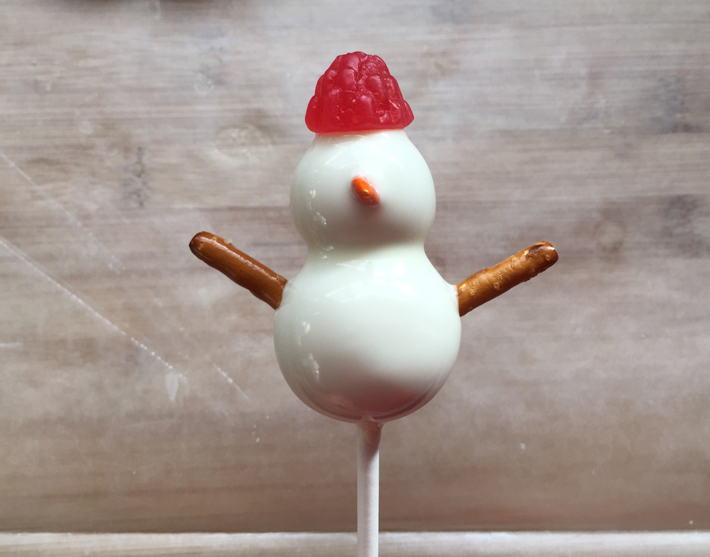 While the candy coating is still wet, begin decorating your snowman. You can use any candies you like, but we used a raspberry gummy for a hat; orange and yellow candy-coated sunflower seeds for the nose and pretzel sticks for the arms.
Place each pop on a cake pop stand and let them dry completely.
6. Bundle Him Up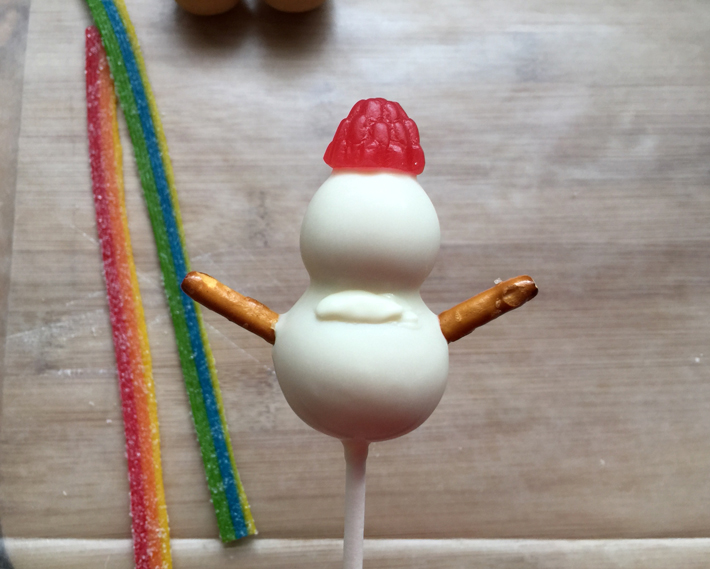 When the snowmen are dry, add the rainbow sour belt scarf. Dab white candy melts onto the snowman's chest and lay one end of the candy over it.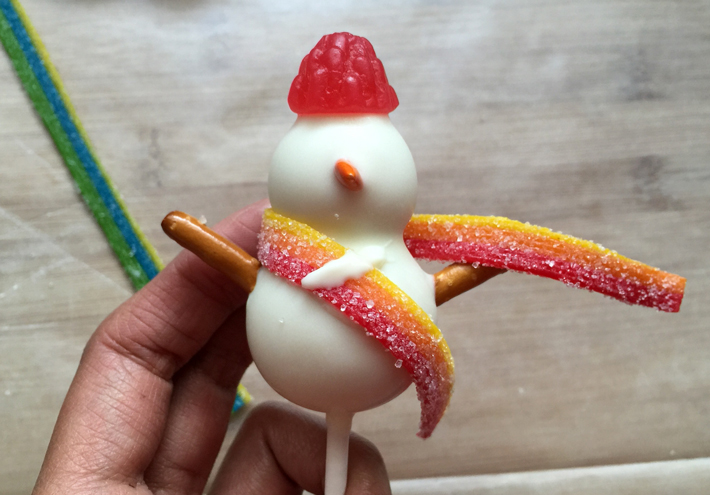 Wind the candy around the cake pop. When it comes back to the front, add more candy melts to secure the overlap.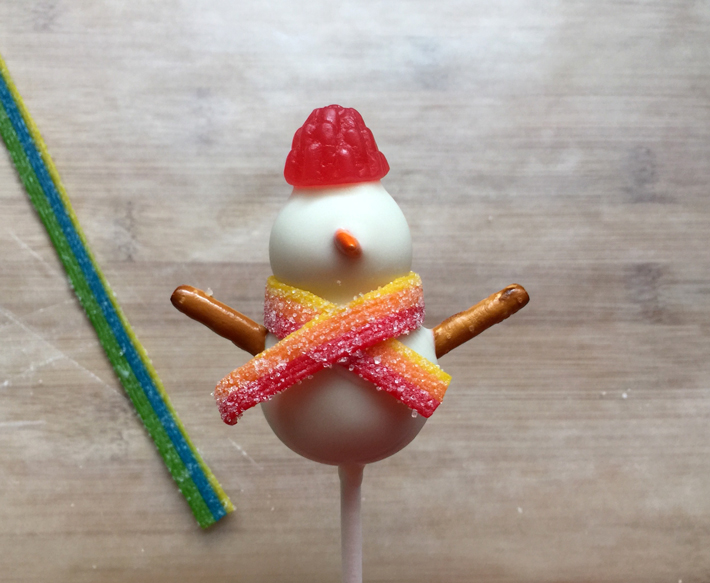 Repeat for each snowman.
7. Pipe the Details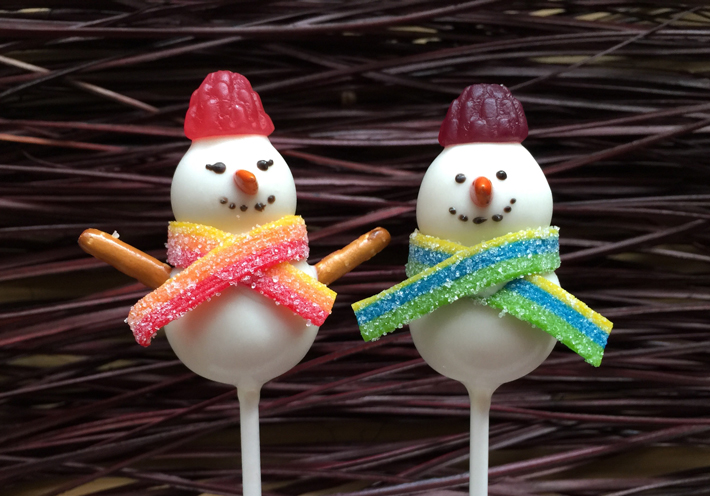 Melt the black or brown candy melts. Fill a plastic baggie and cut a small hole in the corner. Then pip small eye and mouth details on each snowman.
Once they dry, they're ready for serving!