Making a snowman is probably reminiscent of some of your fondest winter memories, or on the list of memories you'd like to make. It's definitely my favorite outdoor winter activity because all ages can come together and create a figure that conveys pure joy. This year I challenge you to take this same activity indoors, into your kitchen and create snowman cake pops! This fun food craft will definitely add to your list of memorable winter activities with your most favorite people.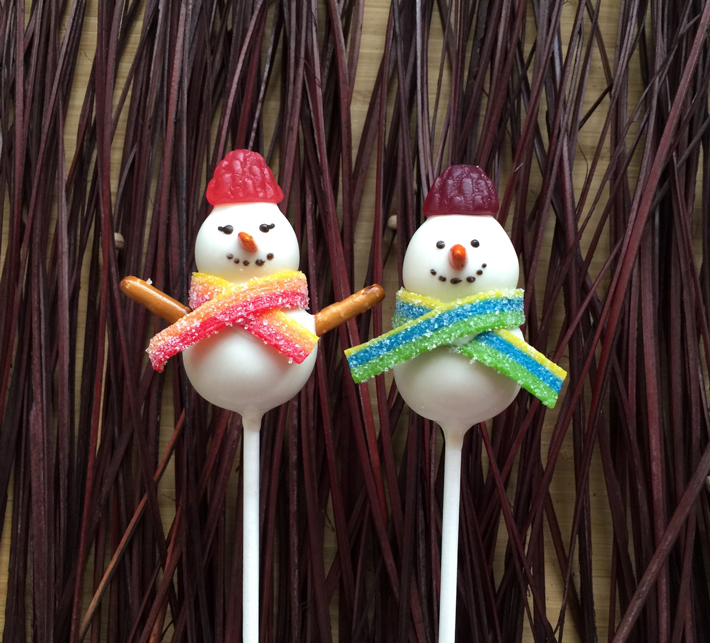 Cute snowman cake pops tutorial
Materials:
Cake pop dough ready for shaping

White Candy Melts

Black or brown Candy Melts (only a couple wafers)

Raspberry gummies or gum drops

Candy-coated sunflower seeds

Sour belts

Mini pretzel sticks (optional)

Lollipop sticks

Wax paper

Toothpicks

Cake pop stand
Step 1:
Line your work surface with wax paper. To learn how to shape cake pops, our shaping tutorial will help if you're unfamiliar with the process.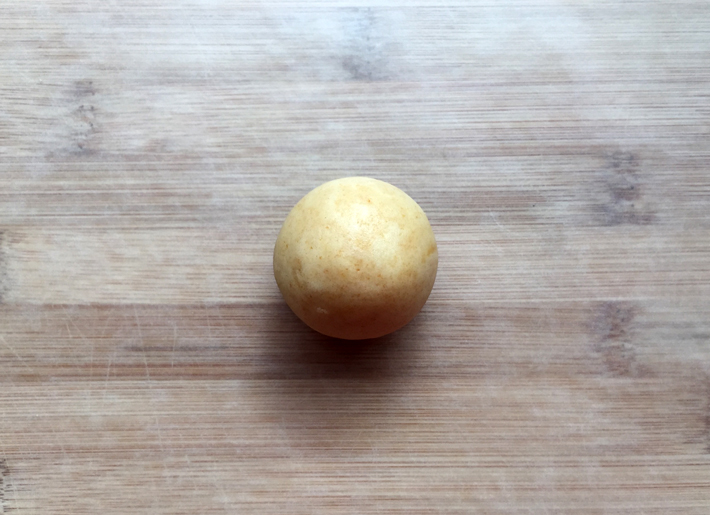 Scoop your cake pop dough and first roll into a ball.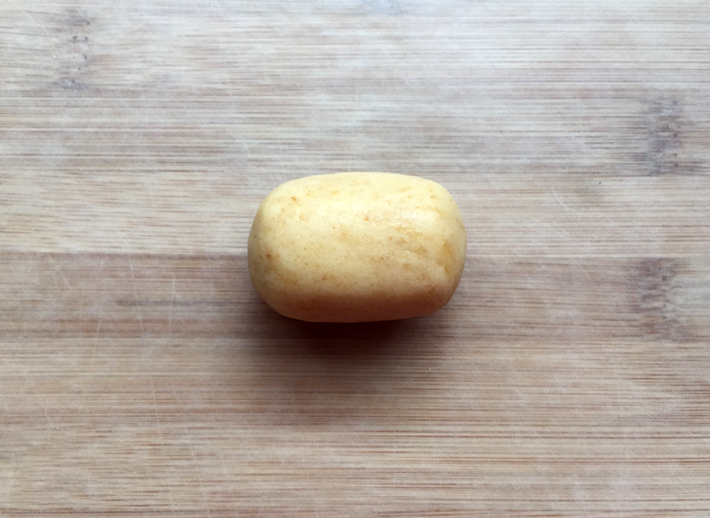 Then roll into a log.
Using a sharp knife, cut 1/3 of the dough.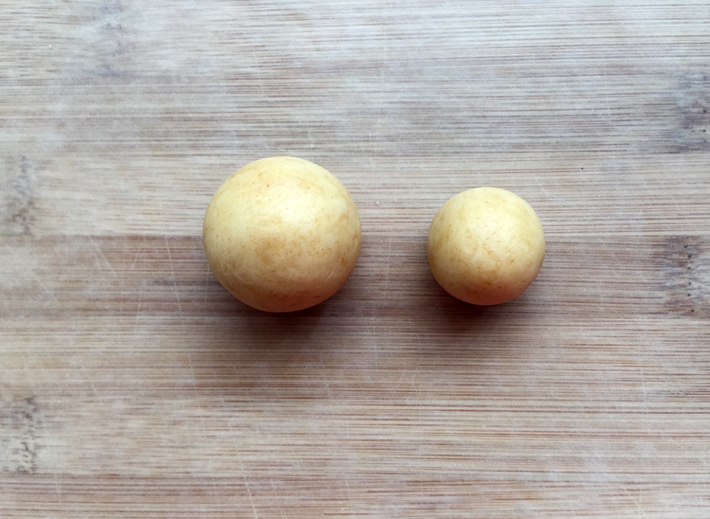 Roll both pieces into a ball. These are your snowman head and body. Refrigerate all the pieces on a wax paper-lined cookie sheet.
Step 2:
Gather, sort and prep your candies.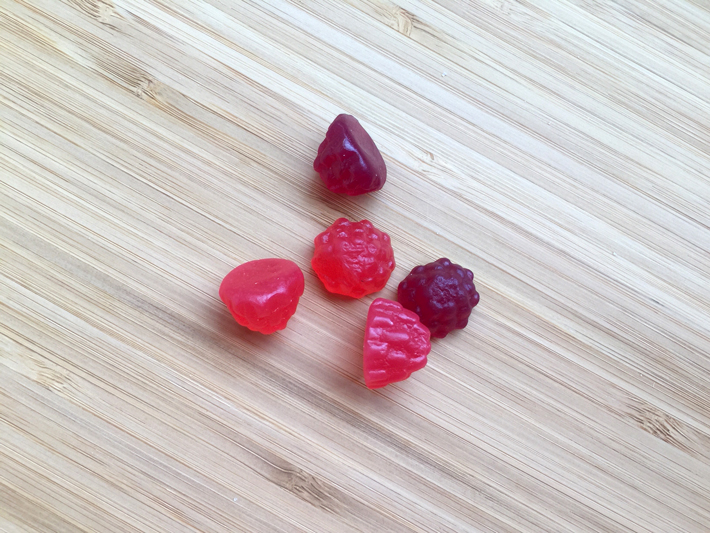 I found these particular raspberry gummies at a candy store bulk bin. Feel free to use other gummy raspberry candies or gum drops. These are easily found at grocery stores and gas station marts, which happen to be a goldmine for candy!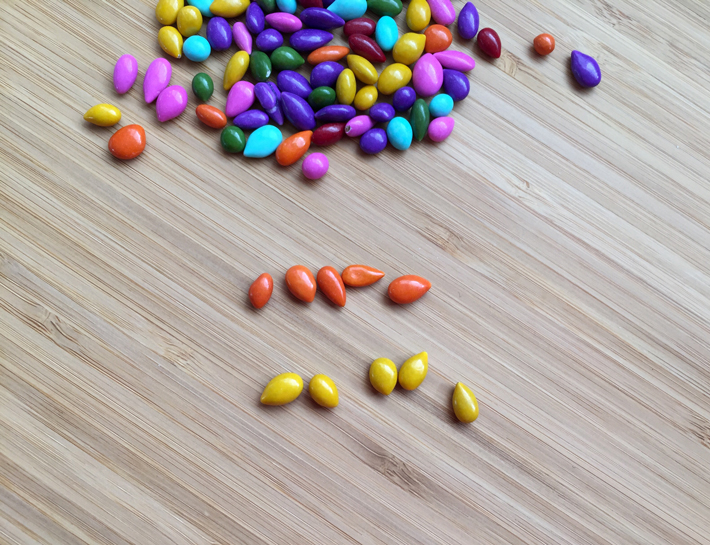 Sort out the orange and/or yellow candy sunflower seeds. It'll give your snowmen some variety in color. I love these sunflower seeds. They're super delicious. If you don't end up eating the other colors, keep them to use on a later cake pop project.
Cut the rainbow sour belts in half lengthwise. Longer pieces are ideal to work with. We'll trim them to a shorter length once they're attached to our snowman.
These pretzels are totally optional. Your snowmen will be super cute whether or not you decide to use them. Break them into small pieces.
Step 3:
Remove cake pieces from the fridge and let rest at room temperature. Now we will melt the candy coating! For the perfect dip, refer to our melting and dipping tutorial.
Melt the white candy coating wafers.
Step 4:
Next we'll attach the sticks and assemble the snowmen.
Attach sticks to the body pieces by dipping a lollipop stick, about 1/3″ into the melted coating, then carefully push it in until it's about 3/4 of the way into the body portion. Make sure to stick the stick into the rounded end; you'll want the flatter part to be at the top. Repeat for every body piece.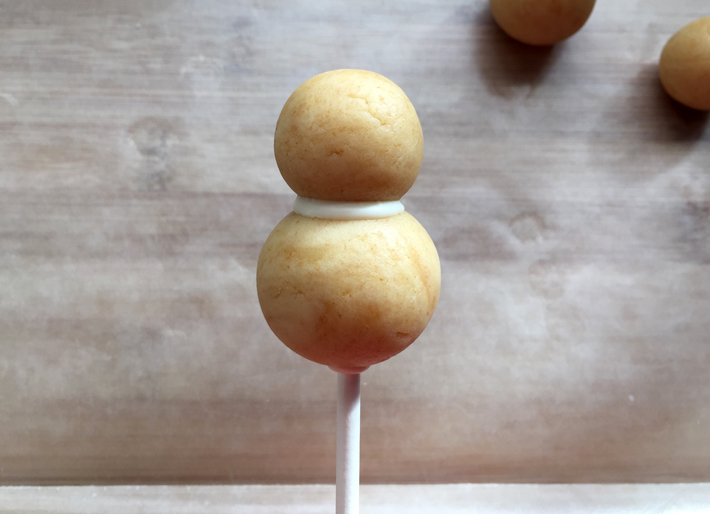 Grab a head piece and carefully dot the bottom with candy coating by touching the surface of the coating (do not submerge) with the bottom flat part of the head. Attach it to the body. Place on a cake pop stand to set completely before dipping.
Step 5:
This step is a big one. Make sure your little candy and pretzel pieces are close by as we will be attaching all pieces, except the scarf, in this step.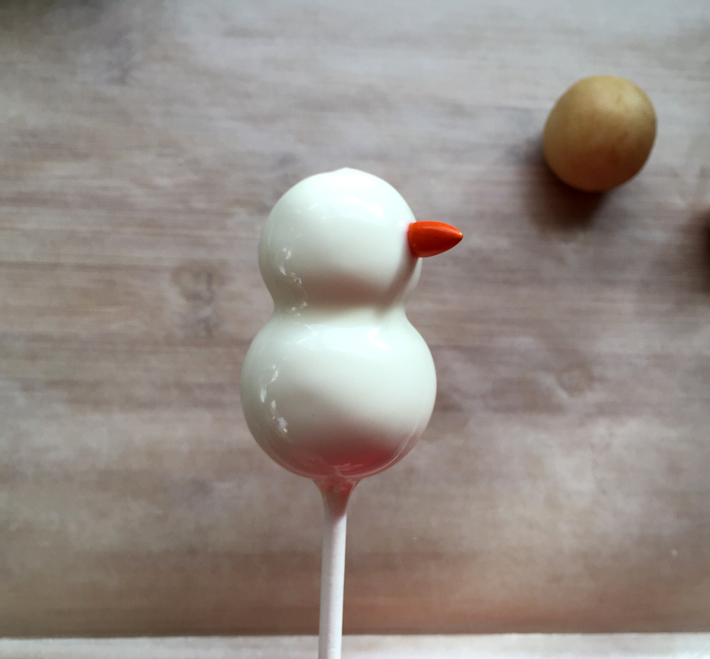 Once the head and body attachment is set, we dip the cake pops! Submerge the snowman, lift out and gently shake off the excess by holding it upside down and moving it in a circular motion. Use a toothpick to pierce any air bubbles and place his "carrot" nose.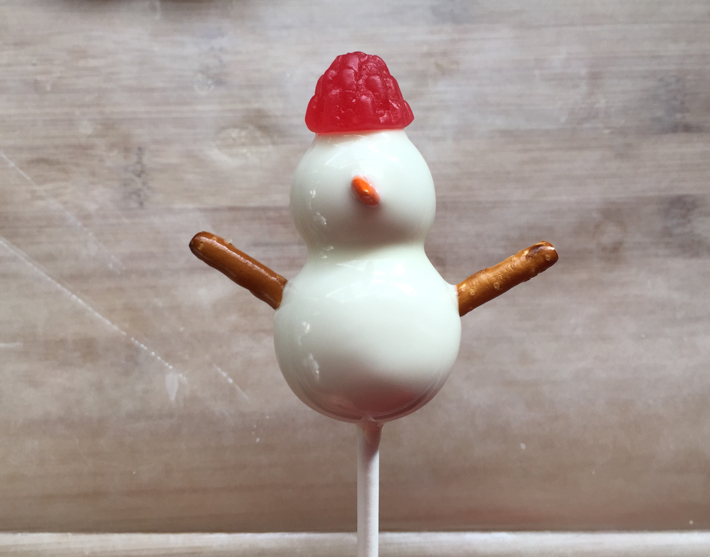 Push in  pretzel arms (if you're using them) and don't forget to attach the gummie hat! Place on a cake pop stand and let dry completely.
Step 6:
Let's wrap our snowmen in their scarves.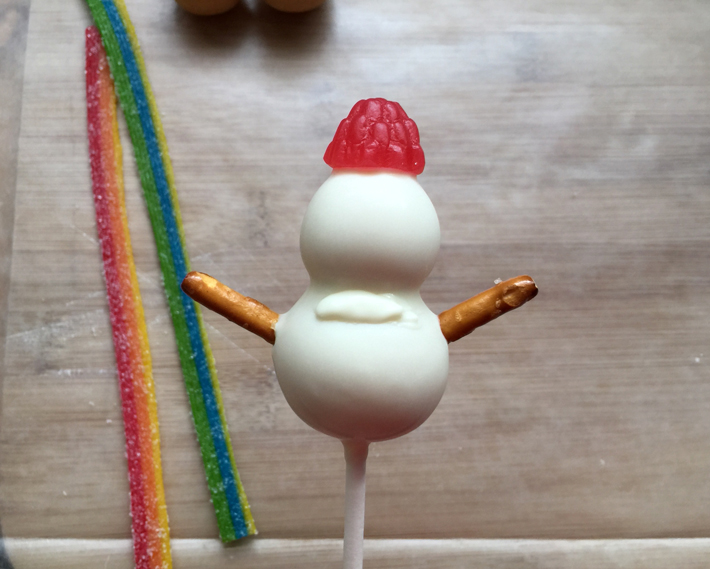 Attach the scarf by first placing candy coating just below the back of the neck. Place the middle of the scarf in that area and wrap it around to the front.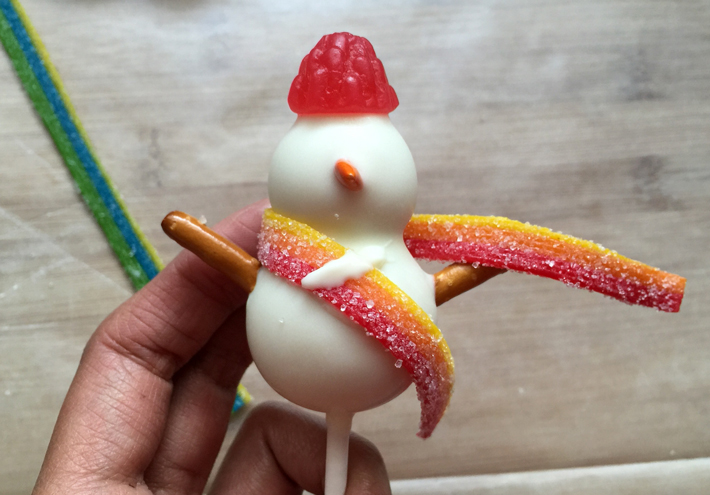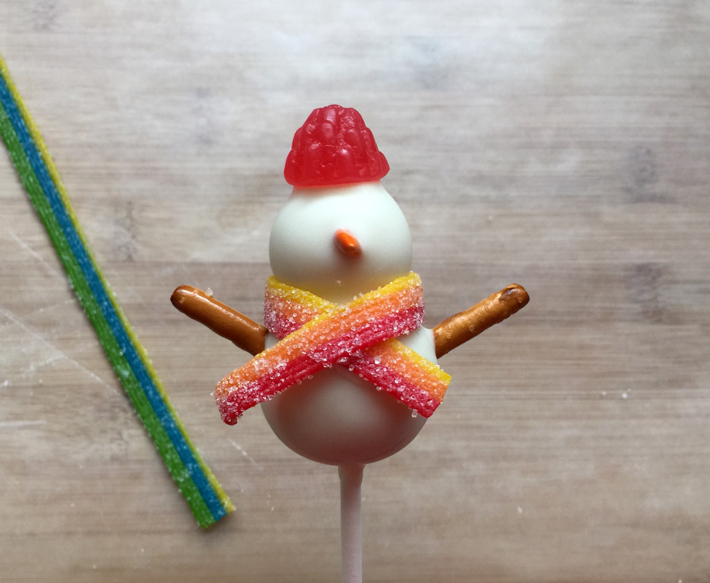 Secure the scarf in place by placing candy coating right under the areas that meet the body. Use scissors to trim the length of the scarf to your liking.
Step 7:
Melt black or brown Candy Melts in the microwave.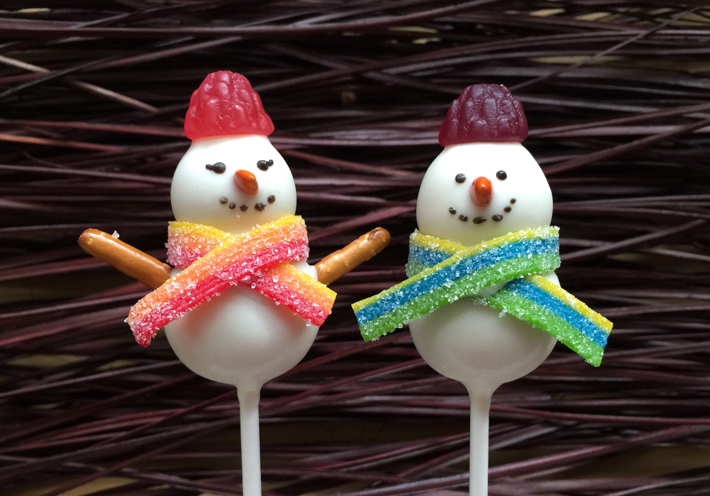 Use a toothpick to dot the eyes and mouth details. For snow-women, add an eyelash at the outer parts of each eye!