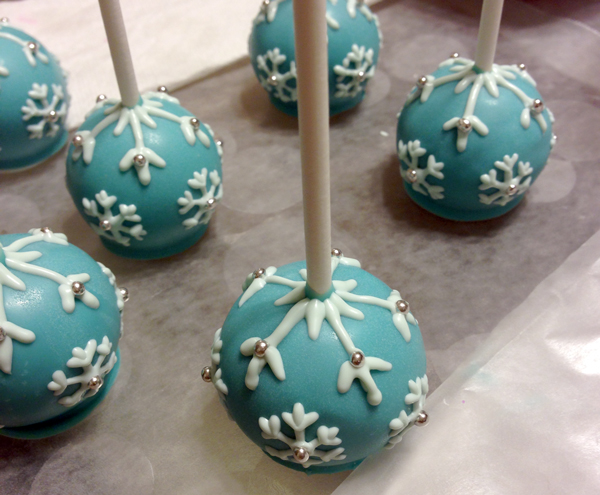 Take everything you know about cake pops … and flip it on its head. Literally! Upside-down cake pops are perfect for large family gatherings — so they're ideal for the holidays. And when you decorate them with little snowflakes, these winter treats can't get any cuter.
Upside-Down Snowflake Cake Pops
Level: Easy
What You Need
Cake dough (use your favorite recipe)
Buttercream
Blue and white candy melts
Cookie scoop
Cookie sheet
Lollipop sticks
Scissors
Silver dragées or edible pearls
Wax paper
Ziploc bag
Instructions
1. Make the Dough
Mash up a baked cake (you can use any recipe you love) and combine it with buttercream. For every 2 cups of cake, use 1 tablespoon buttercream. Adjust this ratio until you have a doughy consistency you can roll into a ball.
2. Shape
Line your work surface with wax paper. Use a cookie scoop to portion out the dough and roll each scoop into a ball with your hands. Place on a cookie sheet lined with wax paper and refrigerate the dough balls for at least 10 minutes.
3. Make the Candy Coating
While the dough is chilling, melt the blue candy melts.
4. Dip
Insert a lollipop stick into each dough ball until it's about halfway through. Dip each cake pop into the candy coating completely. Gently shake off the excess and place the pop dough-down onto wax paper. Repeat this for each cake pop and let them dry completely.
Pro Tip: Sometimes, air bubbles happen. If you see one in your candy coating, gently pop it with a toothpick.
5. Decorate
Melt a handful of white candy melts and spoon the coating into a Ziploc bag, pooling it all to one corner. Cut a small hole in the corner and pipe snowflakes on each cake pop. The snowflakes should start at the stick and radiate out.
Place dragees or sugar pearls where lines intersect at each tip of the snowflake, then decorate the remaining space with smaller snowflakes or dots. Once all are decorated and dry, they're ready to serve!