Winter is upon us and there's nothing more satisfying than catching snowflakes on your tongue by way of snowflake cake pops! These cake pops not only simple to make, but customizable to your holiday color palette as well.
Learn how to make these simple, elegant upside-down snowflake cake pops in a few easy steps!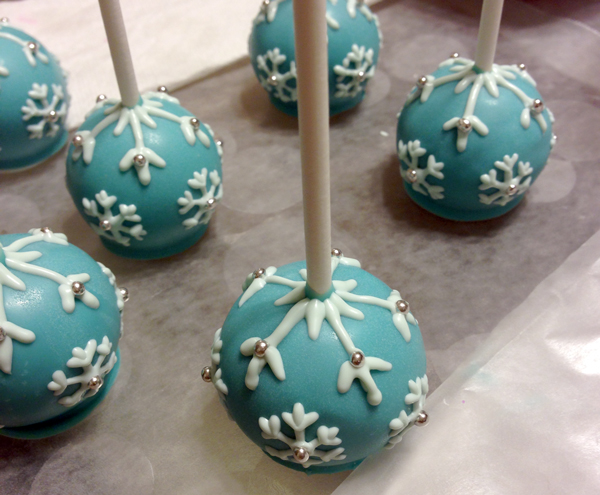 What are upside-down cake pops?
Upside-down cake pops are prepared and assembled in the same manner as regular cake pops, but the cake ball placed upside down on a flat surface to set and dry completely. They are perfect for large family gatherings, as large quantities can be easily displayed on serving platters or any type of flat surface.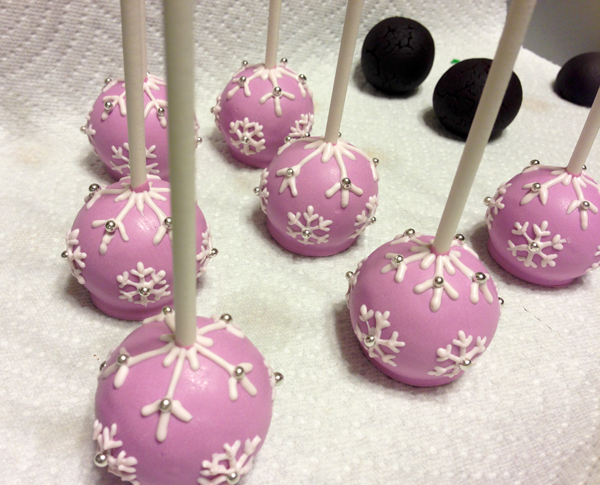 You will need:
Cake pop dough ready for shaping
Candy coating in the color of your choice
White candy wafers for piping snowflakes
Silver dragées or candy pearls
Lollipop sticks
Wax paper
Ziplock bag
Directions:
Note: Before you begin, be sure to line your work surface with wax paper!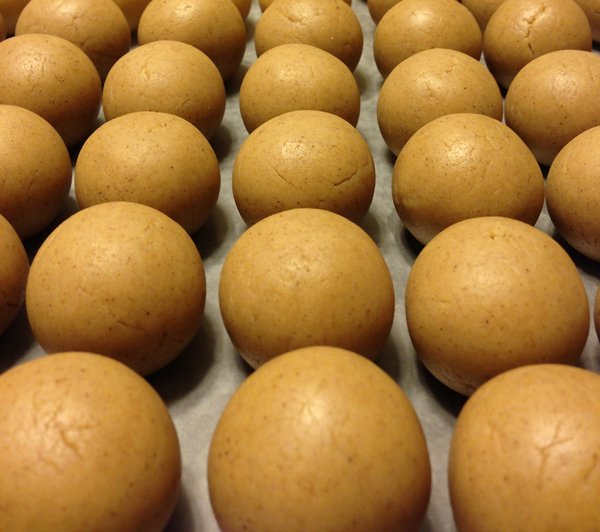 Step 1:
Portion out the cake pop dough using a cookie scoop. Roll each portion into a ball and place on a wax paper-lined cookie sheet. Refrigerate for at least 10 minutes. Please refer to this tutorial for creating and cake pop dough to brush up on the process if needed.
Step 2:
While the cake balls are chilling like a villain, it's time to melt the candy coating. Melt the colored candy wafers in a microwave-safe plastic bowl or cup.
Microwave the wafers for 1 minute at 50% power. Stir. Then microwave at 30-second (50% power) intervals, stirring after every interval, until melted. Use Paramount Crystals to thin out the candy coating if needed, then set aside and let rest for a few minutes. There are excellent pointers in this cake pop dipping tutorial if you'd like to review the melting and thinning of candy coating to get it that perfect dipping consistency.
Step 3:
Dip ⅓ inch of a cake pop stick into candy coating and push into a cake ball until it's about halfway through. Do this for the remaining pieces.
Step 4:
Place another sheet of wax paper on your work area. This is where we will place the dipped cake pops to dry and set.
Dip each cake pop into the candy coating by submerging it completely until the coating meets the stick. Then, pull it out in one motion. While still upside down, gently shake the cake pop side to side to allow the excess to drip off.
Tip: If you notice any air bubbles, gently pierce them using a toothpick.
Place ball-down on wax paper and let dry completely. Repeat for all cake pops.
Step 5:
Melt a handful of white candy coating (refer to step 2) and transfer into a ziplock bag, pouring it into a corner. We'll be using this to pipe snowflakes on each cake pop.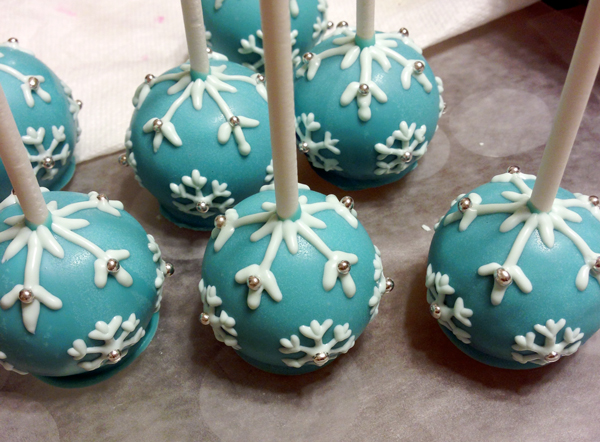 Snip the very tip of the bag with scissors. Pipe snowflakes on each cake pop starting from the stick and radiating out. Place dragees or sugar pearls where lines intersect at each tip of the snowflake. Please note that dragées may not be available for purchase in certain locations; use silver sugar pearls (or another color) instead.
Decorate the remaining space with smaller snowflakes. Add a dragée or pearl at the center of each small snowflake.
Step 6:
If you notice cake exposed at the bottoms, simply place a little bit of the colored candy coating on the wax paper and place the cake pop on top of it and let it dry completely.
Let me know what you think about these upside-down cake pops! Have fun catching snowflakes!