Do you find yourself adapting patterns, coming up with design variations that work for you? You might be feeling ready to take that next step: creating a crochet pattern and selling it to others. But where do you begin? This guide will help!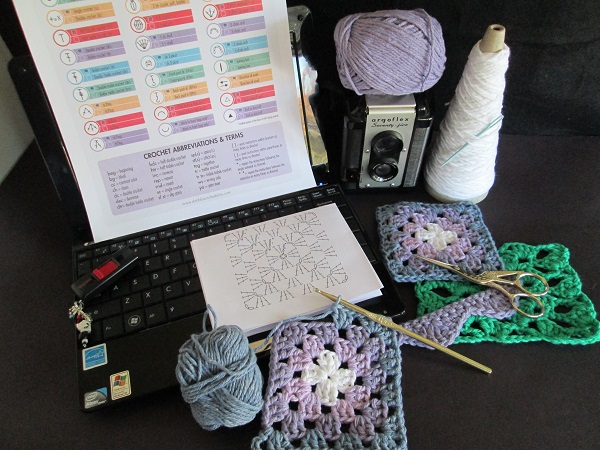 Image via Craftsy writer Robin Brzozowski
Learn how to create a crochet pattern on your own with this guide!
Step 1: Practice writing out a pattern you already know
To get used to writing crochet patterns, practice with patterns that you already know.
For example, take the classic crochet granny square. Pretend that the instructions for this pattern have been lost and it's your responsibility to recreate them.
Sit down with yarn, hook and pen (or computer) and describe how to crochet a granny square. As you crochet, write out each step.
You could start writing round-by-round instructions right off the bat, but if that feels too difficult, just jot notes down first. Then take your notes and turn them into written crochet instructions.
When your crochet instructions are complete, pull up a granny square crochet pattern online and go through it line-by-line, comparing your instructions. Did you get anything wrong? Leave anything out? Did you use the same crochet abbreviations?
Keep practicing until you can perfectly recreate a crochet pattern in words. When you think you've got it down, ask a friend to follow your pattern and ask for their feedback. Remind your friend to follow your pattern, and not to just make a granny square from memory — you want to make sure that your pattern is correct.
Step 2: Practice a few more times!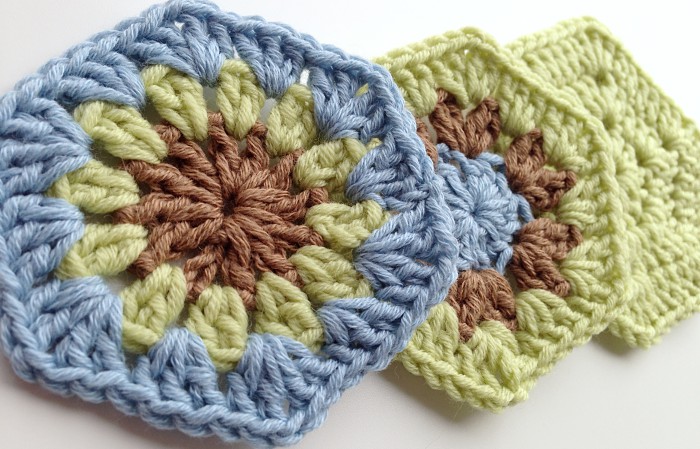 Image via Kathryn Senior
You want to really get the hang of writing crochet patterns before you dive in, so practice a few more times with stitch patterns or motifs that you already know. Here are some patterns that you might already know from memory:
Crochet the piece from memory, taking notes on the stitches as you go, and turn those notes into written patterns. Compare your finished pattern to the existing pattern available online, and fix any mistakes in yours. You will learn more each time and get better and better at writing your own crochet patterns.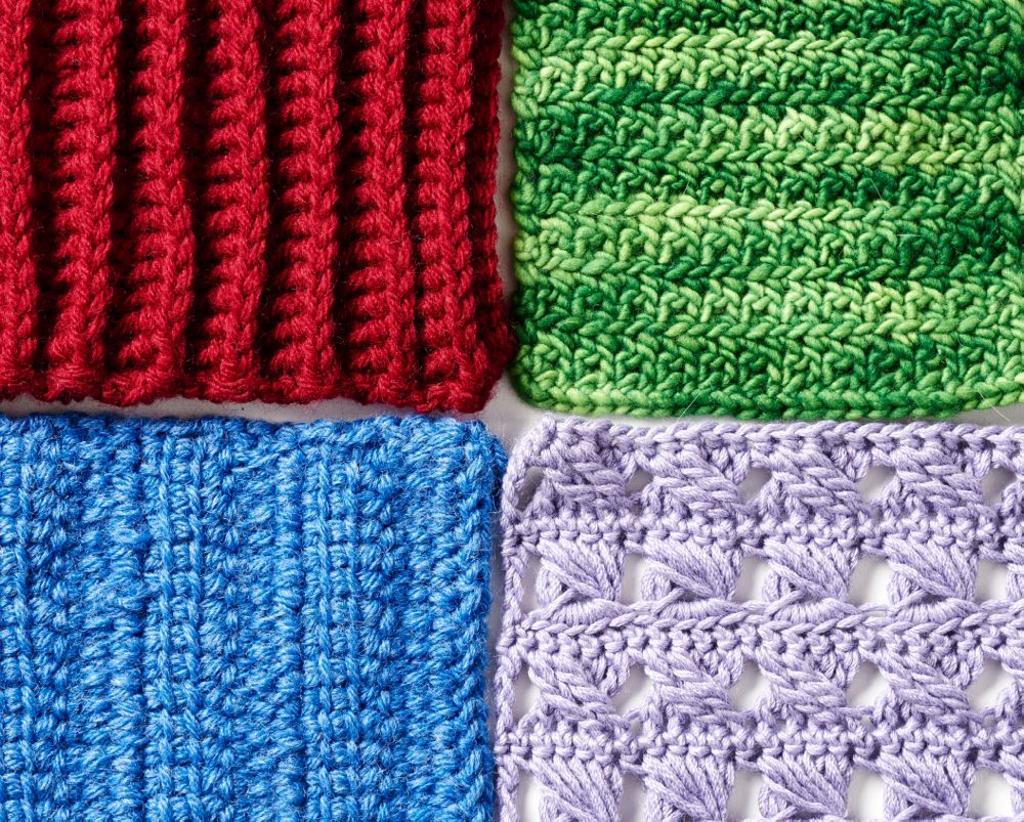 Step 3: Create your own simple crochet pattern
It's finally time to start working on your own crochet patterns! Start hooking up something that interests you or the vision you have in your head.
Keep careful notes of what you are doing as you go. These notes will become your pattern, just like they did in your practice sessions. The only difference is that now you're working from your imagination rather than your memory of an existing pattern! You are designing!
Here are some tips for your first crochet pattern:
Start very simple. Give yourself some early success to build on!
Work small. Crochet a small motif or swatch — don't start with a big blanket!
Avoid increasing and decreasing. Of course, you will eventually get to that, but it keeps the crochet math a lot simpler if your first pattern is a square or rectangle that doesn't require increasing and decreasing.
Work in rows. You can, of course, crochet in the round, but it would require increasing and decreasing, so start in rows.
Repeat rows of your favorite stitches. This allows you to make interesting stitch pattern repeats without getting complex.
Once you have a swatch you like, go through your notes and write up your pattern.
Step 4: Test your pattern
Work through your own pattern again, following it carefully to make sure it comes out the same. Adjust your pattern if necessary.
Then, have a pattern tester (or friend) work through your pattern. Get feedback and adjust if necessary.
And that's it, you have made your first crochet pattern!
Want to share it with the world?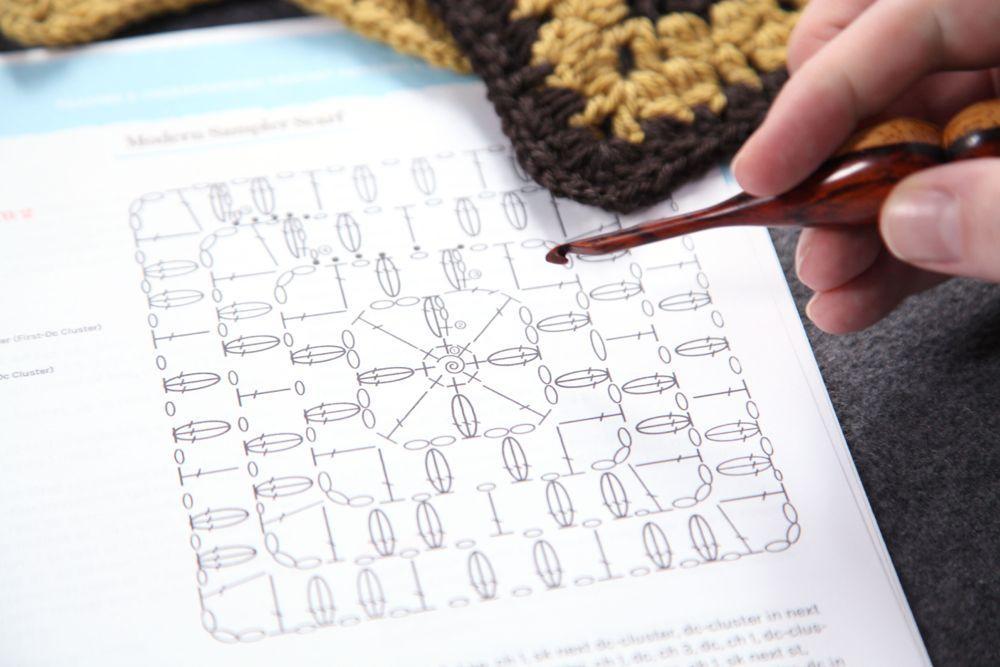 More tips for creating your own crochet patterns
You may find these resources helpful for moving forward:
Ashley Little's 4 Tips for Writing Professional Knitting Patterns and Ashley Martineau's Tips for Writing Knitting Patterns for Art Yarn have some valuable tips for crocheters.
Consider taking the Reading and Understanding Crochet Patterns Craftsy class, taught by designer Shannon Mullet-Bowlsby. Shannon shares a more in-depth look at patterns, giving you insight into what your readers will want to know when they look at one of your patterns.
Another class from Shannon, Crochet Toolkit: Designer Tips and Tricks, includes a particularly helpful lesson in understanding crochet math.
Blogger Robin Brzozowski's Understanding Crochet Diagrams: The Key to Breaking the Code is a great resource. As a professional crochet pattern writer, you can really take things to the next level by including stitch diagrams along with your written patterns. You have to understand these diagrams to be able to write your own! You may also want to look into Stitch Fiddle, a website that can help you in charting your own crochet patterns.
Is amigurumi more your style? Stacey Trock's Craftsy class Amigurumi: Design Your Own Monster  teaches you how to create your own amigurumi, which of course you can then write patterns for!