If you're a spinner of art yarns, you've probably been asked a hundred times, "What do you make with it?" Or perhaps you are a knitter who loves designing patters for beautiful yarn but can use a little more guidance.
Many knitters are inspired by a completed pattern, and there is a serious lack of art yarn patterns right now — so writing some of your own will help answer this question along with possibly increasing your handspun or pattern design sales!
Here are my top tips for writing easy-to-follow patterns that make the most of handspun yarn!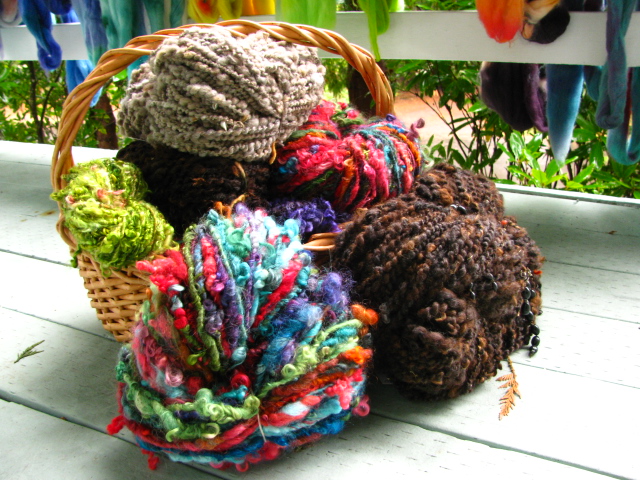 Write simple, small patterns.
I find that handspun art yarn looks best in patterns that are very simple.  When you complicate the pattern with fancy stitch work – you can lose the texture of the yarn in the pattern and the pattern will look tortured.  Stockinette or Garter stitch looks best, as it allows the yarn to be the focal piece of the work – rather than the stitch work.  Since the yardage of yarn might be limited, using art yarn in a smaller pattern helps stretch the yardage thru the whole project.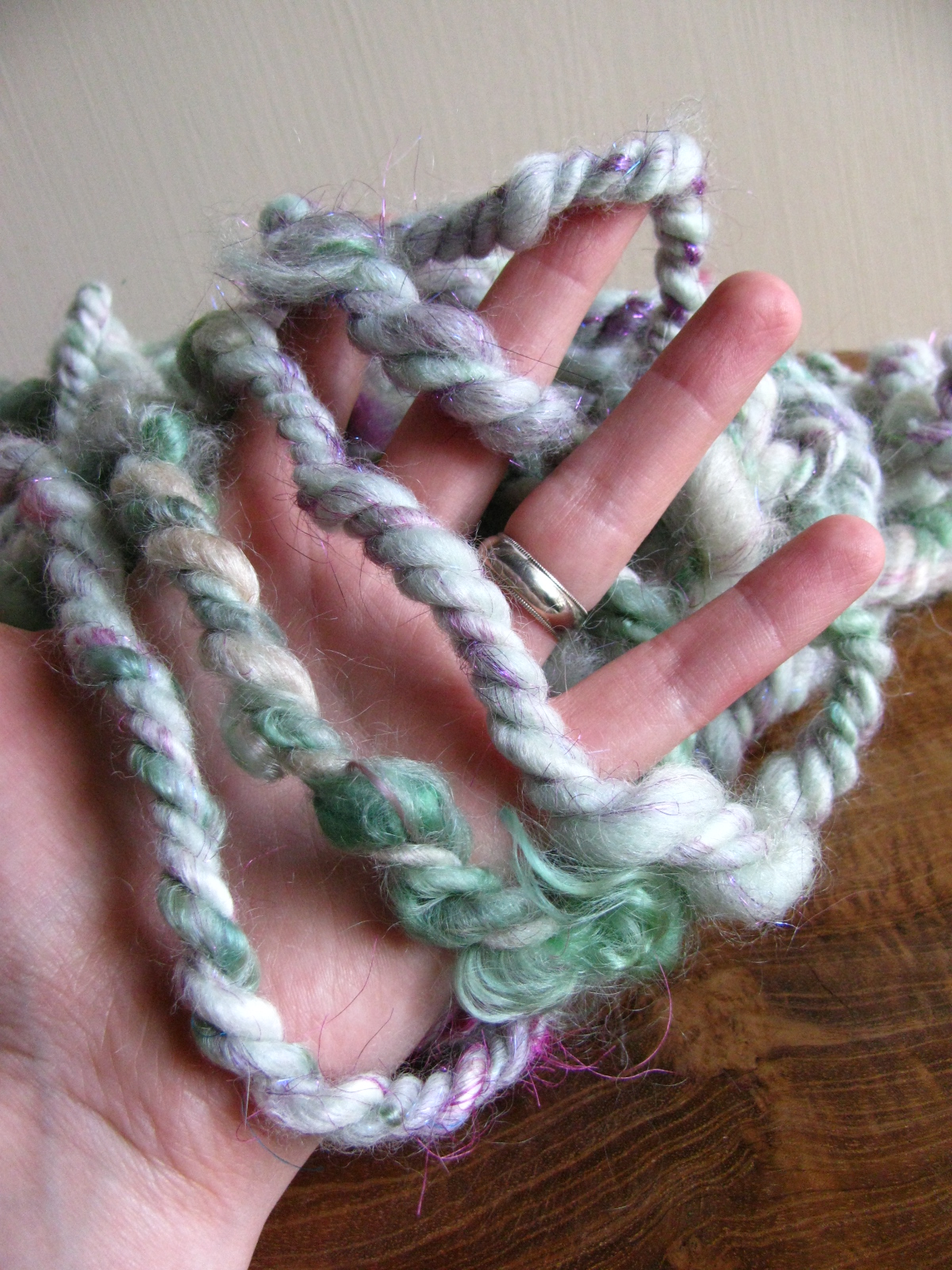 Use big needles to promote a loose gauge.
When your needles are too big, it allows the yarn to breathe.  Knitting too tight, or on small needles can choke the texture of the yarn and turn it into a mass of confusion.  I find that an elongated stitch works beautifully with art yarn because it makes each stitch extra long and drapey and promotes even more ease in the project.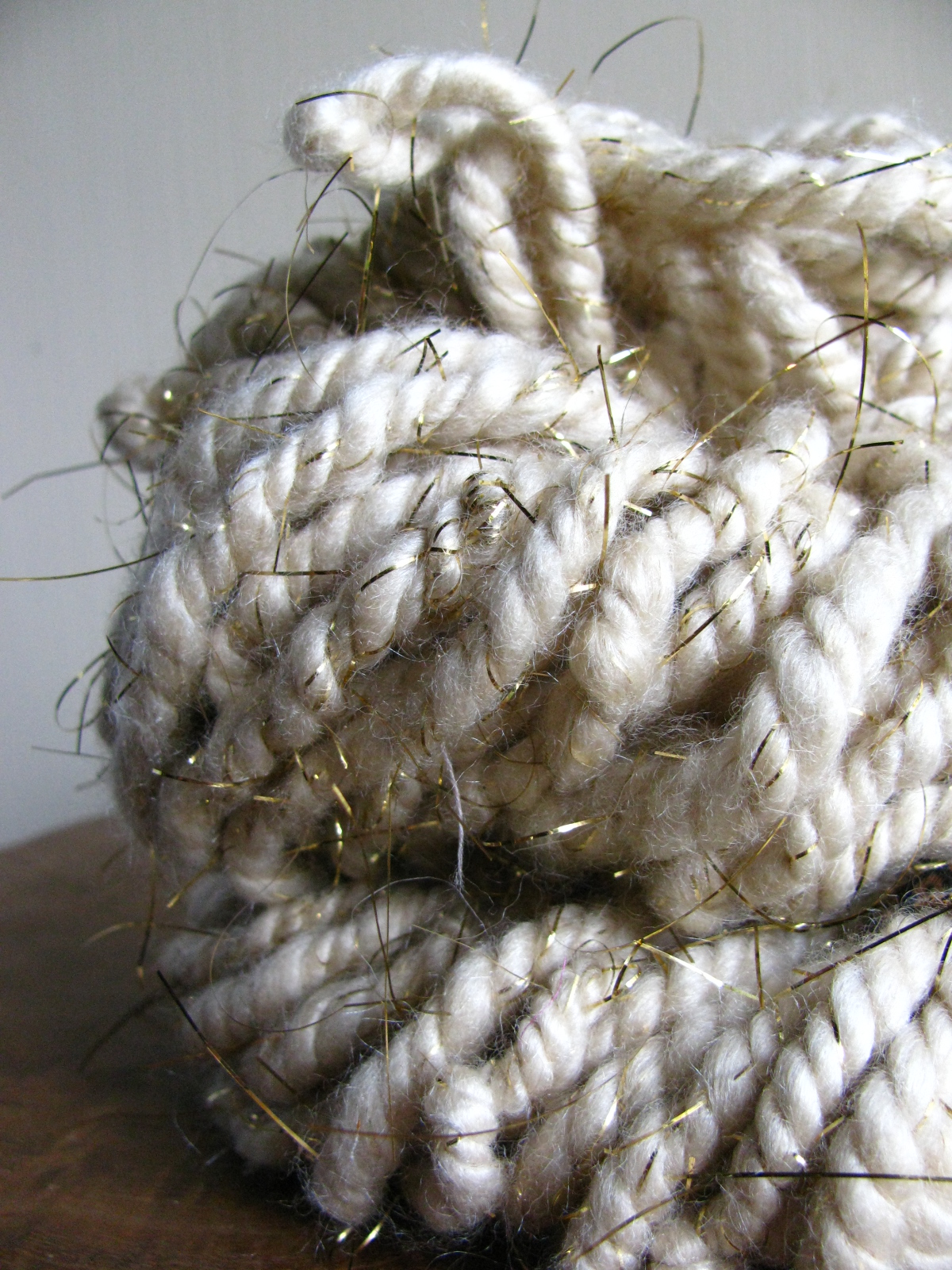 Think beyond the stitches and rows.
Since every skein of handspun yarn is one of a kind – a pattern you write with one skein will never look the same with another skein.  This is one of the biggest challenges of pattern writing.  To avoid knitter confusion, when I have written patterns I include the literal pattern (with counted stitches and rows) and then a more intuitive pattern they can use and adjust for any art yarn.
Here's an example of an intuitive pattern for a cowl:
Using 30-50 yards of bulky handspun art yarn and size 15 16″ circular needles
Cast on 18-20 inches of stitches
Knit for 2 or 3 inches in the round
Drop a stitch
Knit for 5 to 7 more inches
Drop another stitch, wherever you think it will look pretty
Knit for 4 to 6 more inches
Bind off when you run out of yarn.
Problem Solving:
Feel free to knit more rows for a thicker cowl, or fewer if you want it narrower.
If your cowl is up huge, crochet yarn around the top to tighten, or wrap twice around your neck.
If your cowl is  up too small, try using bigger needles or casting on more stitches, or dropping more stitches.
If you're struggling getting a good fit using this pattern, try knitting flat.  Cast on the width of the cowl you want, and knit until it is the length you desire in.  Drop a couple stitches at random as you're knitting to open up the yarn and add unique texture, or keep it classic in garter stitch.