It's a scientific fact that breakfast tastes better when served on a quilted mug rug. Well, perhaps that's a stretch! But, we tend to agree that mini quilts make the perfect place mats for a mug of coffee and morning pastry.
If you'd like to whip up a gift for a friend or just a little something for yourself, these FREE quilted mug rug patterns from the Craftsy community are a great place to find quilting inspiration.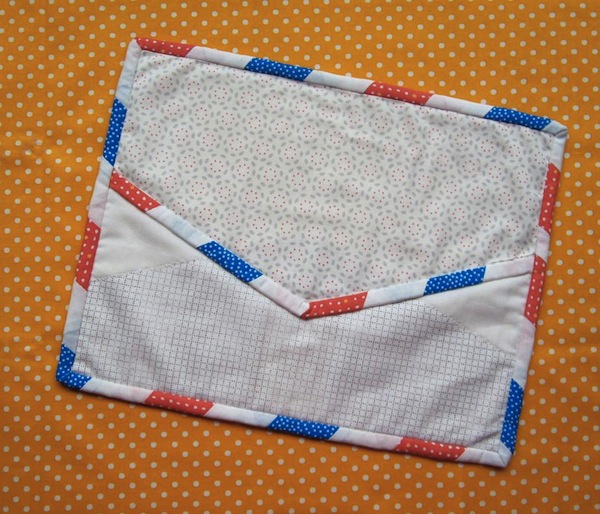 Photo via NYROTM_rachel
Airmail Binding
More than a quilted mug rug pattern, these instructions will help you finish a quilting project of any size with festive striped airmail binding, which adds a touch of postal elegance to any quilt edge, and as you can see from this mug rug, it works perfectly with a simple appliqué envelope mini quilt. Gift your finished project to a friend who loves to travel or keep it for yourself as a reminder of your own voyages.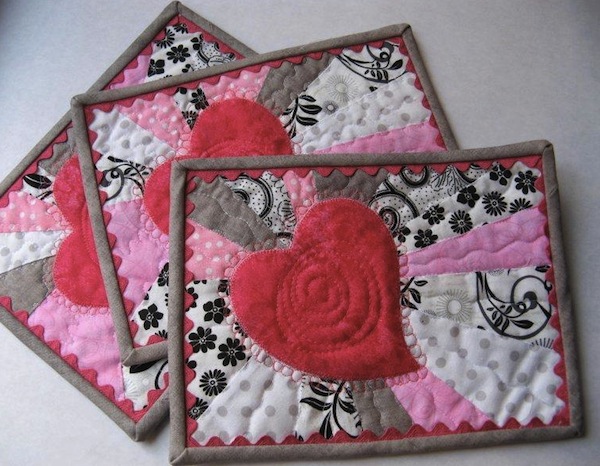 Photo via 2strings
Heart Glow Mug Rug
Looking to use up fabric scraps that are too small for most patterns but too nice to throw away? Send the gift of love when you make this Heart Glow Mug Rug. Make it in Valentine colors or use multicolored fabric scraps to keep it in use year-round. The addition of rickrack inside the binding is a great idea to personalize any quilted mug rug pattern.
Photo via Trillium Design
4th of July Mug Rug
Who says that national pride should be reserved for Independence Day? Measuring in at 5″ by 7″, this 4th of July Mug Rug foundation piecing pattern could easily be enlarged to create a square quilt block of any size. Perhaps you could turn it into a wall quilt or pillow pattern, or make this mug rug for a loved one who has served in the military.
Be sure to check out more mug rug patterns in the Craftsy Pattern Shop!
Have you been bitten by the mug rug bug? Tell us about your favorite quilted mug rug pattern in the comments.