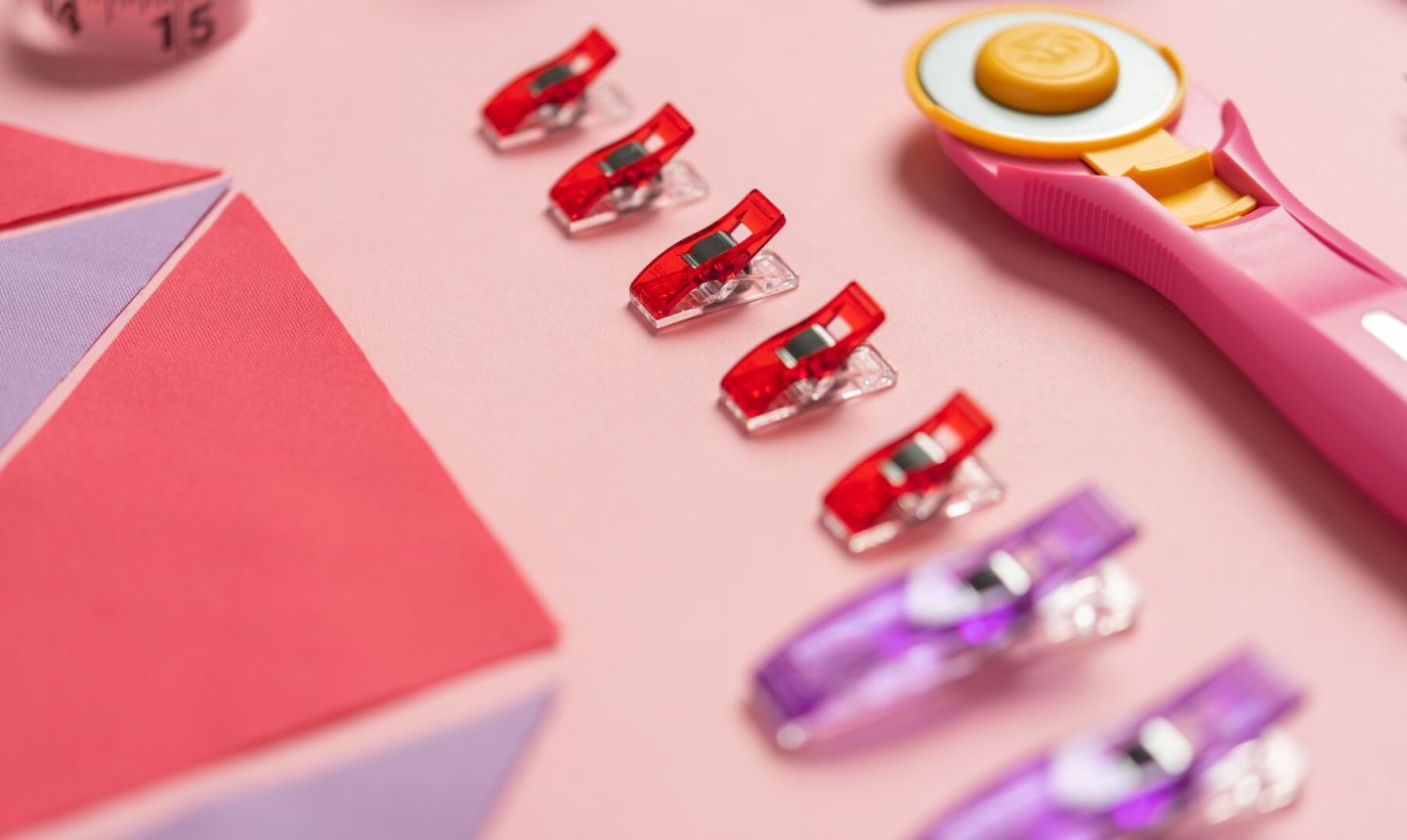 While there are hundreds of quilting gadgets on the market these days, when you're new to the craft it's best to start with the basics. So skip the fancy-pants gizmos — for now — and stock up on these important quilting tools that'll help make your first quilt
1. Fabric Shears and Scissors
Every quilter needs at least one pair of large, high-quality fabric shears to use when cutting around templates or when they need to reach areas a rotary cutter can't. Choose a lightweight pair that fits comfortably in your hand, yet is long enough to slice through quilting fabric. There are a bunch of brands and types of fabric shears out there, so go for whatever best suits your taste.

Pro Tip: Using fabric shears for paper crafts and other household chores dulls the blades and makes it difficult to cut fabric and thread. Keep your fabric scissors dedicated to cutting fabric only.

A small pair of scissors are also nice to have when hand quilting and working on smaller projects. Not only are these more portable, but they also come in handy for clipping threads and snipping small bits of fabric. Look for a pair with a comfortable handle and a pointy tip to get into tight spaces.
2. Rotary Cutters and Replacement Blades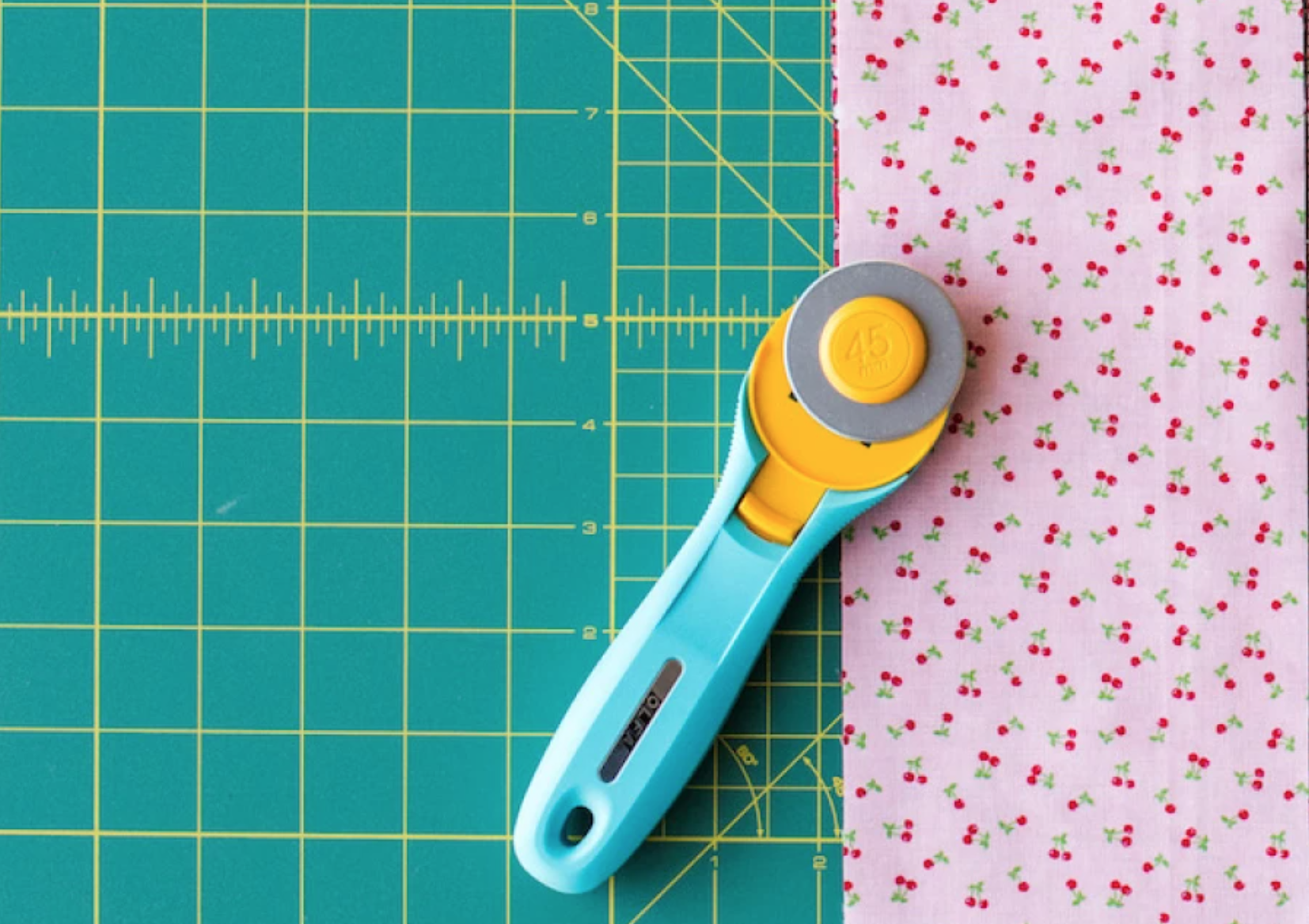 The two most common rotary cutter sizes for general quilting have 45 mm and 60 mm blades. Try out both to see what you like best — some quilters consider the 60 mm size more useful when cutting through several layers at once, while others find the 45mm blades more comfortable to use safely. There are also mini sizes (18 mm and 28 mm) that are helpful for cutting appliqué shapes.

Whatever you do, don't forget to buy a pack of extra rotary cutter blades. Replacing your blades extends the life of your cutting mat and ensures your fabric is cut smoothly. Plus, you can always snag decorative blades to make fun fabric finishes whenever you're feeling extra creative.
3. Self-Healing Cutting Mats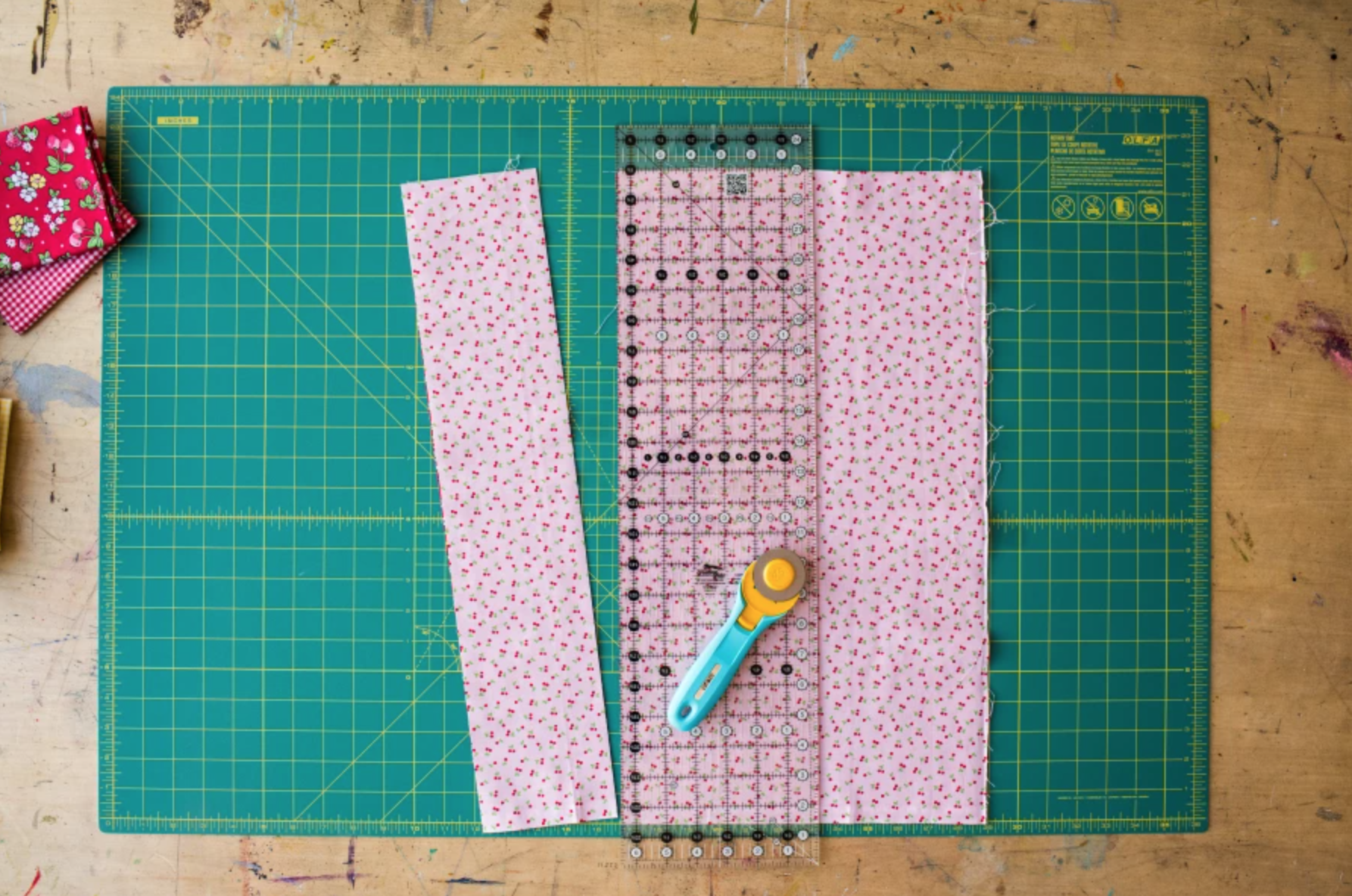 A cutting mat protects the surfaces you're working on when using your rotary cutter. But self-healing cutting mats give you years of service because your cuts won't leave indents on the surface.

When choosing size, pick the largest cutting mat you have space for, making it easier to spread out your fabric without damaging your table underneath. A 24″ x 36″ mat is popular because it fits comfortably on a small work table, but if you need something smaller a 17″ x 24″ mat might work well.

Of course, there are also smaller sizes, rotating mats and cutting mats with an ironing board on the opposite side. These are all great options if you plan to do a lot of paper piecing or if you need something portable.
4. Seam Rippers
A seam ripper is a basic tool for taking out stitches, and you'll use it again and again no matter what your skill level. Most sewing machines come with a small one, but there are also larger seam rippers with ergonomic handles that are super easy to work with.

You can also find seam rippers with fancy wooden handles, metal accents or retractable features that let you safely store the point inside the handle when not in use. Whatever you choose, it's smart to have more than one in case you misplace it in your sewing stash.
5. Acrylic Rulers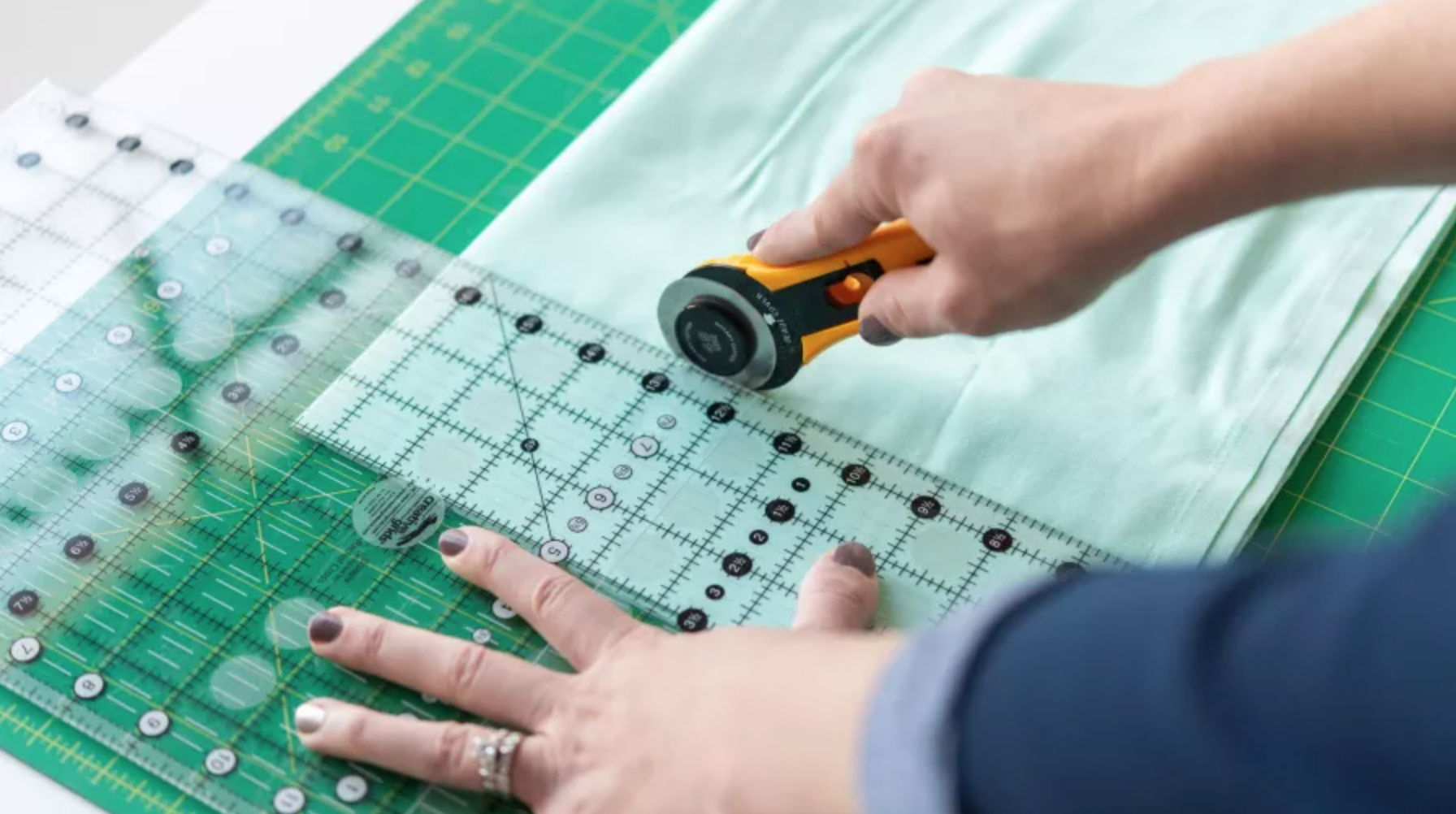 With their see-through material and easy-to-read markings, acrylic rulers make measuring a breeze so you can accurately cut your fabric.

If you only buy one ruler, get one that's 24″ long and 6″-8″ wide. This lets you accurately cut from yardage. Look for one with a 45-degree angle line for cutting angles pieces.

The next ruler on your list should be 12″ long and 6″-8″ wide. This can be easier to manipulate when cutting smaller pieces of fabric like fat quarters. As you grow in your quilting, square rulers can also come in handy for squaring up blocks. You can also find specialty rulers for making half-square triangles, flying geese, hexagons, log cabin blocks and others easier.
6. Basic Sewing Machine and Feet
You only need basic stitches to start quilting, so choose a high-quality, reliable sewing machine that fits your budget and you'll be happy. Many machines come with a special ¼" foot to make sewing a standard ¼" seam easier, but you can also learn to do it without this specialty foot.

If you plan to quilt and bind your quilts, you'll also need a walking foot to keep the fabric from shifting when you quilt through many layers of a quilt sandwich. A free-motion or darning foot is also useful for sewing freehand designs onto a quilt.
7. Thread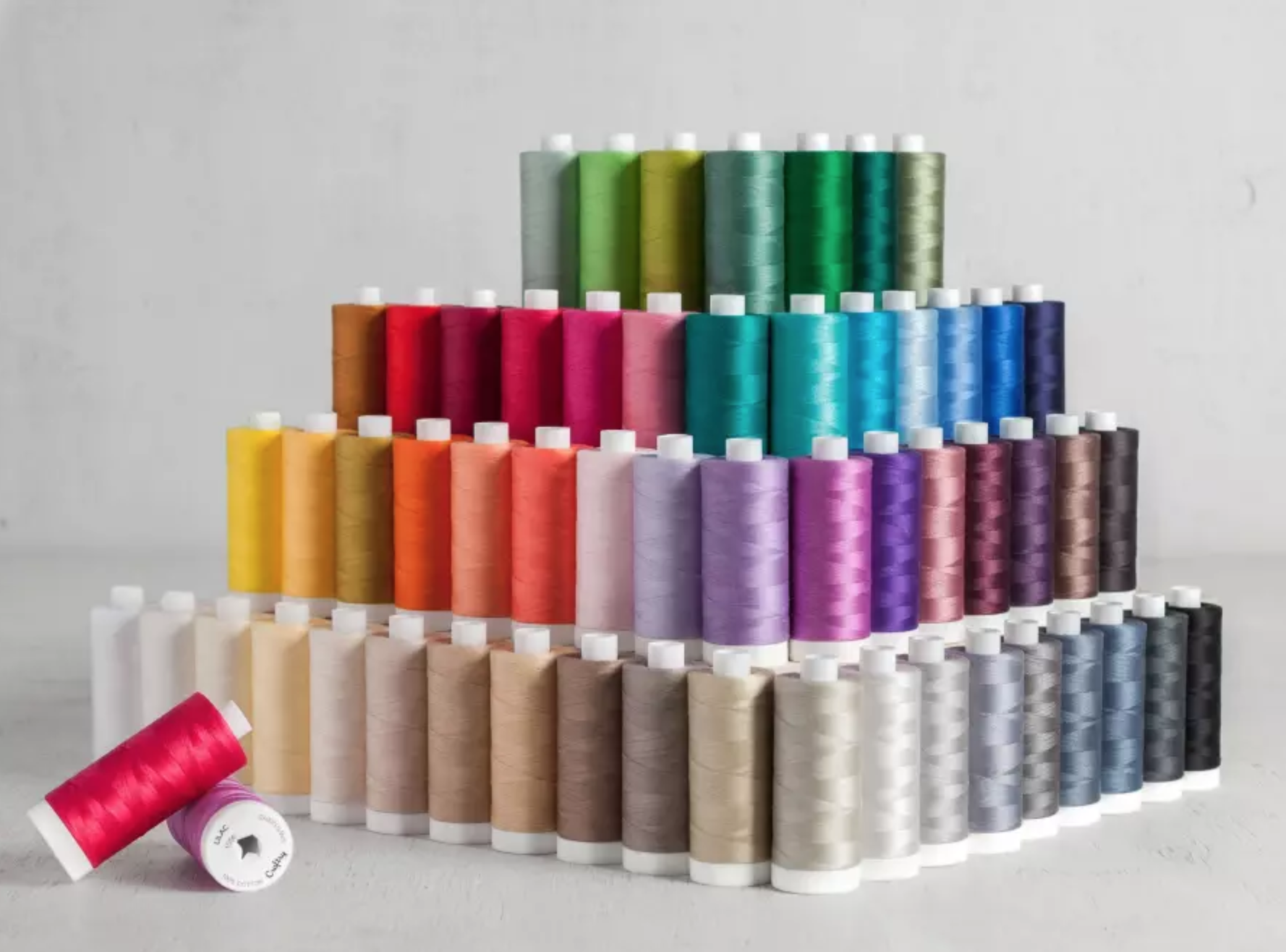 Many quilters sew with 50-weight cotton or a poly-cotton blend of thread for basic piecing. Other weights of thread can be used for decorative stitches, appliqué and binding. Purchase a few different types to see which you like best with your particular machine.

Pro Tip: Check the lint around and under your bobbin case while using each thread. You might be surprised to see there's a big difference in the amount of lint produced by different threads (and less lint is better for your machine).
8. Pins and a Pincushion
Pins help quilters achieve accuracy in their piecing by keeping fabrics securely together for sewing. The first rule of thumb: choose sharp, sturdy sewing pins and use either a pin cushion or magnetic pin bowl to make them easy to store and use.

Otherwise, there are a few types of pins you can choose from. Many quilters prefer silk pins, as they easily go through most fabrics without causing damage. If you plan to iron projects while they're pinned, glass head pins are best, since the heat can melt the tips of plastic ones.

Appliqué pins are shorter than traditional pins, making it easy to place them in small areas prepared for hand-stitching and appliqué. And whenever you pin baste your quilts, it's smart to have plenty of safety pins on hand.

Pro Tip: If your pins catch or snag the fabrics, they should be replaced. Bent pins should also be replaced.
9. Clips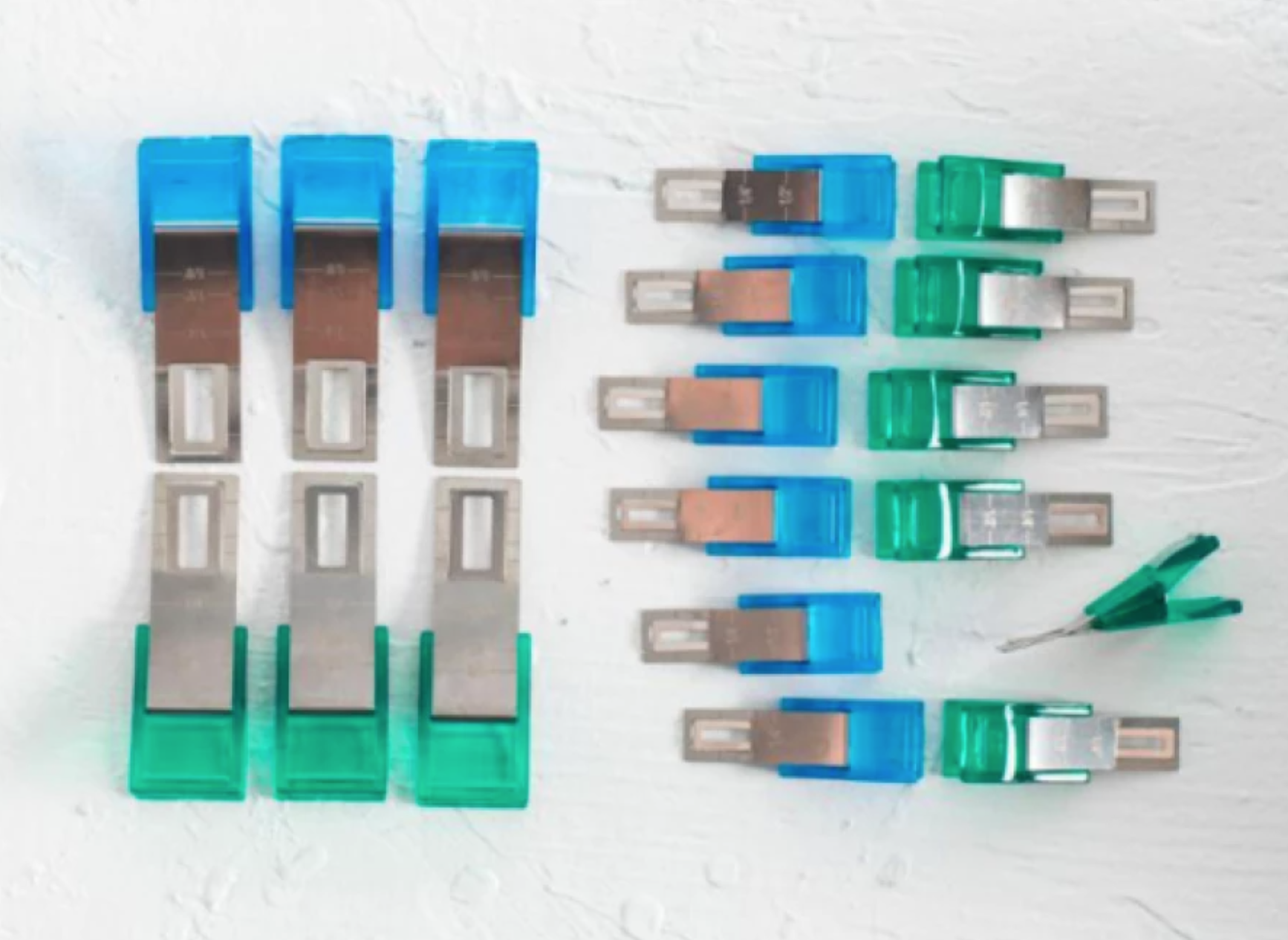 Not only are clips amazingly helpful for securing your binding, they're also a great alternative to pins when working with several layers of fabric. They can even hold blocks and block pieces together, so nothing gets misplaced or moved out of order. Look for a set of strong plastic clips or bendable metal clips similar to hair barrettes.
10. Needles for Hand and Machine Sewing
You'll want to have both sewing machine needles and hand sewing needles at your disposal. Sewing machine needles should be nearby for whenever you accidentally break a needle, and it's important to change over to a fresh one before starting your next project.

Hand sewing needles are finer, and they make smaller stitches easier to achieve. But they're not just essential for hand quilting — they work well when attaching bindings, appliqué and hand piecing, too. They're sized by numbers, with the higher numbers indicating a shorter and thinner needle. Work with the highest number you can while still maintaining control over the needle.

Pro Tip: The smaller your needle is, the smaller the eye — meaning threading can be more difficult. Investing in a needle threader can help.

The most common needles for hand quilting are "betweens" needles, which come in a variety of sizes. These needles are short but strong, giving quilters the ability to sew through the quilt top, batting and backing. Betweens are sharp and easy to manipulate.

Straw needles are longer and more flexible than betweens, but they're still sharp and easy to manipulate; they're great choices for appliqué and attaching binding. Sharps are long, thin needles that work best for handwork and needlework. They're most often used by quilters who prefer to piece their blocks by hand.