As any artisan or craftsman knows, having the right tools is critical. For sewers, that means having the best scissors and shears at the ready to handle the task at hand.
There's no question investing in high-quality scissors makes sewing more efficient. But, sewing involves lots of different tasks and using a wide variety of materials. While a good pair of high-quality dressmaker shears is enough to handle most fabric cutting tasks, the notions walls are filled with many new and exciting cutting tools for sewing tailored to handle specific tasks and materials.
Are your scissors good enough and what else is out there that can make sewing faster and easier? Let's explore…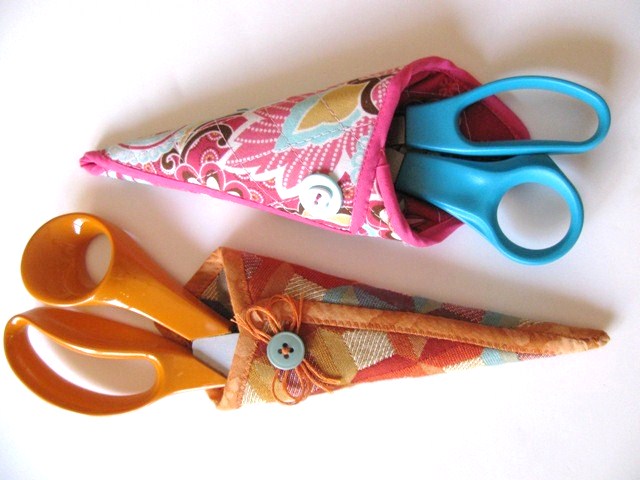 Many advances have been made when it comes to sewing scissors that can handle a wide and varied range of fabrics, specific cutting demands, and are more comfortable to use. Many come with names that can be a bit overwhelming, sometimes making it hard to figure out which pair is right for you.
So, let's take a look at what some of those terms and model names mean and why they are worth the investment.
Scissors vs. shears: what's the difference?
Before delving in, do you know the difference between scissors and shears? Yes, they are different and for sewing, both have a place in your toolkit.
It is the length of the blades and the shape of the handles that distinguishes scissors from shears. Scissors typically have blades that are 6" long or shorter, while shears have blades that are 7" and greater. Scissors also have handles that are equally shaped. Shears, on the other hand, have one small handle for the thumb and another larger handle for two or more fingers. This allows the hand to manage the cutting better, which makes for more precise cuts. Furthermore, they are more comfortable to hold. Shears are also often characterized by handles that are bent to facilitate cutting fabric on a flat surface – an important and useful feature.
It is always wise to invest in high quality scissors.
Spend as much as you can possibly afford because here price equals quality, so the more you spend, the better the cut. They will perform better than any cheap pair you buy. No one should have to struggle to cut through a piece of fabric. If that's the case, your scissors are simply not up to the task. Bear in mind that a good pair of scissors will last you a lifetime so if you take care of them, in the end, the cost is relatively minimal.
What are the top brands?
The top three brands that are the most widely available are Fiskars, Gingher, and Kai. All are exceptional brands that produce high-quality scissors and shears.
Below we cover how they differ, as well as some of the terms they use to market special features and attributes to help you decide which ones are right for you.
Fiskars
The brand Fiskars offers the widest range of price points from very inexpensive to relatively high priced. They offer the widest assortment of cutting tools that go well beyond sewing, quilting or embroidery, and are a leader in quality scissors.
Generally speaking, stick with their more expensive models, which are the most reliable in terms of performance. Their inexpensive models are designed for those who are cost-conscious, but frankly, they do no hold up to most cutting tasks as well as the more expensive models.
Here is a brief explanation of some of their special brands within their offering.
Amplify Shears
This is a line of shears designed by the brand to handle cutting through thick materials. Cutting thick fabrics is often when most regular scissors are simply not up to the task and don't perform very well. This special line is designed to automatically sense when the blades begin to separate and then adjust to the fabric's thickness so they cut through with ease. They come in a variety of sizes to handle all types of sewing tasks. These are a great supplemental shear to have on hand if you craft and sew a lot.
Softgrip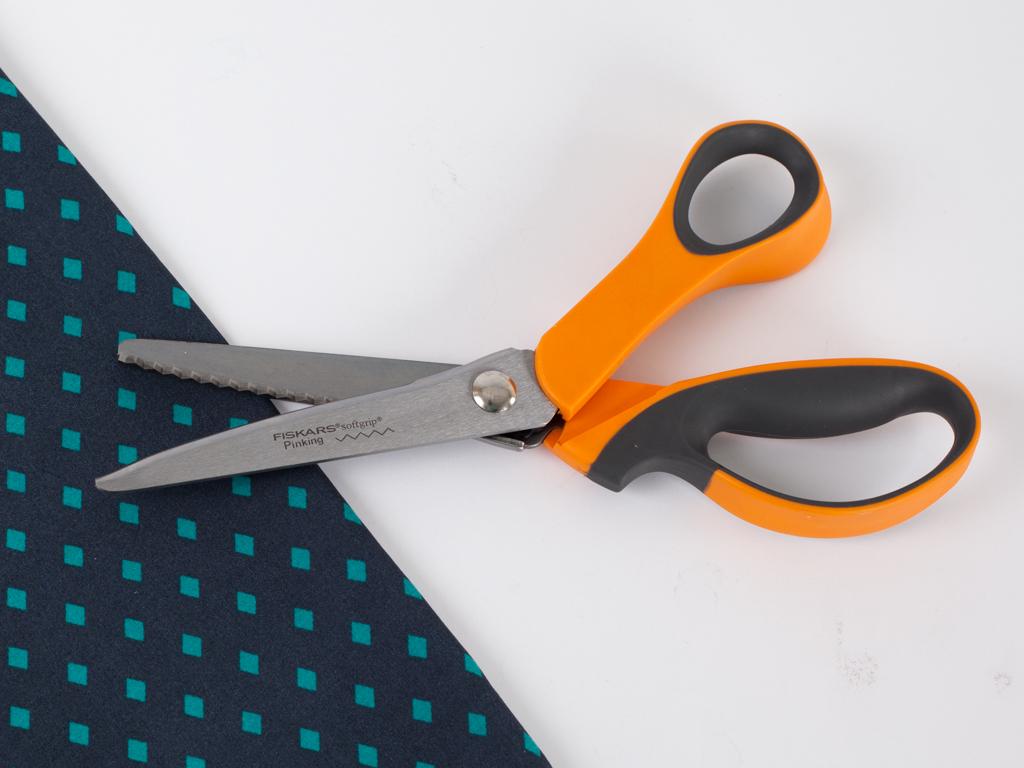 Fiskars Softgrip are the company's models that feature padded handles. The cushioned padding makes them more comfortable to hold and help deliver better control when cutting.
Razor Sharp
Razor Sharp refers to the brand's blade quality. These are Fiskars sharpest blades. Any of their models that feature this name will produce the best cuts, which is good to know when selecting just one pair for fabric cutting.
Easy Action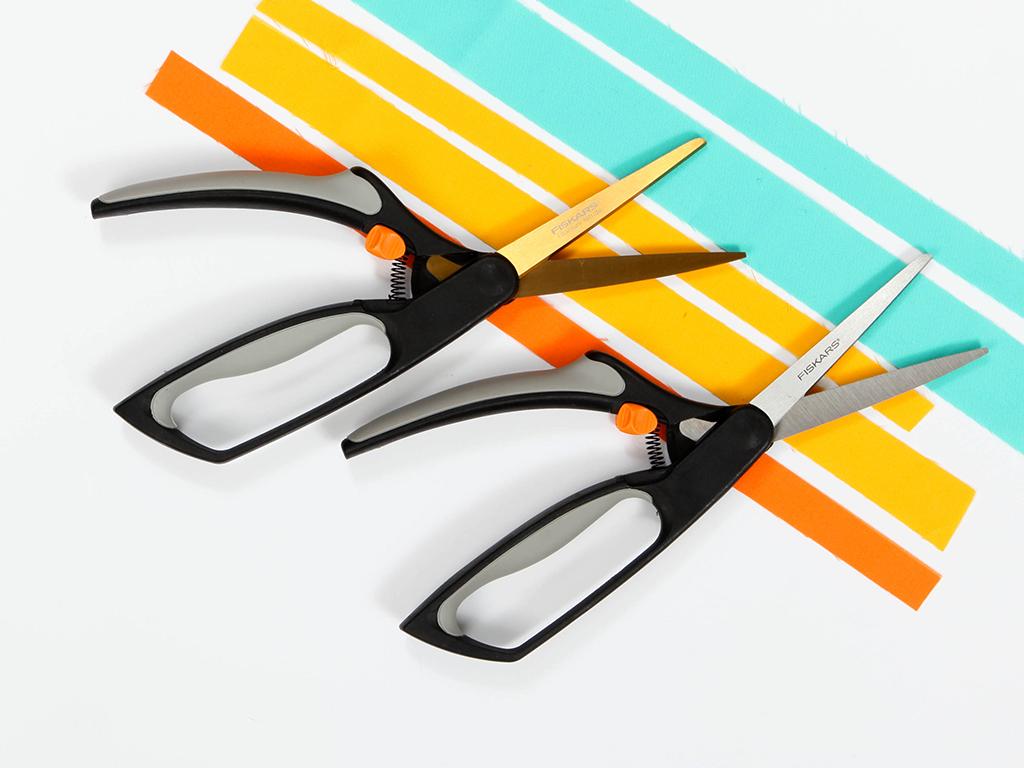 The Easy Action line of scissors is designed to be the most comfortable scissors to hold and cut. They are especially good for those suffering with arthritis or have limited hand strength. These scissors feature a spring-action design that gently opens the blades after each cut to reduce hand strain. This feature is available on a wide variety of models.
Gingher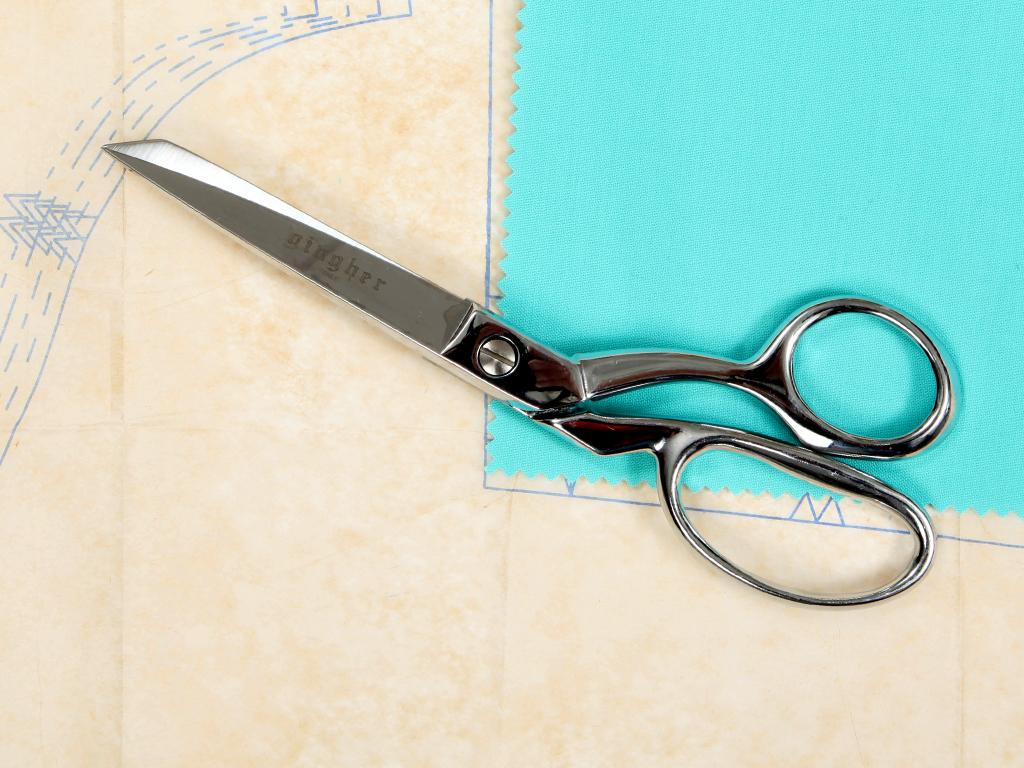 Another brand that offers very high-quality cutting tools for sewing is Gingher. All of their models perform exceptionally well and are the most traditional in both style and design.
Unlike Fiskars that offers an exceptionally wide range of styles for all types of cutting needs, Gingher's line is much more limited. They offer styles designed almost exclusively for just sewing, quilting, and embroidery needs, so there are fewer models to sift through when deciding to buy. Nonetheless, all are very good and well worth the investment.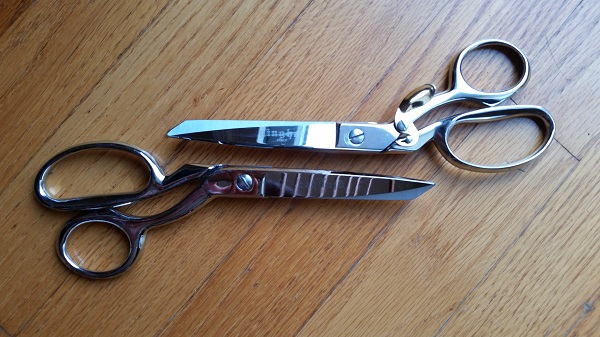 Traditional Gingher models feature the brand's characteristic silver or gold handles, which come in a wide range of blade lengths, in scissors and shears and in bent handle styles as well.
Their lightweight models are designed with molded plastic handles for a softer, more comfortable grip.
Gingher also offers a line of small scissors in varying styles for small tasks and a line of thread cutters that are the sharpest around.
Kai
Kai is another brand of high-quality scissors designed almost exclusively for sewing and quilting. Made in Japan, they feature blades made of stainless steel and vanadium – an additive that makes steel exceptionally strong. Like Gingher, their collection is somewhat limited but again all very good quality.
The offer two lines or levels of performance:
Their 5000 series of scissors. These include a range of both scissor and shears with soft ergonomic handles along with several bent handle versions.
Their 7000 professional series is designed for the experienced sewer that sews extensively and demands the best. Scissors in this series have blades as long as 12 inches and price points exceed both Gingher and Fiskars offerings.
Other cutting tools to consider
There are two other types of scissors that have a place in most sewer's toolkits: pinking shears and serrated scissors.
In the old days before sergers became so popular, seams were finished with pinking shears. Cutting the edges with a pair of those prevented raw seam edges from fraying so much. Today, they certainly can be used in that way as well, but pinking shears are also a great alternative to trimming and clipping curves. The V-cuts simulate the same trim and clip effect that is faster and easier to do.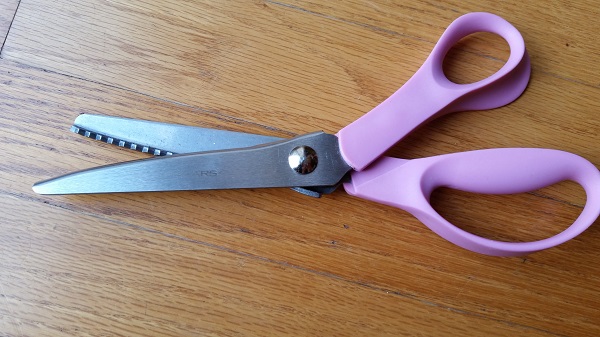 The other important type of scissor to know are those with serrated edge blades. These are simply wonderful for cutting slippery or delicate fabrics that can easily shift and move about when cutting. The serrated edges help to grip the fabric making it more stable when cutting.