How do you celebrate Memorial Day? Commemorate the stars and stripes with simple treats perfect for sharing with friends and family. These pretty, patriotic cake pops are sure to fit the bill! Check out our easy step-by-step tutorial below.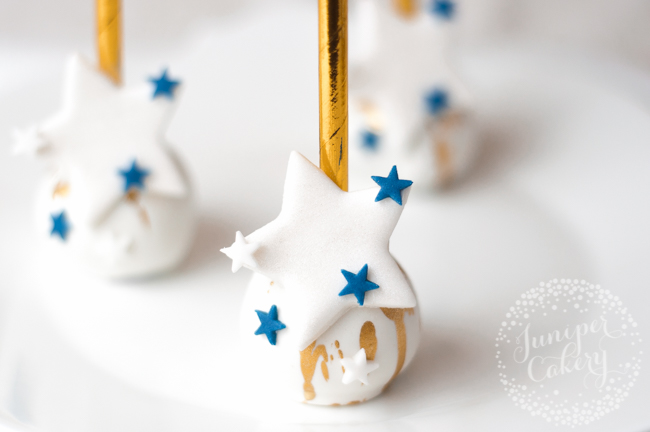 Memorial Day cake pops step by step
What you need:
Cake pop dough ready for shaping
Buttercream (no flavor or color)
White candy melts
Paramount crystals, Crisco or vegetable oil
Cake pop sticks or sturdy paper straws 
Fondant rolling pin
Edible gold paint
Food-safe paintbrush
Star cutters
Red, white and blue fondant
White edible luster dust
Step 1: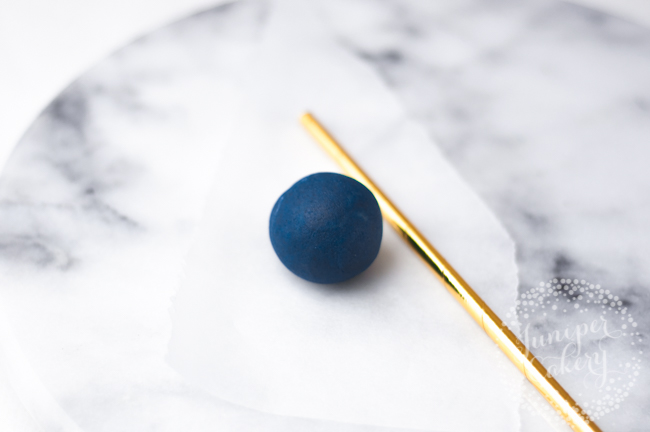 Roll your cake pop dough into equal portions, making sure it's sturdy enough to hold together. We used blue velvet cake. Red velvet would be another great choice for Memorial Day!
To test the consistency, push a cake pop stick stick into the middle of the ball. If the cake cracks, then your mix is too dry — add a little more buttercream. If your ball loses shape, your mix is too soft — add more cake.
Step 2: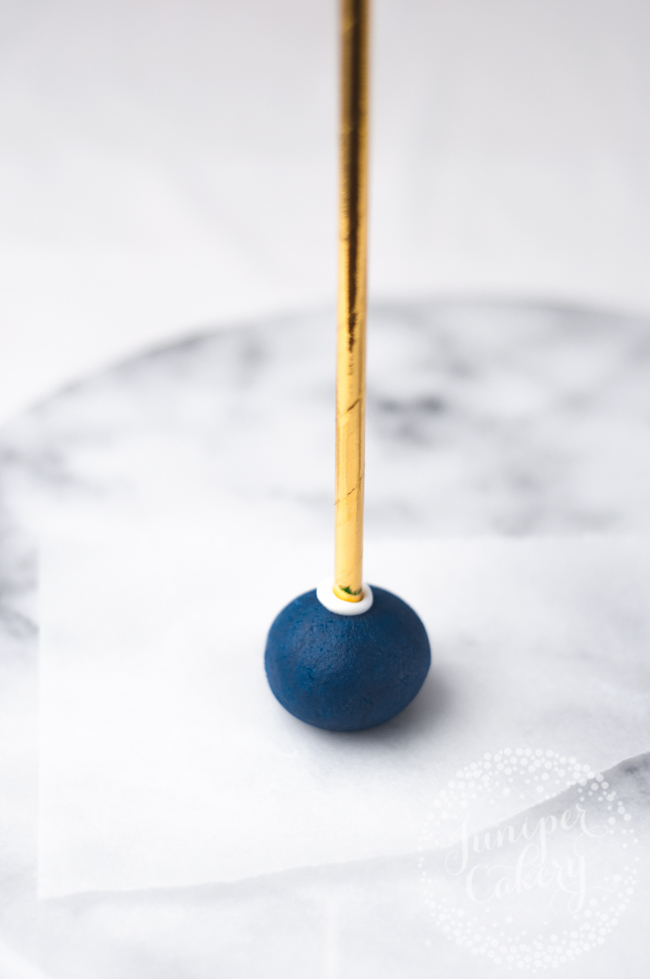 Next up: Adding the sticks.
Melt a small amount of candy melts in the microwave, following these instructions or the instructions on the packet. We usually heat ours up for around 2 minutes, checking every 30 seconds and stirring occasionally to help stubborn pieces melt down.
Dip your cake pop sticks into the melts and push one into each cake ball. Then, leave the cake pops to chill in the fridge for a few hours.
Step 3:
When it's time to dip, melt more candy melts to a microwavable jug or bowl, in the same manner as above. Then, thin them down a little by adding paramount crystals (follow the instructions on the packaging), Crisco (or Trex in the U.K.) or vegetable oil.
Step 4: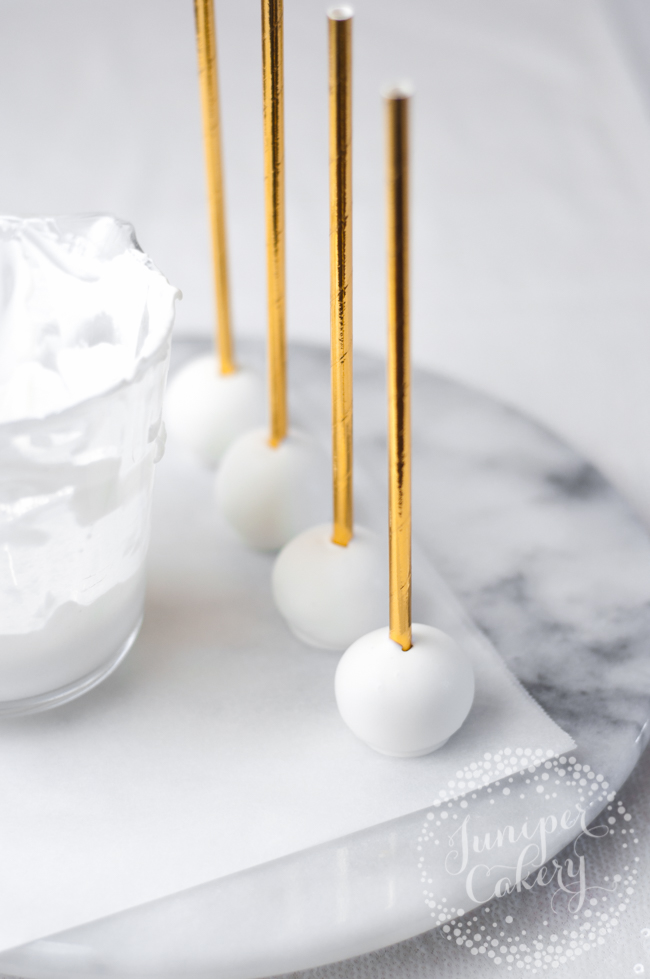 Hold your bowl of candy melts at an angle and dip each pops in where the melts reach the highest point. Work quickly and avoid swishing your pops around too much. Once coated, gently tap the stick of the pop on the side of your bowl to shake of an excess coating.
Now leave the cake pops to set on a tray or cookie sheet lines with waxed paper.
Step 5:
Using a food-safe paintbrush, splatter flecks of edible gold paint over your coated cake pops.
Step 6: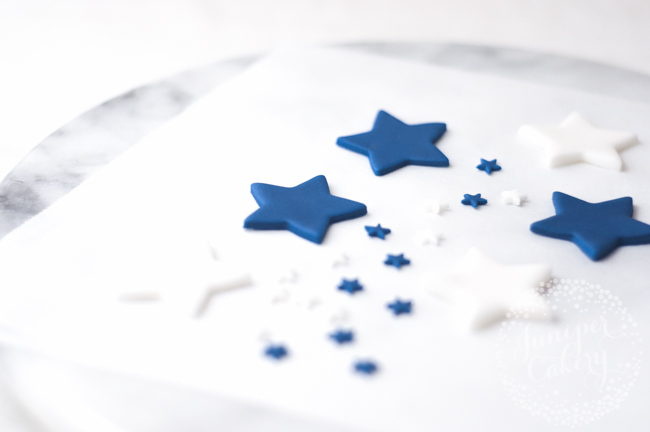 Now get your decorations ready! Roll out your fondant (we used white with blue, but you can opt for any color you like). Cut out a series of small to medium stars using your star cutters, and leave the pieces to firm up a little.
If you'd like, you dust the stars with edible luster dust to give them a little shine.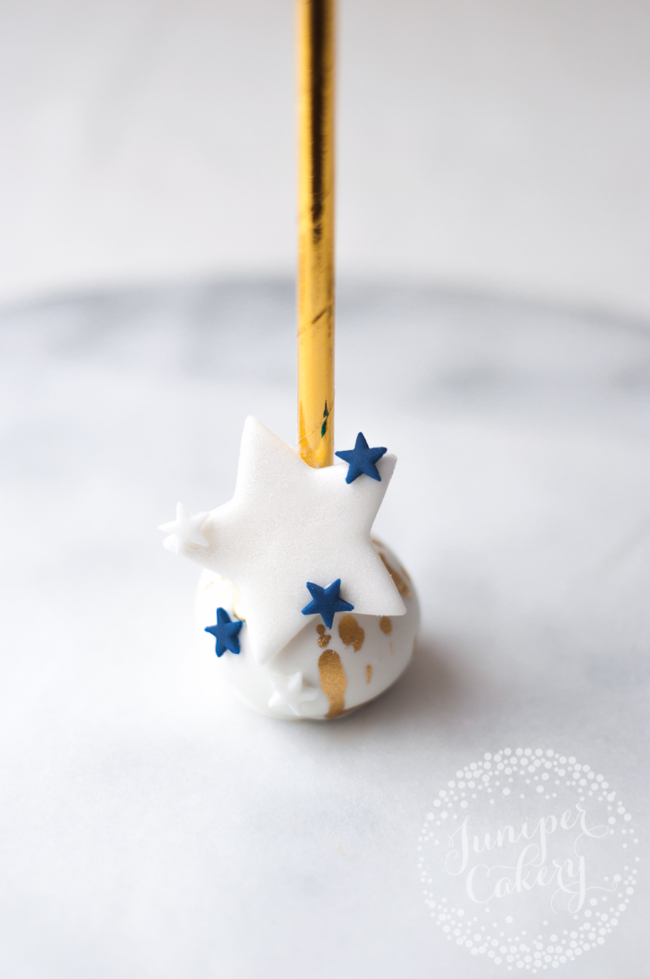 Once the stars have hardened up, use leftover melted candy as glue to attach your cut-out stars around the top of your cake pop.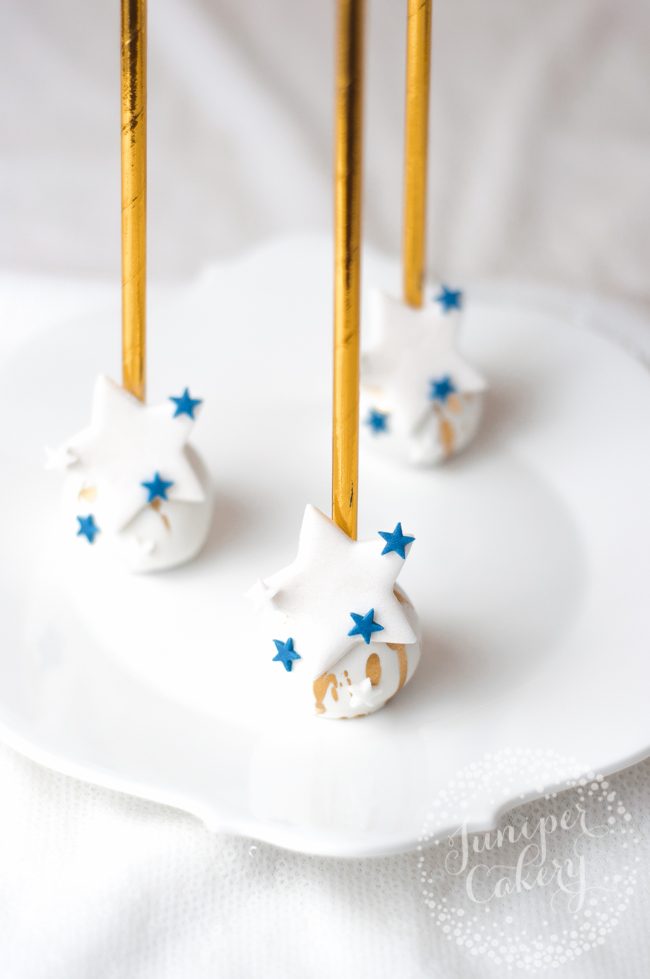 You should now have a temping collection of starry cake pops — perfect for Memorial Day weekend! These pops are perfectly customizable for any specific color schemes. You can keep it simple and opt for white-on-white cake pops and stars. Go for simple metallic pearls, golds and silvers or be traditional and use red, white and blue!