How fun to bake a cupcake directly inside a cone, decorate it and serve it as a melt-free option this summer season?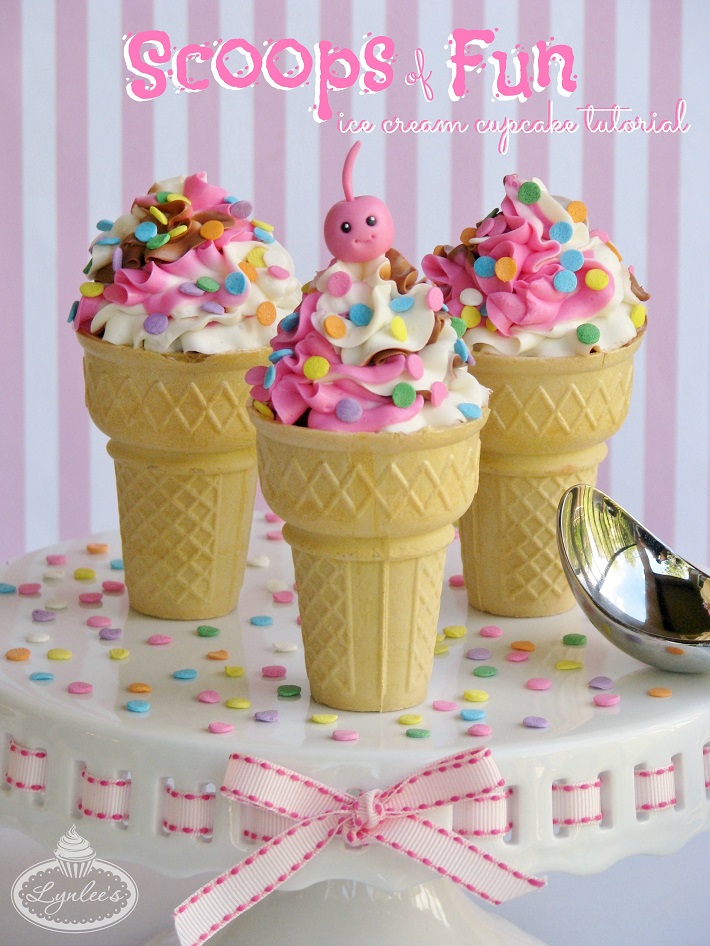 Make custom cupcakes a sweet reality
Mix and match flavors, frostings, fillings and decorations with new recipes and techniques.Enroll Now »
Ingredients for cupcakes:
Cupcake batter (boxed or from scratch)
Wafer ice cream cones (flat bottoms)
Ice cream scooper
Muffin baking pan
Icing in desired colors (make sure your icing is more on the firm side)
Materials for fondant topper: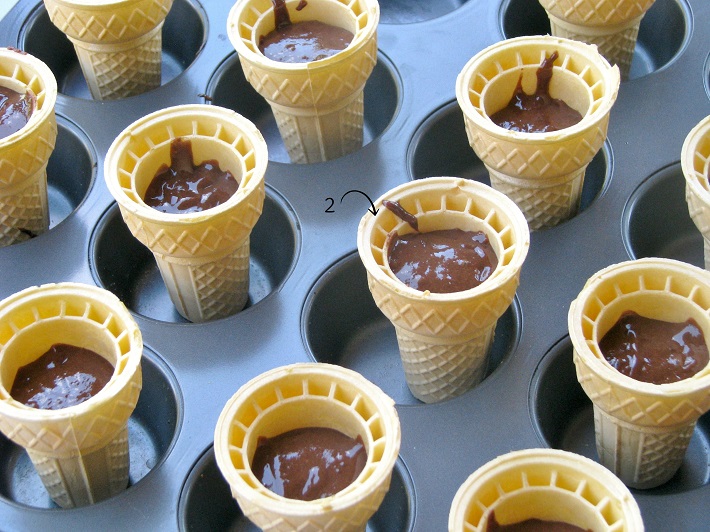 Ice cream cone cupcakes tutorial:
Step 1:
Preheat the oven according to your recipe instructions and prepare the cupcake batter by mixing all the ingredients together (either from a boxed mix or from scratch). Place the ice cream cones in the muffin pan cavities, making sure they are upright. I was able to carefully transfer them to the oven without any issues, but if you would rather add extra padding, feel free to do so with materials such as aluminum foil, parchment paper or liners. 
Step 2:
With an ice cream scoop, fill the cones approximately 1/2 to 3/4 full. If you want the cupcakes to rise to the edge of the cone, lean more towards filling it half way. If you want it to rise and puff up over the cone, fill it a bit more.
Step 3:
Bake the cupcakes according to your recipe's instructions, keeping a close eye on the rising cupcakes. Utilize the toothpick test by inserting it in the cake and if it comes out clean, they are done! Allow them to cool completely prior to decorating them.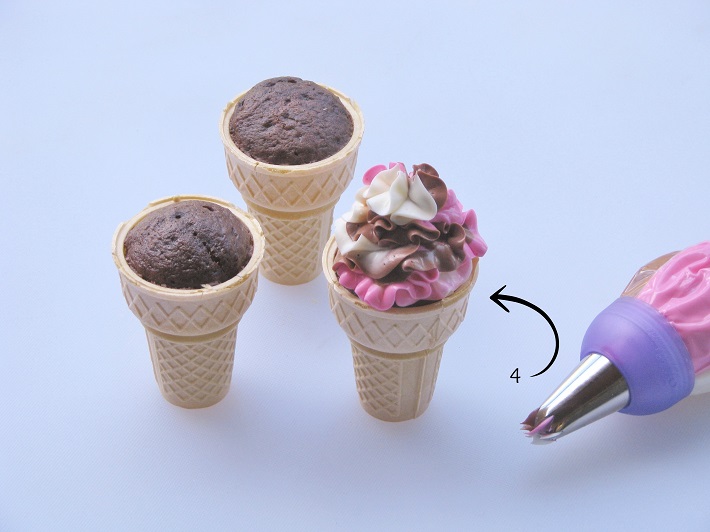 Step 4:
Ice your cupcakes, preferably with a large decorating tip, starting around the perimeter of the cone and piping upward, decreasing in size to resemble ice cream. Utilizing a more firm icing will work to your advantage to ensure it holds its shape and does not melt!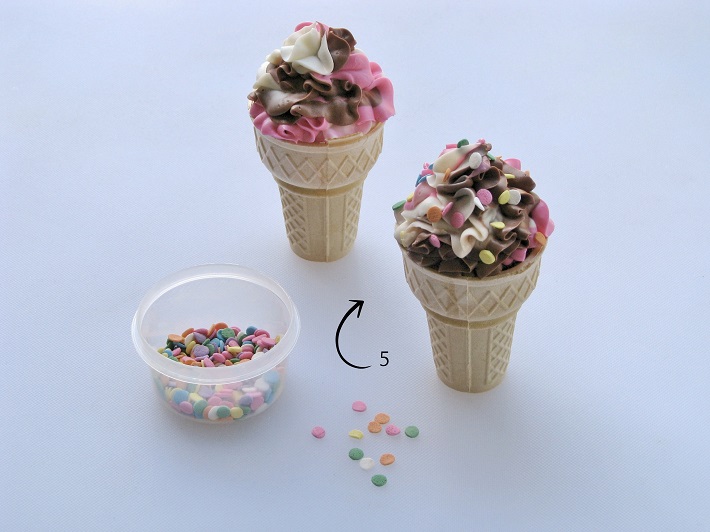 Step 5:
Add sprinkles to the top of icing and allow it to set.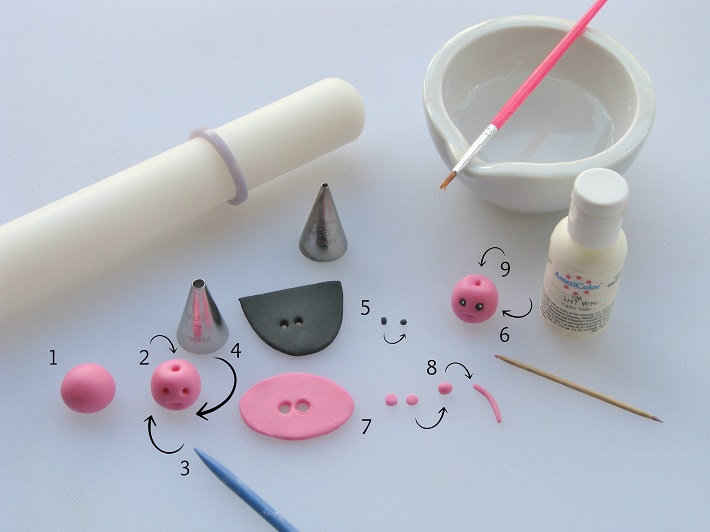 Fondant cherry topper tutorial:
Step 1:
Roll one ball out of pink fondant (approximately 3/4″) to begin creating the cherry fondant topper.
Step 2:
Utilize your finger to slightly indent the top of the pink cherry. Then, utilize the small modeling stick to make a hole at the top of the cherry's head where the stem will later be inserted.
Step 3:
With the small modeling stick, make two indentations on the cherry's face for the eye cavities. 
Step 4:
Utilize round decorating tip #7 placed a 45-degree angle to make an indentation, creating the cherry's mouth. Then, with the small modeling stick, make little hole indentations at both ends of the cherry's smile, creating little dimples.
Step 5:
Roll out black fondant with the rolling pin and 1/8″ guide rings. Cut out two circles with round decorating tip #3. Roll the circles into balls, then glue them into place inside the eye cavities on the cherry's face.
Step 6:
Dip a toothpick in white soft gel paste and make small glimmer marks on the cherry's eyes.
Step 7:
Roll out pink fondant with the rolling pin and 1/8″ guide rings. Cut out two circles with round decorating tip #7. 
Step 8:
Combine the two pink fondant circles together and roll it into a ball. Roll the circle out on your work surface to create a thin, spaghetti-like shape to form the stem. Shape it as desired and allow it to dry for enough time that the stem will hold its shape.
Step 9:
Once dry, apply glue to the hole on the cherry's head and insert the stem, gluing it in place. Allow it to dry thoroughly and decorate your ice cream cone cupcakes by placing it on top of the icing!
Additional tips and alternative ideas:
Make sure you allow your cupcakes to cool completely prior to icing them so that the icing doesn't melt right off!
When picking your icing, make sure to opt one that is rather firm, as you want it to sit solidly over the cupcakes to resemble ice cream. If it is too soft, it will begin to sink and lose its shape.
Practice with a variety of piping tips to achieve the look you are looking for in your ice cream. The star tip will produce wavier lines, while a round tip will avoid swirls and create more linear and tubular lines.
Utilize one color of icing or vary your ice cream flavors with colored icing and a variety of sprinkles!
If you want less icing, consider baking mini cupcakes and stacking them in the center and icing around and above them.
You can easily substitute the fondant cherry with a real one!
If necessary, store your cupcakes in the fridge to ensure the icing sets in the desired shape and remember to remove them a bit earlier to allow them to warm up prior to serving.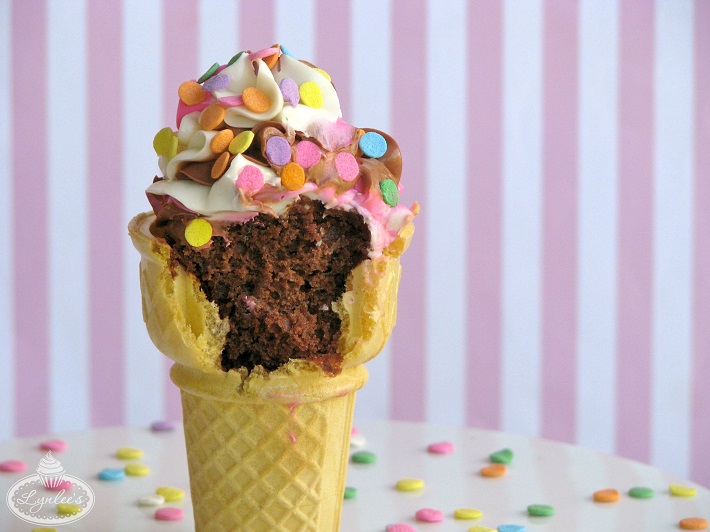 Make custom cupcakes a sweet reality
Mix and match flavors, frostings, fillings and decorations with new recipes and techniques.Enroll Now »