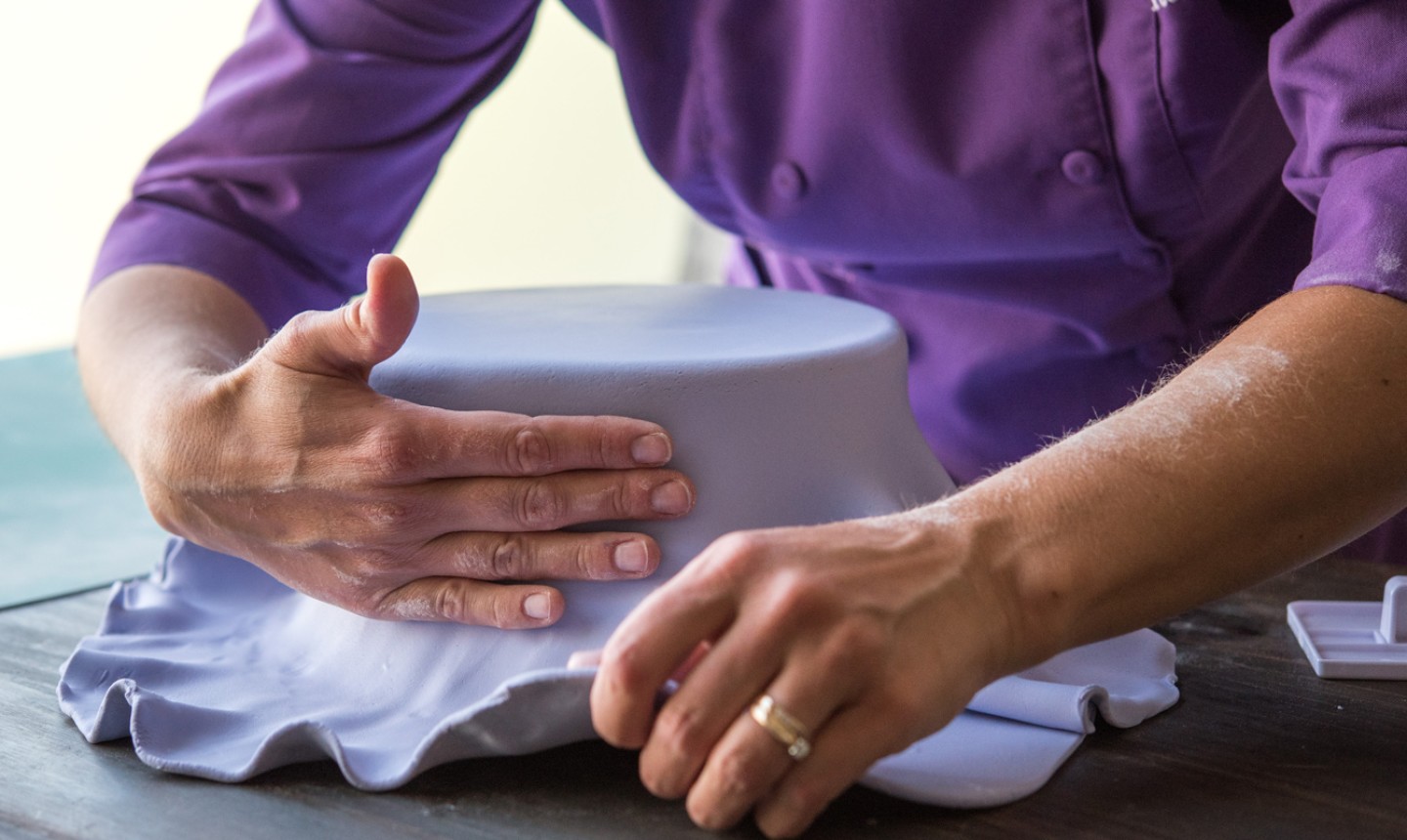 The cake decorating world is full of fancy piping tips, clever cutters and specialty tools you can use to create amazing effects. But that doesn't mean you have to buy out the store to get started. Start with these basic cake decorating tools that can help you nail a flawless fondant or buttercream surface. Once you've mastered using them, the rest is just… icing.
1. Cake Pans
To make beautiful cakes, you need professional cake pans. They have straight sides instead of slanted, which help keep the sides of your cake straight after it's stacked so you won't need to carve down the edges as much to even things out.
2. Parchment Paper
Say hello to your baking BFF: whether you're placing it in the bottom of your cake pans for a perfect release or laying down a surface for trimming and filling cakes, parchment paper can be used for a variety of things. Heck, you can even place your cakes on large pieces of parchment paper when covering them in fondant to avoid sticking and lowering your risk of the fondant tearing.
Pro Tip Parchment paper isn't the same as wax paper and they're not interchangeable in baking. Don't put wax paper in the oven unless you want to smoke up your house.
3. Sharp Knife or X-Acto Blade
A clean, sharp knife helps get cakes out of their pans efficiently — you just need to run the blade around the entire edge. Assuming you put parchment paper in the bottom of the pan, the cake should slip right out when you flip it over.
Knives are also really useful when working with fondant, as you can use them to carve shapes, stripes and other details. X-Acto knives are perfect for this kind of work, helping you create smooth, precise lines. Just be careful when using with silicone mats , as they're super easy to slice right through.
4. Shortening
Air is the enemy of fondant (especially if you live in a humid climate), so it's imperative you keep it covered at all times. Leaving fondant out for even a few minutes can cause it to dry out and crust, which gives it a gross skin and makes it tear easily. Shortening, on the other hand, is fondant's best friend. When fondant starts to dry, adding a small amount of shortening conditions it so it's workable again.
Pro Tip Don't try to use water here instead — it'll melt your fondant, making it sticky and uncooperative.
5. Cake Boards or Drums
If you expect to move your cake around at all — even if that's just getting it into the fridge — setting it on a stiff, stable board is necessary to keep the cake together and perfectly aligned. For large cakes, use a drum, aka three cake boards that have been glued and pressed together before being covered in foil. That'll help provide enough stability to handle the extra weight.
6. Powdered Sugar or Cornstarch
Fondant is super sticky, especially when you're rolling it out to cover a cake. It's best to use powdered sugar or cornstarch on the surface to keep the fondant from sticking. It doesn't matter which, but keep one in a shaker and disperse it evenly while rolling out your fondant.
7. Offset Spatula and Bench Scraper
If you're struggling for a beautiful, clean crumb coat and final coat, these two tools will save you. Spread your buttercream icing using the offset spatula. Once you have a thick coat of icing, smooth it out using a bench scraper.
8. Turntable or Lazy Susan
Decorating a cake without a turntable is almost impossible, as it gives you access to the entire cake with just one swivel. Use one to torte, fill, crumb coat and decorate your cake in a fast, efficient manner.
9. Large and Small Fondant Rollers
While a regular rolling pin may be sufficient when you're first starting out, you may want a plastic or silicone fondant roller if you plan to invest a lot of time and energy into cake decorating. First, these rollers don't have handles — ones with them aren't usually strong enough to roll the fondant as thin as you'll need. Second, they come in different sizes. Small rollers are used for rolling out just enough fondant for decorations, while large ones are for rolling out enough to cover an entire cake.
10. Fondant Smoothers
Like the name promises, fondant smoothers help smooth the fondant onto the cake and help release any air bubbles that got trapped under the fondant. If you can only buy a few new tools, make sure to get one or two so you always have it on hand.
Learn More Now
Discover how to use your tools to create beautiful cakes in our class Startup Library: Cake Decorating.