When it comes to cake decorating even the best designers and decorators can find themselves stumped. When this happens the only thing to be done is to pick up that tablet, laptop or magazine, and research, research, research! Inspiration can come from the most unlikely of places — even looking at a design project from a different angle can spur a new idea!
To help inspire your creativity, here's a rundown on fabulous cake design ideas for advanced designers…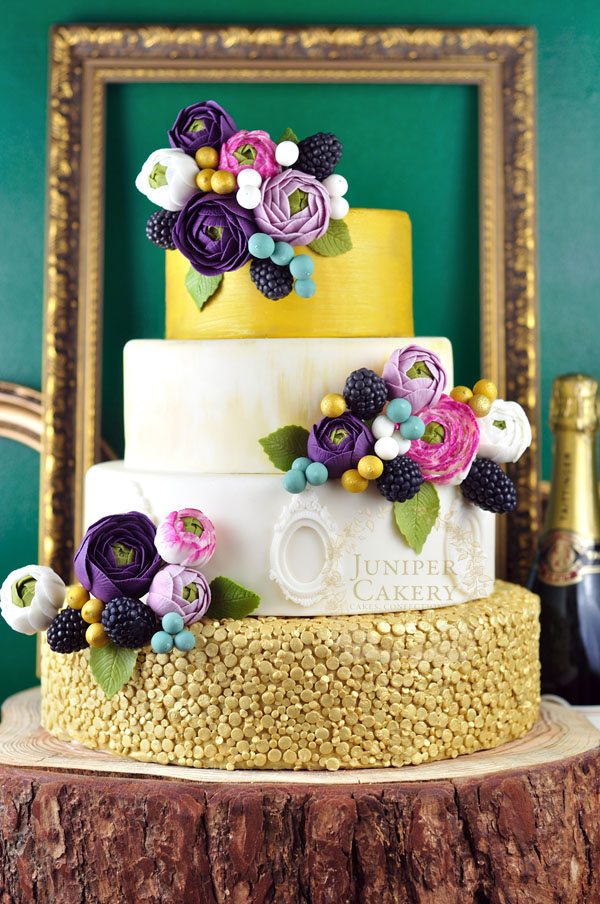 Photo via Juniper Cakery
Gold and purple ranunculus wedding cake
When stuck on a design project why not first try playing with color! The above ranunculus wedding cake incorporates two typical autumn/winter colors, gold, and purple, that have been cleverly paired with hues popular in 1950s interior design! We love how the fuchsia pinks, mustards, and dusky light blues play against each other.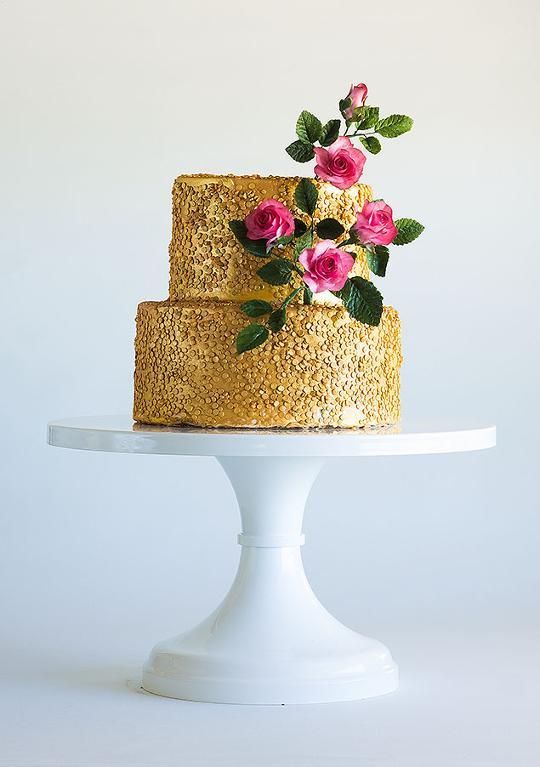 Photo via Craftsy member ModernLovers
Gold confetti cake
Experimenting with simple techniques to create otherwise elaborate textures and looks is a great way to liven up a project and even your whole portfolio. We adore how this gorgeous two-tier cake glistens with luxury just by utilizing such a simple and fun method!
To find out how to create a stunning cake shimmering with gold confetti sequins enroll in Erin Gardner's class Cakes in Full Bloom!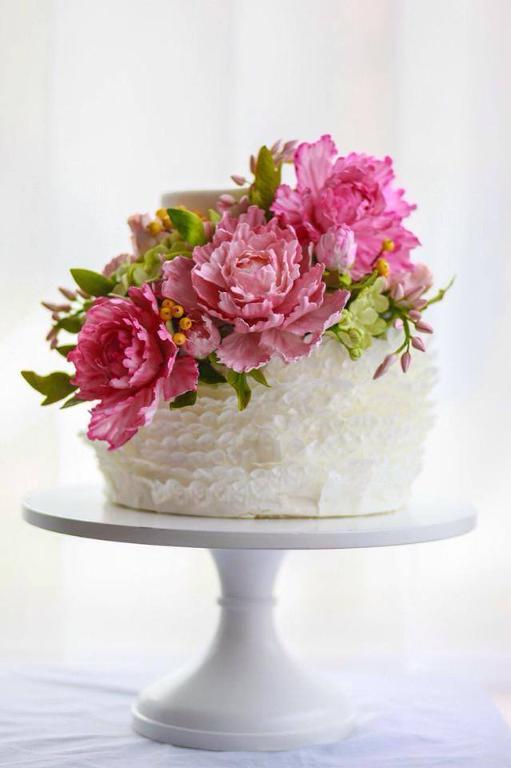 Photo via Craftsy member Alex Narramore
Pink floral spray cake
Just because a cake is small doesn't mean that it can't a show-stopper! We love how this white ruffles cake takes the limelight with a gorgeously elaborate peony blossom spray. When your creativity can be found waning, why not try playing with scale too. Don't be afraid to try a slightly larger or bolder sugar flower than usual for an otherwise unassuming cake.
Discover how to create stunning sugar flowers with Nicholas Lodge's Classic Sugar Flowers: Peony, Anemone, Tulip class!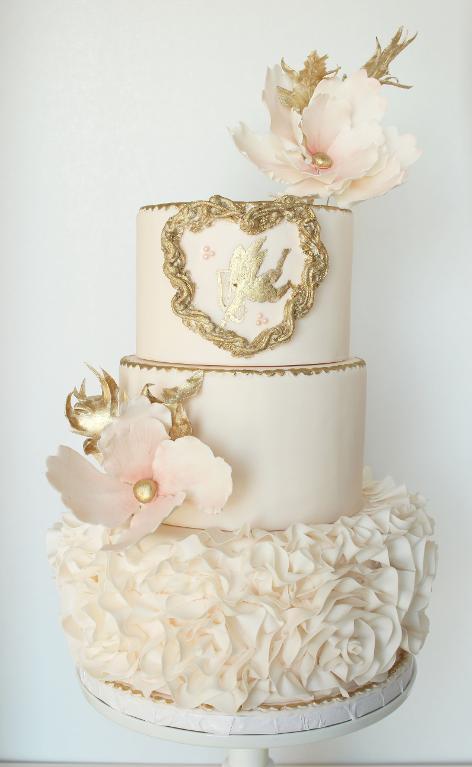 Photo via Craftsy member Caron Philbert
Valentine Cupid cake
Royal icing isn't just for piping delicate swags along cake tiers. Why not play on the classically decadent Lambeth Method to create fantastic borders or frames and then add extra opulence by hand-painting them gold! We love how member Caron Philbert has trimmed this blush pink cake with glistening gold accents for a truly luxurious look.
Enroll in Wendy Kromer's Learning the Lambeth Method class to learn some awe-inspiring techniques and ideas.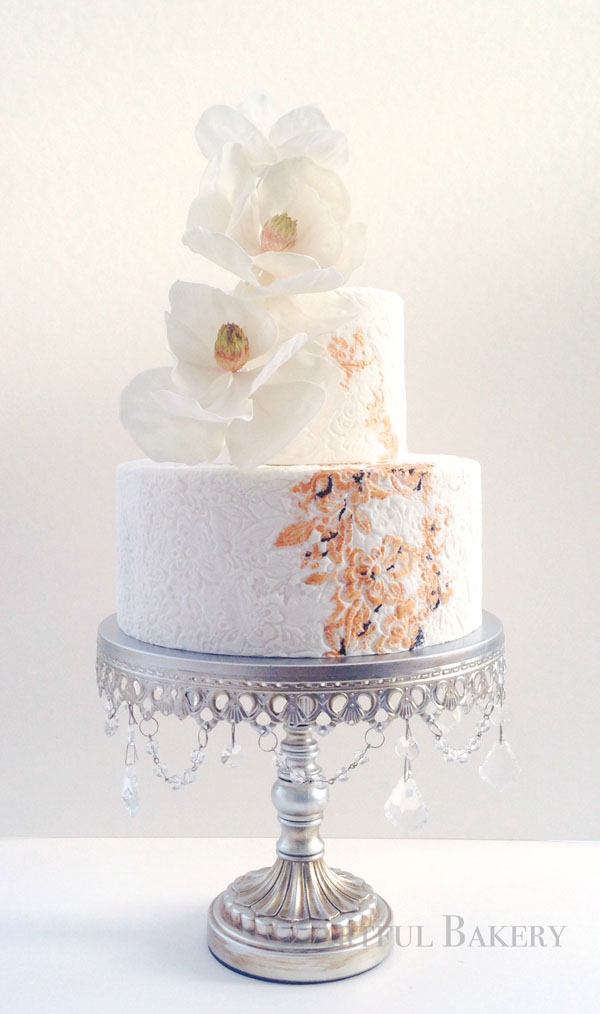 Photo via Craftsy member Jasmine Griffin
Magnolia and lace cake
Craftsy member Jasmine Griffin uses delicate lacework (learn how to do lacework on cakes here) on this lovely magnolia adorned creation but brings in some color and interest by hand-painting sections of the lace. What makes cake decorating such an exciting industry and medium is the amount of fantastic techniques and ideas that can be born! Working with lace doesn't have to mean leaving it white or ivory; why not guild filigree textures with gold leaf or perhaps pick out a pattern to hand paint or add pearl detail to.
We've absolutely adored looking at different inspiring techniques that can be used for cake design ideas for advanced designers. We hope you've found yourself excited to begin your next project, or that your creative juices have begun to flow for whatever fabulous design you plan next!
What advanced technique are you itching to try yourself?