Scrap quilting is an economical approach to patchwork for quilters who like to use up every last bit of fabric. While scrap quilting patterns provide a basic framework for quilting with the leftovers from your fabric stash, there are also some basic techniques that allow you to piece together scraps without using a pattern.
Scrap quilt designs range from free-form improvisational piecing to traditional quilt blocks with precise points. Whatever your quilting style, there are a number of patterns available to help you use up your fabric scraps and whip up a beautiful quilt top, patchwork pillow or other scrap quilting project! Below, you'll find 11 scrap quilting patterns you can use to help bust your stash.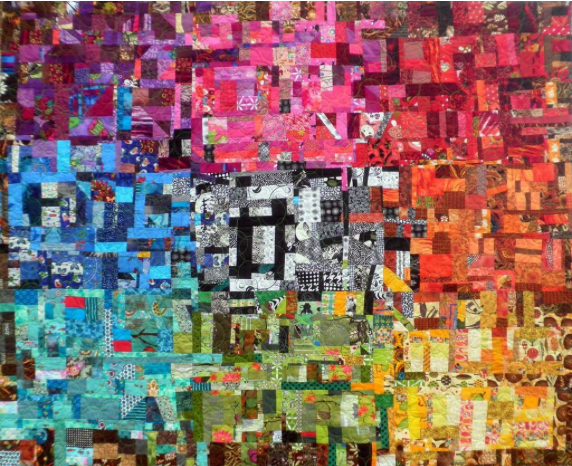 The stunning Color Wheel Scrap Quilt was completed solely with fabric scraps from PersimonDreams' stash and she used a free-form quilting method to form the patchwork quilt top. As you can see, the scraps vary in size and are mostly square or rectangular in shape, with just a few triangular pieces. By grouping the scraps into color families, she was able to simulate the color wheel with her scrap quilt design.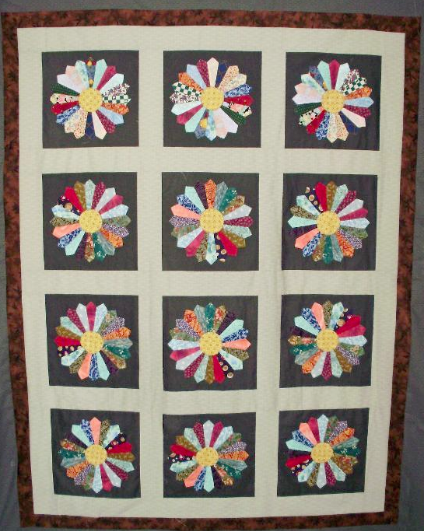 My Checkered Stash by Pacific was inspired by the 2012 Bluprint Block of the Month series. The classic Dresden Plate quilt block offers a great space to use up scrap fabrics that do not necessarily match. In this design, the shape and size of the petals offer uniformity and help tie together the design. Even when the colors vary widely, fabric scraps with a smaller scale print work well with this scrap quilting pattern.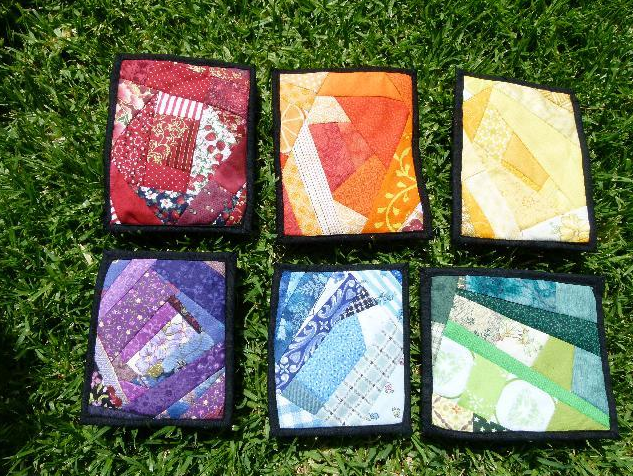 These Mini Crazy Quilt Coasters by A.A. are a great design to use up scraps, which are first sorted and grouped by color. To build the blocks for each coaster, one fabric scrap is placed in the center, and the block is built outward in the style of an improvisational or wonky log cabin block. Once the blocks are your desired size, simply trim, quilt and bind!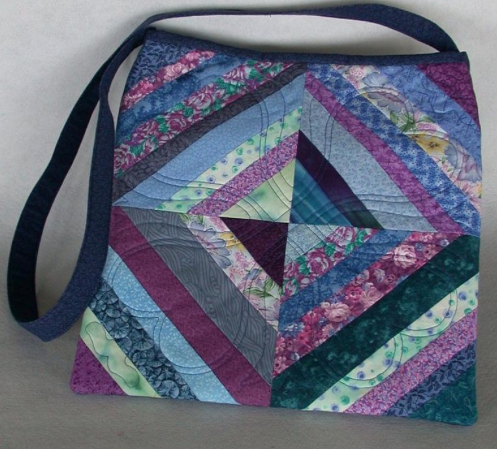 String blocks are a fabulous way to use up scrappy strips of fabric. Typically sewn onto a foundation of paper or solid fabric, these blocks look great in a rainbow of colors or more coordinated tones, like this String-Patch Quilted Bag by AllThatPatchwork. If you don't quite have enough scrappy quilt blocks to make a quilt, consider a smaller project like this purse or a patchwork pillow!
The Meandering Path Quilt by Ellie Roberts was assembled by piecing together leftover 10″ squares and charm squares, but as long as your scraps match those sizes, you can make this quilt! The fabrics don't necessarily need to match, but a few common colors will help pull the look together.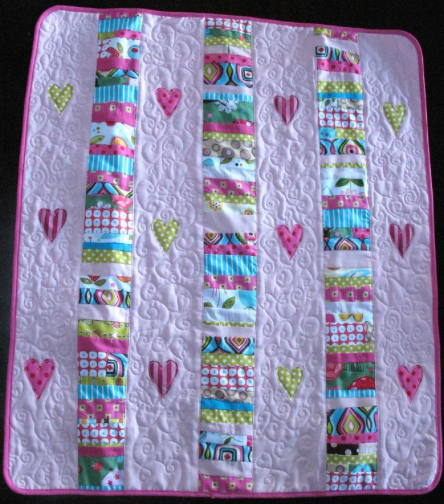 The Scrap Busting Cot Quilt by Sweetpea Clothing was made from cotton fabric scraps left over from sewing little girl's dresses, skirts and accessories. A variation of a basic stacked coins quilt, this scrap quilt design is made by randomly sewing tiny scraps of fabric into long strips, which are later trimmed and sewn vertically down the center of the quilt top. The hearts are raw-edge appliqued on the quilt top before quilting. Try a scrappy stacked coins quilt on a larger scale for a quilt top that comes together quickly.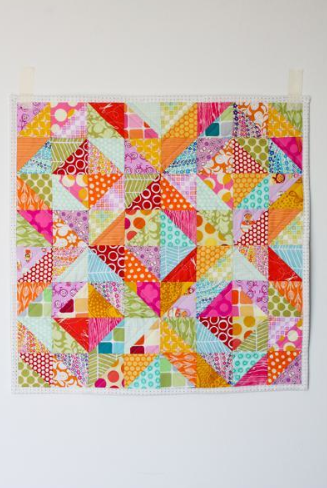 By separating your scraps into warm and cool tones, you can use a variety of fabric scraps to sew a Warm Cool Quilt of half-square triangles. This scrap quilting pattern from Jeni Baker incorporates many monochromatic prints in warm reds, oranges and yellows and cool purples, blues and greens. The diamond pattern that forms creates movement which leads your eye across the quilt. For a variation, try this scrap quilt design with scraps in either light or dark values.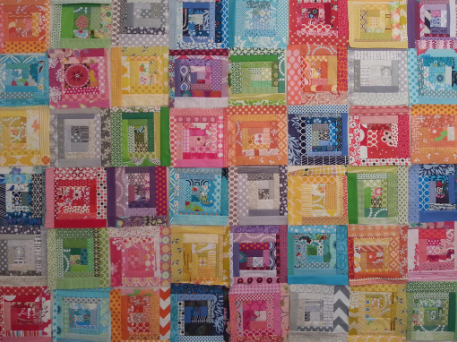 The Improv Log Cabin quilt from Jennifer Mathis is a great design for using up strips of scrap fabric. The monochromatic scrappy log cabin blocks are 8" finished, and you can combine several blocks to use up your scrappy fabric stash. To customize this design, consider sashing the log cabin blocks or arranging them in color order rather than all mixed up.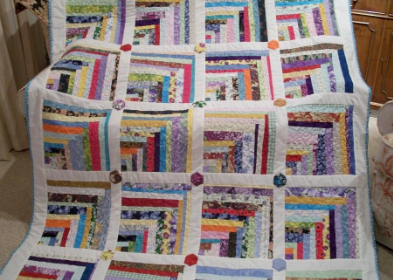 Patz in suffolk experimented with scraps in her project above, which was a gift for her granddaughter. While piecing Emily's Quilt, she hoped to rid herself of three years worth of quilt scraps! Once she started sewing strips of different widths and lengths together, she says the project came together quickly. Instead of picking out a scrap quilt design, she suggests, "Just make it up as you go along. You'll find that a pattern will suggest itself to you along the way."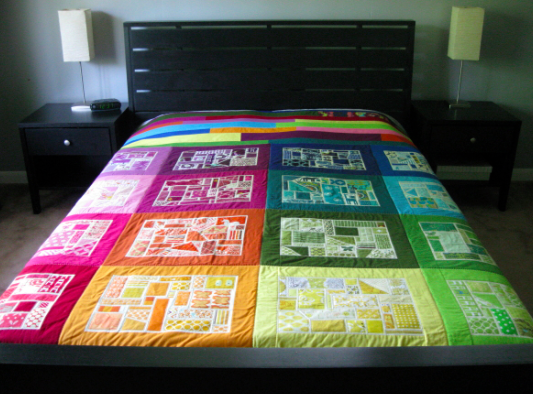 The Bottled Rainbows Quilt by Rachel Hauser is a ticker tape quilt designed to help you use up a variety of small fabric scraps, which you can group by color. Using a quilt-as-you-go method, you can make a large quilt easily on your home machine with her informative quilt along. Each block of fabric scraps is bordered by solid fabric to help tie together the colors in each "bottle." For another take on ticker tape quilting, check out this scrappy ticker tape quilt version from Amanda Jean Nyberg, which uses scraps which are as small as 1" x 2".
Creative Uses for Scrap Fabrics
Have fun putting your extra fabric to use in beautiful projects.Get My FREE Guide »