It's that time of year again. Did you keep any of your resolutions from last year? After years of resolving to lose weight (didn't happen), buy a new car (also didn't happen) and pay off one of my student loans (nope, that didn't happen either), I've decided to make a resolution that is much easier to keep: a crafty resolution!
This is your year to finally learn that new technique, toss those worn-out supplies, and try that new craft you've been dying to try. Here are just a few ideas for your crafty resolution.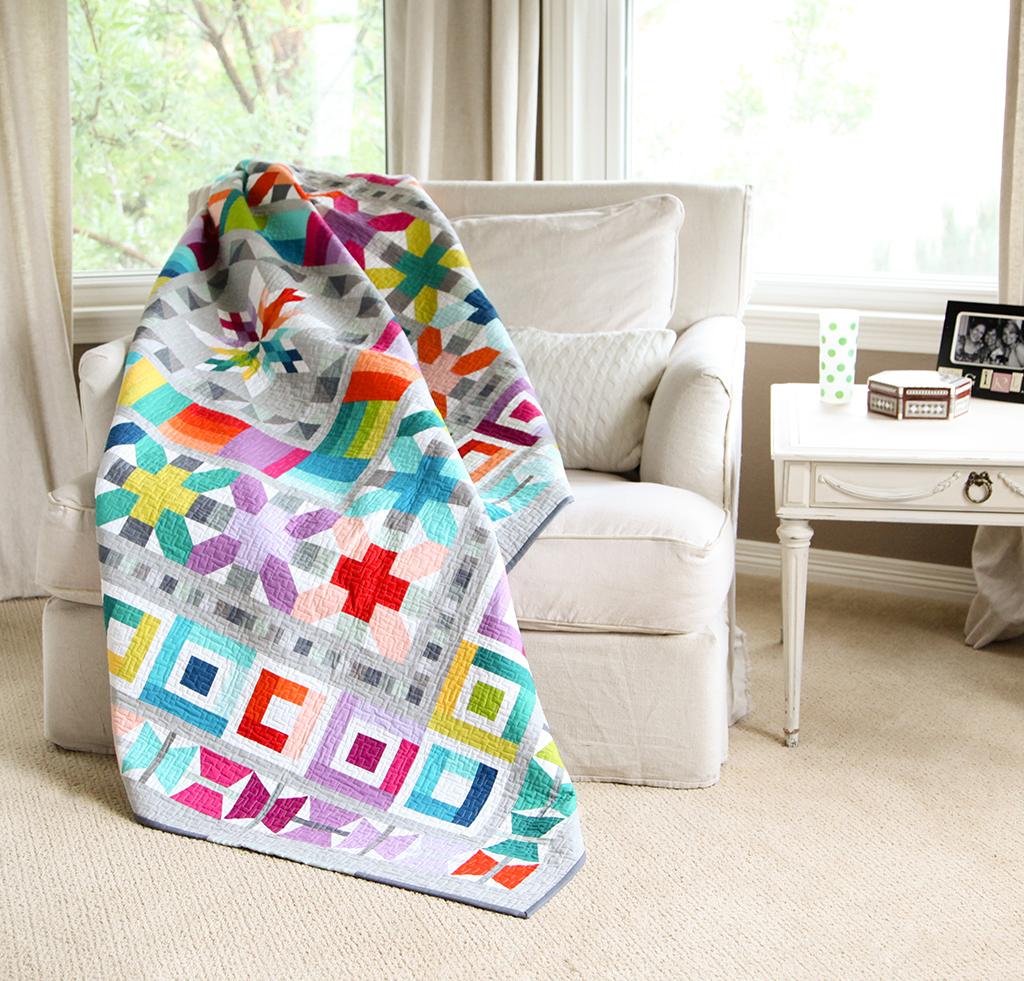 OK
Take your beginner quilter skills to the next level with this Aviatrix Medallion Quilt Kit for advanced beginners
#1. Learn something new.
Maybe you want to try a totally new craft that you've never attempted. Or maybe you just want to learn a new technique within your favorite craft. You'll find all the inspiration you need when you browse Craftsy's classes. With classes in more than a dozen categories, you're sure to find something that floats your creative boat.
#2: Organize your craft supplies.
One thing I love about this resolution? The hardest part of keeping this resolution is actually organizing everything you already own. Then you just have to vow to keep those supplies organized for the rest of the year, which is way easier!
#3: Using up your craft supplies.
Whether you have an excess of yarn, fabric, embroidery thread, or any other craft supply, resolve to use up what you have before you blow your entire grocery budget on more.
#4: Buy more indie.
Since moving to Asheville, North Carolina, I've been dipping my toes into shopping local, indie artists that make high-quality craft supplies.
Shopping indie doesn't just apply to craft supplies; it applies to designers, too. There are so many talented independent designers out there who can benefit from your business, and some of them are right here on Craftsy! Next time you're ready to buy a pattern, skip your usual sources and try out an indie designer for a taste of something new. (You can browse Craftsy's pool of indie designer patterns right here! Just sort by category and you'll be on your way.)
#5: Show off your projects.
Whether you start a blog or just post your projects on Craftsy, start showing off in 2015. Take photos of all your projects, even the ones with mistakes, and inspire others to create! You'll boost your confidence and build yourself a bigger community of crafters.
#6: Craft more.
Admittedly, I make this resolution every year, and sometimes it actually works. Make a list of projects you want to make each month and set aside time each day to work on it. Ask creative friends to hold you accountable for completing projects. Do whatever you need to do to motivate yourself.
#7: Challenge yourself.
I have a lot of projects on the back burner that I have all the supplies to make, but no guts to actually try to make it. We're all intimidated by certain techniques and projects, but let's resolve to challenge ourselves. Who knows? We might even find a new passion along the way.
#8: Use that supply you've been hoarding.
We all have it. It's that skein of yarn you bought in Scotland, the fabric your grandmother left you, the beads you found at the estate sale. It's been sitting in your closet for years. This year, find that special project and use it.
#9: Teach a craft to someone else.
You know how happy crafting makes you feel? Give someone else a little dose of that happiness when you teach them your favorite craft! You can even host a craft night to help inspire others to create.
#10: Craft for charity.
We all want to help more. Why not incorporate crafting into the charity work to make it even more fun? Check out Craftsy Cares to get ideas on how to use your talents, along with specific ways to help using knitting, crochet, quilting, and sewing.
What's your crafty resolution for the new year?