Let's talk leftover stuffing. It may never happen in your house (after all, the Thanksgiving side dish is delish), but if you find yourself up to your elbows, you've gotta find a way to use it. The good news is there are a ton of ways to transform those leftovers into unexpectedly delicious meals. Let the feast continue!
1. Thanksgiving Leftover Croissant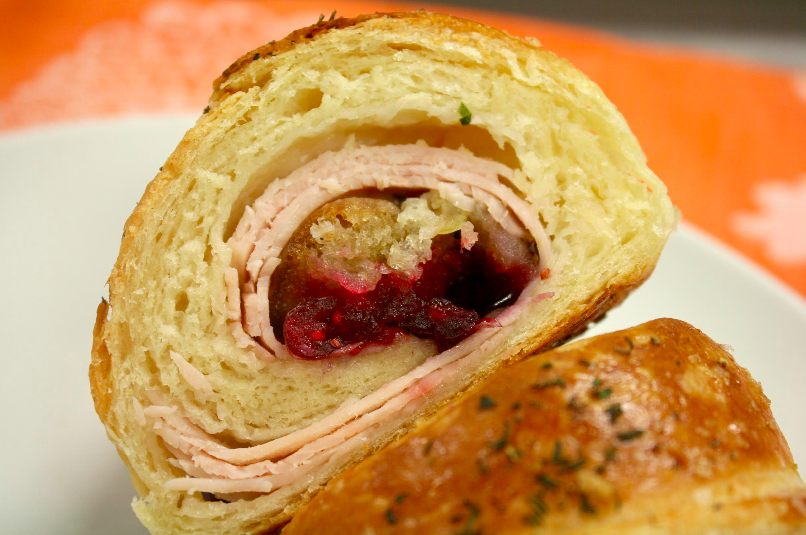 Combine leftover stuffing with a little French baking to create a Thanksgiving leftover croissant! This beauty uses stuffing, a little cranberry sauce and a sliver of turkey wrapped in a buttery, flaky blanket of croissant dough. Nervous about your croissant skills? You could always try a simpler recipe and make Thanksgiving leftover buns.
2. Leftovers Pot Pie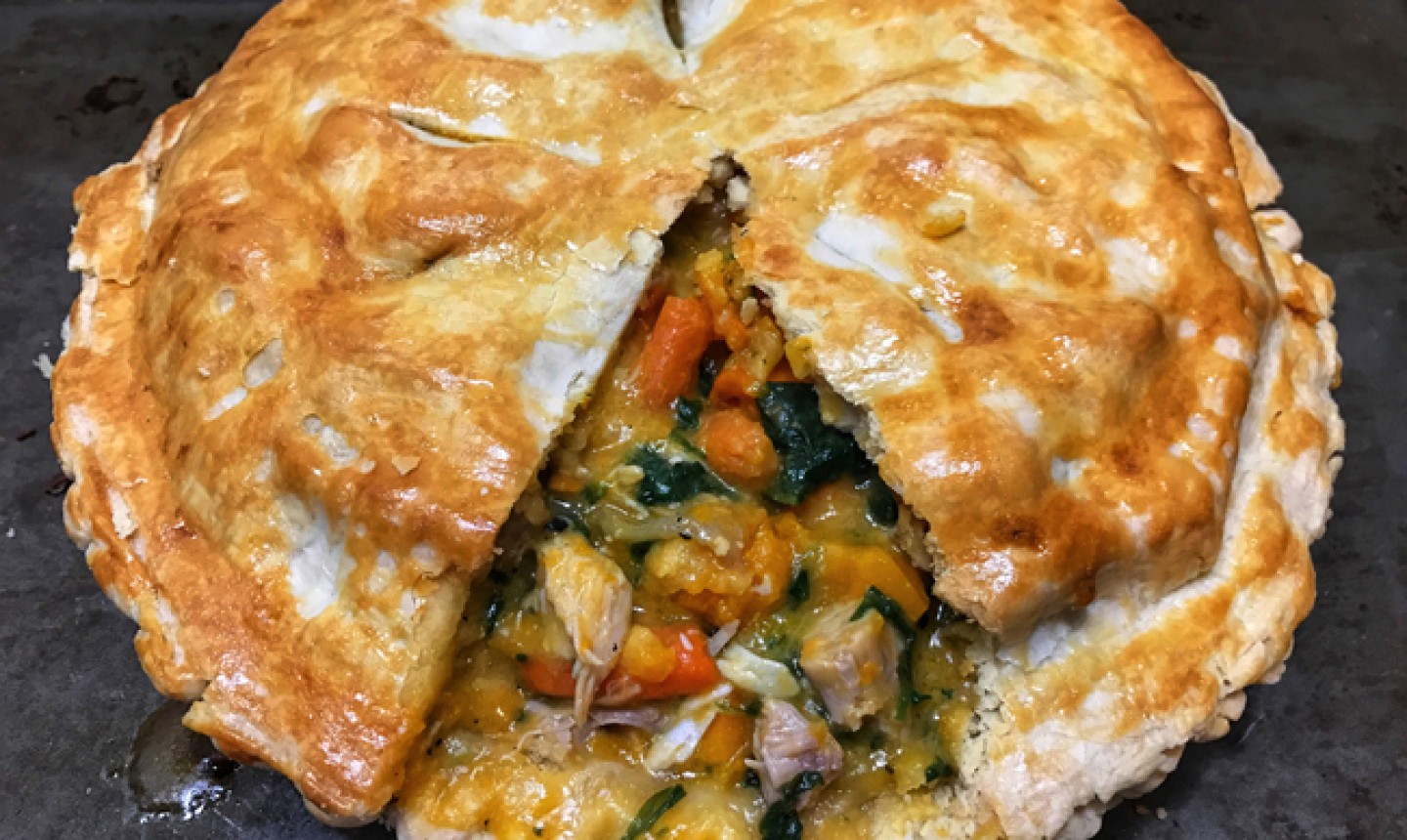 Turn your Turkey Day remnants into another gourmet meal. This pot pie recipe combines turkey, roasted veggies and other Thanksgiving leftovers for a delicious dinner. Throw some stuffing inside and you'll forget it was leftovers in the first place.
3. Stuffing Dumpling Soup
Create carb-o-licious orbs out of stuffing in the style of matzoh ball soup with this dumpling soup recipe from Katie's Cucina. You mix stuffing with a little egg and flour to add structure, then drop it into a pot of soup. (Go for turkey, since you likely have main course leftovers, too.) The balls cook in the soup and soak up the tasty flavors around them.
4. Mac and Cheese Casserole
A baked macaroni and cheese recipe wouldn't be complete without a sprinkling of bread crumbs on top. So why not get creative and sprinkle leftover stuffing on top instead?! You can drop it in clumps or crumble it all over, then bake as usual. The result: extra-flavorful mac and cheese casserole. Yum.
5. Thanksgiving Leftovers Pizza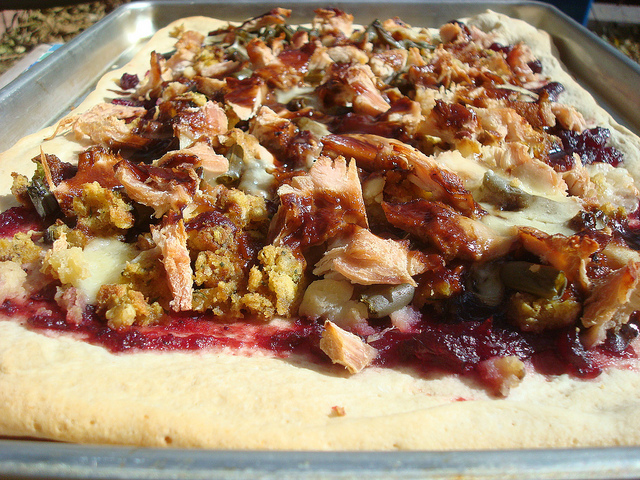 Photo by Jesse Oleson Moore
Combine stuffing with leftover turkey, cranberry sauce and other Thanksgiving classics to create a delicious Thanksgiving leftovers pizza. Gravy and cranberry sauce replace your traditional tomato sauce base, while the turkey and stuffing serve as flavor-bombs better than any ol' piece of pepperoni.
6. Stuffing Croutons 
Deconstruct your stuffing to make unique croutons. Simply tear into chunks, scatter on a baking sheet and bake in a 400 F oven until toasty, shifting the crumbs around on the pan once or twice throughout. Take your croutons out, let cool and toss on a salad for an extra crunchy bite.
7. Stuffing Waffles
If you love savory meals, you can mash your leftover stuffing into a well-greased waffle maker and press until toasty on the edges. It's an easy way to use up your leftovers in a delightfully novel breakfast.
8. Breakfast Hash
A traditional hash is made by scrambling eggs with potatoes. But in this case, swap the potatoes for leftover stuffing. It'll add a unique flavor to eggs, creating a scramble that's sure to please the whole fam post-feast.
9. Savory Bread Pudding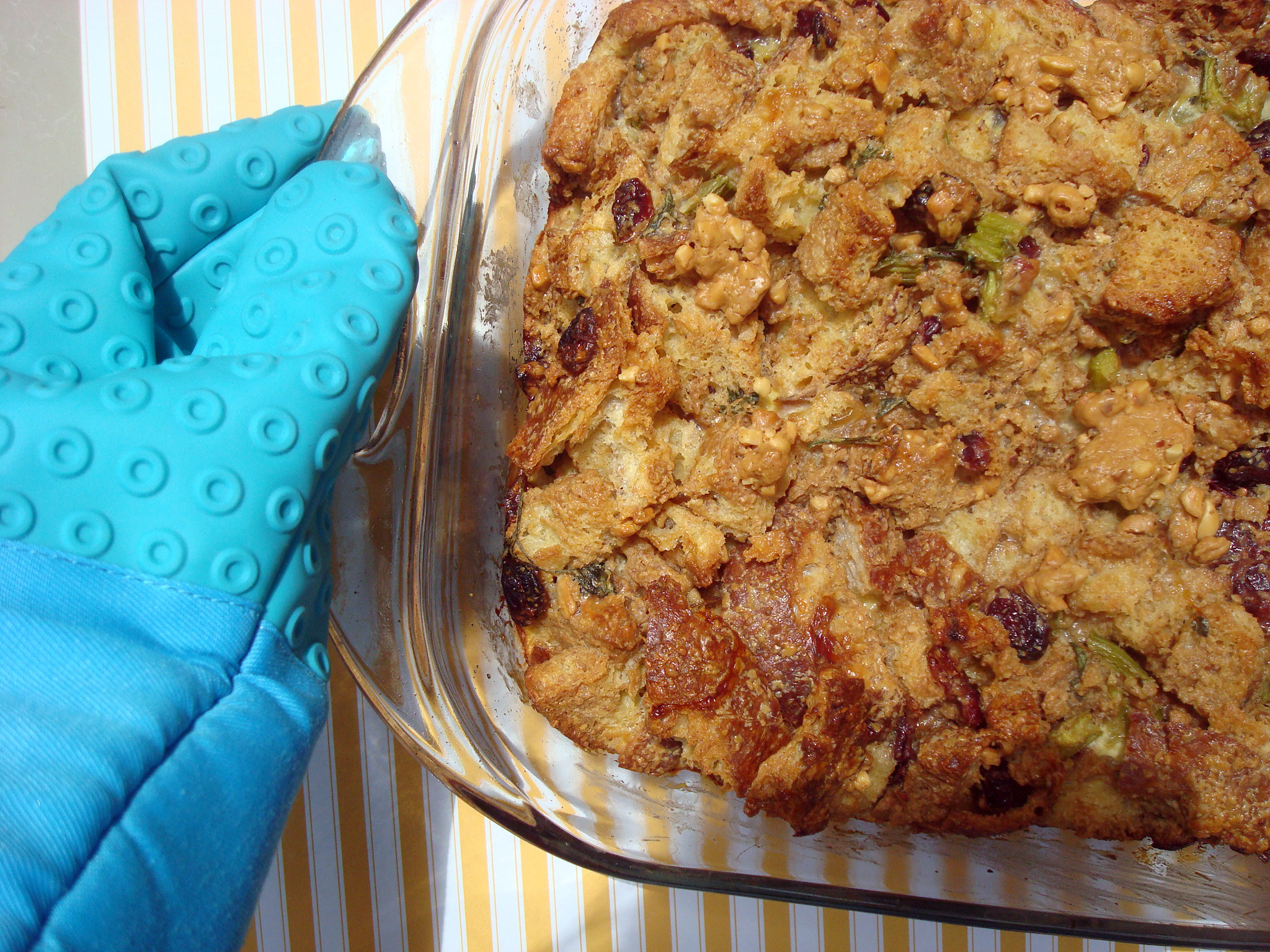 Photo by Jesse Oleson Moore
It doesn't get much easier than this. Use this ratio: 1 cup stuffing : 1 egg : ½ cup milk or cream. Add seasonings or cheese to taste. Mix together, put in a greased Pyrex pan and let sit for at least an hour (or overnight). Bake at 350 F until it's set, golden and bubbling, anywhere from 35-50 minutes. Dig in!