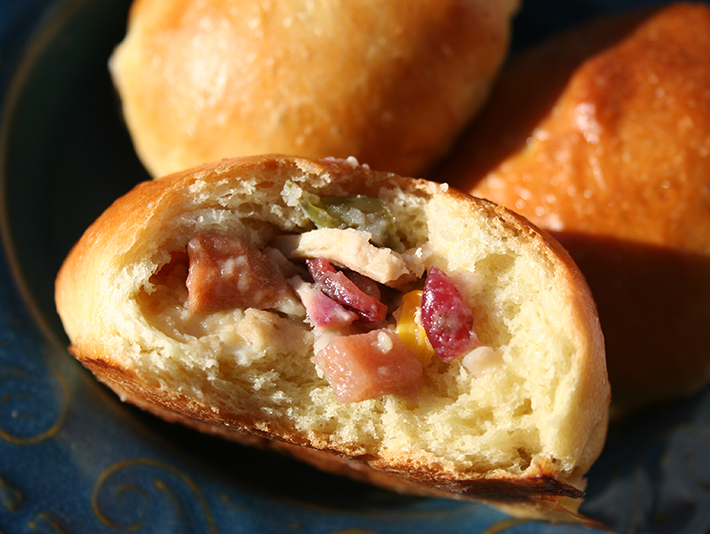 With just a simple dough recipe, you can make a dish that puts Thanksgiving leftover sandwiches to shame. These stuffed buns are the perfect way to use up your extra turkey, veggies, stuffing — you name it! Plus, no two buns will be exactly the same, so biting into one is sure to be a tasty surprise.
Thanksgiving Leftover Stuffed Buns
Yield: 16 servings
Ingredients:
4 cups all-purpose flour
½ cup sour cream
3 tablespoons olive oil
½ cup warm water (about 105 F)
2 large eggs, room temperature
1 tablespoon honey
1½ teaspoons salt
2 teaspoons instant yeast
About 1 pound Thanksgiving leftovers, cut into small pieces 
1 egg, beaten
1 tablespoon water 
Instructions
1. In a large bowl, add the flour, sour cream, olive oil, water, large eggs, honey, salt and yeast. Mix to combine. Knead, either by hand for 5-7 minutes or using a stand mixer fitted with the dough hook attachment for 3-5 minutes, until a soft, smooth dough forms.
2. Transfer the dough to a lightly greased bowl, and let rise at room temperature for about 2 hours, or until puffy-looking (not quite doubled in bulk).
3. Deflate the dough by gently punching it down. Divide the dough into 16 equal portions and shape each into a ball. Let the balls of dough rest for about 15 minutes.
4. Gently flatten one dough ball into a disc about 5″ in diameter. Brush with egg wash, then place about 2 tablespoons of leftovers (chop larger items, such as turkey, into bite-sized pieces) on the top center. Gather the dough and form a seal on top of the filling.
Pro Tip: Really pinch the edges together to seal the filling so nothing oozes out during baking.
5. Place the buns on two parchment- or silicone-lined baking sheets (8 buns per sheet), seam side down. Let them proof for about an hour, or until nice and puffy.
6. Near the end of the proofing period, preheat the oven to 400 F. Brush the buns with egg wash again. Bake for 15 to 20 minutes, or until golden brown.
Good to Know: If any of your buns do "leak" while baking, don't panic! The filling won't spread far, and they'll still be delicious.
7. Remove from the oven and let cool briefly before transferring to wire racks to cool completely. Enjoy warm or at room temperature. Store leftovers in the refrigerator.