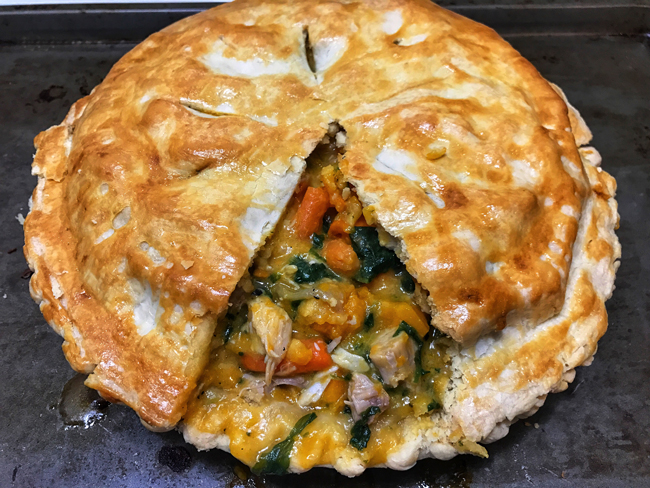 Sure, you can heat your Thanksgiving leftovers and eat them as-is. But why not totally transform those veggies, turkey and gravy into an entirely new meal? That's where leftover pot pie comes in — consider it an easy and delicious way to upcycle your Turkey Day scraps into something you actually want to eat.
Turkey Pot Pie With Roasted Vegetables
Yield: One 9½" pot pie
Ingredients
For the Roasted Vegetables
Small butternut squash (a 2-pound squash will yield about 3 cups)
Sweet potato
Small colorful potatoes (purple, blue, red)
Red onion
2-3 carrots
2 parsnips
Olive oil
Kosher salt
Freshly ground pepper
Fresh herbs (optional)
Sliced jalapeños (optional)
For the Pot Pie
2 pie crusts (use store-bought or make your own)
2-2½ cups shredded or cubed leftover turkey
2 cups roasted winter vegetables
1 tablespoon butter
1 tablespoon flour
1½ cups chicken broth
¼ cup heavy cream
½ pound frozen spinach (optional)
Salt and pepper to taste
Egg wash (1 egg + 2 tablespoons water)
Instructions
1. Preheat oven to 425 F and line two cookie sheets with foil.
2. Peel and seed the squash. Then peel sweet potatoes, carrots and parsnips. Cube and place in large bowl.
3. Cut the onion in half and into quarters, separating the layers; add to the bowl. If you have any fresh herbs leftover from roasting the turkey — like rosemary or thyme — add them in!
4. Drizzle the veggies with olive oil and sprinkle with salt and pepper. Divide the veggies between the two sheet pans and spread in a single layer. For some heat, you can add sliced jalapeños.
5. Roast for 35-45 minutes. The time will vary depending on the size of the cubed vegetables.
6. As the vegetables cool, preheat oven to 400 F. Place the pie crust in a glass pan to help reinforce crust. This is going to be a heaping pot pie, and you want to make sure it's supported. 
7. Shred or cube the leftover turkey.
8. In a medium saucepan, melt the butter and whisk in the flour to make a roux. Add broth and heavy cream.
Good to Know: If you have 1½ cups of leftover gravy, this can substitute for the sauce you're making. Just use a couple tablespoons of broth to thin it out while warming in the pan.
9. Add turkey and vegetables.
Pro Tip: You can add whatever leftovers you want to this pot pie. An easy addition: spinach or other leafy greens. Just make sure to squeeze the leaves to remove moisture.
10. Warm all of the ingredients before filling the pie.
Good to Know: This is the only opportunity to taste the filling before baking. Since you're building the pie from odds and ends, you may find that you need to add some additional seasonings.
11. Place the filling in the pie crust. Place the other crust over the top and crimp the edges. Cut slits over the top and brush with egg wash.
12. Bake for 35-40 minutes, or until the crust is golden brown. Place foil over the edges if you notice the edge is browning faster than the top of the pie. Serve immediately.