There's nothing better than digging into a delicious Thanksgiving dinner, but no matter how hard you try, there always seems to be a ton of leftovers. And while there are plenty of creative ways to use those leftovers — no microwaved turkey and congealed gravy for you! — this recipe, inspired by Momofuku Milk Bar in New York City, transforms them into delicious Thanksgiving croissants. Bon appétit!
Thanksgiving Leftover Croissants
Yield: 24 croissants (may vary based on amount of leftovers)
What You Need
Ingredients
1 batch croissant dough
Leftover turkey
Leftover cranberry sauce
Leftover stuffing
1 egg
Fresh thyme (optional)
Coarse sea salt (optional)
Tools
Pizza wheel or pastry cutter
Ruler
Baking sheet
Parchment paper
Small bowl (for egg wash)
Food-safe brush (for egg wash)
Pro Tip: While we used turkey, stuffing and cranberry sauce, you can use any Thanksgiving leftovers you like. Just be careful of wet fillings, as they could weigh down the croissant dough and make it soggy.
Instructions
1. Roll Out the Dough
Roll out your croissant dough into a 26½" x 17" rectangle. Cut in half lengthwise, so you have two 8½" x 26½" triangles. Straighten the edges by trimming ¼" off all the way around. This will open up the side walls of the croissants and allow for lift.
Pro Tip: These croissants have a 4" base and 8" height. No matter the size of your croissant, the base will always be half the height.
2. Mark the Dough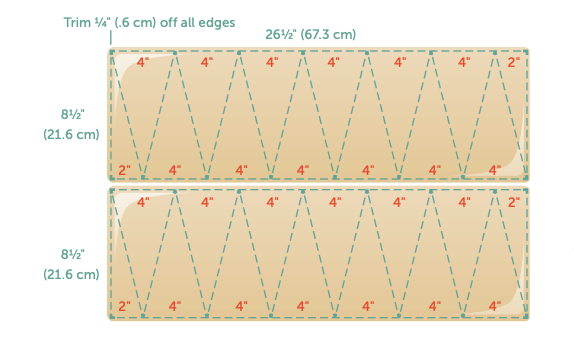 From the bottom left-hand edge of your dough, cut a small notch 2″ from the edge. Move to the right, cutting notches 4″ apart.
From the top right hand edge, cut a notch at 2″ and then move to the left cutting notches at 4″ apart.
3. Cut the Triangles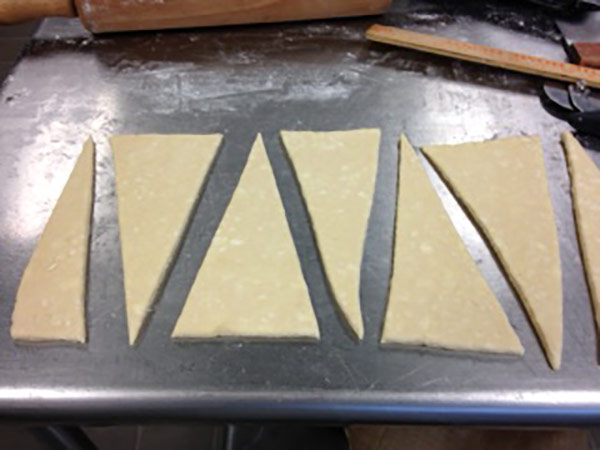 Line up the notches with your ruler and cut out the triangles with a pizza wheel or pastry cutter.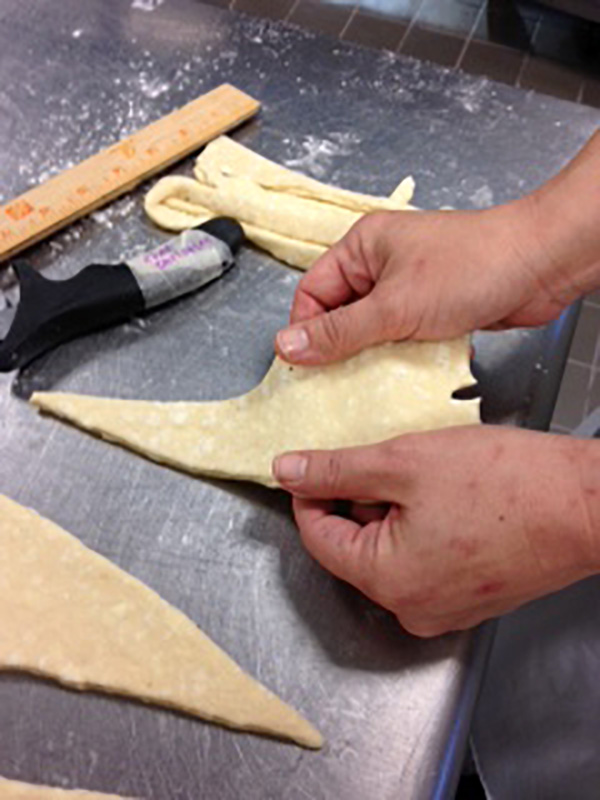 Cut a notch in the center of each base, about ½" long. Pull the edges of the base apart slightly, stretching the dough to accommodate the filling.
Pro Tip: The four smaller triangles from the edges of your dough can be used as scrap dough, or turned into mini croissants. Just note that because they're smaller, their baking time may be shorter.
4. Add the Filling
Layer turkey, stuffing and cranberry sauce in the center of the croissants. It's a good idea to start with the turkey, since it's dry and will protect the dough.
5. Roll It All Up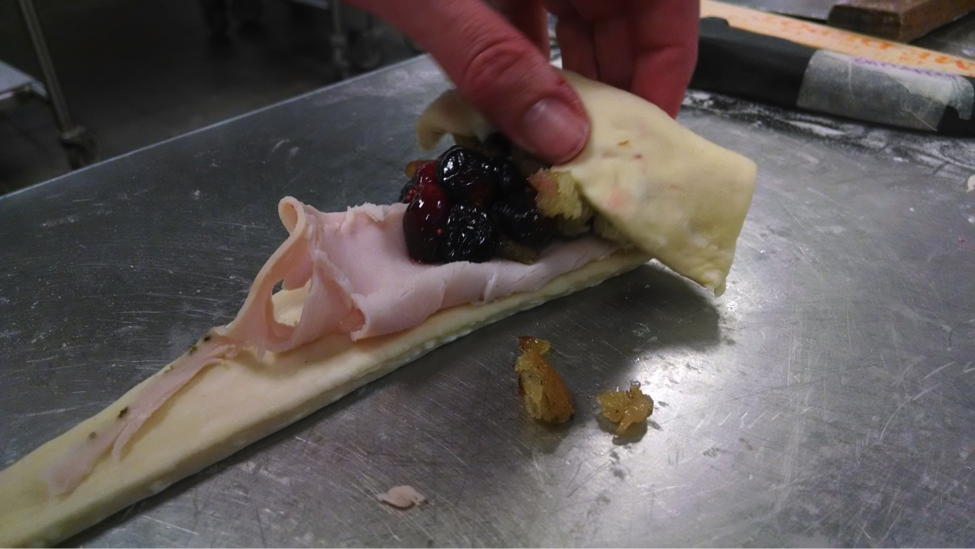 Roll the croissants from the bottom up, making sure the top tip of the croissants are enclosed. Place each croissant on a parchment lined baking sheet about 3-4" apart.
Cover and allow the dough to rise until the croissants are slightly puffy, about 20-25 minutes. When you squeeze the sides, they should have a slight marshmallow texture and your finger imprint should not spring back.
6. Egg Wash and Add Herbs
Preheat your oven to 375 F. Make a batch of egg wash by beating one egg until it's smooth. Once the croissants are puffy enough, gently egg wash and sprinkle with fresh thyme and coarse sea salt.
7. Bake the Croissants
Bake at 375 F for 15 minutes, then turn down the oven to 350 F and bake another 15 minutes, or until golden brown all over (even in the layers).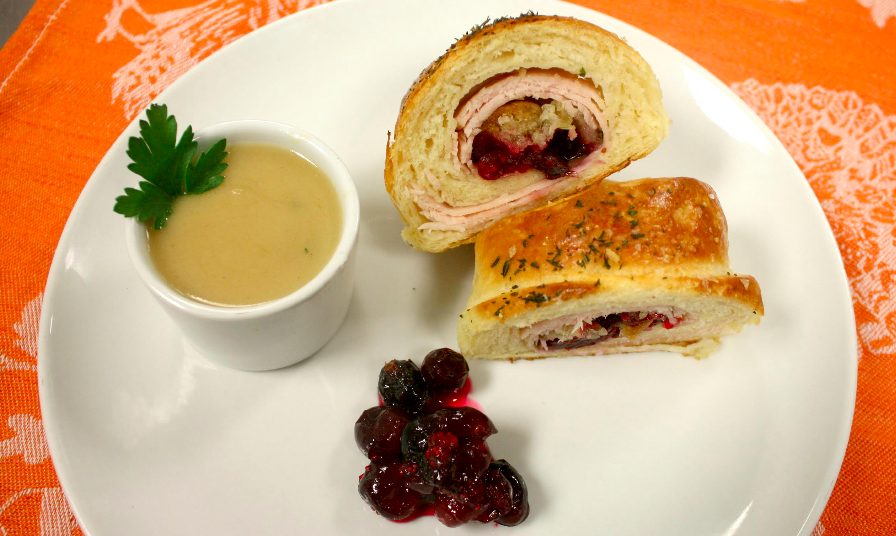 Serve the croissants warm with leftover gravy for dipping!
Pro Tip: Got leftover croissant dough? Stuff it with these fun filling ideas.