Who doesn't love buttery, flaky croissants?! These French pastries are the perfect vessel for some amazing textures and flavors, giving us the freedom to enjoy them no matter the time or season. Ideas for a croissant filling is a lengthy list — below are a few of my favorites and some timeless classics!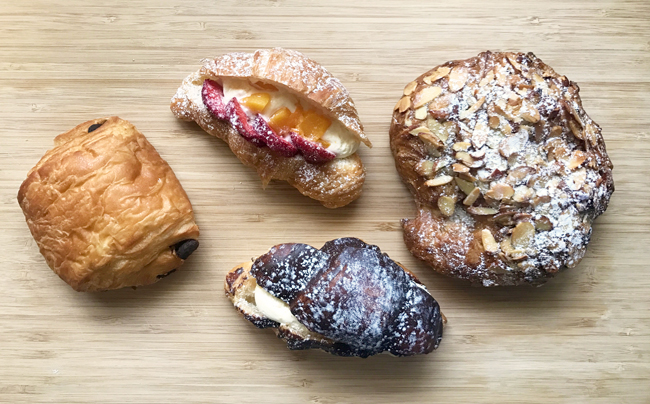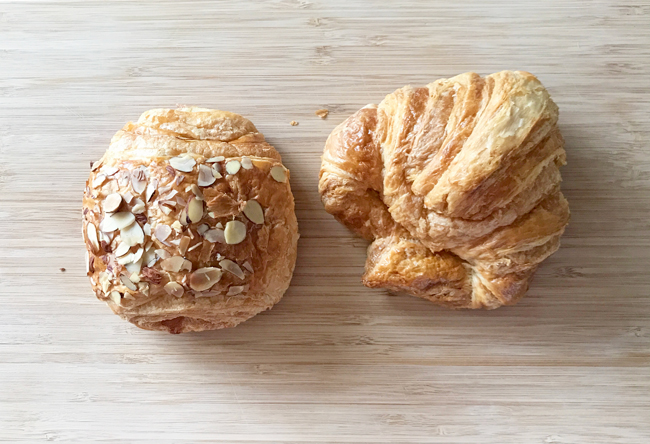 How do you fill a croissant?
First, let's discuss how croissants are made and filled.
Croissants are made with a butter-locked dough: A yeast-leavened dough and butter are folded several times, creating a sheet of dough that's then shaped, proofed and baked to create a truly buttery and flaky pastry.
Croissants may be filled before proofing.
That's the method for most chocolate croissants and some almond croissants. Chocolate or almond paste is placed onto the dough before rolling or shaping and proofing. Then it's baked to perfection and ready to eat as-is.
Otherwise, croissants are filled after baking.
For deeper insight and wonderful recipes for creating these tasty pastries in your own kitchen, check out our Classic Croissants at Home class.
Ready for some sweet and savory croissant filling ideas?
The recipes and filling ideas below are for filling already baked croissants (so much easier!). I would love for filled croissants to be a weekend staple in my home — but we like to sleep in, so sometimes by the time we get to the bakery, only the plain ones are left.
If you can't get your hands on the flavored croissants, here's what you do: Buy the plain ones — hoard them, even — because you can slice them open and fill them at home. Of course, you could also make your own croissants at home.
1. Chocolate
Slice your croissants in half and spread a thin layer of chocolate ganache on one side (or both!). Top with chopped pistachios, chopped bits of dried cherries or your favorite dried fruit/nut combination. Place both halves together and indulge.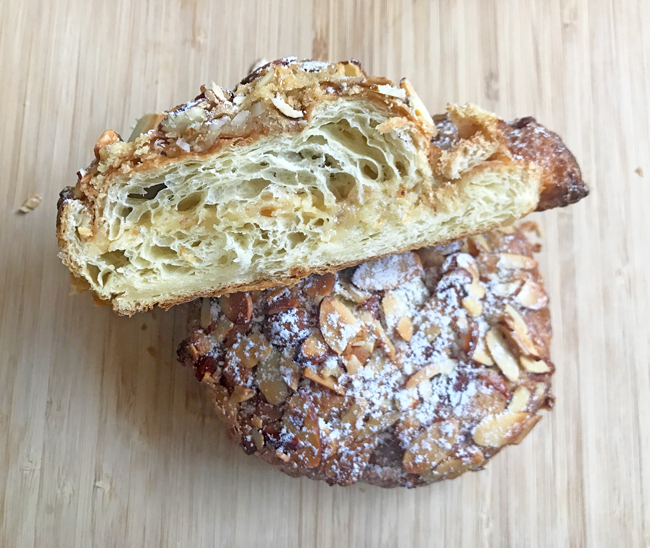 2. Almond
My favorite croissants are almond croissants, which were originally developed to use with day-old croissants — perfect!
There are two ways to make a filled almond croissant: One is using almond paste, which is made with almond flour; the other is using straight marzipan, which is sweeter and smoother in texture. Both are so delicious.
To make almond paste:
For enough to fill 6 croissants, you'll need:
½ cup almond meal
¼ cup sugar
½ teaspoon vanilla extract
¼ cup butter, softened
1 egg
Place all ingredients in a food processor and process until smooth and creamy.
Preheat your oven to 350 F. Cut the croissants in half, spread the almond paste mixture (or marzipan) in the croissants and place tops over the croissants. Top the croissants with a thin layer of the filling and sliced almonds. Bake for 15-18 minutes. Dust with powdered sugar before serving.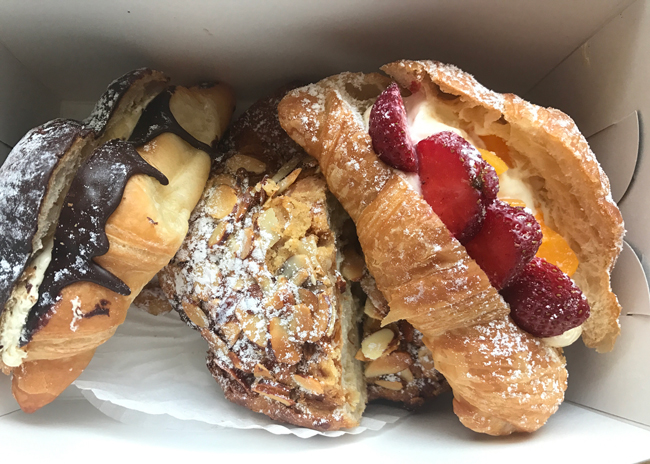 3. Fresh fruit and whipped cream
This makes for a perfect dessert on a warm day! Chop up your favorite fruits like strawberries, peaches, blueberries and/or bananas. Make a batch of freshly whipped cream. Split the croissant in half, fill with whipped cream and top with fresh fruit.
4. Pastry cream
Make cream filling to add some sweetness and body to any croissant. Pastry cream's light flavor and velvety smooth texture is a decadent addition to a plain croissant.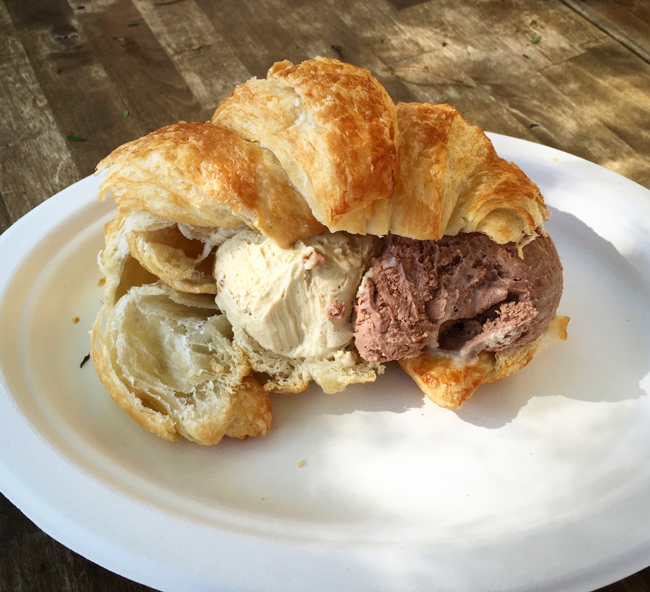 5. Gelato!
The most unexpected croissant filling is definitely gelato. This is my favorite sinful treat. Place a scoop or two of gelato in a crispy, flaky croissant sliced in half and enjoy!
6. Caramelized onion and goat cheese
This savory filling can be added to the croissant before or after baking. The advantage to adding the filling afterward is that you can use a lot more of this delicious filling!
You'll need:
One medium onion
Olive oil
Salt & pepper
Goat cheese
Slice the onion thinly and sauté over medium heat in a tablespoon of olive oil, adding salt and pepper, until it has softened and caramelized. Split croissant in half and spread a thin layer of goat cheese on one side. Top with warm caramelized onions. To toast, place in a 350 F oven for 15 minutes if desired.
7. Brie, bacon and honey
This one is my favorite ways to serve a savory croissant! Slice brie and place on an open-faced split croissant. Place under a broiler for 2-3 minutes until melted. Top with two slices of thick bacon and a drizzle of honey.
I'd love to know which croissant filling idea you'll try first! Let me know in the comments below!
Bake Your Own Classic Croissants!
What's better than the buttery, flaky croissants you get at the bakery? The ones you make yourself. Get the Class