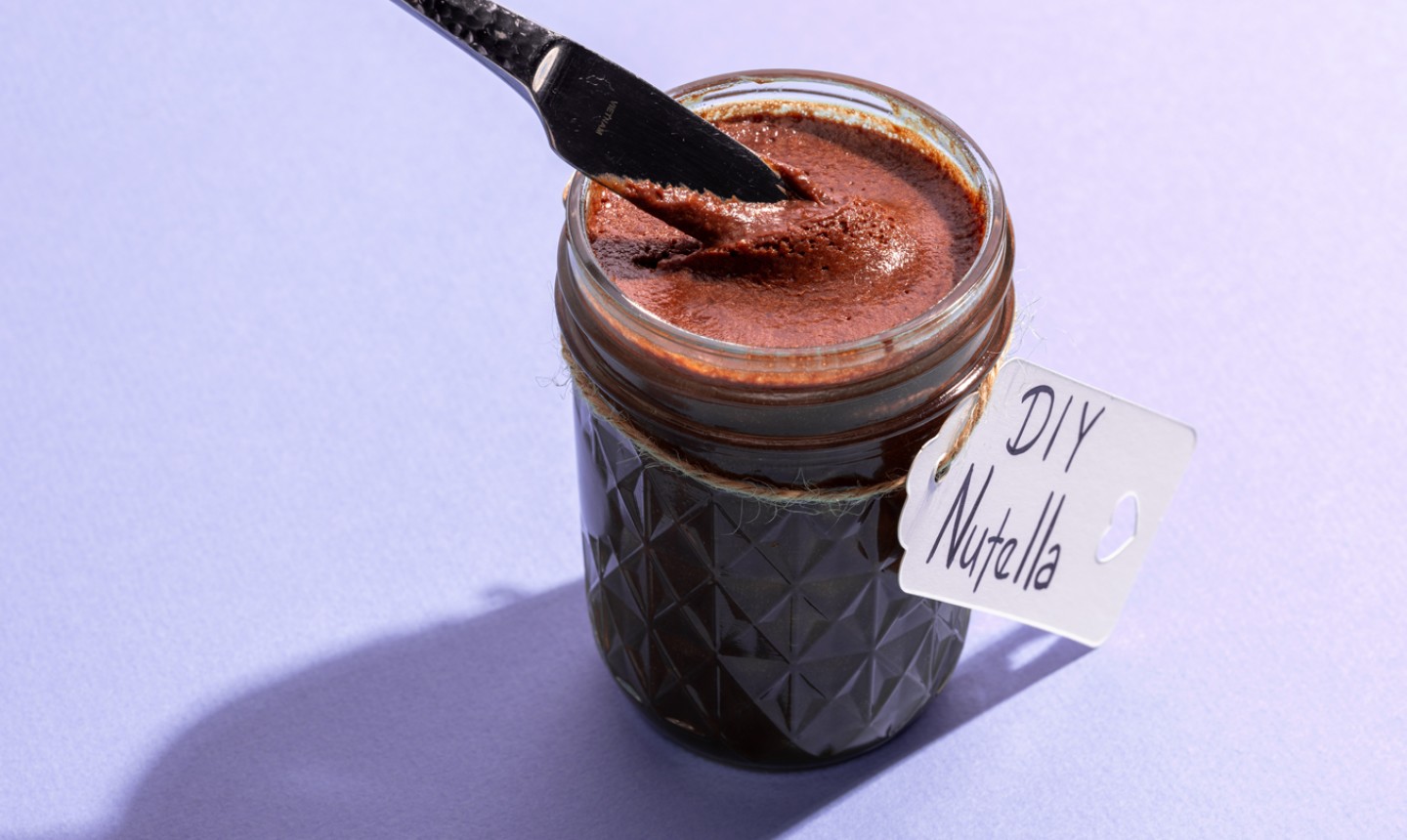 Warning: after you try this recipe for chocolate hazelnut butter from our class The From-Scratch Kitchen, you'll never buy a jar of Nutella again. It's honestly that good and the recipe yields a bonus jar of homemade chocolate syrup. Seriously, could life get any better?!
DIY Nutella
Yield: 2 ½ cups spread and 1 cup chocolate syrup
Ingredients
1 cup unsweetened cocoa powder
1½ cups near-boiling water
⅔ cups maple syrup or ½ cup packed light brown sugar
5½ ounces coarsely chopped milk chocolate
1 cup hazelnuts, toasted, skinned and cooled
3 tablespoons hazelnut oil
Instructions
1. Cook the Syrup
Scoop the cocoa powder into a saucepan and whisk with hot water until smooth. Add the maple syrup and cook over medium-high heat, whisking constantly until the mixture comes to a low boil.
Reduce heat to medium and continue to whisk for about 30 seconds, until the syrup thickens slightly. Remove from heat. Pour 1 cup of the syrup into a jar and set aside for a different use. (May we suggest ice cream?)
2. Add the Chocolate
You should now have 1 cup of warm syrup left. Stir the milk chocolate into the syrup until melted. Allow the mixture to cool to room temperature.
3. Make the Nut Butter
Place the hazelnuts in a food processor fitted with the chopping blade. Process for 2-3 minutes while slowly pouring in the hazelnut oil. A thin nut butter will form. Scrape this hazelnut butter into a measuring cup with a pouring spout.
4. Blend and Chill
Place the cooled chocolate syrup mixture in the food processor. Process the syrup while pouring in the hazelnut butter in a steady stream. Continue processing until you have a creamy spread. It will be thin, but will become more firm in the refrigerator.