Picking out the top 10 best French pastries is a difficult task. After all, this is a country that has cooking and baking down to an artful science. In France, pastries are purveyed in not one but two types of bakeries: pâtisseries and boulangerie (in general, think "fancy cakes and cream filled things" at the former, "bread-like" at the latter).
Read on to discover the best French pastries, and how to bake them.
1. Croissant
Photo via Craftsy member Cherif506
The croissant is just about the Frenchiest thing out there. Truthfully, though, the concept was born in Austria, under the name "kipferl." The recipe was adapted and adopted by the French, where it arguably came into its own.
Made by incorporating a sinful amount of butter into a dough and then folding and refolding it, the croissants have a heavenly, airy texture but buttery, rich flavor. The exterior crackles when you bite it, giving way to a soft interior.
2. Éclair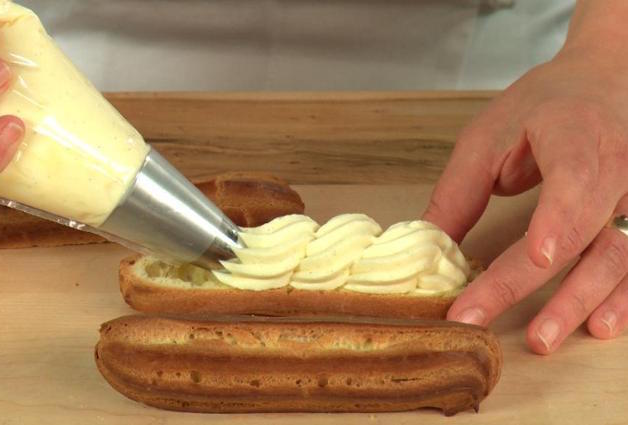 An éclair is a long, thin choux pastry filled with a pastry cream and topped with icing. Or, as the Chambers English Dictionary says, "a cake, long in shape but short in duration."
In An A-Z of Food and Drink, John Ayto muses that "The primary meaning of eclair in French is 'lightning,' and one (not very convincing) explanation advanced for its application to these cream-filled choux-pastry temptations is that it was suggested by the light gleaming from their coating of fondant icing."
While the classic presentation is chocolate icing with vanilla-scented filling, creative bakers have made any number of creative variations, from black currant to caramel to coffee.
3. Kouign Amann
You don't need to properly pronounce it (roughly "queen ahmahn") to appreciate these delectable pastries, which hail from the Brittany (or Breton) region of France.
It's a round pastry made with a croissant-like dough that's folded and refolded and baked in rounds. Baking slowly, at a low temperature, the dough puffs to form the many layers, and the sugar caramelizes, forming a crispy crust that crackles most delightfully when bitten into. As for the name? In the region from which this pastry hails, there is a unique Celtic-type dialect, in which the name translates as "butter cake."
4. Opera cake
This elegant gâteau is composed of thin layers of cake that are soaked in a coffee syrup and then layered with coffee buttercream and chocolate ganache. It's assembled as a large square or rectangle and then sliced into large bar-shaped slices to serve.
It was popularized by famed Parisian pâtisserie Dalloyau, which is said to have adapted a recipe for Clichy cake (another name by which the cake is sometimes found), which was debuted at the 1903 Exposition Culinaire in Paris.
5. Macarons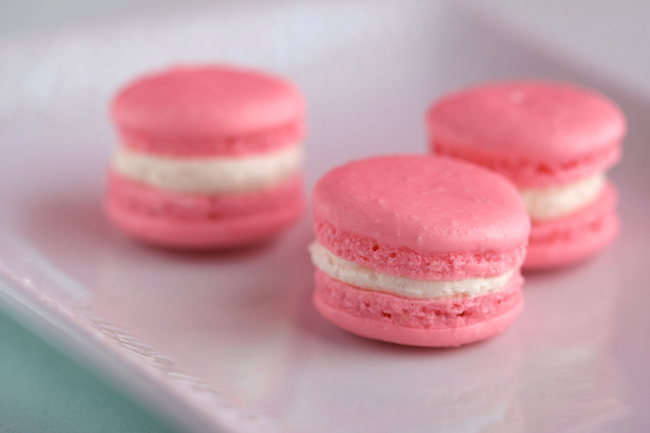 A macaron is simply a meringue-like cookie made with ground nuts. However, as the legend goes, some brilliant person at Ladurée in Paris had the idea to sandwich two of them together with rich cream or ganache, and a classic was born. In France, macarons are viewed as an artistic canvas as well as a cookie, with creative bakers churning out these jewel-like confections in flavors as wide-ranging as strawberry-balsamic, black sesame, and — yes — even ketchup.
Enjoy up-close instruction on making macarons in the online Craftsy class Miniature French Desserts: Macarons, Madeleines & More.
6. Mille-feuille
You may know this pastry as a "Napoleon," but in France, it's more commonly known as "mille-feuille" (pronounced "meel-fway"). This translates as "thousand leaves" referring to the slightly crackly thin layers of pastry that are sandwiched with rich pastry cream and a topping of icing, which is commonly >marbled for a simple yet elegant cake decoration. Origins are hazy on this delightful cake, but variations, sometimes with different names, are enjoyed as far away as Russia, the United Kingdom, Italy, and Australia.
7. Religieuse
Think of the religieuse as a sort of tricked-out, pinkies-out sort of cream puff. It's generally comprised of two tiers of choux pastry, graduated in size, and filled with pastry cream. Each pastry is prettily iced and adhered with icing. If the pastry is presented with chocolate icing and piped vanilla cream, the finished effect is said to resemble a nun's habit, which explains the unique name.
8. Paris-Brest
The name of this doughnut-shaped choux pastry split in the middle and sandwiched with rich cream is not, in fact, naughty. It's inspired by a bicycle race between the French cities of Paris and Brest. Why? Its round shape is inspired by a bicycle wheel, of course. Whether or not it's a favored method of carb-o-loading before a race, however, has not been widely researched.
9. St. Honoré
St. Honoré, or Gâteau St. Honoré, starts out with a circle of puff pastry, on top of which is piped a ring of pâte à choux. The well created is filled with crème chiboust, then topped with a series of small cream puffs dipped in caramelized sugar. It's finished with elaborately piped whipped cream. Sound like a pastry fit for a king? Even better, it was created in honor of the French patron saint of bakers and pastry chefs, Saint Honoré.
10. Tarte Tatin
Largely seen as the precursor of an American classic, pineapple upside-down cake, this is a famous French apple tart that's baked, pastry-side up, and then flipped before serving, allowing the gooey butter and sugar to drip on to the apples. There are a number of engaging stories about its invention, the most famous of which involves an accidental flip from a flustered baker who just served the tart anyway, and it became a quick classic.
How many of these classic French pastries have you tried?