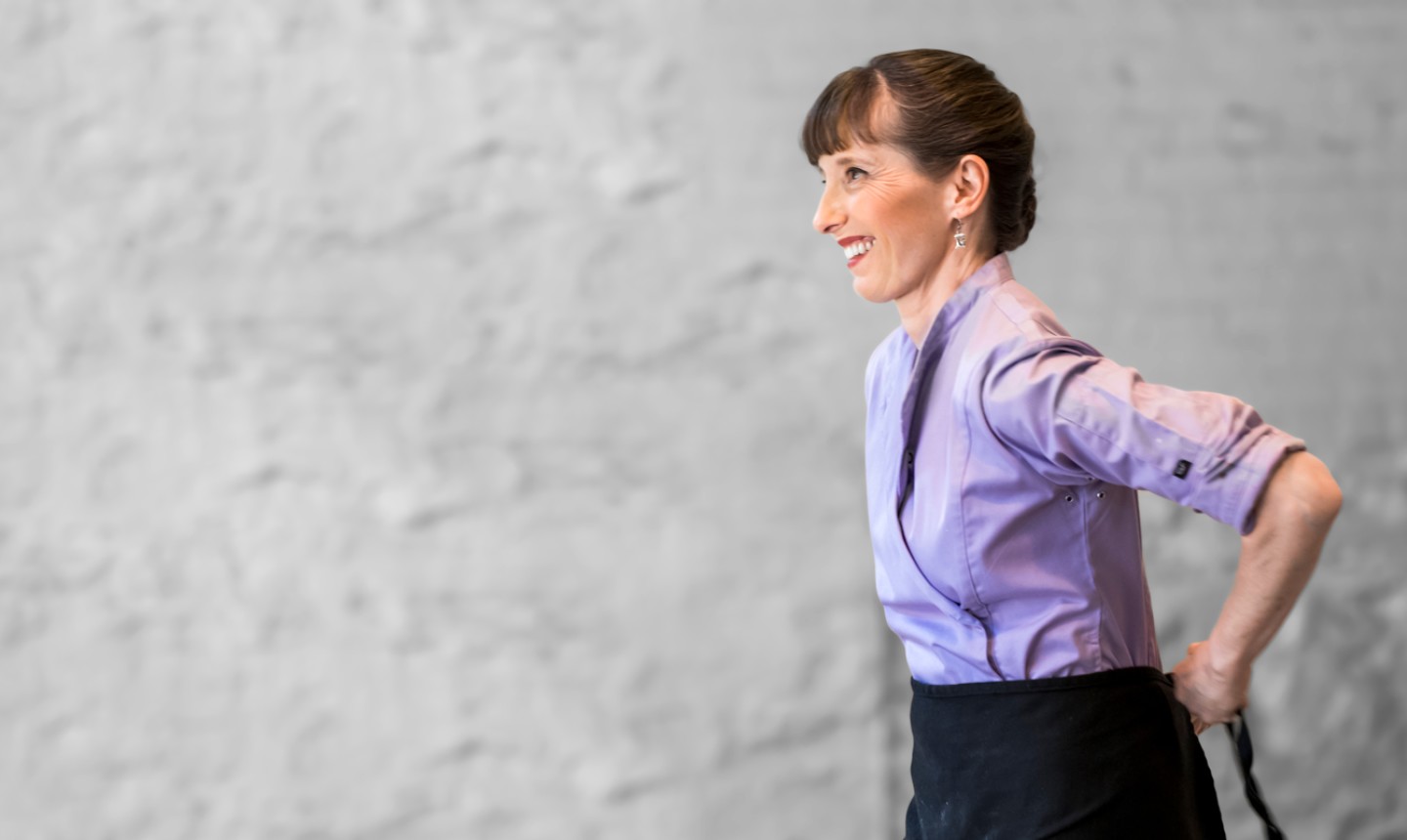 It was 1992, just two months after I turned 30, when I felt it: a lump. I had noticed a soreness in my chest before, but chalked it up to the stress of working as a pastry chef in a busy Boston restaurant. But one morning I woke up with a strong urge to do a breast self-check. And there, just underneath the skin, was the lump.
Running in the Family
Unfortunately, this wasn't my first encounter with breast cancer. My mom lost her battle with the disease when she was just 53 years old, and before that it took my aunt and grandmother. So my strong family history made me hyper-vigilant, and I routinely did self-checks. As soon as I felt that abnormal lump in my breast, I got myself to the doctor.
Surprisingly, my first physician thought the bump was just water and told me not to worry, saying it was unlikely to be cancer because of my young age. But something in my gut told me that wasn't right. I asked for a second opinion; four days later, I was in surgery to remove the cancer.
The procedure and subsequent radiation treatment was a success, and thankfully I went into remission for 16 years. But in 2008, a chain of events began: not only was I diagnosed with breast cancer a second time, but a third in 2014, a fourth in 2015, and now a fifth time in 2019.
Finding Comfort in Baking
It's difficult and, honestly, just plain terrible to hear over and over again that you have cancer. But there was one thing that provided solace time and time again: baking. I love how absorbing it is; how I can invest hours in the kitchen, getting lost in the art, the craft, the science.
It's why I've tried to bake as much as I could through each round of treatment. Of course, it wasn't always possible — some of the surgeries, like the lumpectomy and full bilateral mastectomy, have been extensive, so I had to wait several weeks to get back in the kitchen. Other times, like when I had all of my lymph nodes removed and couldn't move my arm very well, I pushed through the pain in order to create. It was worth it for the joy of whipping up a batch of madeleines or Danish pastries. In the face of every obstacle, my goal was always to reunite with my mixer, rebuild my strength and stamina, and get my baking mojo back.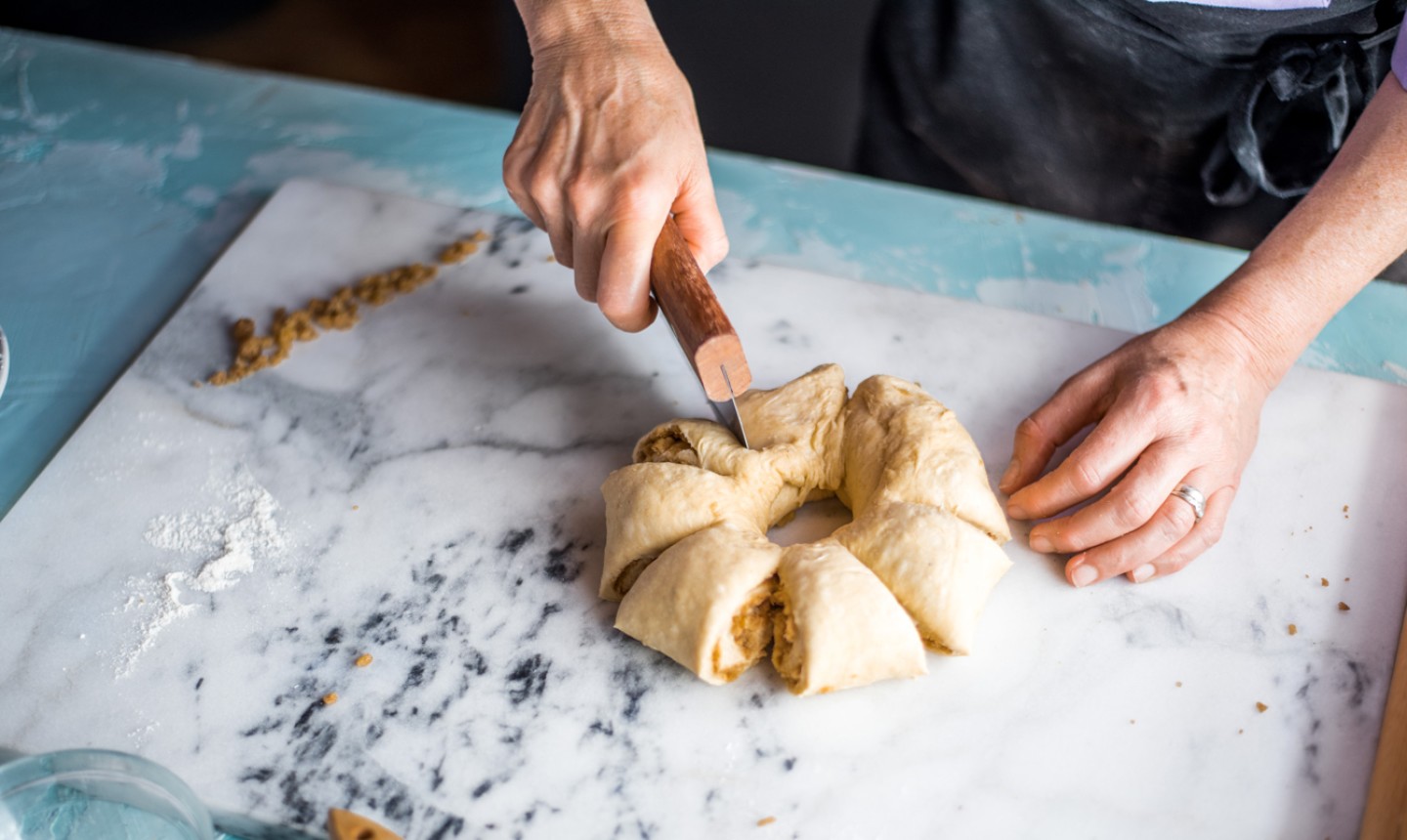 Through this latest treatment, I've faced a new challenge: the medication my doctors prescribed has essentially killed my taste buds. While it hasn't deterred me from trying new pastries, not being able to taste my way through the development of a recipe has definitely encouraged me to turn to the ones I know and love. And, surprisingly enough, French pastries haven't been my go-to. Despite being the American who's known for creating light-as-air croissants and macarons, I find myself baking up a batch of bagels after a really rough chemo treatment. When I want to say thank you to my doctors, nurses and caregivers, focaccia bread has helped express my gratitude. The irony is that I keep hearing these are the best I've ever made, yet I can't even taste them! To me, that simply shows how baking comes from my heart, and making these beautiful baked goods is exactly what I need to refuel my soul through hard times.
Raising Awareness
Along with cementing the kitchen as a source of fulfillment and joy, my experience has definitely inspired me to raise my voice. I want to do everything I can to help women learn to be self-aware and speak up if they notice something different about their bodies. On one of my recent, worst-feeling days, I had the idea to begin a Bake Pink series on my blog. It's where I fill my readers in on what I'm going through, while providing them with recipes for pink desserts in honor of Breast Cancer Awareness month. Whether it's raspberry bars with a raspberry streusel, beautiful pink marshmallows or strawberry macarons with a white chocolate ganache, creating all of these desserts has given me the ability to bridge the gap between my personal and professional life; hopefully helping other women find comfort and strength.
At the end of the day, baking is what makes me feel good no matter what's going on in my life. If times are difficult, I'll bake something. Maybe something simple, perhaps something more intricate. It takes the focus away from what I'm facing front and center, and gives me a chance to create something marvelous — and make someone else happy. I know I'm not alone in these sentiments; it's like we bakers have this notion ingrained in our souls: When the going gets tough, pull out the mixer. Because, yes, laughter can be some of the best medicine — but baking something beautiful and delicious may be even better.
For more information on the fight against breast cancer or to make a donation, visit the National Breast Cancer Foundation.