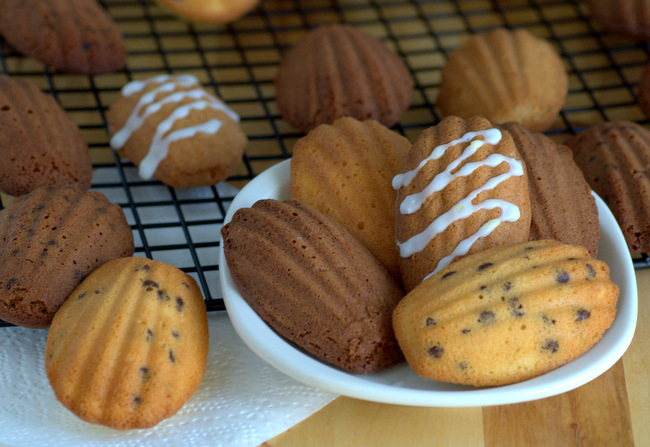 For a treat that has all the crunch and flavor of a cookie but feels a little more fancy, look no further than madeleines. These pretty shell-shaped desserts are a classic French pastry and are easy to customize, letting you create a wide variety of delicious flavors. Serve 'em at your next bridal shower, Mother's Day brunch or fun family event and you'll be sure to wow the crowd.
Good to Know: This recipe makes a large batch of madeleines so you can create different flavor variations at once. If you want a smaller batch, cut the recipe in half.
Classic French Madeleines
Yield: 4 dozen madeleines
What You Need
Ingredients
4 large eggs, room temperature
1⅓ cups sugar
2 teaspoons vanilla extract
¼ teaspoon salt
2 cups all-purpose flour
¼ teaspoon baking powder
1 cup butter, melted and cooled
Tools
Silicone madeleine pan
Pro Tip: These cakes aren't the same if they're not baked in the traditional shell-shaped pan. The shell makes the cookies look beautiful, but it also gives them a thicker base and thinner top. The base tends to be softer and more cake-y, while the top edge is crispy.
Instructions
1. Preheat oven to 375 F. Lightly grease and flour your madeleine pans. If you're using a nonstick pan, skip the flour and only lightly grease it.
2. In a large bowl, beat together eggs and sugar until smooth and thick, about 1-2 minutes.
3. Add in the vanilla and salt. Sift the flour and baking powder into the bowl and mix until it's just combined and no flour streaks remain visible.
4. Slowly stream in the melted butter while you stir constantly (or mix at a low speed) until well-combined.
5. Place a heaping tablespoon of batter into each cavity of your prepared pan, filling each about ¾ full.
6. Bake for 12-14 minutes, until cookies are golden around the edges. Allow them to cool for 1-3 minutes before removing from the pan. The cakes should slide right out.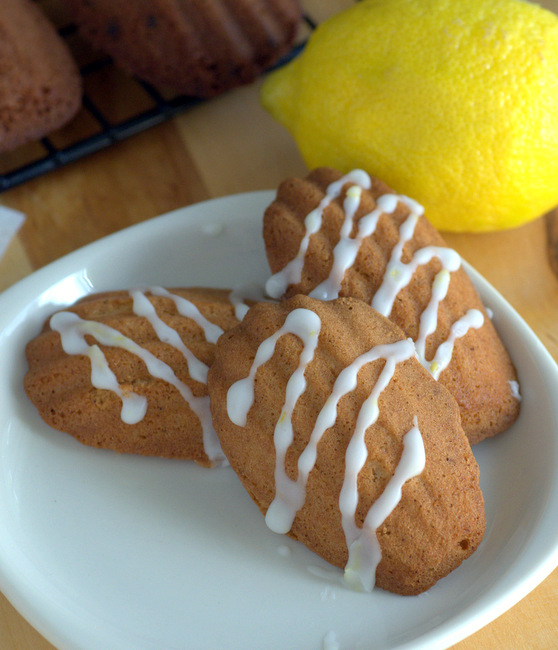 Cool, re-grease and flour the plan before filling with more batter for another batch.
Flavor Variations
Baking a large batch of madeleines means it's easy to divide the batter to create different flavors — here are a few worth trying.
Lemon Madeleines
Add 1 tablespoon lemon zest to the batter along with the vanilla extract. Finish madeleines with a glaze of lemon juice and powdered sugar.
Chocolate Madeleines
Replace ¼ cup all-purpose flour with ¼ cup unsweetened cocoa powder and continue with recipe as written.
Chocolate Chip Madeleines
Fold ¾ cup mini chocolate chips or finely chopped chocolate into the batter before portioning into madeleine pans.
Cinnamon Spiced Madeleines
Add 1½ teaspoons ground cinnamon to your all-purpose flour when creating the batter.
Toasted Almond Madeleines
Add ¼ teaspoon almond extract to the batter, then fold in ¾ cup finely chopped, toasted almonds before portioning into madeleine pans.