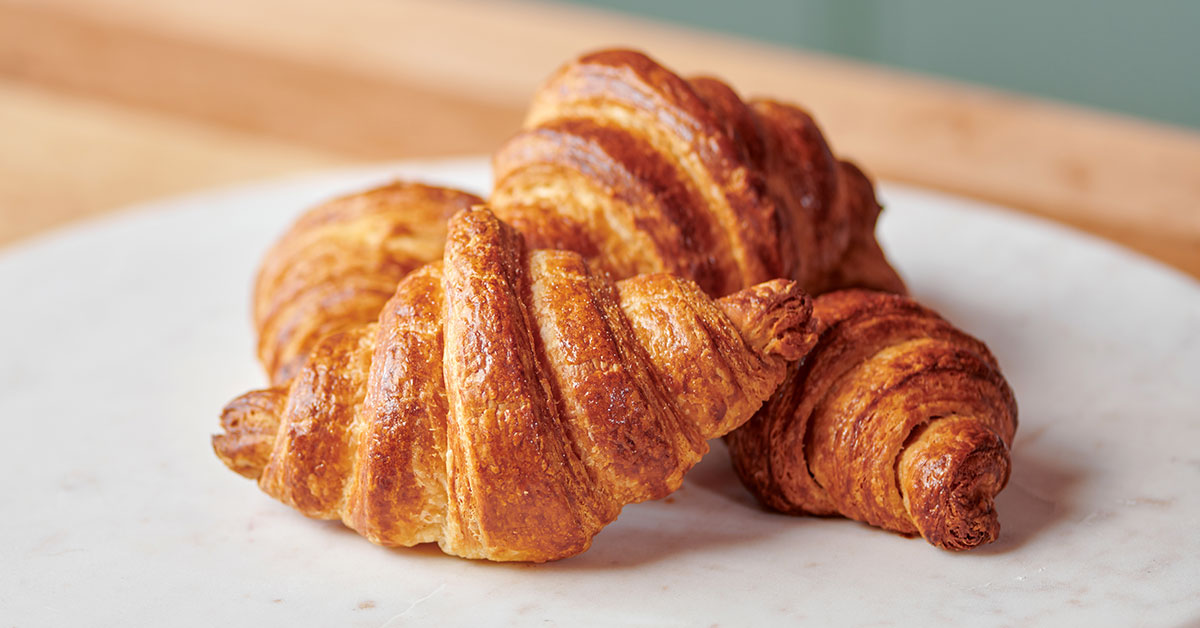 Once you learn to bake croissants, you'll never use store-bought again. Sure, these flaky French pastries are a bit of a time commitment, but as professional baker Colette Christian demonstrates in her class Classic Croissants, Modern Techniques, the payoff is so, so worth it.
Croissants are made with a yeasted, laminated dough, which is similar to puff pastry. The laminated dough begins with a butter block that's wrapped in a thin sheet of pastry, then folded over repeatedly to create layers. When baked, it puffs up dramatically and yields tender, flaky pastries. But unlike puff pastry, croissant dough has yeast to give it a lighter texture and an even higher rise.
If you aren't drooling yet, you're about to — follow this recipe and soon you'll have your own mouthwatering croissants.
Homemade Croissants
Yield: 14 croissants
Ingredients
¾ cups whole milk, warm (100–110 F)
¾ cup water, warm (100–110 F)
¼ cup sugar
4½ teaspoons active dry yeast (0.5 oz/2 envelopes)
3¾ cups all-purpose flour, plus more for work surface
2 teaspoons salt
1½ cups unsalted butter, cold
Good to Know: There's a lot of hands-off time in this recipe, waiting for the dough to rise and rest. Do your lamination the day before you plan to bake, let the dough rest overnight, then shape the next morning. A good timeline is to start the lamination on a Saturday afternoon, then plan to bake on Sunday morning.
Instructions
1. Mix the Ingredients
In the bowl of a stand mixer or food processor fitted with a dough hook, add milk, water, sugar and yeast. Stir to combine. Add in 2 cups flour and stir to combine. Add in remaining flour and salt and mix until a thick dough forms and starts to pull away from the sides of the bowl.
Mix 4-5 minutes, until dough is smooth and supple. Turn dough out onto a lightly floured work surface and knead gently to ensure it's uniform, then wrap in plastic wrap and refrigerate for 1 hour.
2. Make a Butter Block
While dough chills, place sticks of butter next to each other to form a rectangle on a piece of wax paper. Place a second sheet of wax paper on top of the butter. Using a rolling pin, firmly hit the butter to soften and spread it into a rectangle that is about 5″ x 8″.
Press the sticks of butter together if they break apart (this can happen because they're cold) as you work. Chill the butter block, wrapped in wax paper, for 45 minutes.
3. Laminate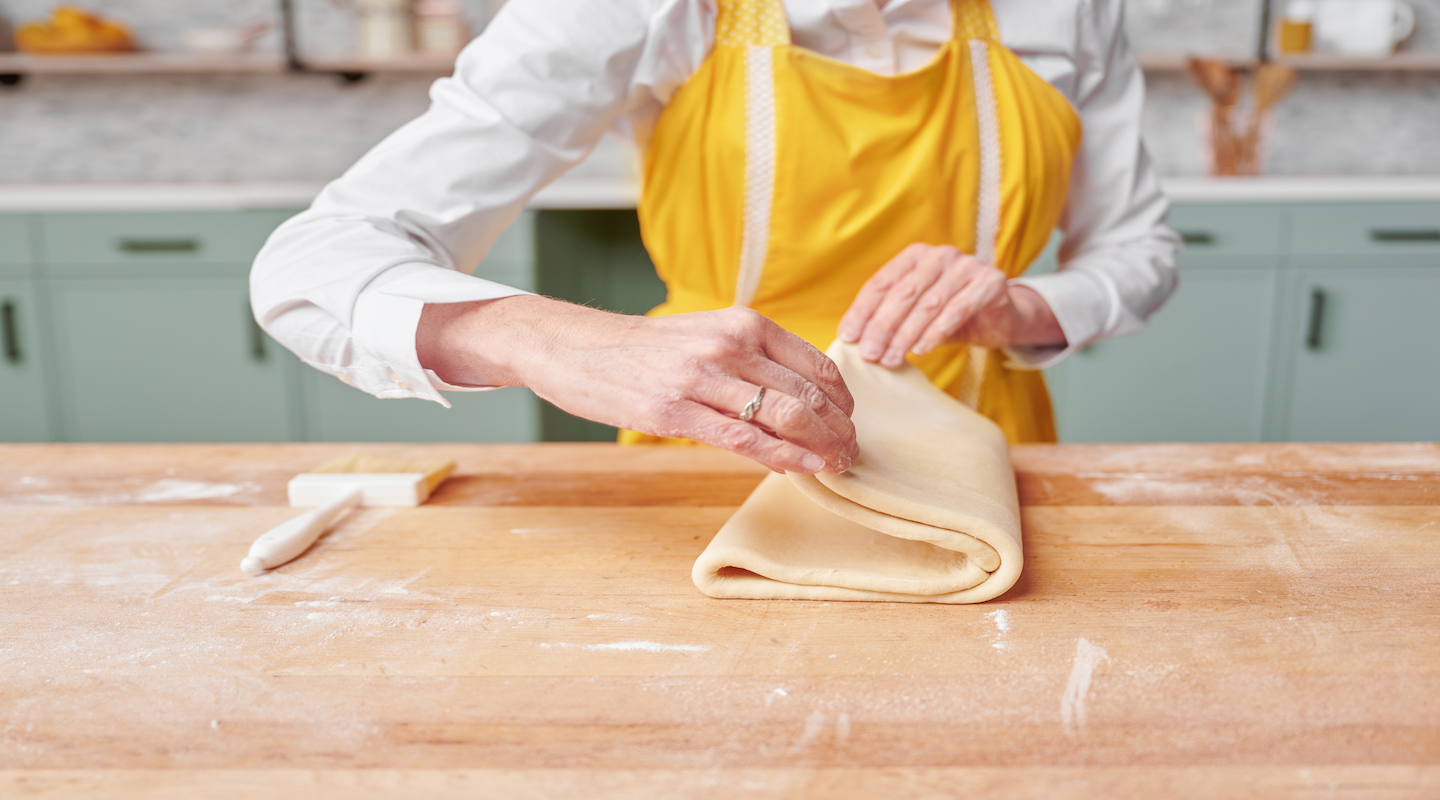 Turn out the dough onto a lightly floured work surface and press it into a large rectangle that's approximately 10″ x 16″. Place the butter block in the center of the dough and pull the sides in to cover the butter block. Pinch seams to close.
Roll out the dough into a thinner rectangle that's about twice the size of the original. Fold into thirds — left side in, then the right side on top of that.
Wrap the dough in plastic wrap and refrigerate for 30-45 minutes, then remove from the fridge and repeat the process three more times (for a total of four turns).  Wrap the dough with plastic wrap and refrigerate for 8-12 hours, or overnight. This process creates a large number of thin layers of butter within the pastry.
4. Shape the Croissants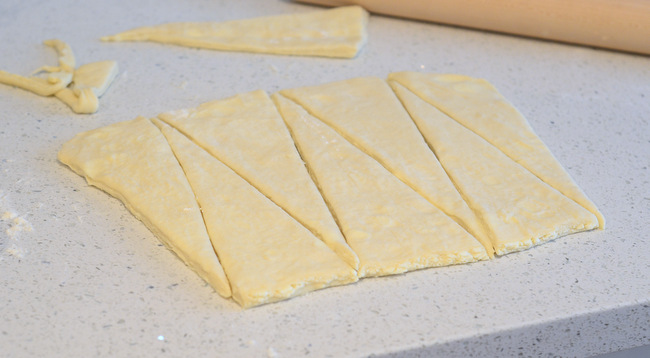 Unwrap the dough and place it on a lightly floured work surface. Cut the dough in half and, working with one half at a time, roll the dough into a large rectangle about ¼" thick and about three times as long as it is tall. Cut the dough into seven triangles.
Good to Know: All the dimensions are approximate. If your dough rolls out to a slightly different-sized rectangle, that's absolutely fine. If you want to make your croissants slightly larger, that's fine too — just adjust the baking time by a couple minutes to ensure they're cooked through.
Starting with the flat side of a triangle, roll the dough towards the tip to create a croissant shape. Place on a parchment or silicone-lined baking sheet. Repeat with remaining triangles, then repeat the process with the second half of the dough.
Pro Tip: If you place a small chunk of chocolate or a handful of chocolate chips in the croissants before you roll them, you'll be making chocolate croissants!
5. Let 'Em Rise
Very loosely cover the baking sheets with plastic wrap and place in a warm place to rise for 2-2½ hours, or until the dough has about doubled in size.
6. Bake
Preheat the oven to 400 F.
Bake the croissants for 10 minutes, then lower the oven temperature to 375 F and bake for 15-20 minutes, or until deep golden brown. If baking two sheet pans at different levels in the same oven, open the door halfway through to rotate the pans.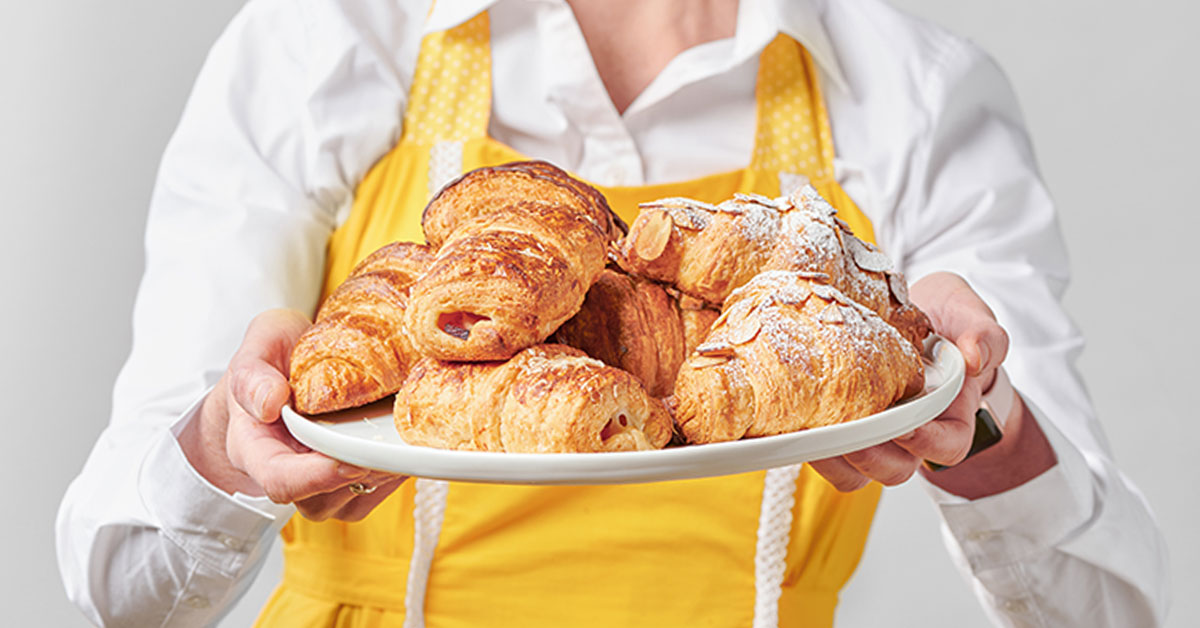 Transfer croissants to a wire rack to cool before serving.