It's no secret that the French take their desserts very seriously! More than just cake and buttercream, French cakes can contain layers of meringue, pastry cream, mousse, pâte à choux, puff pastry, whipped cream, jam, ganache and more. These 16 fabulous French cakes are a great introduction to the world of gateaus and tortes, with recipes ranging from simple and sublime to detailed and decadent. 
16 fabulous types of French cakes
1. Baba Au Rhum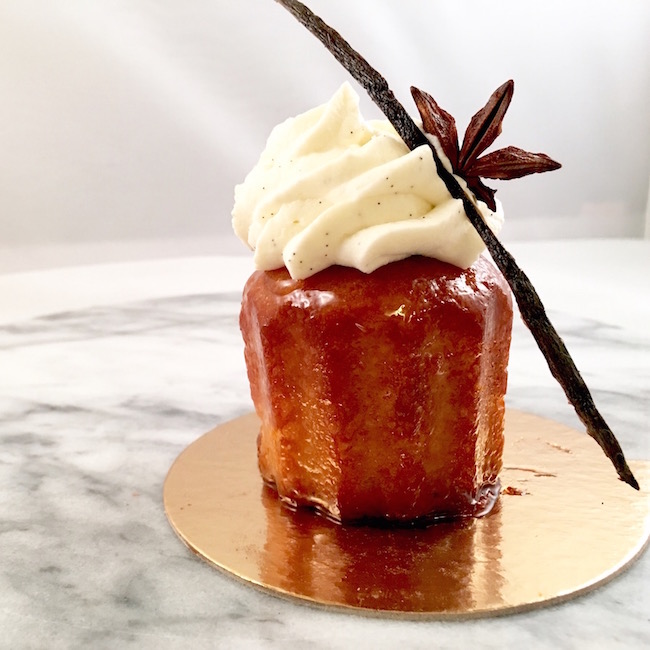 Image via Chef Iso
Baba au Rhum or Rum Baba are tiny, yeast-leavened cakes. They're typically baked in small, cylindrical molds like the one above made by Chef Iso, or in larger bundt pans. Once the cake is baked it's soaked in rum (hence the name). Baba Au Rhum is decadent as is, but can be made even more luxurious with the addition of whipped cream or pastry cream. 
2. Buche de Noel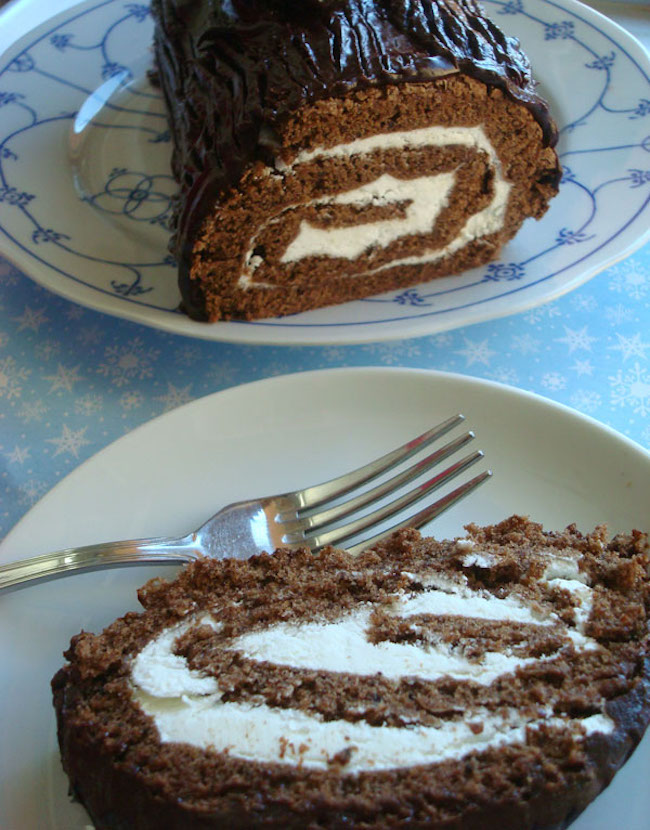 Image via Jessie Oleson Moore
This holiday classic is known as a Yule log here in the States, but in France it's a buche de Noel. The traditional recipe consists of thin chocolate cake rolled with a buttercream or whipped cream filling. It's finished with chocolate buttercream to resemble tree bark and topped with marzipan leaves or meringue mushrooms. Modern versions can be found in endless flavor combos. 
 3. Charlotte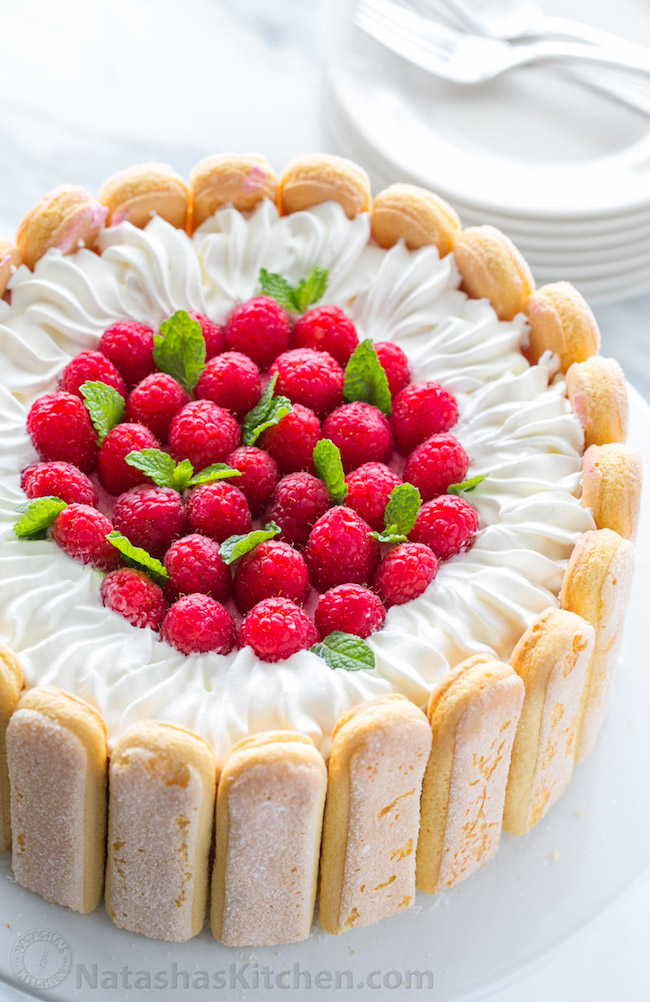 Image via Natasha's Kitchen
Like many other kinds of French cakes, a Charlotte is less of a strict recipe and more of a technique. A cake pan is lined with cookies, cake or even bread and then filled with whipped cream, fruit puree, jams, pastry cream or fresh fruit. This recipe from Natasha's Kitchen is a great place to start if you've never made one before.
4. Croquembouche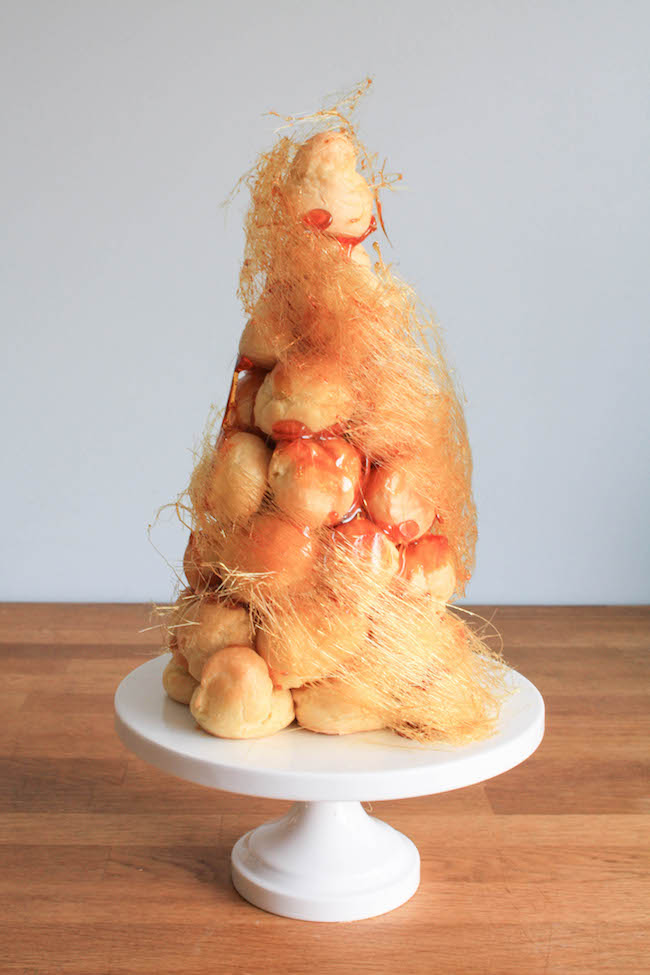 Image via Erin Bakes
These towers of cream puffs are the traditional wedding cake of France. It's a feast for the eyes and the senses, composed of cream puffs dipped in caramel and wrapped with spun sugar. Modern versions include candy, ganache, chocolate drips, sugar flowers and more. 
5. Dacquoise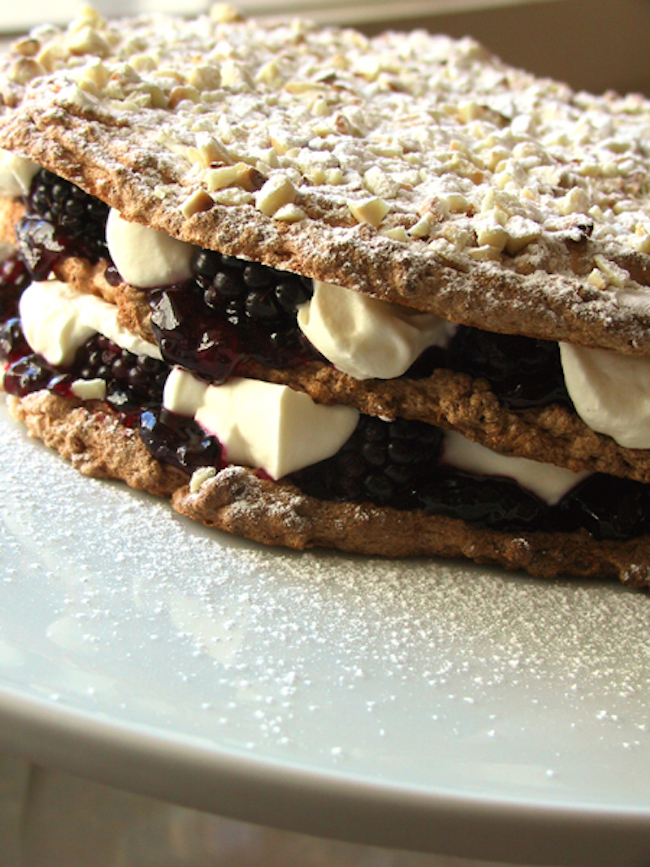 Photo licensed via Creative Commons by Flickr member pinotshop
Dacquoise is a layer of meringue that typically contains finely ground nuts. They can be stacked and filled with cream and berries for a rustic dessert or layered within intricate entremet-style cakes. Kathryn Gordon shares a recipe along with detailed instructions on how to use darquoise in her class Classic Techniques for Contemporary Layer Cakes.
6. Fraisier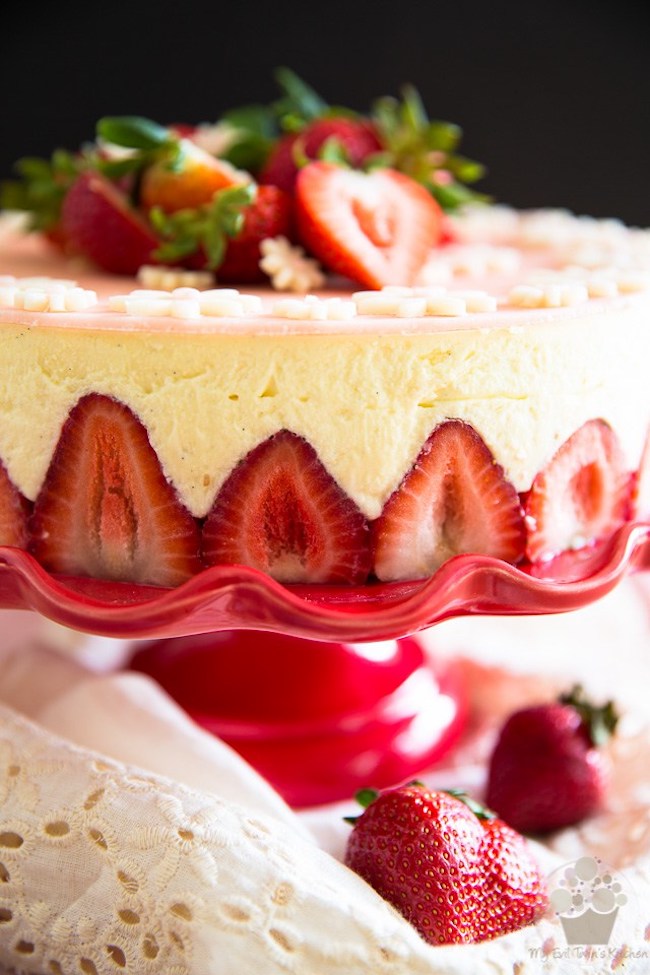 Image via My Evil Twin's Kitchen
Fraisier cakes, like this one from My Evil Twin's Kitchen, are bright, cheery celebrations of summer! They're constructed with layers of genoise cake, creme mousselini and a signature row of sliced strawberries around the bottom edge. The cake can be topped with a variety of things including whipped cream, jam, fruit puree, ganache or more fresh strawberries. 
7. Gâteau Basque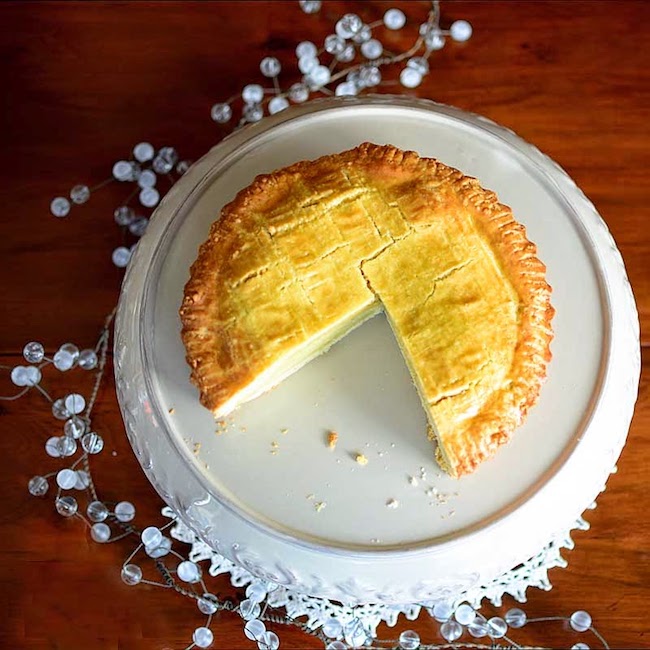 Image via Savoring Time in the Kitchen
Gâteau Basque is a cake France shares with the same region in Spain. A classic Gâteau Basque, like this one from Savoring Time in the Kitchen, consists of a firm cake dough that's filled with pastry cream. Other variations include jam, fresh fruit or even chocolate in the filling. 
8. Paris-Brest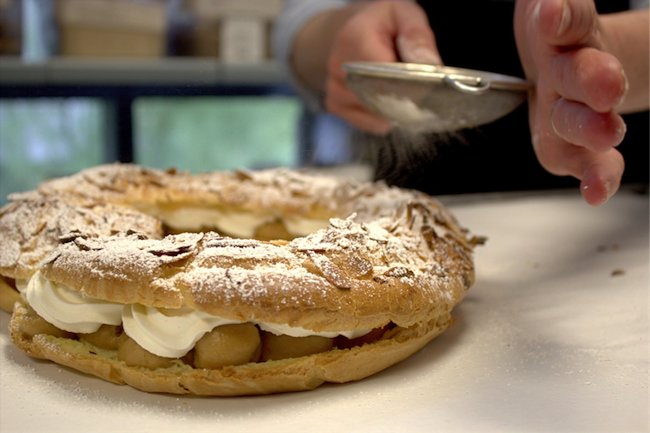 Image via Colette Christian
Paris-Brest is a layered French cake consisting of a ring of pâte à choux dough filled with hazelnut praline cream and topped with toasted, sliced almonds. The name may sound saucy, but it's not! The wheel-shaped pastry was named in celebration of the Paris-Brest bicycle race.
9. Petit Fours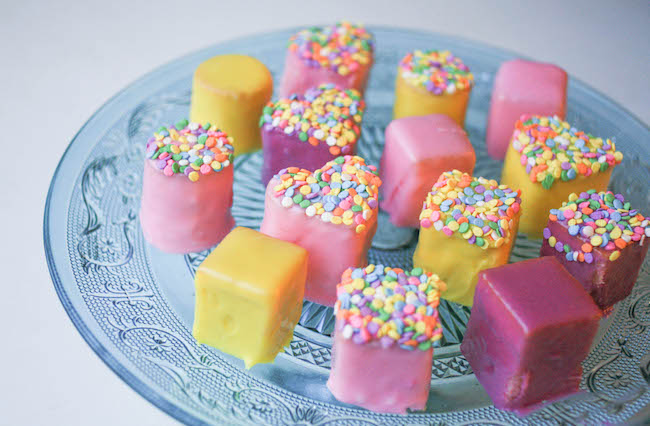 Image via Erin Bakes
Theses itsy-bitsy cake-gems are a tea party essential! Traditionally, petit fours are tiny 1″ cubes of cake, but varieties can be found in basically any shape — hearts, domes, circles, triangles and more. Classic petit fours include layers of pound cake, buttercream and jam, with a crisp, sweet icing coating the exterior. For a fantastic lesson on pound cake recipes, check out the next cake.  
10. Quatre Quarts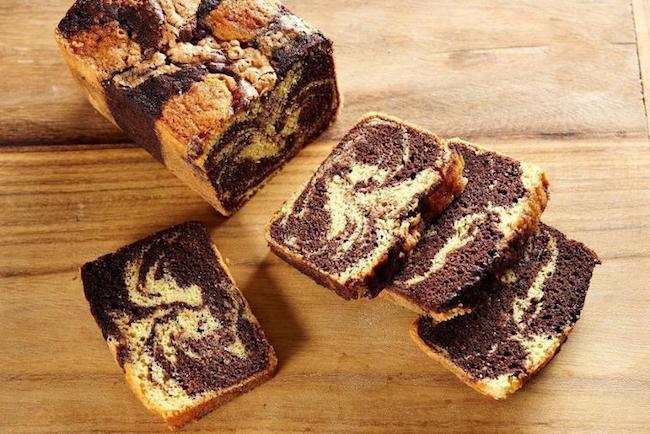 Image via Dede Wilson
Quartre Quarts is the French version of pound cake. It's a rich, buttery loaf sliced and served simply with tea or coffee. Dede Wilson is an expert on the subject. She shares her recipe and techniques for pound cake and others in her class, Coffee Shop Cakes. 
11. Gateau St. Honoré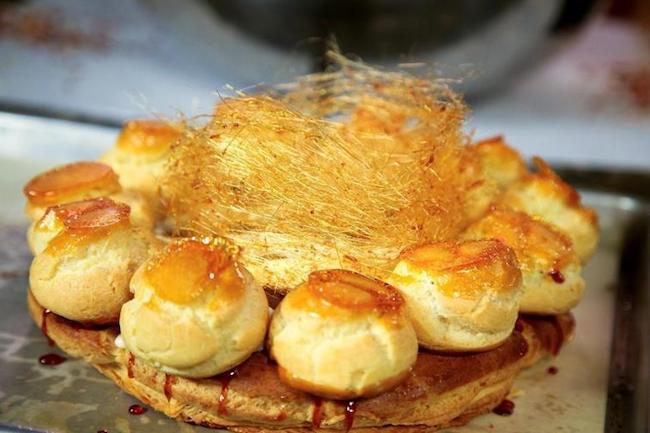 Image via Colette Christian
The Gateau St. Honoré is named after the French patron saint of pastry chefs, St. Honoré. A ring of caramel-coated cream puffs is arranged on top of a puff pastry disc. The center of the ring is often filled with pastry cream and whipped cream. The confection, like the one above from instructor Colette Christian's French Pastry Shop Classics, is then finished with a cloud of spun sugar. 
12. Clafoutis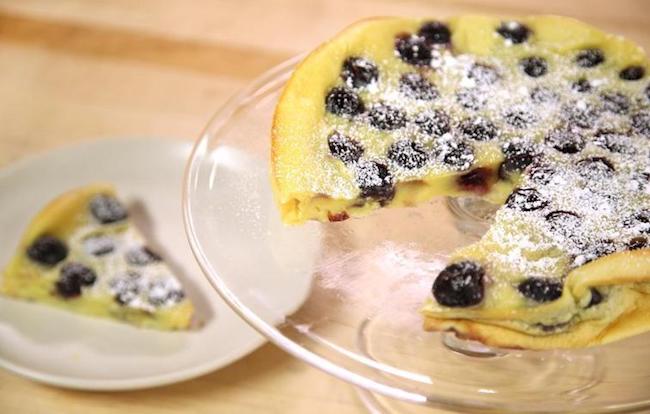 Image via Gale Gand
Clafoutis is a rustic, baked custard that's traditionally made with cherries (though really any fruit can be used). It's one of the easier French cakes to make and a great way to showcase just-ripe summer fruits. Pastry chef Gale Gand teaches the recipe and technique for making Clafoutis in her class Creamy, Dreamy Custards. Clafoutis are free of fancy decoration, requiring only a simple dusting of powdered sugar or a dollop of fresh whipped cream. 
13. Financier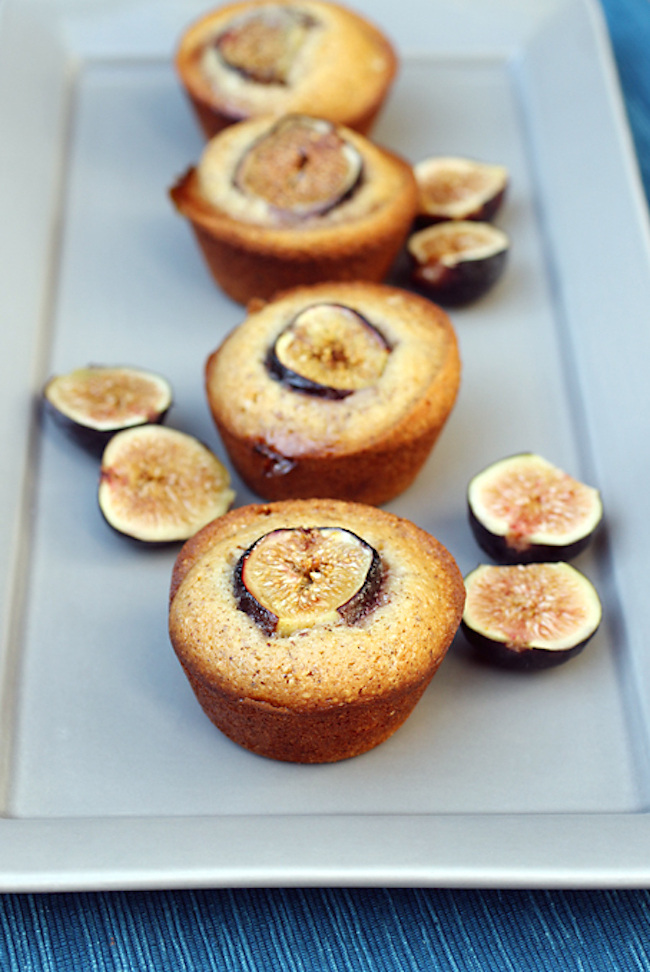 Image via Carol Jung/Foodgal.com
Financiers are another simple French cake made with almond flour and a luxurious amount of brown butter. They're a tea-time classic, often baked with fresh, seasonal fruit. Financiers can be found in individual serving sizes, like this one from Carol Jung at the Foodgal.com, or in larger rounds served in slices. 
14. Mille-Feuille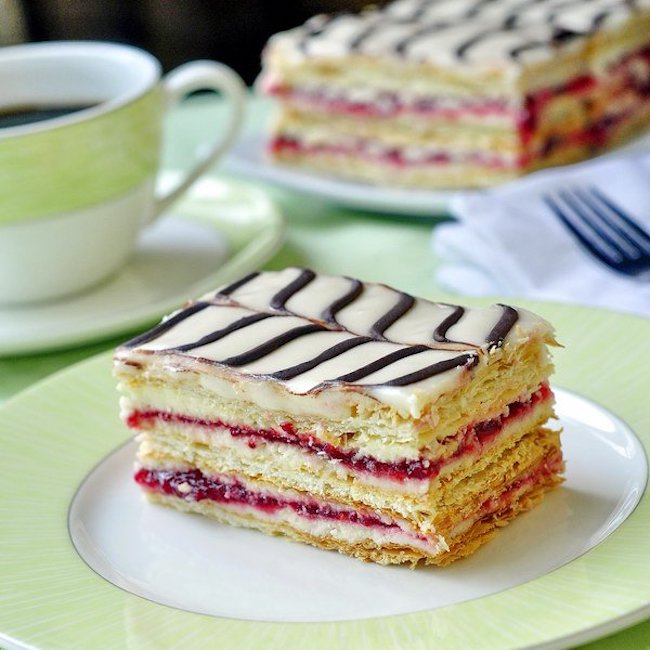 Image via Rock Recipes
Mille-Feuille directly translated means "thousand sheets." It can also be called a Napoleon, but Mille-Feuille has come to represent a specific version of the layered dessert consisting of puff pastry, pastry cream and a topping of marbled chocolate and vanilla icing. The sky's the limit in deciding what to add to your mille-feuille. Versions include fresh fruit, purees, ganache, mousses or buttercream and jam like in this recipe from Rock Recipes. 
15. Opera Cake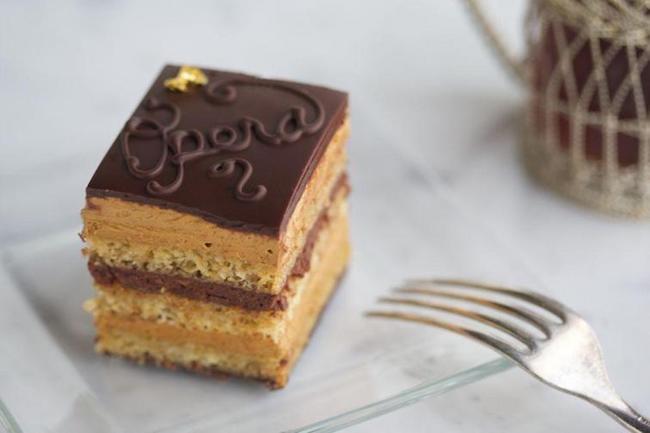 Image via Colette Christian
Opera Cake is a coffee- and chocolate-lover's dream! Pastry chefs often layer the cake to their preference, but most include coffee-soaked almond sponge cake, coffee buttercream and ganache, topped with a chocolate glaze or a dusting of cocoa powder. Colette Christian's version taught in her class French Dessert Secrets: Sweet Miniatures is both decadent and easier to assemble than you might think!
16. Blueberry French Custard Cake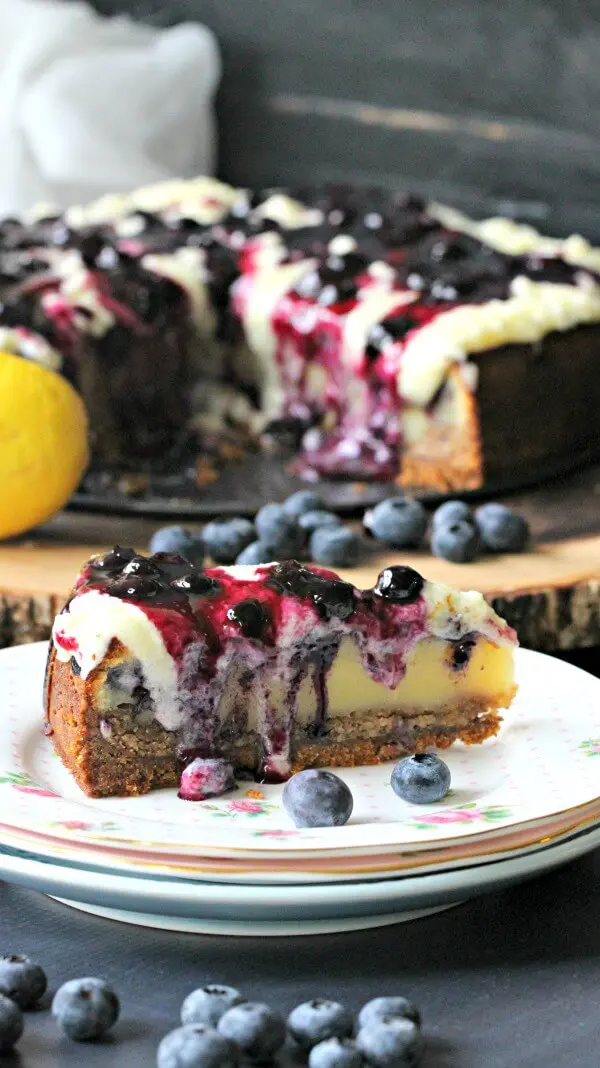 Image via Sweet & Savory Meals
This Blueberry French Custard Cake is decadent perfection! Topped with lemon mascarpone buttercream and homemade blueberry sauce, you have it all: creaminess, deliciousness, freshness all in one. The lemon flavor works in harmony with the vanilla blueberry sauce to bring this dessert together. Find this recipe from Sweet & Savory Meals here!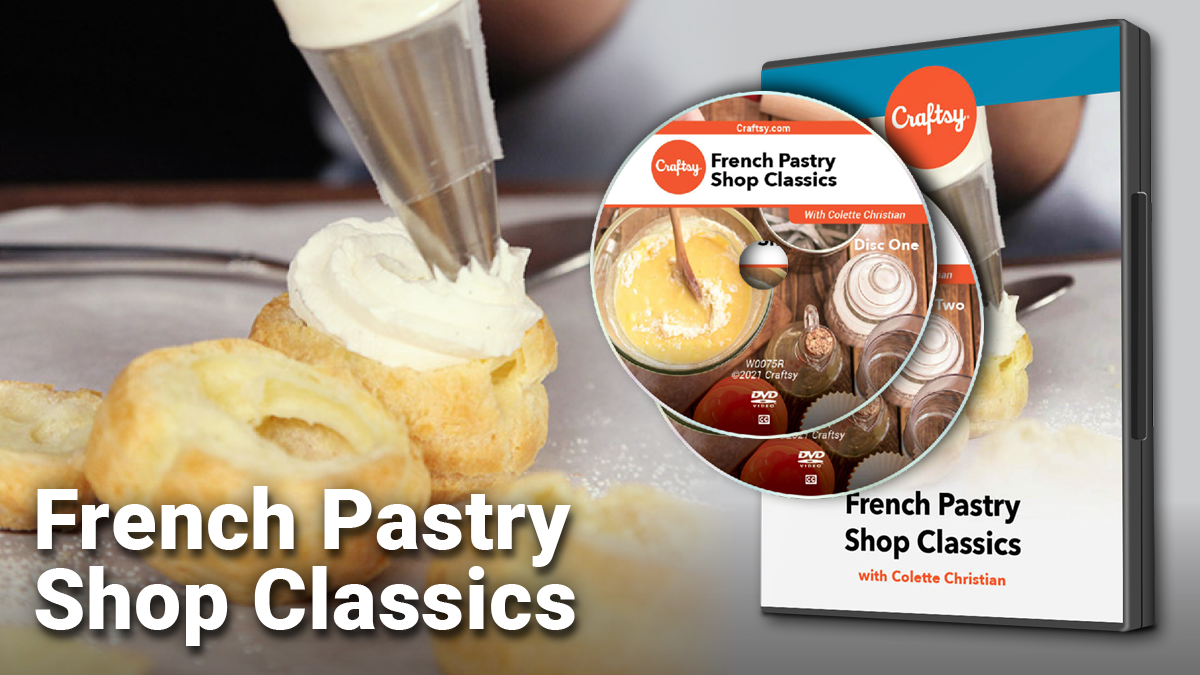 French Favorites
Dive into the sweet life with the secret techniques behind world-famous French éclairs, cream puffs, fruit tarts and more! Get the Class