In the world of teeny, tiny sweet treats, petit fours are king. Petit fours are little squares of cake wrapped in a crunchy, sweet fondant shell. Today, we'll teach you how to make petit fours at home.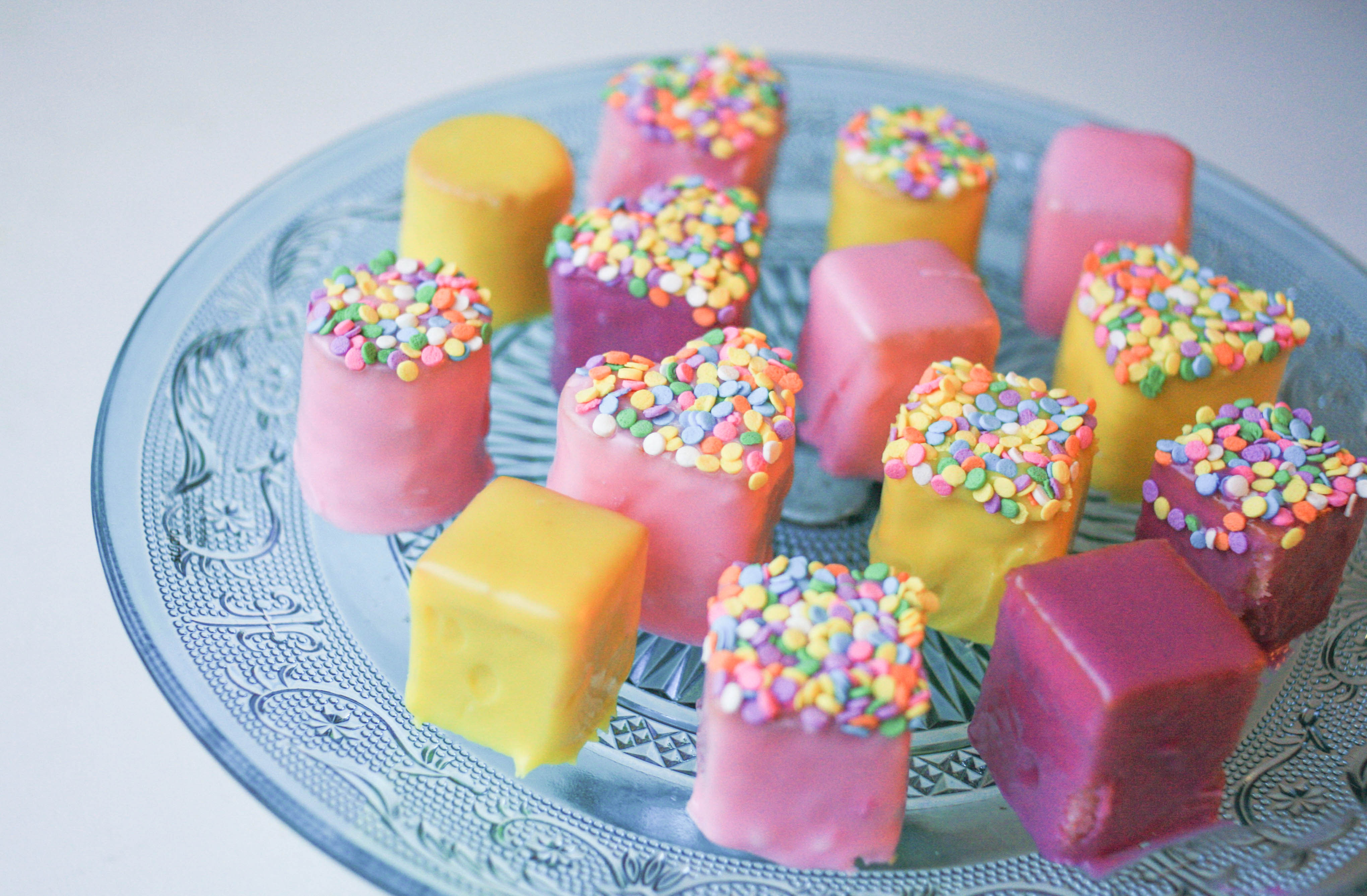 Petit fours are traditionally decorated in soft pastels and topped with miniature piped royal icing flowers. I decided to give mine an update with brightly colored coatings and a sprinkling of confetti. I'll help you learn how to make petit fours that match any style or event!
Master French pastry techniques for popular mini desserts!
Add bakery-worthy macarons, madeleines, Opera cake & more to your impressive baking repertoire with lifetime access to these HD video lessons. Enroll Now »
Follow these instructions and learn how to make petit fours with ease!
Making petit fours can be a tedious task because you work with such small squares of cake. To help ease the pain, I'm sharing my foolproof dipping technique.
Making a glaze for your petit fours
To make a great petit four, you first need a fantastic glaze! This icing is my absolute favorite. It's thick enough to give the cakes a clean, opaque finish, but thin enough to make dipping and tapping off excess frosting a breeze.
In the original recipe, King Arthur Flour uses white chocolate and food coloring, but that left my finish feeling a little too translucent for my liking. Using candy melts eliminates a step and makes for a brighter, bolder colored icing.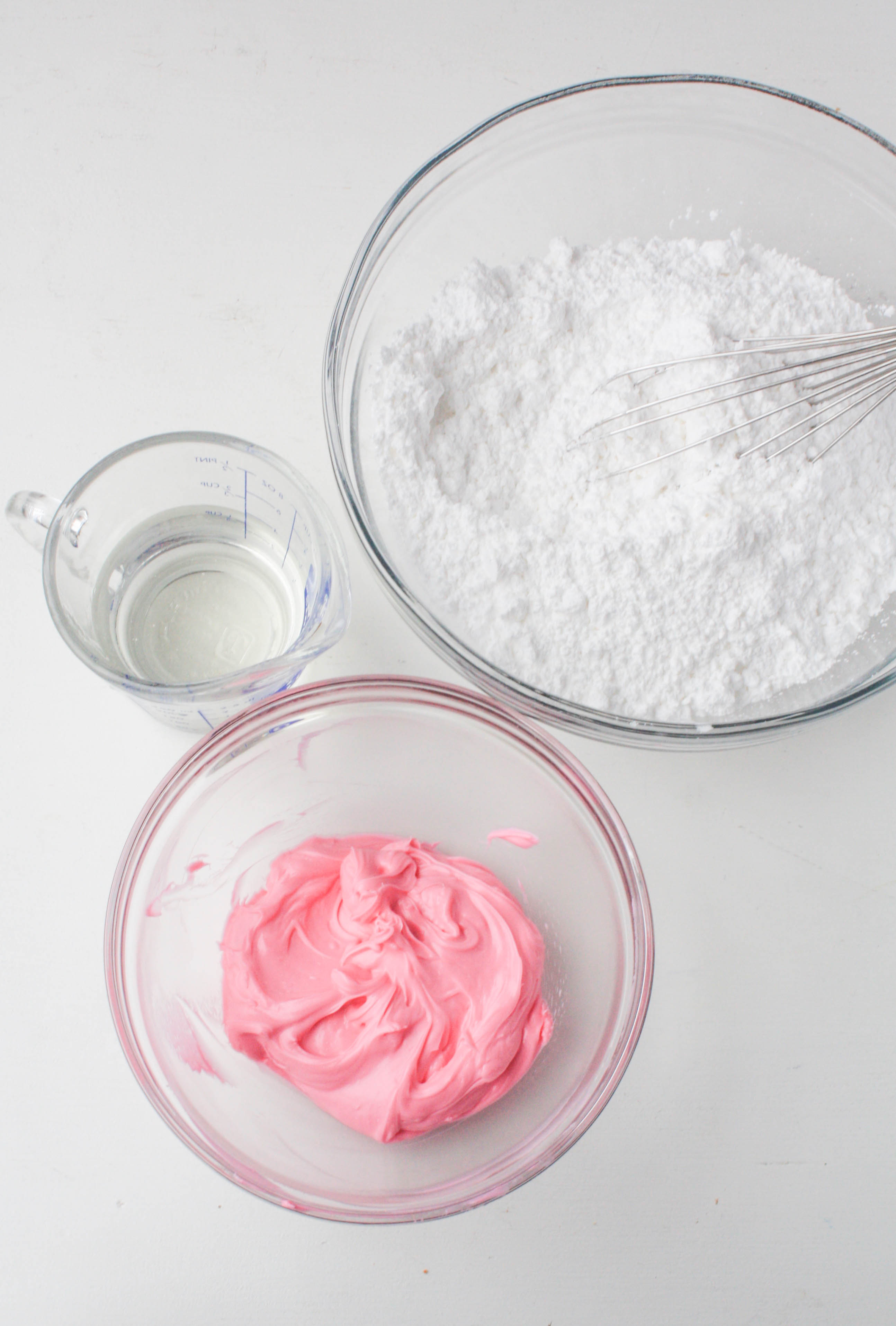 Poured fondant icing recipe
Adapted from King Arthur Flour's Poured Fondant Icing Recipe
Ingredients:
1 cup candy melts
4 cups powdered sugar
¼ cup light corn syrup

¼

cup hot water
Instructions:
Melt the candy melts in the microwave in a small heatproof bowl. In a larger bowl, whisk together powdered sugar, corn syrup and hot water until smooth.
 Whisk the candy melts into the sugar mixture until combined.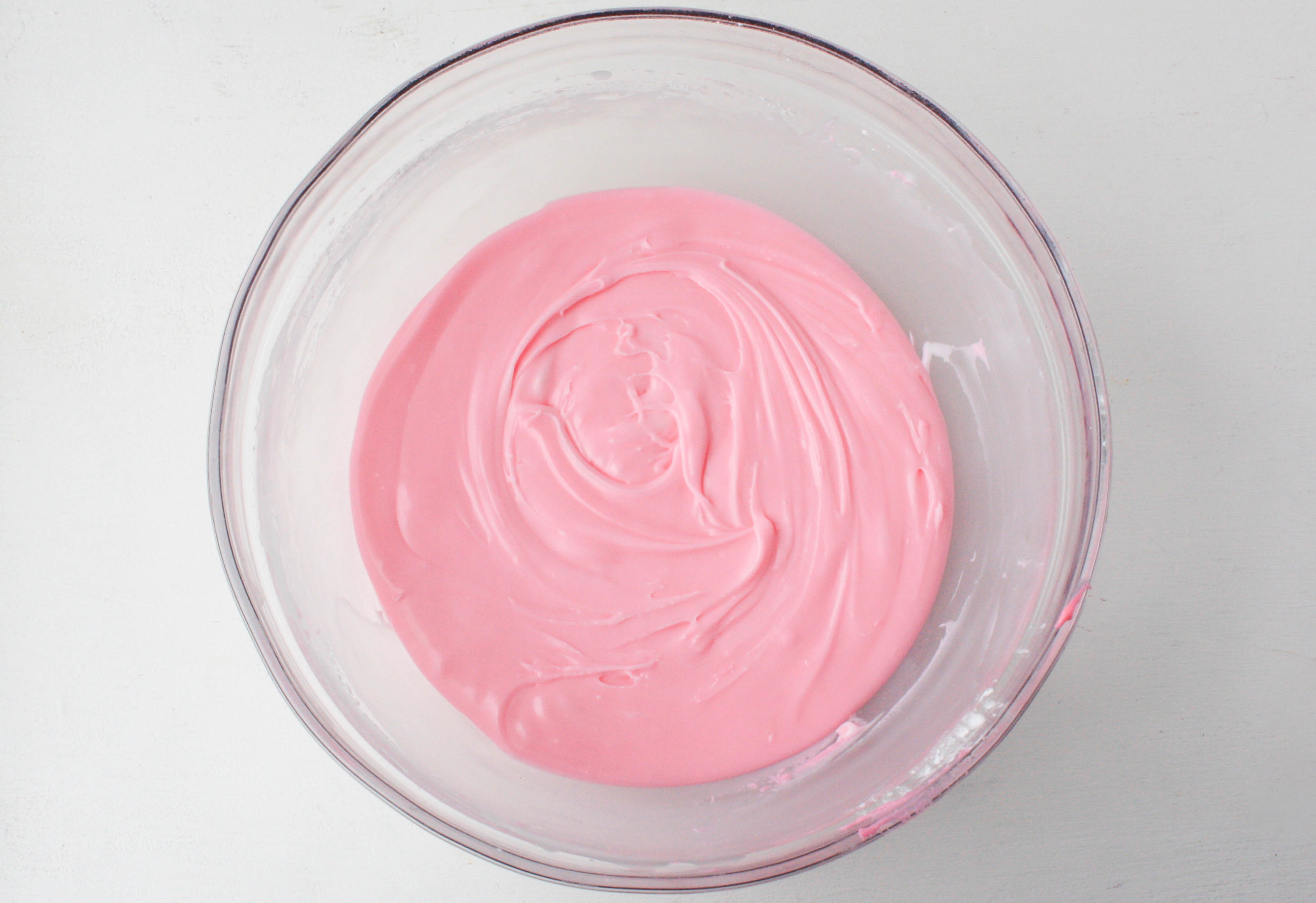 It's that easy! Use the icing right away and reheat as needed to keep the glaze pourable. Unused icing can be stored in an airtight container, with plastic wrap pressed against the surface of the icing, for up to a week. 
How to dip petit fours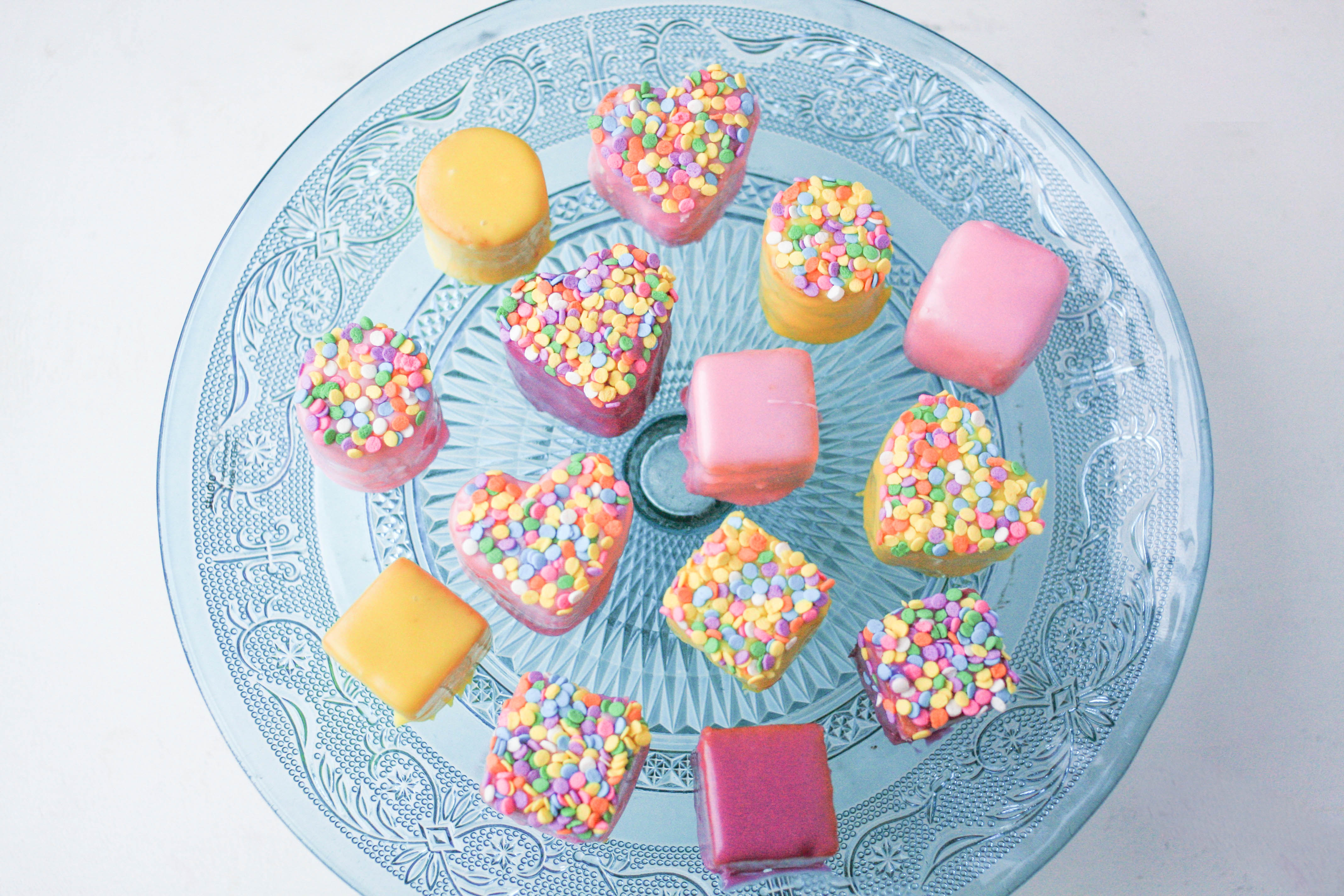 Supplies:
Pound cake, baked in a square or rectangular pan (Dédé Wilson shares a killer pound cake recipe in her Coffee-Shop Cakes Craftsy class!)
Poured fondant icing (recipe above)
Fork
Chopstick or skewer
Knife
Ruler
Heart and circle cookie cutters
Pastel confetti quins
Parchment paper
Sheet pan
Step 1: Level the cake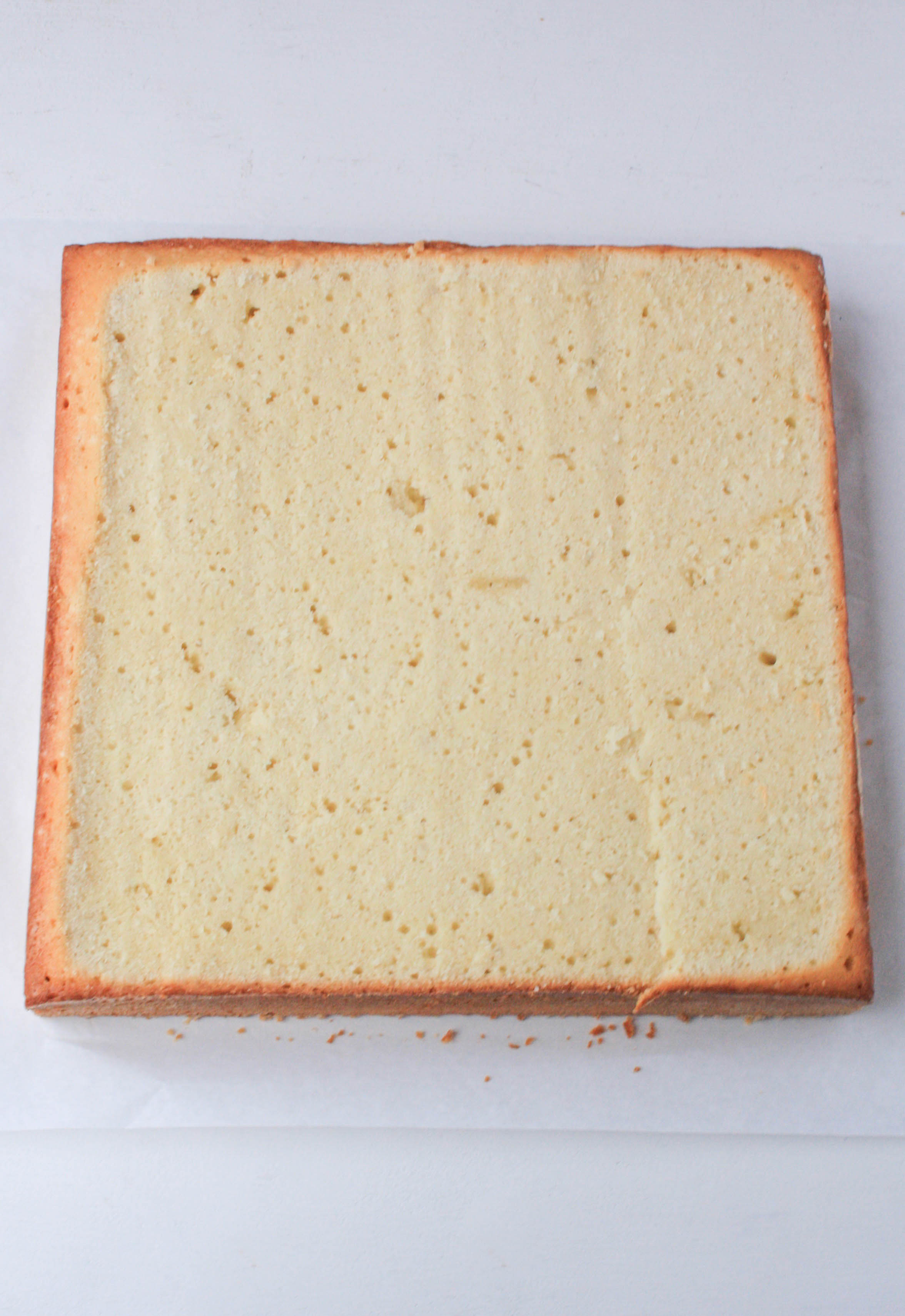 Trim the top of your pound cake so that it's level. I'm not filling my petit fours, but if you wanted to, this is when you'd do it. Just slice the cake in half horizontally and fill with buttercream or jam. Chill the cake thoroughly before moving onto the next step, so that the filling doesn't squish out while cutting. 
Step 2: Cut the cake into squares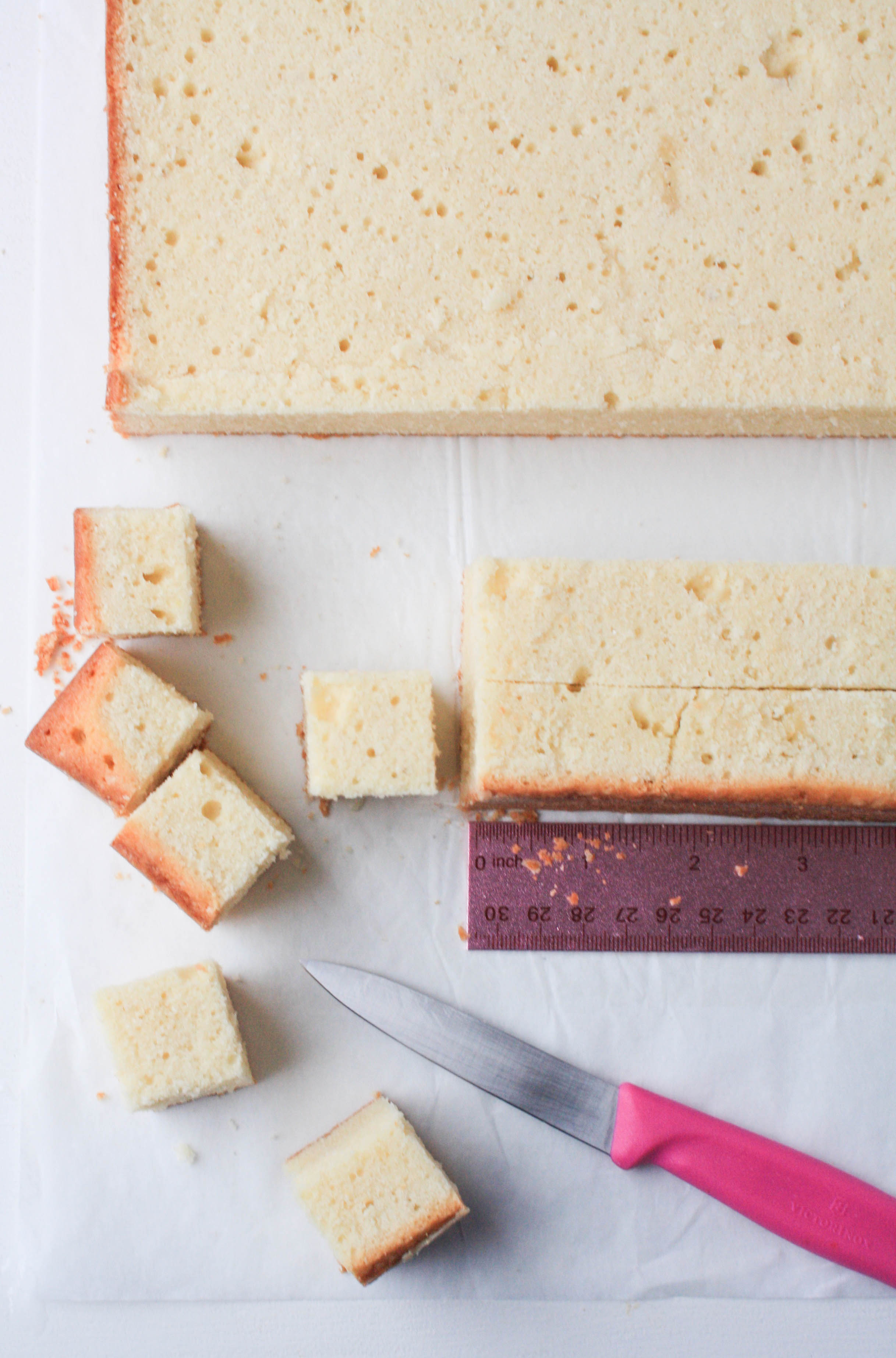 Use a ruler and sharp knife to cut the pound cake into little cubes. The classic size for petit fours is 1″ cube, but you can cut yours as large or a small as you like.
If you like, you can cut more petit four shapes using the circle and heart cutters.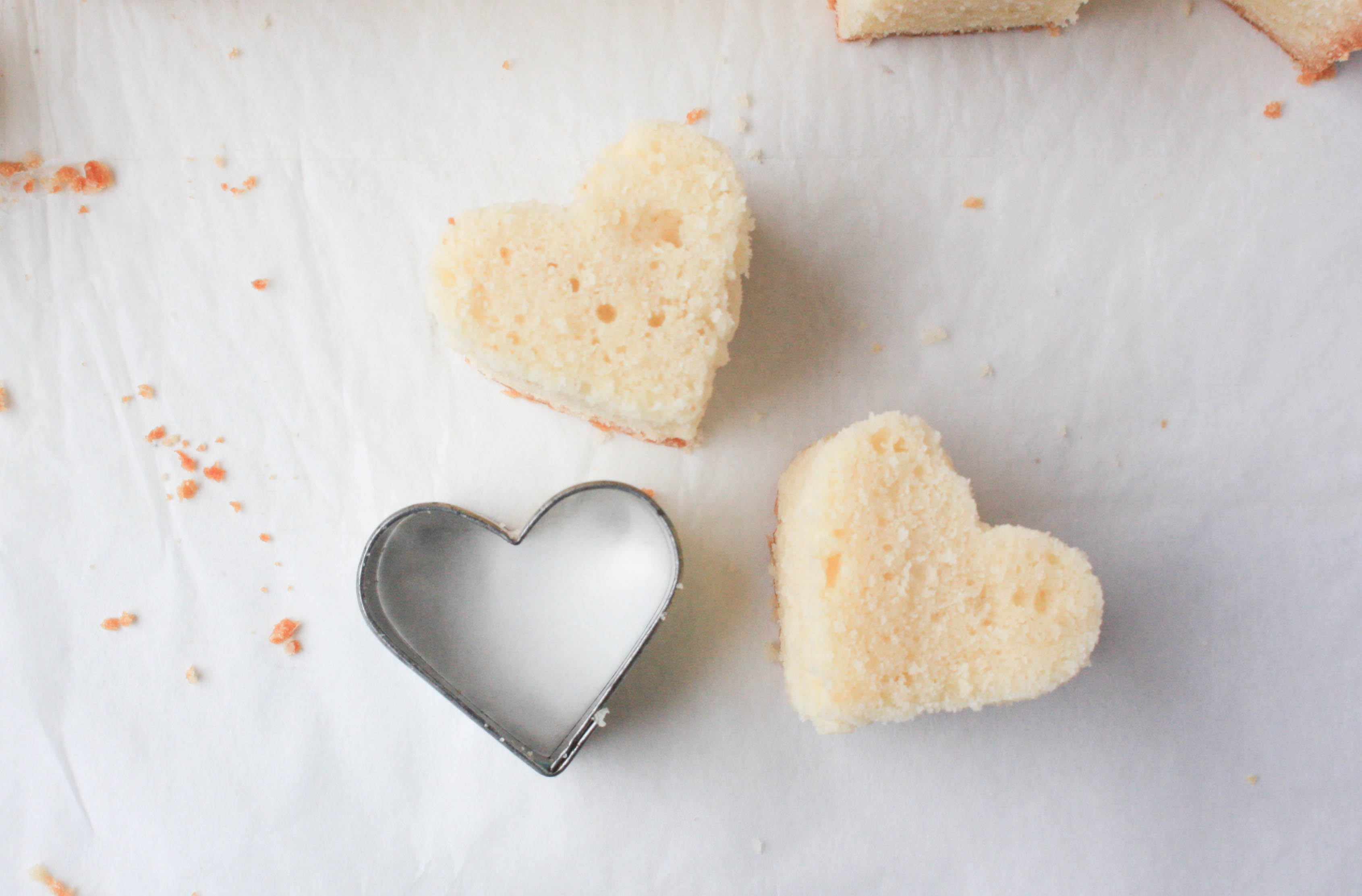 Place the cut cake pieces onto a parchment lined sheet pan and into the freezer for 15 minutes. 
Step 3: Dip the cake cubes
Stick the end of a skewer or chopstick into the cut side of a piece of cake. Dip the cake in the poured icing, completely coating the top and sides. Tap the stick against the side of the bowl to shake off excess frosting.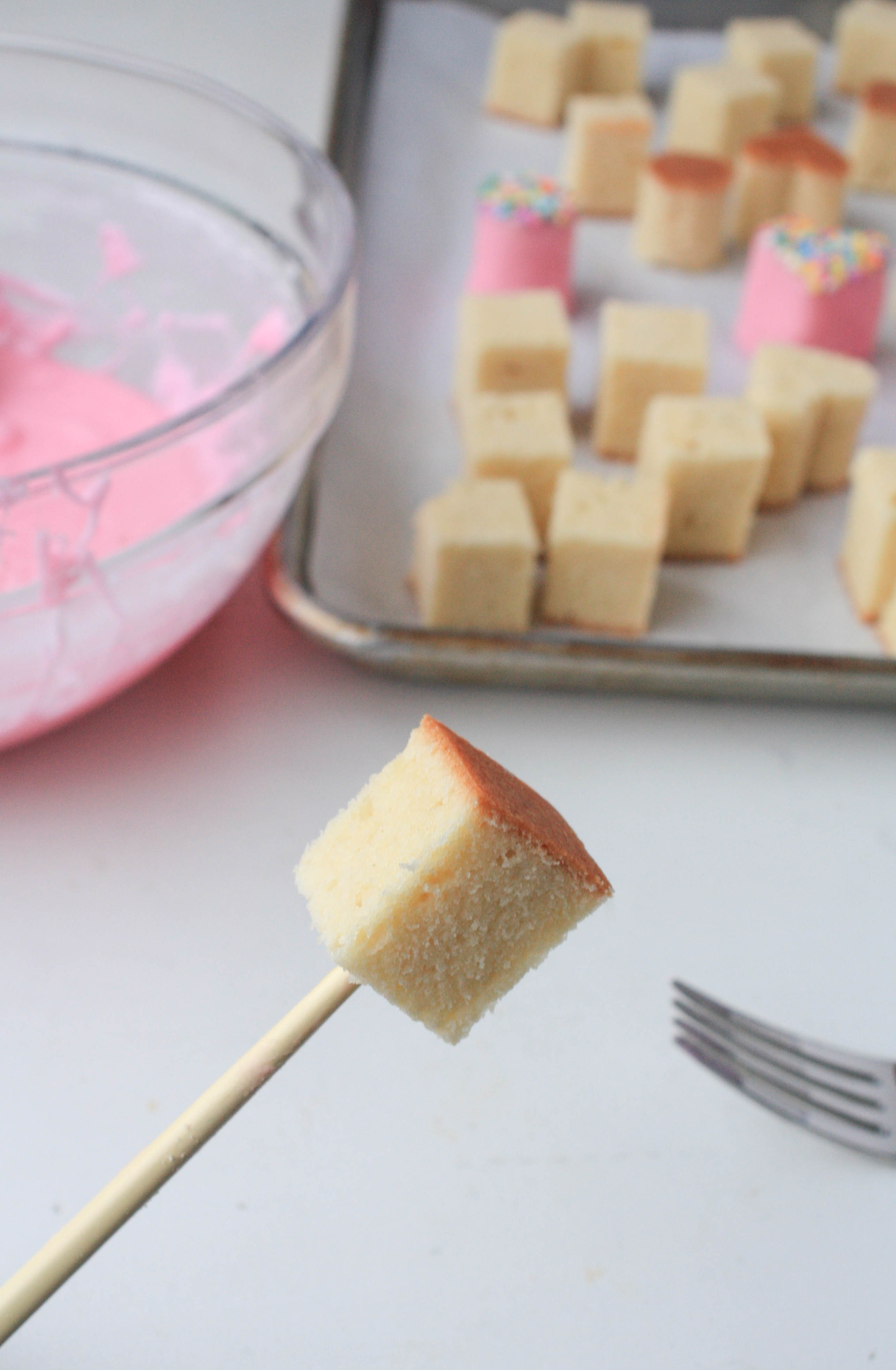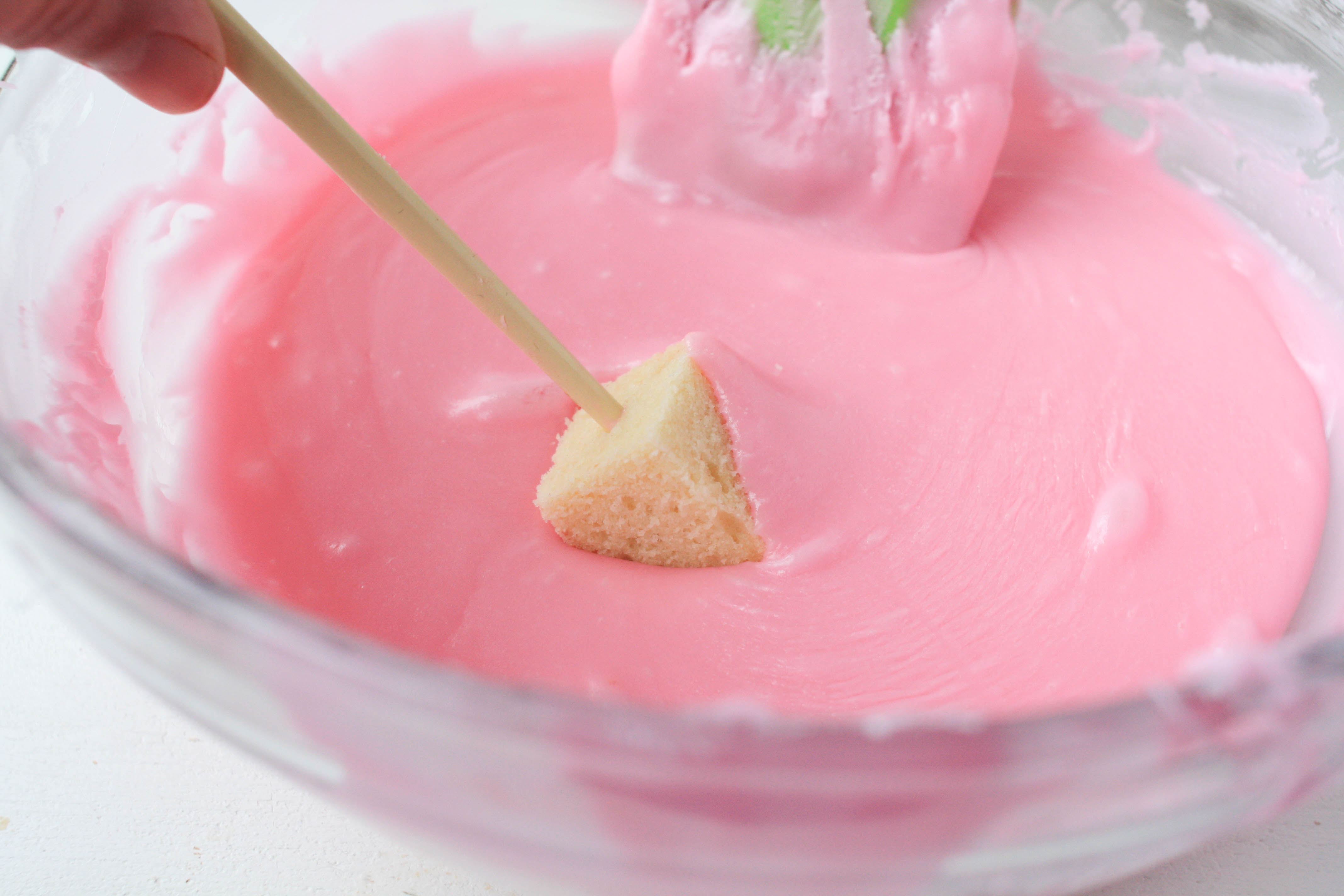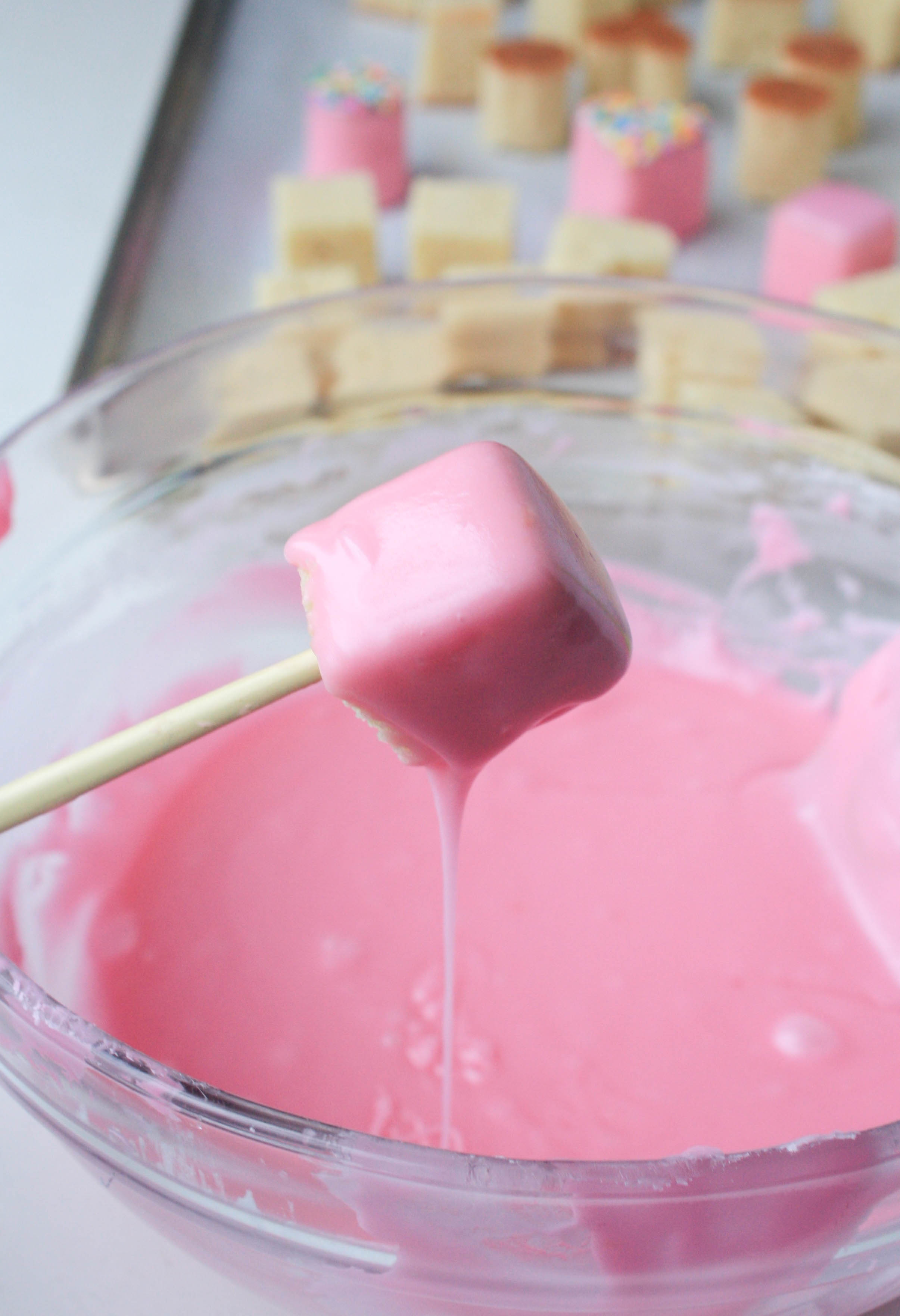 Step 4: Let the petit four dry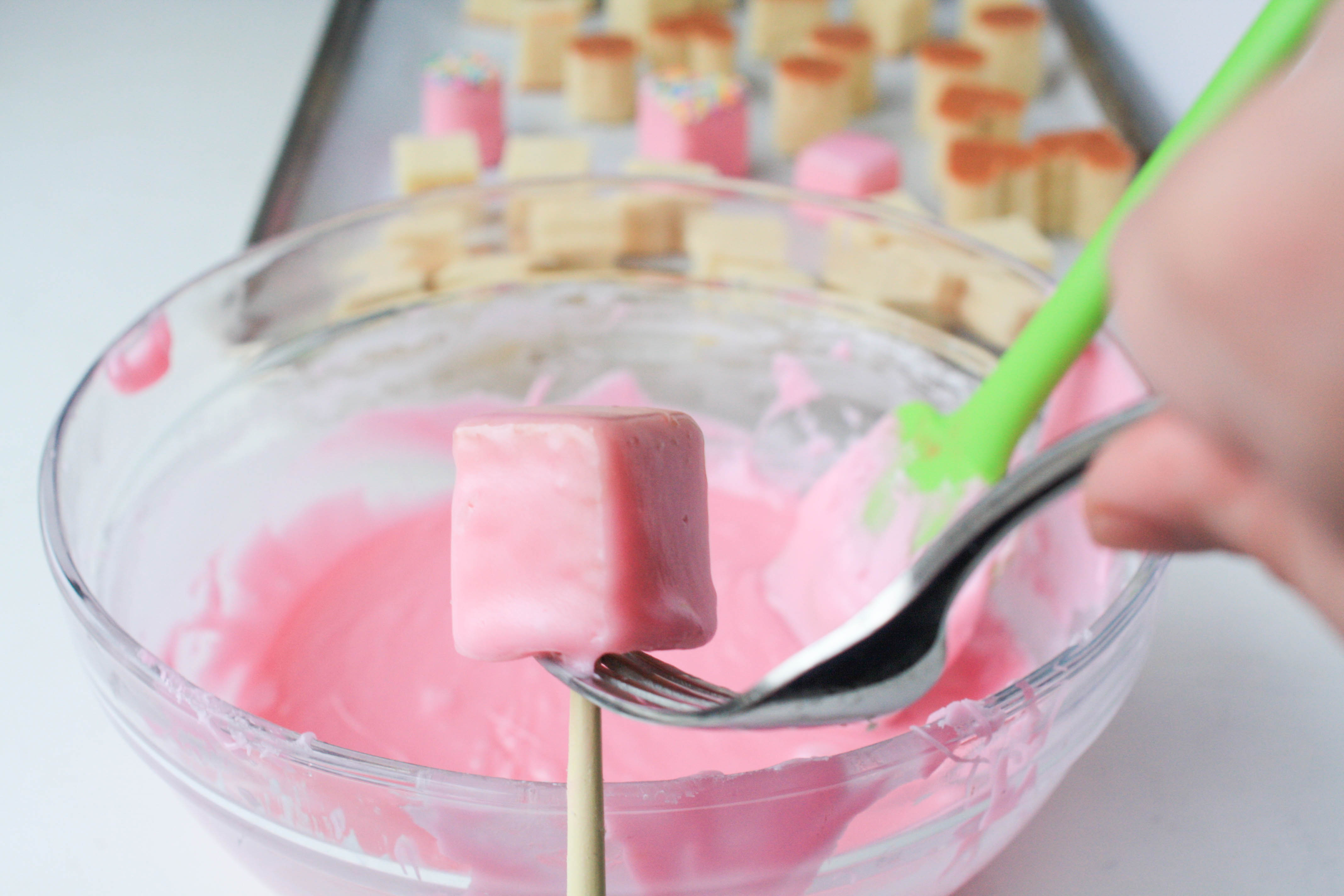 Slide the fork under the dipped petit four and gently lift it off of the stick. Move the petit four to a parchment-lined baking sheet (or a drip rack), using the stick to help slide it off of the fork.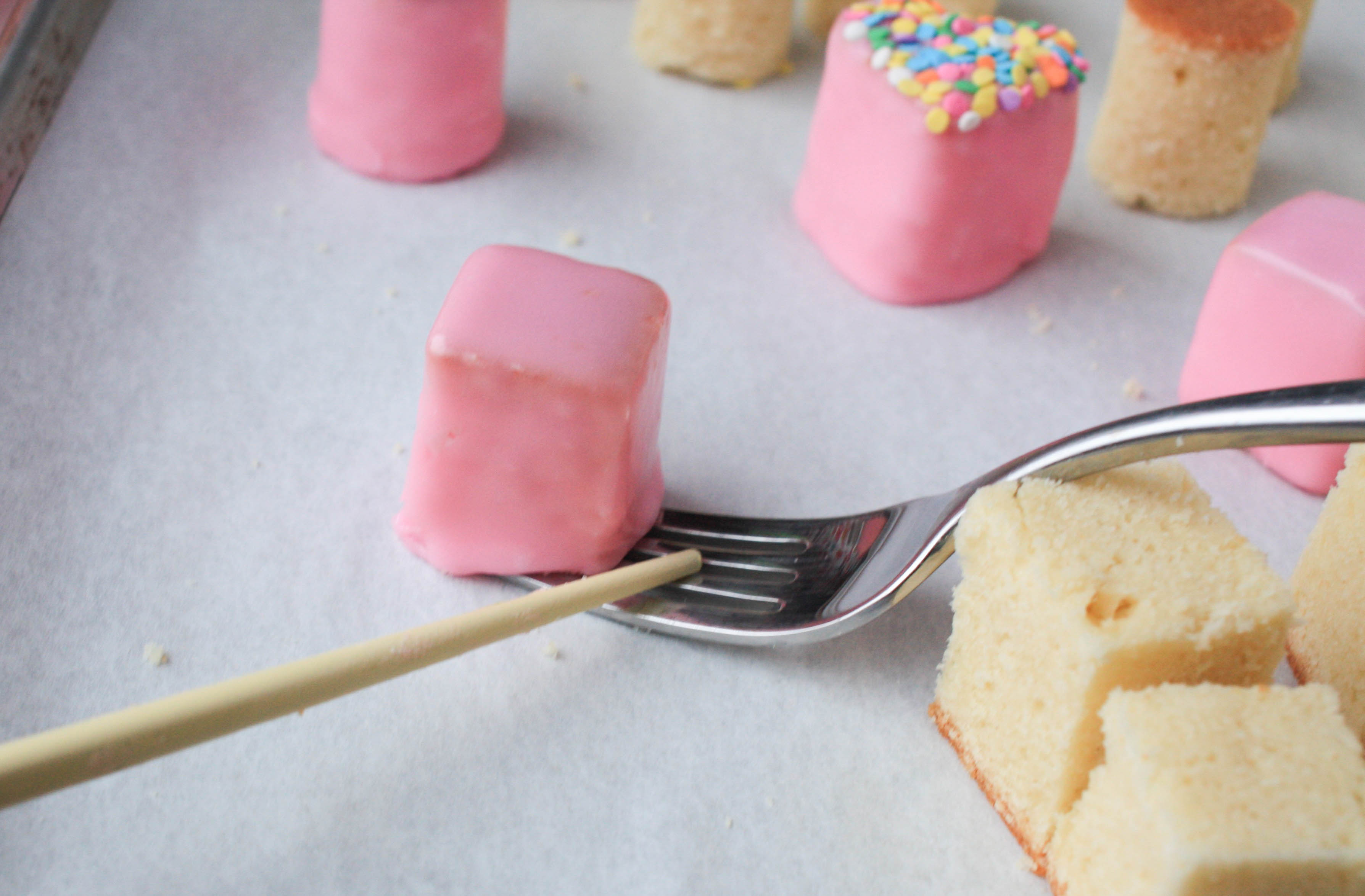 Want a little something extra? Add sprinkles!
An easy way to doll up your petit fours is with a quick dip in some sprinkles. After coating your petit four with icing, dip the top in pastel confetti quins.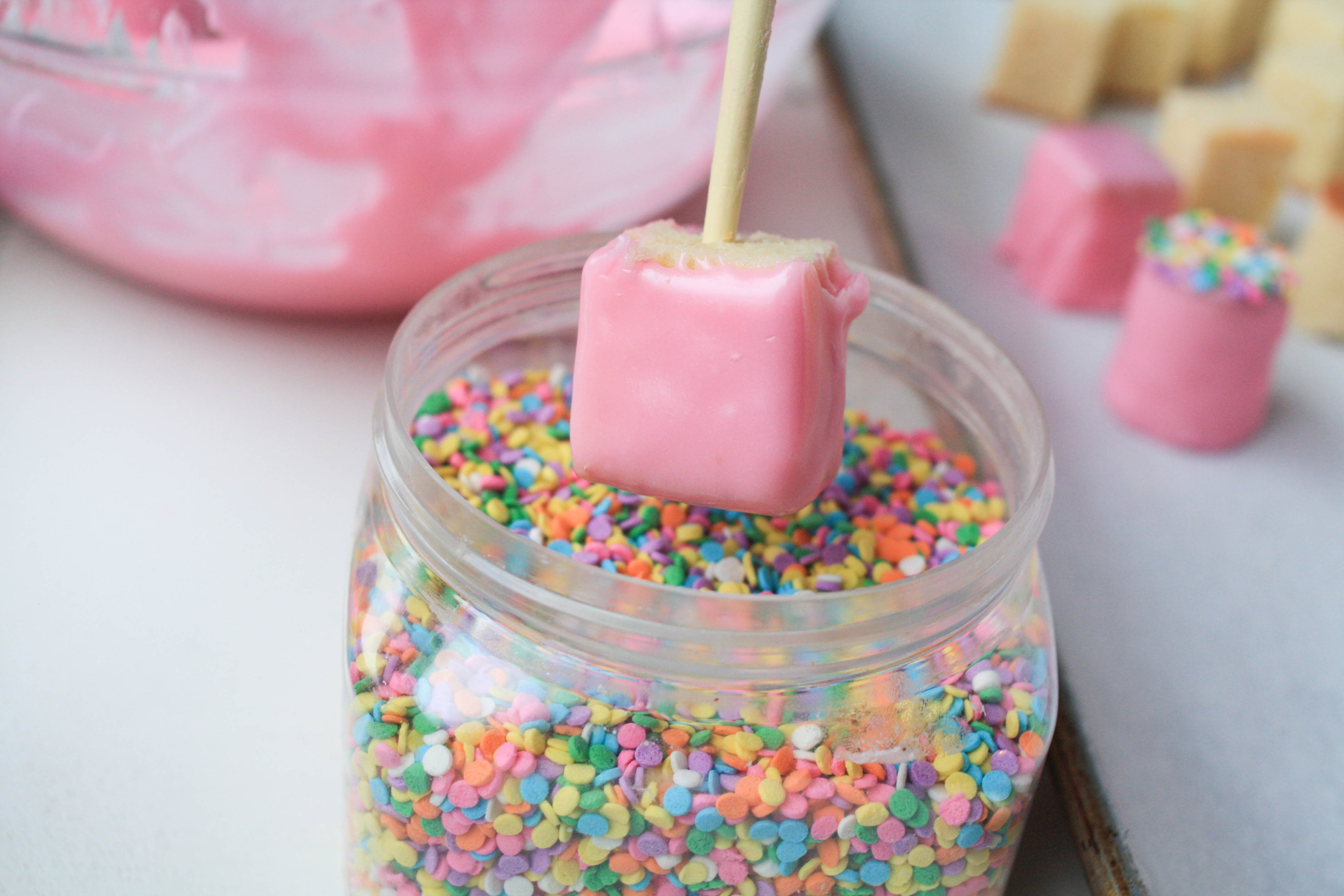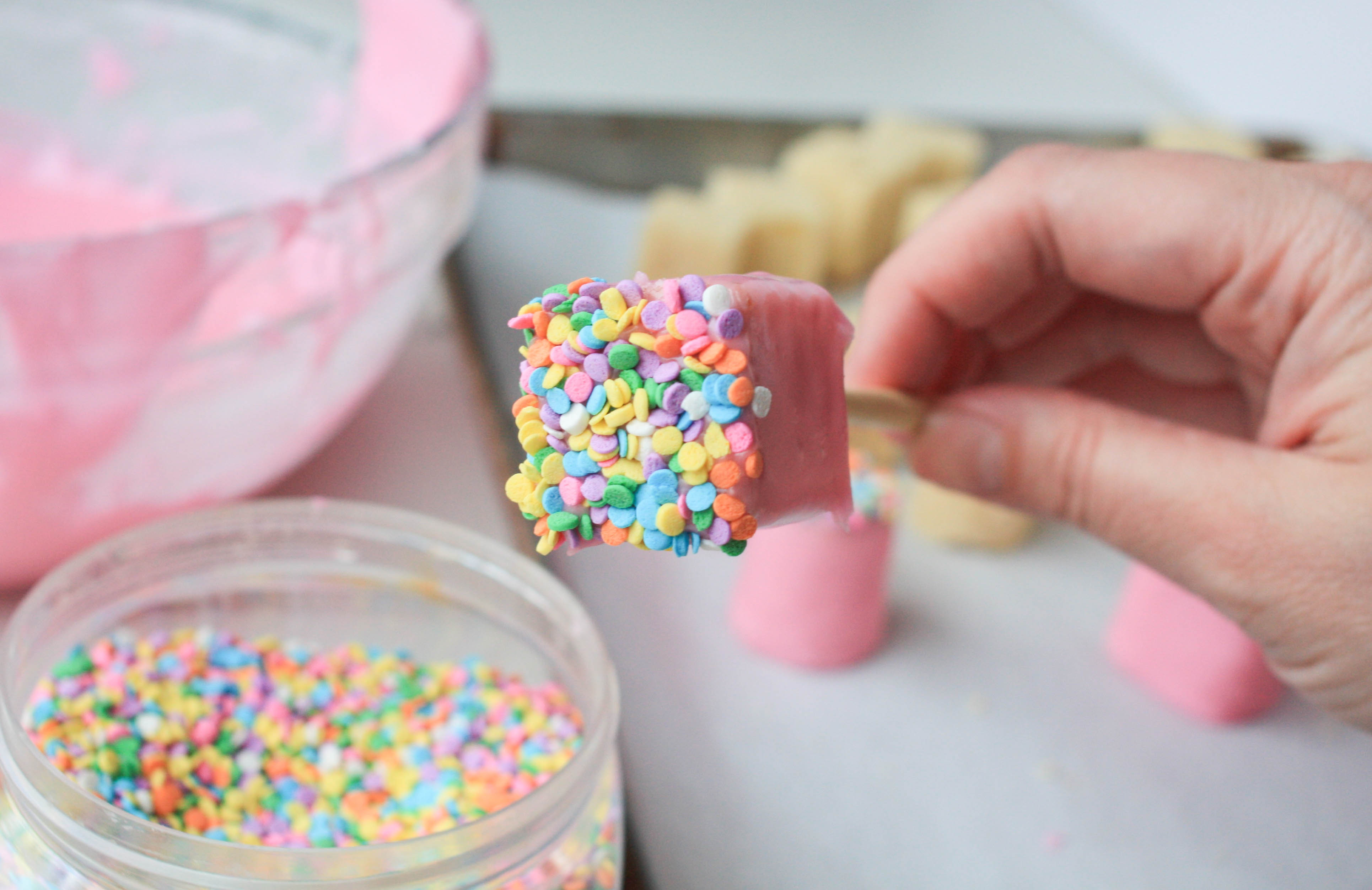 Arrange finished petit fours on a platter or in paper baking cups. Store unfilled petit fours in an airtight container, at room temperature, for up to 4 days. Filled petit fours should be stored dependent on the stability of the filling. Storing petit fours in the fridge will cause the icing to sweat and become sticky.
Now that you've learned how to make of petit fours down pat, go ahead and get creative! Change up the colors to match your event or season, or try dipping the tops of your cakes in sanding sugar, crushed candy or nonpareils.