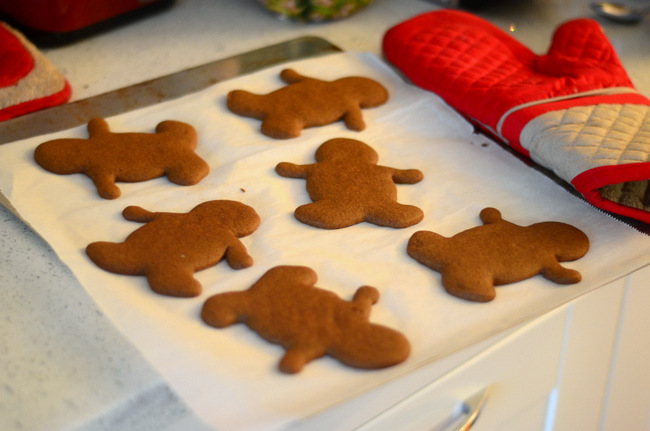 Gingerbread houses and little gingerbread men are a Christmas must-make. Follow this recipe and you'll have Christmas cookies to enjoy all season long!
Good to Know: If you're sensitive to gluten, check out our gluten-free gingerbread recipe.
Gingerbread Cookies
Ingredients
6 cups all-purpose flour
1 teaspoon baking soda
½ teaspoon baking powder
½ pound (2 sticks) unsalted butter, room temperature
1 cup dark-brown sugar, packed
4 teaspoons ground ginger
4 teaspoons ground cinnamon
½ teaspoons nutmeg
1½ teaspoons finely ground black pepper
1½ teaspoons kosher salt
2 large eggs
1 cup unsulfured molasses
Instructions
1. In a large bowl, sift together flour, baking soda and baking powder. Set aside.
2. In the bowl of an electric mixer fitted with the paddle attachment, cream butter and sugar until fluffy. Mix in spices, salt, eggs and molasses. Add flour mixture; combine on low speed. Divide dough into thirds, and wrap in plastic. Chill for at least 1 hour.
3. Heat oven to 350 F. Line baking sheets with parchment paper. Set aside. On a lightly floured work surface, roll dough 1/8″ thick. Cut into shapes then transfer to prepared baking sheets.
4. Freeze for 10 minutes before baking (or refrigerate for 15 minutes). Bake for 9 to 12 minutes. Let cookies cool on wire racks.
Once cooled, decorate with royal icing and serve!