Gingerbread cookies are a classic holiday dessert, and I believe that everyone must make at least one batch in their life. They're fun to decorate and can be delicious. Most gingerbread cookies are made using regular wheat flour, but you can make a tasty version that is completely gluten free, too!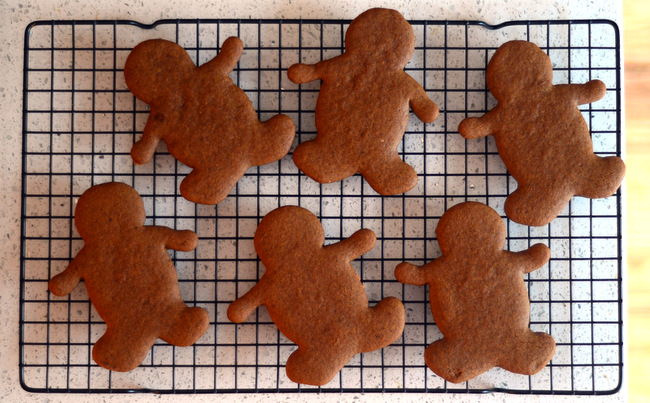 Making gluten-free gingerbread cookie dough
These gingerbread men start with a gluten-free all-purpose flour blend. These flour blends are commercially available and make it very easy to adapt a gluten-filled recipe into a gluten-free alternative. The blends often use rice flour or potato starch as a base and generally contain a blend of flours.
You can make your own gluten-free flours, but I prefer to use the commercially available mixes. Not only do they offer consistent results, but it also saves me from buying and blending multiple flours myself!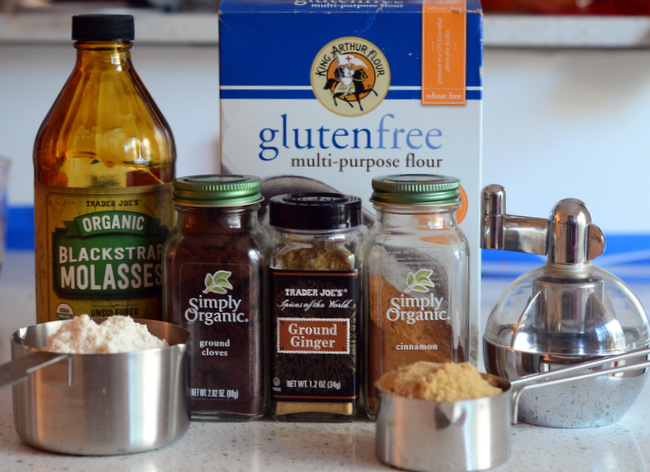 With the flour ready, I added a mixture of cloves, ginger, cinnamon and nutmeg to spice up the cookies. It's easy to customize the flavor of gingerbread to use other spices that you might have in your cabinet. Allspice and cardamom are good additions to gingerbread, and you can even use pumpkin pie spice. The gingerbread dough is sweetened with both molasses and brown sugar. 
Since there's so much molasses in the dough, it's a little on the soft side when first made. This means that the dough must be chilled before rolling it out. I like to put my cookie dough into a zip-top bag rather than covering it up with plastic wrap. 
Preparing the gingerbread men
Roll the dough out on a well-floured surface. Don't worry about adding too much flour while rolling out the dough: Unlike recipes that use wheat flours, where adding too much flour makes the cookies tough, this dough will remain tender even if you use 2-3 tablespoons of flour on your work surface.
Don't go overboard on the flour, though, because you don't want to have a layer of white on top of your gingerbread when they go into the oven!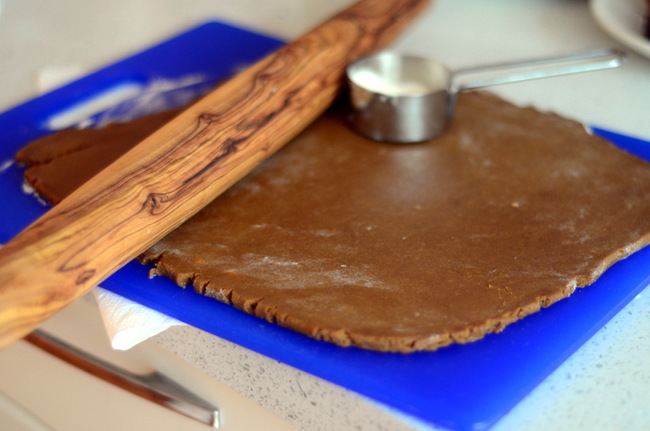 The dough can be gathered up and re-rolled several times. After rolling it out once or twice, however, the dough may start to become a  bit soft, especially if your kitchen is warm. Pop the dough back into the refrigerator or freezer for a few minutes to firm it up, if necessary.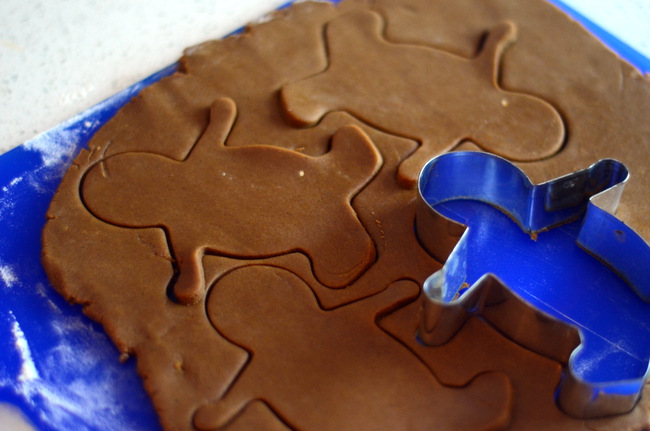 I used cookie cutters that are just under 2″ wide and about 4″ tall, making generously sized gingerbread men. You can use any size cookie cutter, but the baking time will need to be adjusted by a few minutes for smaller or larger cookies.
The finished cookies have a great molasses and spice flavor, and they'll fill your kitchen with the smell of holiday baking when they are in the oven.
The cookies are tender and slightly chewy (you can bake them longer for crisper cookies), with a firm edge that makes them easy to handle. Whether you eat gluten free on a regular basis or not, these cookies are sure to be a holiday hit.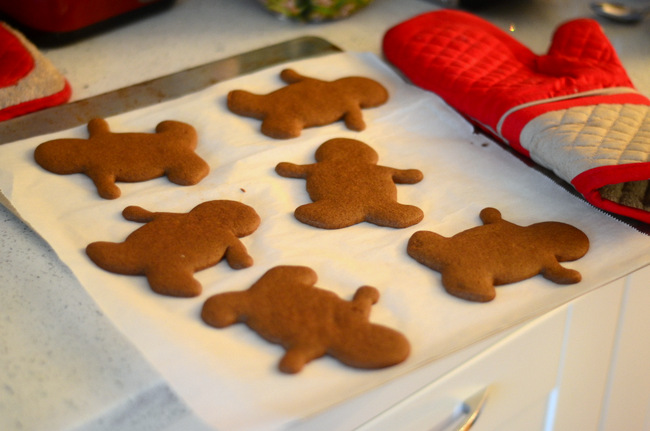 Gluten-free gingerbread cookies
Makes about 24 cookies (depending on size)
Ingredients:
2½ cups gluten-free all-purpose flour mix

½

 teaspoon baking soda

½ teaspoon

 salt
1 teaspoon ground ginger
1 teaspoon ground cinnamon

½ teaspoon

ground cloves
¼ teaspoon freshly ground nutmeg

½

 cup butter, room temperature

½

 cup light brown sugar

½

 cup molasses
¼ cup water
Step 1:
In a medium bowl, sift together flour, salt, baking soda and spices.
In a large bowl, cream together butter and sugar until light. Beat in molasses and water, then gradually blend in the flour mixture until a smooth dough forms. Dough will be slightly sticky.
Divide dough into two or three pieces, cover with plastic wrap or place in small plastic bags, then refrigerate for at least 2 hours, until firm.
Step 2:
Preheat oven to 350 F. Line a baking sheet with parchment paper.
On a lightly gluten free–floured surface, roll out dough to just under ¼" thick. Use cookie cutters of your choice (3″ – 4″ gingerbread cookies are a good size) to cut dough.
Step 3:
Bake for 9 – 12 minutes, depending on size of cookie cutter, until cookies are firm around the edges. Allow cookies to cool on the baking sheet for 5 minutes before transferring to a wire rack to cool completely.