Warming up your home with freshly baked cookies is one of the best feelings of the festive season, and decorating them in creative ways adds to the fun. These customized cookie gift tags are too cute to resist, and will add such a sweet, personal touch to the holidays.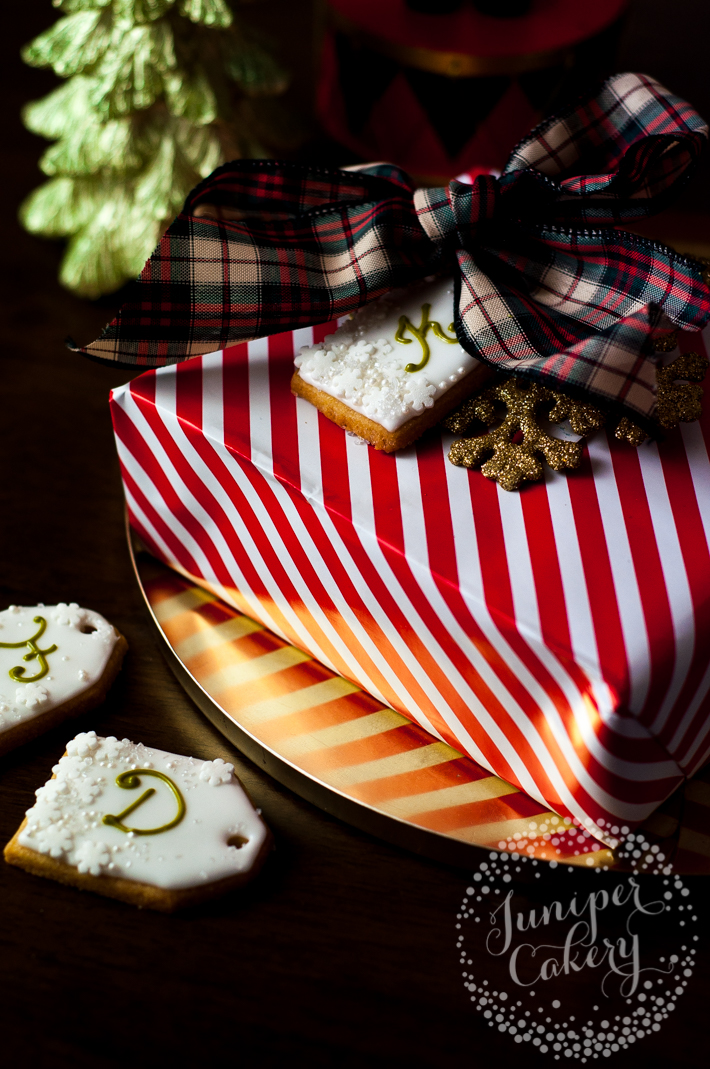 Essential Royal Icing Techniques for Stunning Sugar Cookies
Use royal icing to create the most beautiful sugar cookies around!Get My FREE Guide »
How to make fun cookie gift tags! 
Materials:
Your go-to sugar cookie recipe
Rectangle or square cookie cutter (or gift tag shaped if you have one – or you can simply use a sharp knife)
Royal icing in your chosen colors and consistencies (we opted for white and olive green)
Letter stamps (optional)
Seamless supatube piping tips
Small round piping tip, approx. 5mm in size at tip opening
Ribbon
Festive themed sprinkles
Edible printed names (optional)
Edible pens or markers (optional)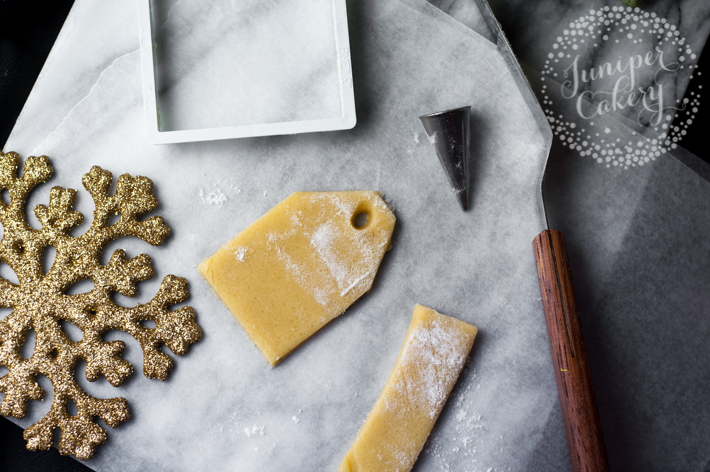 Step 1:
Once your dough is ready, roll it out to a good thickness (we like to work to around 4mm). Take your cutter and cut out a series of rectangular or square cookies. 
To turn rectangle cookies into gift tag shapes, simply use your rectangle or square cutter to angle off a little of each side at one end of the cookie.
Step 2:
Take a small round piping tip and cut out a hole at the top of each cookie. This is where you'll be able to thread your ribbon or twine through once baked.
If you've not over mixed your cookie dough your cut holes shouldn't spread in and close up.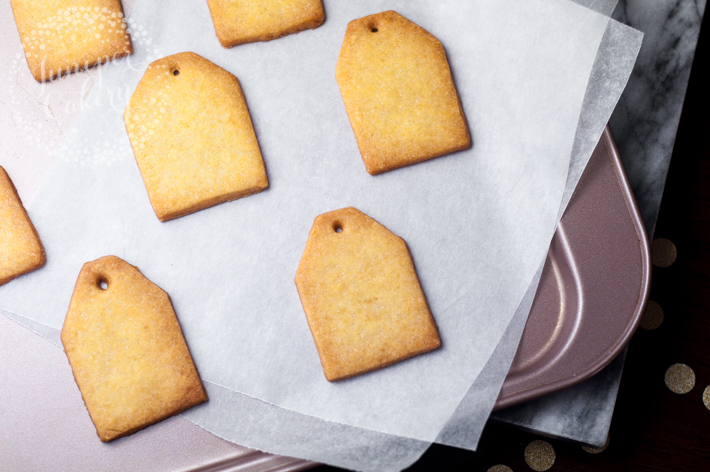 Step 3:
Bake your cookies according to your go-to recipe.
Tip: A great way to tell if they're ready is to gently push one in the center. If the dough slowly rises back up then they're perfect.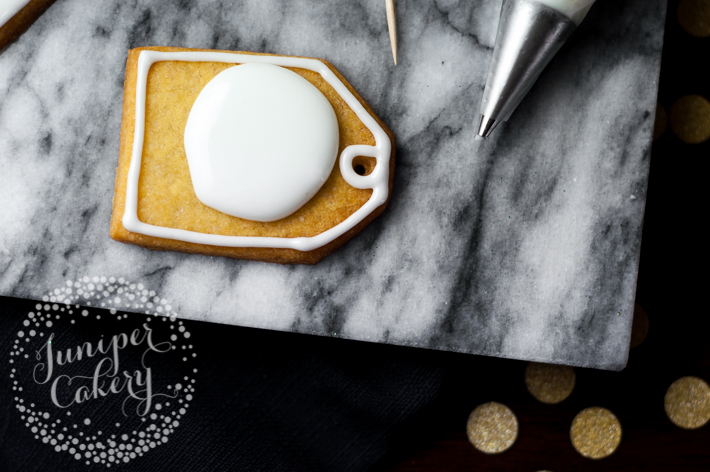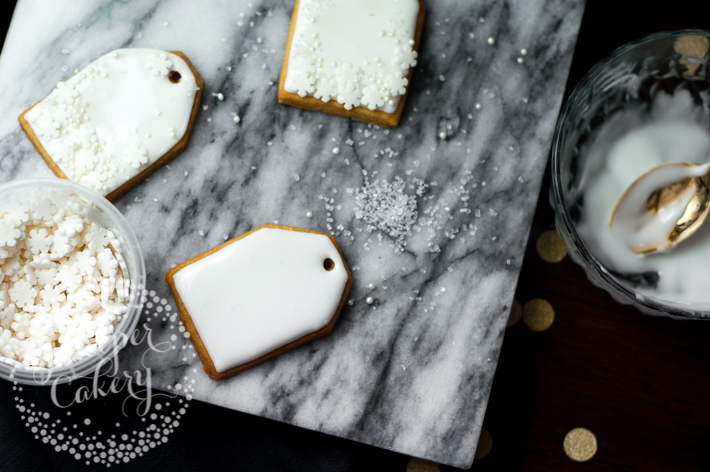 Step 04:
When cooled and ready to decorate you should outline each cookie with piping consistency icing before flooding with a runnier royal icing mix. If you have any air bubbles appearing in your icing pop them with a cocktail stick. 
Step 5:
If you'd like to decorate your cookies with sprinkles like ours make sure you do this while your royal icing is still wet. We began arranging glittery snowflake sprinkles at the edge before then adding tiny edible pearls and white sanding sugar. Remember to leave enough space in the center of the cookie for names, messages or initials. Leave to set fully for 6-24 hours, depending on the humidity of where you live.
Step 6:
There are a few options for you to consider about how to add names to your cookie. At this stage, if you opted to use edible printed names, you should apply these to your cookie with a little edible glue. You can also stamp each name on your set flooded cookies with some food color and a little gentle pressure on the iced cookie.
If you're piping names or even writing them on using edible marker, you can do so now. Using an edible marker is great if you have great handwriting but are a bit shaky with piping work, however, you can use edible markers to write out what you need to pipe too.
Another great tip for piping out words, names or initials is to always use a thin and seamless piping tip. PME's supatubes are perfect for this as they have no seam, which helps create a smooth and even flow of piping work.
Step 7 (optional):
You can still add elements of decoration, which sure is fun! If you're looking to recreate a wonderful snowy white Christmas look, stick to whites for your decorative features and pipe lots of tiny royal icing dots around the edge of your tag or utilize fun luster dust too!
For a traditional look use green and red fondant with holly plunger cutters to make pretty clusters of holly at one corner of your cookie gift tags You can even create decorative mistletoe with off-white fondant, lighter green fondant, a long rounded leaf cutter and a mistletoe veiner.
Step 8:
When your cookies are fully set you can thread your ribbon through each one and tie in a pretty and festive bow. Place each cookie on the table to use them as place cards for a festive holiday dinner, or bag them up with snowflake sprinkles or edible pearls as stocking filler treats.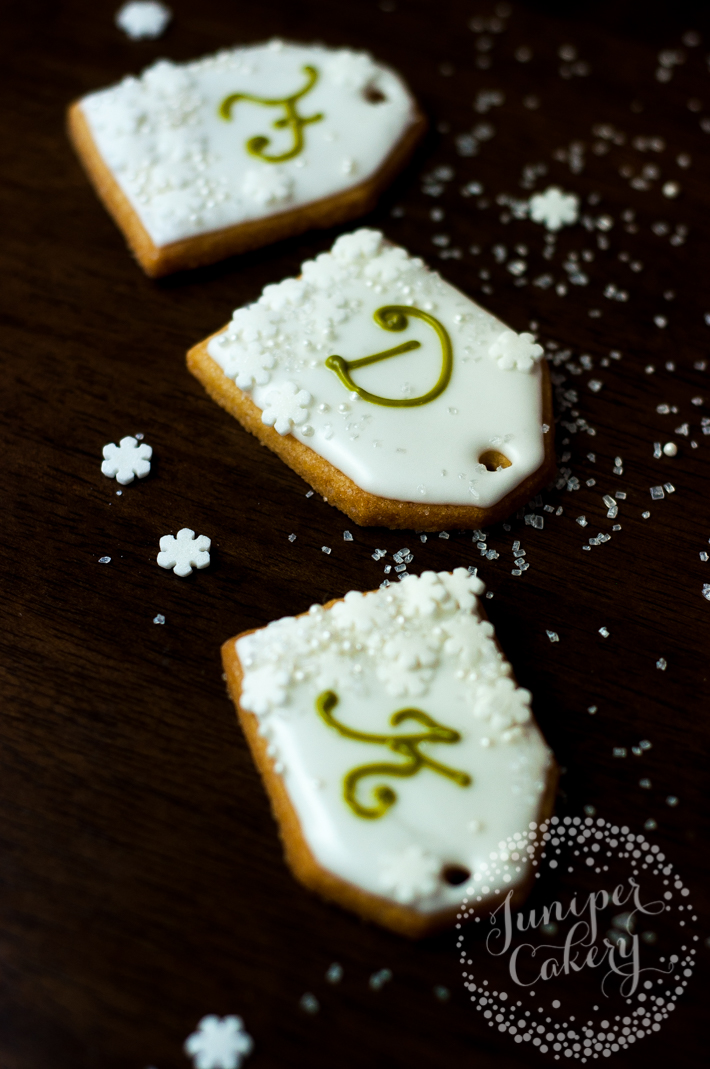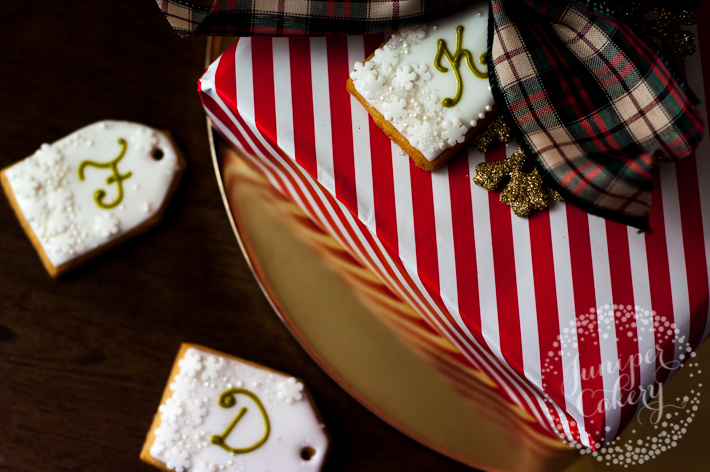 Essential Royal Icing Techniques for Stunning Sugar Cookies
Use royal icing to create the most beautiful sugar cookies around!Get My FREE Guide »