My daughter, Ivy, has been requesting a unicorn party for months. I wasn't exactly sure what that would look like, but I'm not one to argue with an almost 3-year-old, so a unicorn party it was. There was pin the horn on a unicorn, unicorn rubber duckies, unicorn horn party hats and pink frosted unicorn sugar cookies.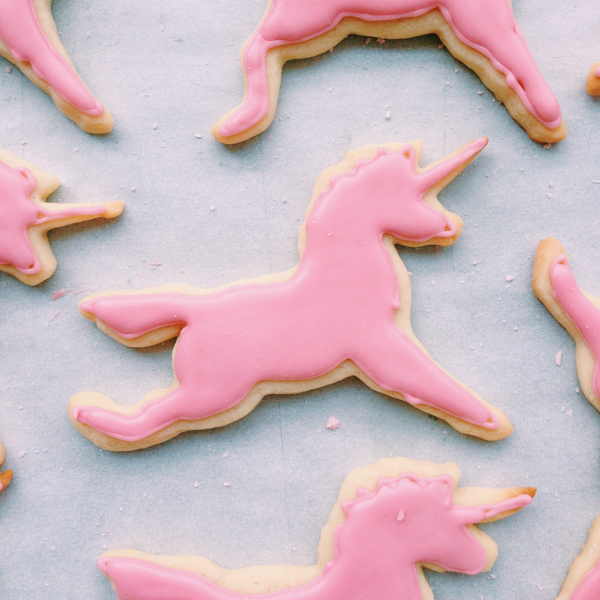 The cookie cutter came weeks before the party. The detailed mane, curved edges around the legs and the very tiny and pointy horn had me nervous, but I tucked it away, pushing aside the task of finding the perfect sugar cookie recipe until the day before the party.
I lost a few horns and legs in the beginning of the process, but the real nerve-racking part was putting them in the oven. Would they puff, spread and lose their beautiful shape? Would they look like chubby horses with an odd growth coming out of its head? I held my breath when I opened up the oven door as the timer went off — sugar cookie perfection. Pointy horns, perfectly formed hooves and a sugary mane that would make any little girl giggle in delight.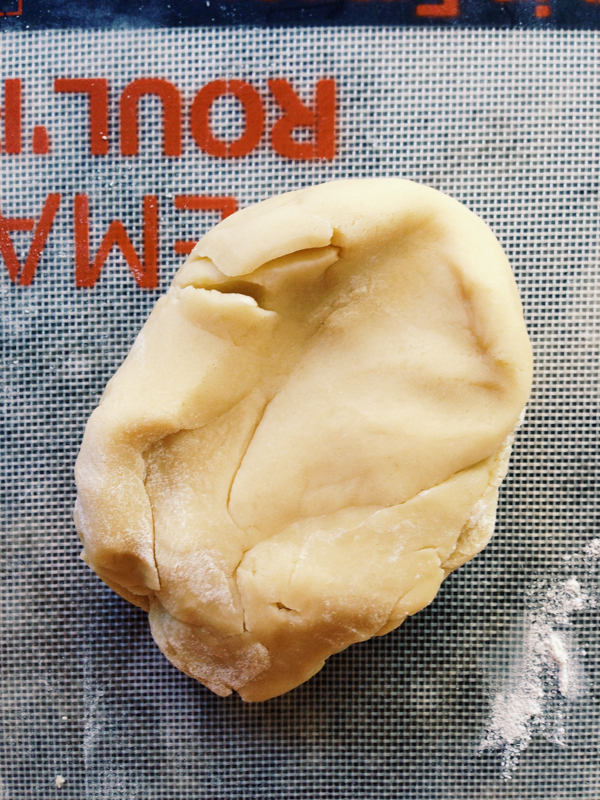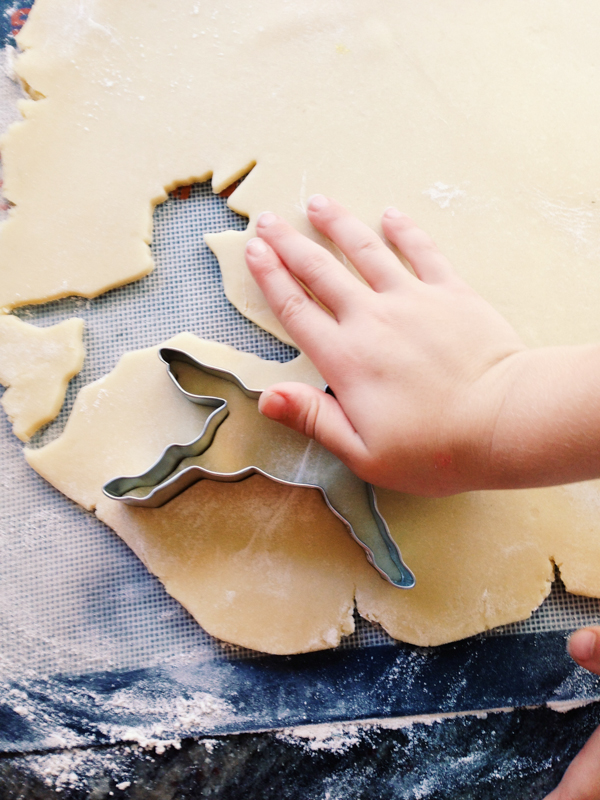 Some notes on the recipe:
In the past, I thought shortening was necessary for the cookie to keep its shape, but this recipe is all butter, incredibly easy to roll out and can be re-rolled numerous times without hurting the cookie. You can bake it when the dough is cold or warm with the same result. So basically, it's the perfect sugar cookie.
The recipe below makes about 4-5 dozen, but you can easily halve it.
The instructions are written using the old-fashioned bowl and wooden spoon method, but a stand mixer works just as well.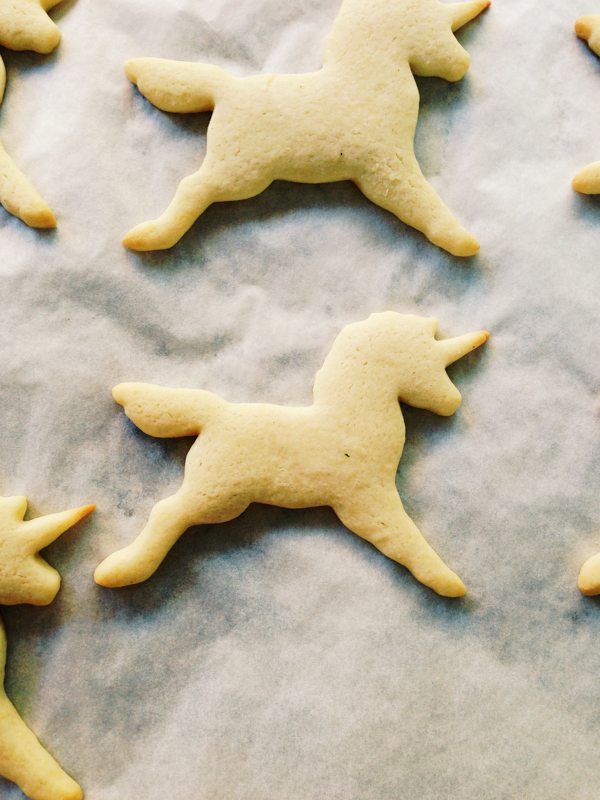 Classic sugar cookies with royal icing
Yield: 4-5 dozen, depending on shape of cookie
Ingredients:
1 1/2 cups butter, softened
2 cups white sugar
4 eggs
1 teaspoon vanilla extract
5 cups all-purpose flour
2 teaspoons non-aluminum baking powder
1 1/4 teaspoons kosher salt
Directions:
Step 1:
In a large bowl, cream together butter and sugar until smooth. Beat in eggs and vanilla. Stir in the flour, baking powder, and salt. Wrap and chill dough for at least one hour (or overnight).
Step 2:
Preheat oven to 400 degrees F (200 degrees C). Roll out dough on floured surface 1/4″ to 1/2″ thick. Cut into shapes with any cookie cutter. Place cookies 1″ apart on ungreased cookie sheets.
Step 3:
Bake 6 to 8 minutes in preheated oven. Cool completely.
You can easily leave these cookies plain and still have a delicious result. Or, top with your favorite icing. I topped mine with royal icing (recipe below).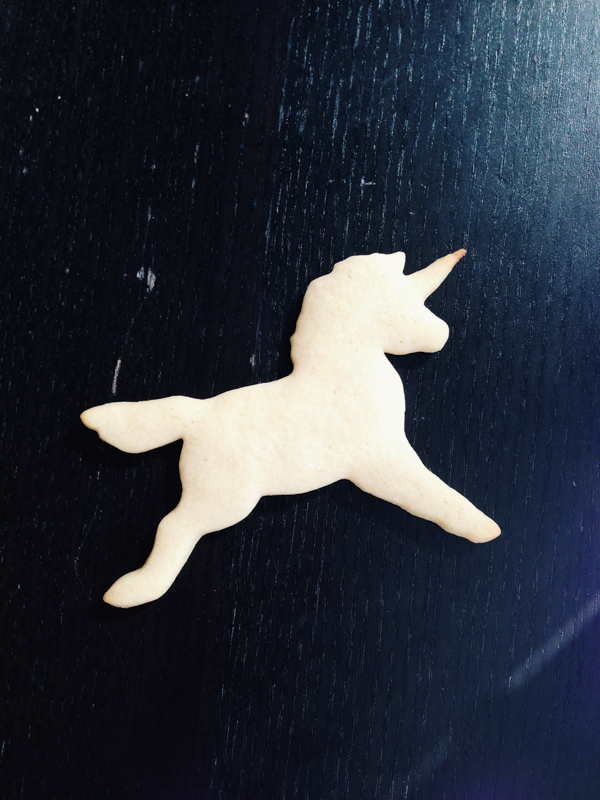 Royal icing
Yield: 4 cups
Ingredients:
2 large egg whites
1 pound confectioners' sugar
1/2 teaspoon kosher salt
1 teaspoon vanilla extract
Scant 1/2 cup water
Directions:
Step 1:
In the bowl of an electric mixer fitted with the paddle attachment, combine sugar and egg whites. Mixing on low speed, add a scant 1/2 cup water. Continue to mix on medium low for 5 minutes.
For a thinner consistency, usually used for flooding, add more water. A thicker consistency is generally used for outlining and adding details.
Step 2:
Mix until icing holds a ribbon-like trail on the surface of the mixture for 5 seconds when you raise the paddle.
Step 3:
With a piping bag and a small round tip, fill a pastry bag halfway full with royal icing. The consistency should be smooth with just a tiny bit of flow. You can check the consistency of your royal icing by taking a spoonful, then putting it back into the bowl and watch how quickly it spreads. You want to line the cookies with icing that doesn't spread too quickly.
Step 4:
Once the outline has dried, add a bit of water, one tablespoon at a time, to the royal icing until the consistency is much more liquid. Put a larger tip on your piping bag, then fill in the rest of the cookie. This is called flooding and is the technique used by cookie decorators everywhere.
These sugar cookies were the star of the unicorn party — well, that and the little 3-year-old with a glittering horn and pink tutu party dress.