Sometimes I get orders or requests for cookies and I don't have the cookie cutters needed to make them. But that's shouldn't stop you!
If you look at some of the cutters you already own, you might be surprised with the designs you can make. Look at the cookies above. Can you guess what cutters I used to make the cookies?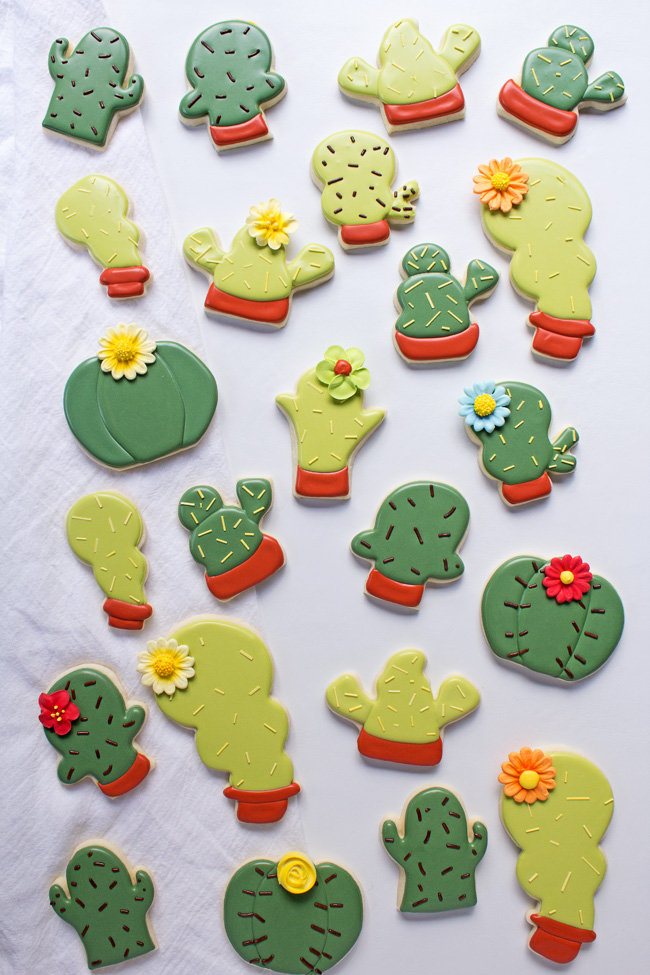 Would you believe that these cactus cookies were made with ghost, pumpkin and snowman cookie cutters? Below, I'll show you how I turned these holiday cookie cutters into cactus cookies that are perfect for any occasion.
Finding cookie cutters for your cactus cookies

For any cookie you're making without a custom cutter, the first thing you need to do is find a few cutters that can easily be transformed into the design you're going for.
Here's what I used for my cactus cookies: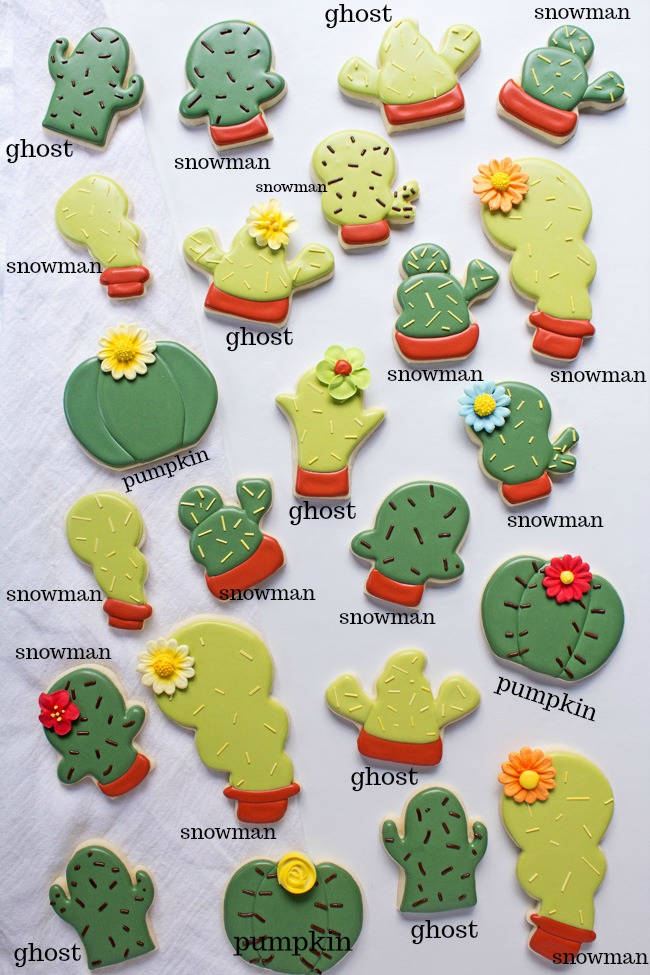 I turned a few snowmen cookie cutters upside down, and you can see they'll make great cactus cookies!
I used a few ghost cookie cutters as well — I just trimmed off the bottom and had an instant cactus.
The same goes for a pumpkin cookie cutter. I just turned the cookie cutter upside down and trimmed off the stem and some of the bottom.
I'm sure there are many more cookie cutters you can use to make a cactus cookie so use your imagination. To try out a few designs, trace you cutters on paper and try drawing in cactus details. You may be surprised how many different cute cactus cookies you can find.
As for the decorating, the steps are almost the same for each cookie, regardless of the shape. You'll need to decide if you want them in a pot or if they stand on their own. Other than that, go for it and have a little fun!
What you need to make your own cactus cookies
Recipes:
Cookie cutters:
Look through your cutters and see how many cutters you have that can be transformed into a cactus cookie (see above for more inspiration).
Royal icing colors:
Terra cotta: Mix a few drops of AmeriColor Orange Soft Food Gel Color with a little AmeriColor Warm Brown Soft Food Gel Color. Add a small amount of each until you get the color you like.
You'll need a light green and a darker green for the cactuses.
Tools:
Decorating bags, tipless decorating bags or decorating bottles: If you use decorating bags or decorating bottles, you'll need decorating tips and couplers. I like using the tipless bags for easy cleanup. If you want to use decorating tips, a #2 will work great for this project.
Toothpick or a scribe tool to pop air bubbles and help move the icing into corners.
Food-safe marker to draw the pattern onto the cookies.
Chocolate jimmies (or you can make your own sprinkles). The yellow sprinkles were made by following this DIY Sprinkle Tutorial. It's a simple way to make your own custom colors and it's really fun. If you have kids, let them help. They love doing things like this and you'll have all the sprinkles you need for all your cookie decorating projects.
Let's decorate these cute little cactus cookies.
If you want your royal icing to dry with a shine, place them in front of a fan once you outline and flood them. This will help the surface dry a bit faster and create a shine instead of a dull matte surface.
Step 1: Make the cookies
Make your cookie dough and trim the cookies before you bake them. Let them cool completely before you begin to decorate.
Step 2: Pipe the pot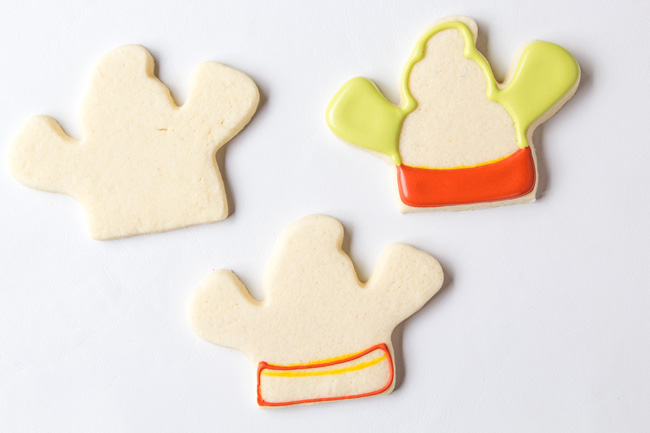 If you want your cactus cookie to be in a terra cotta pot, use a food-safe marker to draw it at the bottom of the cookies.
Next, outline the container with the terra cotta–colored royal icing. Let it dry for a few minutes then flood it with the same royal icing.
Let the icing dry completely before moving on to the next step. Royal icing colors can bleed into each other so letting it dry will help prevent this.
Step 3: Make the cactus arms
Next, use one of the shades of green royal icing and pipe the pattern onto the cactus.
If you want the cactus cookies to look like the arms are separate, outline each section and let it dry for a few minutes. This will keep the royal icing from running together and leave your cactus looking like each arm is a different section. Or you can pipe the entire cactus so it looks like one surface.
Flood the arms with the same color of royal icing you outlined used to outline it.
While the icing is wet, add the chocolate jimmies or the DIY sprinkles. Carefully place them on the icing so they don't all end up in one place.
Step 4: Fill in the body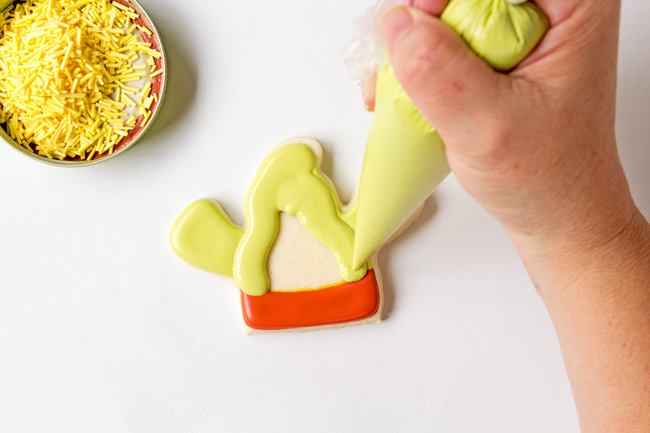 Let the arms dry for about 20 minutes and then flood the body with the same color of green royal icing. While the icing is wet, add the sprinkles. Let the icing dry completely before you package or stack them.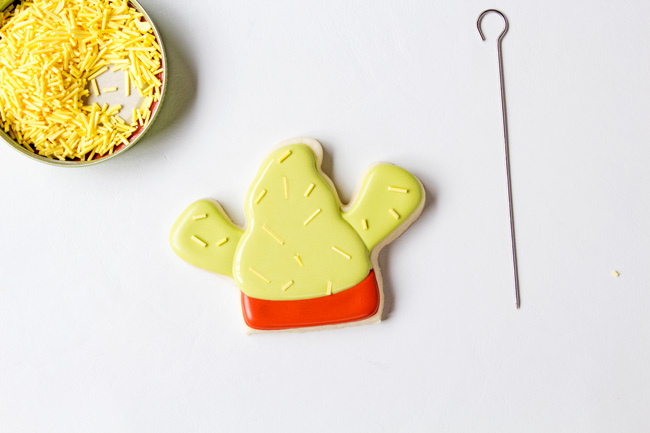 Depending on where you live, it could take the royal icing several hours to dry.
More cactus cookie designs
Here are a few more simple cactus cookies. Can you guess which cookie cutter was used to make them?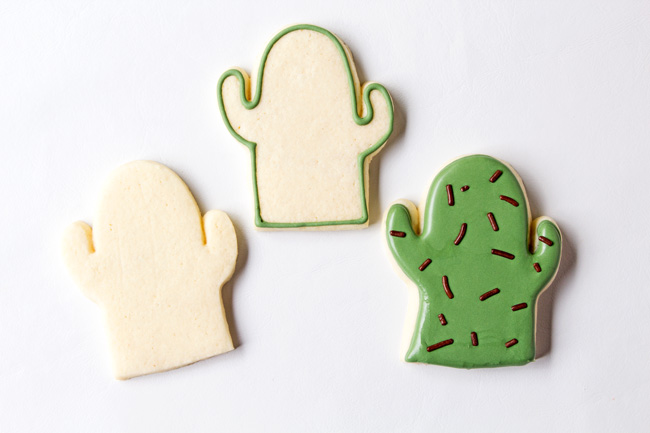 This cookie cutter was supposed to be a ghost.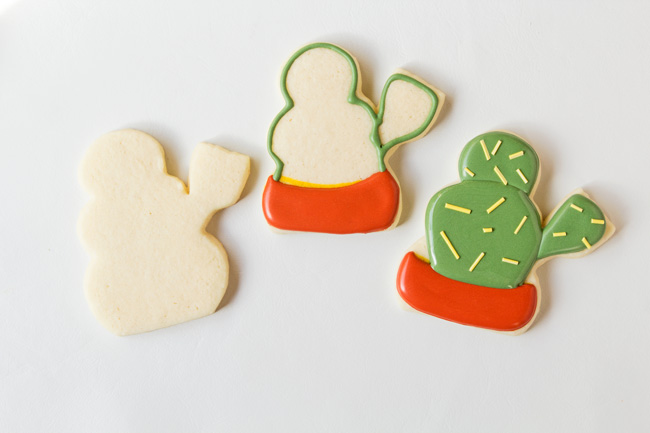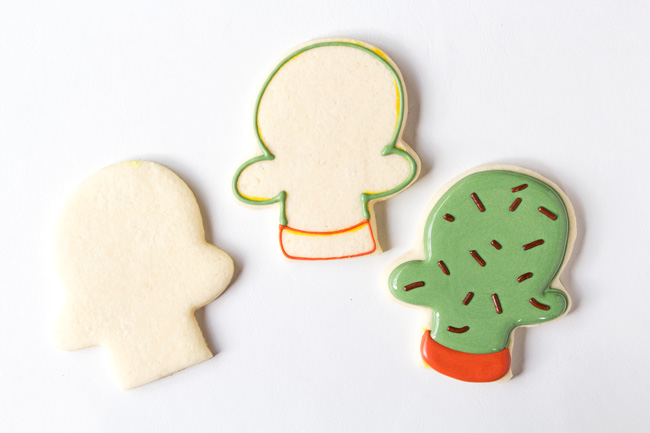 The two cookies above used two different snowman cookie cutters.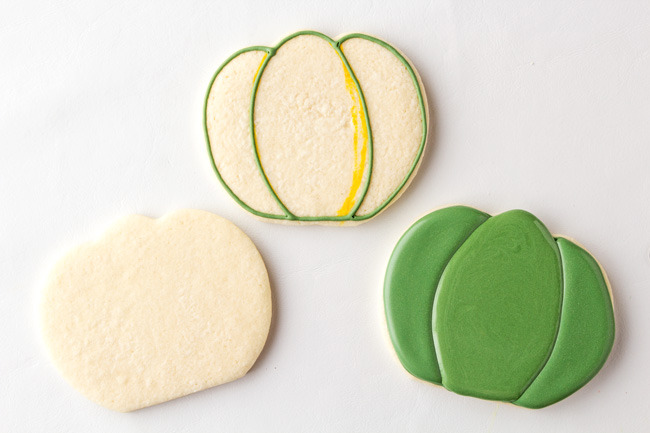 This last one was made with a pumpkin cookie cutter. None of them were supposed to be cactus cookie cutters, but I think they work well.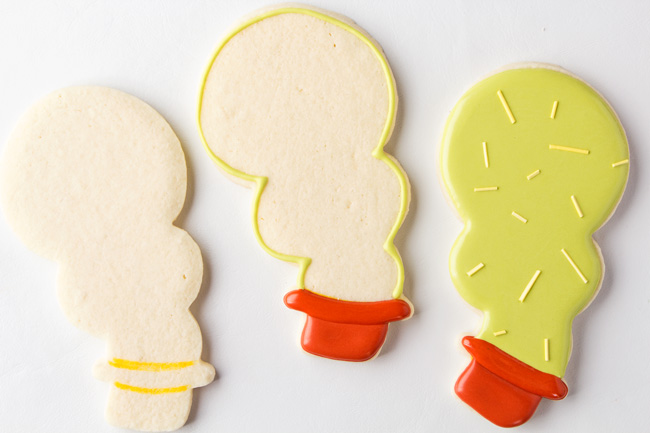 This is probably my favorite cactus cookie because it was made with one of the first cookie cutters I ever bought. I never dreamed this snowman would make such a great cactus cookie!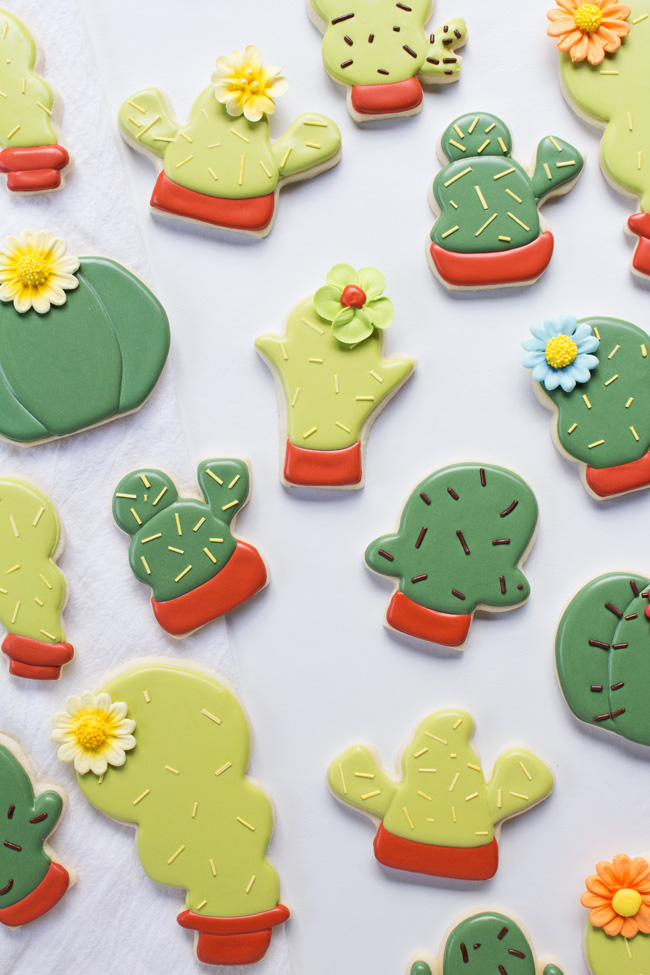 If you want to decorate your cactus cookies, you can add a candy flower to a few of them. A lot of stores carry royal icing or fondant flowers, or you can make your own. I have several royal icing tutorials and videos on my blog so you can make them any color you like.
I can't wait to see what cutters you all use to make your cactus cookies! Let me know in the comments.