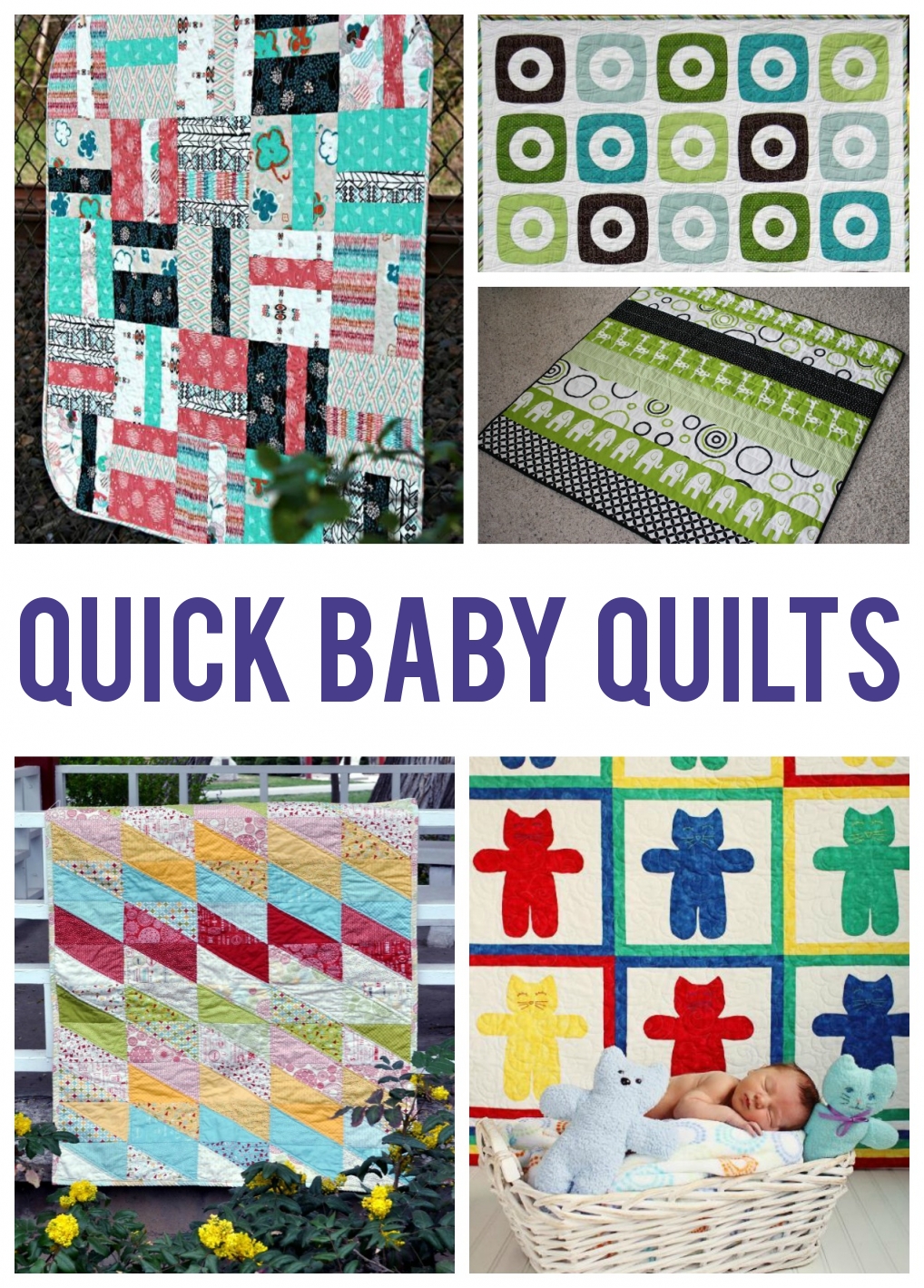 We just can't get enough of baby quilts, especially the cutest of the cute in baby quilt designs! Looking for a baby shower gift that will be treasured for years to come? Quilting a handmade creation is sure to make an impression on the parents to be. But there's not always enough time to put together a complex quilt pattern, especially when you're sewing on a deadline and looking for quick quilting ideas.
By the way, some of the patterns on this page are for sale. If you're looking only for free patterns, try this roundup of free baby quilt patterns on Bluprint.
There are plenty of baby quilt patterns you can whip up quickly.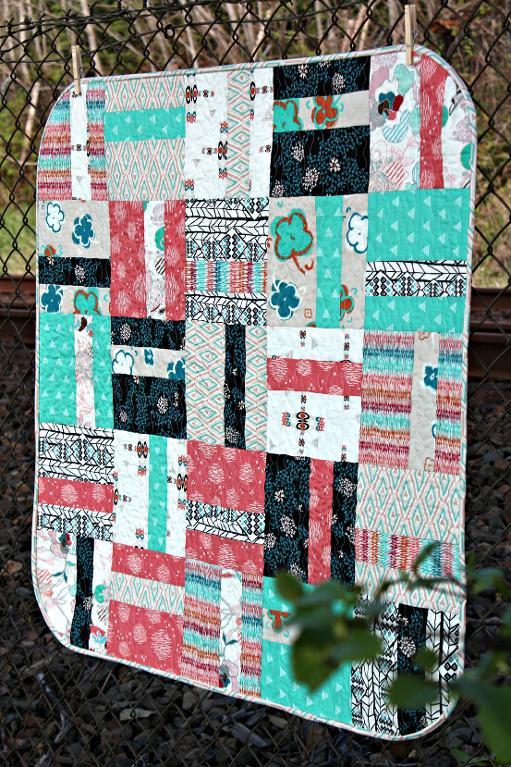 Photo via Bluprint member Debbie Jeske

1. Quarter-Cut Baby Quilt (A FREE Pattern!)
Using just 9 fat quarters of your favorite quilting fabric, you can whip up a simple baby quilt from strips and blocks. Round the corners for a playful finish. The 40″ square quilt is ideal for a baby's bed quilt or play mat.
Photo via Bluprint member Richard and Tanya Quilts
2. Sawtooth Baby Quilt
Fun and easy to piece, this simple Sawtooth Baby Quilt design finishes at 40″ square, but the pattern could easily be sized up to make a larger quilt. Use your stash for this one!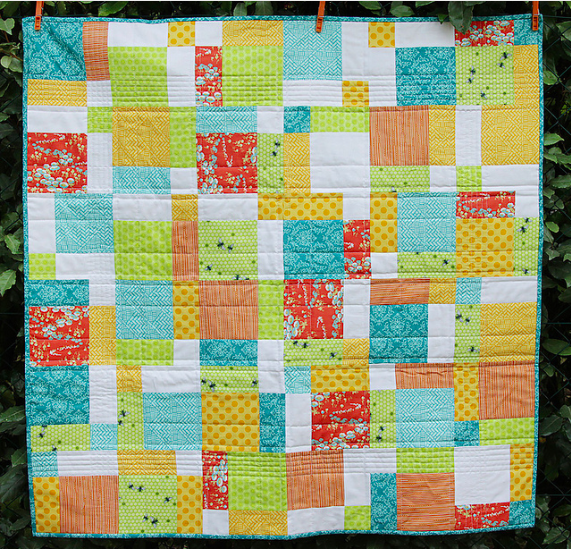 Photo via Bonjour Quilts
3. Spring Baby Quilt
A great go-to baby quilt design is the disappearing nine-patch pattern. This Spring Baby Quilt from Kirsty is one example of this quilt, which starts with 3×3 grids of Charm Squares sewn together and then quartered. The new blocks are mixed up and reassembled into a quilt top. For a quick visual tutorial of this method, visit Sew Fantastic.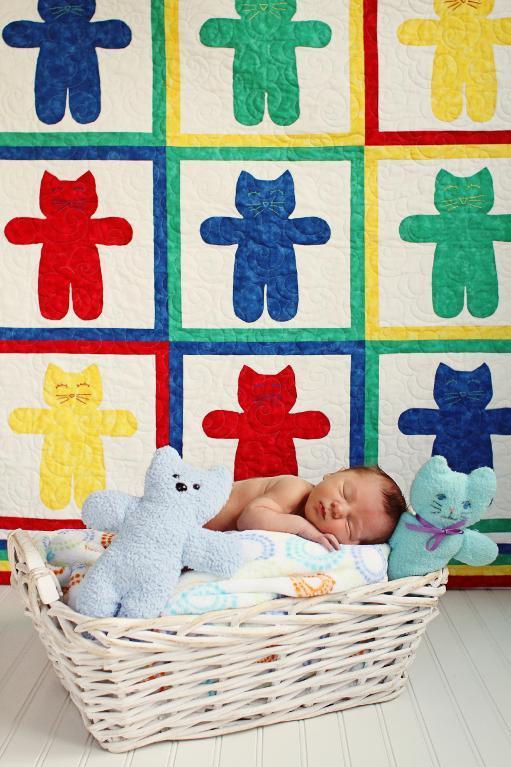 Photo via Bluprint member SunFlower Quilts

4. Kitties 9 Lives Baby Quilt
The Kitties 9 Lives appliqué baby quilt design will bring a smile to your face, especially if you come from a feline-loving family!  Measuring 50″ x 50″, the finished quilt makes a bright and cheerful gift for a newborn.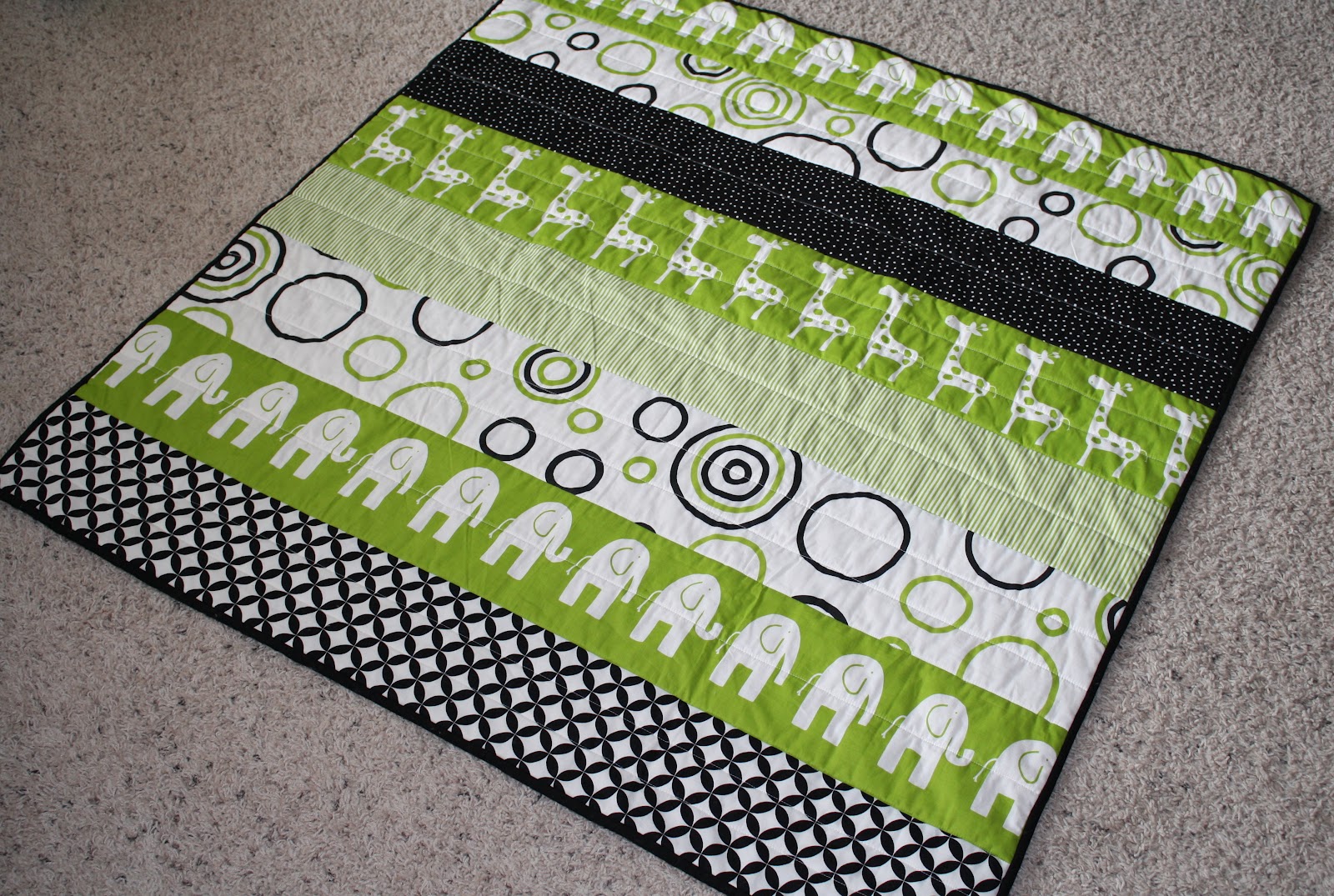 Photo via Holly and Olive
5. Modern Strip Quilt
The Modern Strip Quilt blogged is an easy baby quilt pattern that doesn't take much time or precision to put together. Simply cut fabric strips of different sizes along the width of your fabric, and sew them together to make a quick quilt top.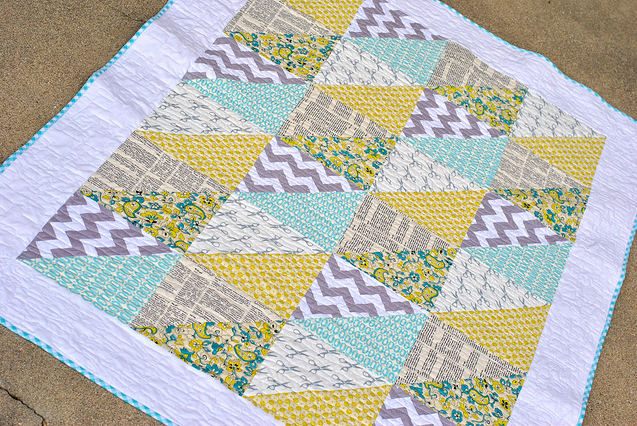 Photo via Craft Buds
6. Quick Triangles Baby Quilt
This free quilt pattern uses six coordinating fat quarters which are assembled into half-square triangles eight at a time for a super-speedy quilt top! If you choose prints similar to those shown, you can be sure that stains and spills will be camouflaged.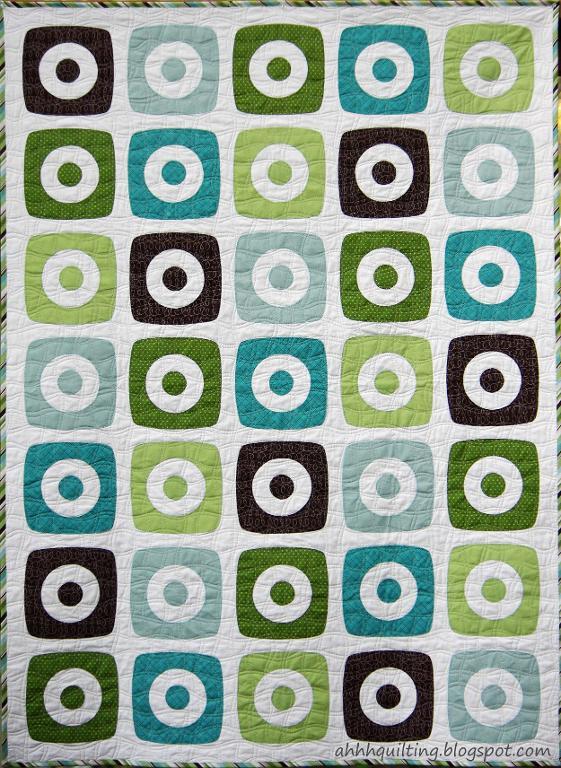 Photo via Bluprint member Ahhh…quilting
7. Boxy Rings Baby Quilt
Inspired by modern art, this appliquéd baby quilt pattern is fun to sew and looks great in a wide variety of fabrics and colors. Match it to the baby's nursery, or mix it up with fun printed fabric! The PDF pattern includes a coloring page for you to practice.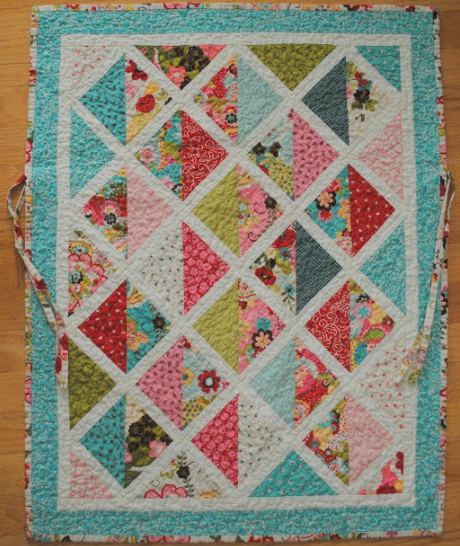 Photo via Clover and Violet for Moda Bake Shop
8. Sophie Car Seat Quilt
The Sophie Car Seat Quilt by Jennie is another ideal pre-cut quilt design to use precut fabric squares. The quilt is made from half-square triangles set on point and sashed in background fabric, and you can sew optional fabric straps on the sides to tie onto a baby's car seat or stroller.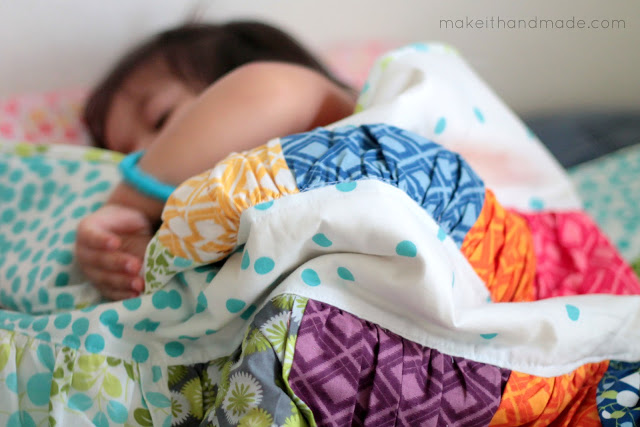 Photo via Make it Handmade
9. Crinkle Quilt
The Crinkle Quilt by Palak is a fun baby quilt design which uses something little ones love—texture. Pieced from a layer cake and one yard of background fabric, the strips of this quilt are first pieced and then gathered to get the ruffled effect. Doesn't this baby quilt look incredibly fluffy?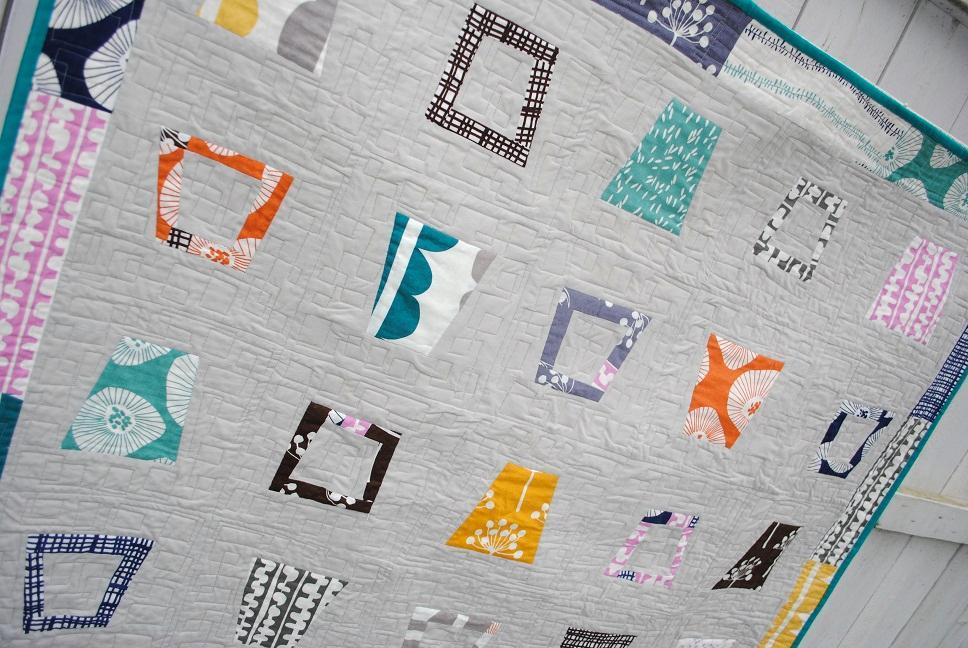 Photo via Bluprint member Lindsay Sews

10. Glass Half Full Crib Size Quilt
Sew a generous 45″ square baby quilt with unique tumbler blocks with a fresh, modern twist. Advanced beginners will have fun making this pattern in their favorite fabrics with this baby quilt design!
You might also enjoy this collection of our favorite FREE baby quilt patterns.
Did you know our YouTube Channel is full of free video tutorials?
Check out this one on how to make a quick and easy baby quilt from instructor Angela Walters.
See more on Bluprint's YouTube Quilting Channel.