The circular knitting needles section of your local yarn or craft store can be a bit overwhelming. Even though I've been knitting for many years, I still space out a little when I walk into the needle aisle and see all the choices.
If you're new to knitting, you probably ask yourself, why all the different lengths and why in the world would I need a 36″ needle?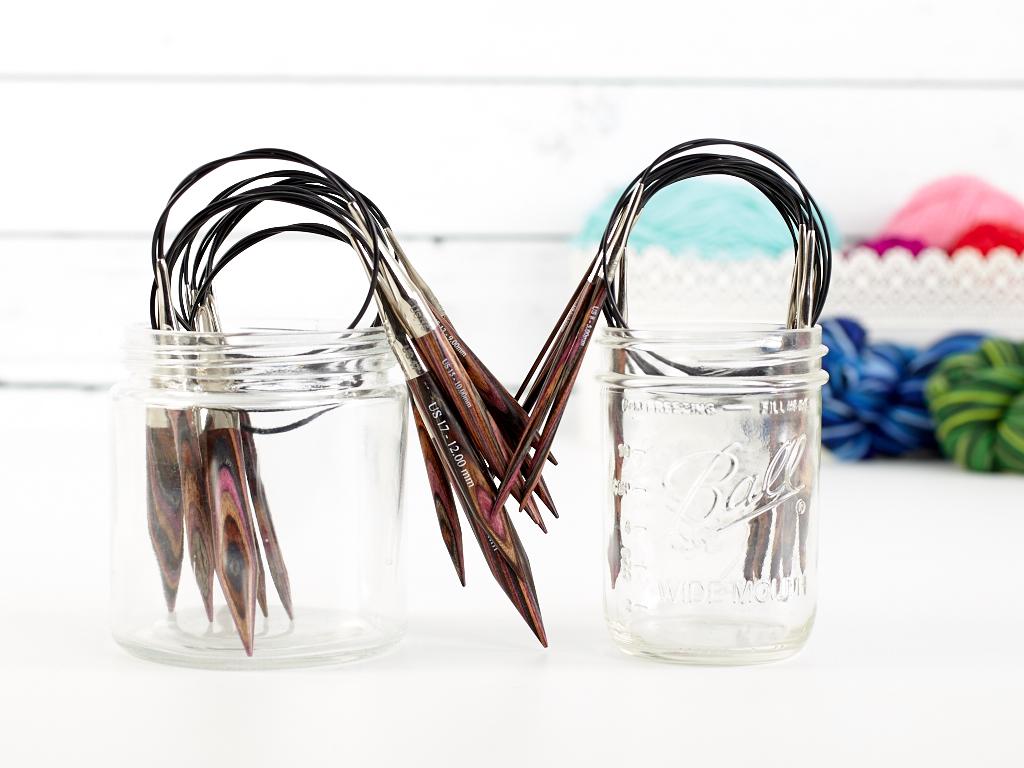 Often, your pattern will tell you what type of needle you need, but what if you're designing something yourself? Don't let the name "circular" fool you. Even though they're called circular needles, you won't just need them when you're knitting in the round<.
Use this guide next time you shop for circular knitting needles and breathe a little easier when you're faced with all the options.
Photo via Avrellyn Rose
36″ circular needles
Good for: heavy or large projects that will be knitted flat.
Have you ever tried to knit a heavy project, like a shawl, on straight needles? The wrist pain is unbelievable. I made this mistake early on in my knitting career and ended up having to hunch over my knitting so that the table held most of the weight. You can bet I never made that mistake again!
You may also need to use a circular needle if each row has a large number of stitches. Straight needles have a limited amount of space on them, so casting on 300 stitches is probably going to be impossible, even if you're using a long straight needle.
Using a long circular needle, like the 36″ one, will put all the weight of the project onto the cord, allowing you to speed along as you knit. The majority of the weight can rest in your lap or on the table while you knit.
The Watercolor Ponies Poncho, seen above, is one example of a project that's great for 36″ circular needles because each row has a lot of stitches. Any garment that's loose-fitting, like ponchos and shawls, will call for a longer circular needle.
Photo via Super Fun Knits
29″ circular needles
Good for: medium-sized projects knitted flat, like the Iris Pi Shawl seen above.
Like the 36″ circular needle, the 29″ needle can be used for projects that are knitted flat. The difference is that the 29″ can be used for a project that's just a bit smaller in size.
Photo via Sans Limites Crochet
16″ circular needles
Good for: small projects knit in a tube.
If you've ever followed a pattern for a hat, you've probably used a 16″ circular needle. These needles are perfect when the project is just a bit too large to fit on double-pointed needles. The Purl Turban Headband, seen above, is a great example of when a 16″ circular needle will come in handy.
Unlike the 36″ and 29″ needles, the 16″ needle is used more often for knitting in the round. Hat patterns will often ask knitters to use a 16″ to work the brim, then switch to double-pointed needles as the hat gets smaller at the crown.
How do you use your different sizes of circular knitting needles?
Take the Next Step with Circular Needles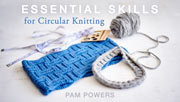 Get an introduction to key techniques for working in the round and start expanding your project possibilities. Enroll Now »