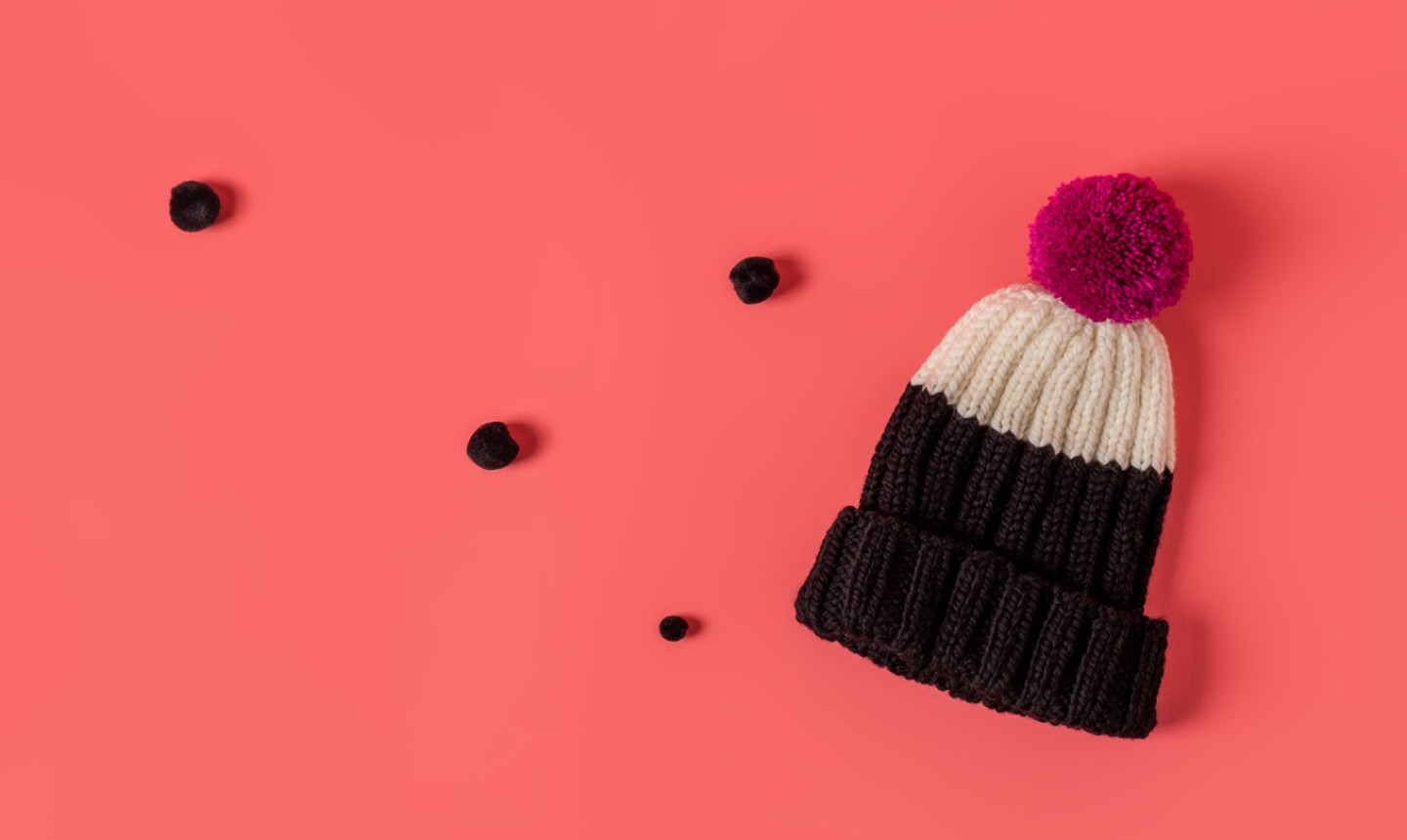 Hats are fun to knit. Fact. You only have to make one (I'm looking at you, socks), they can be as simple or as complicated as you want, and they work on pretty much anyone. We've rounded up 7 beginner-friendly patterns, so no matter where you are in your knitting journey, you can knock out alllll the hats.
1. Seeing Stripes
Stripes AND a pompom: This hat is a winner. You'll be a total pro at changing colors by the time you finish this hat. And even if you've never knit before, we'll show you how to make this one, from cast on to bind off.
MAKE IT
2. Easy Embellishment
Sometimes, a simple knit hat is the perfect canvas for embellishment. That's the case with the Sweet Pea Hat: it knits up quickly in a solid color, and looks even more adorable with some details stitched on at the end.
MAKE IT
3. Classic Meets Modern
Ribbed beanies are a mainstay of the knitting world. But that doesn't mean they can't be modern, too. Bold color blocking and a pompom pop make this updated version the ultimate in cool.
MAKE IT
4. Say Yes (or No!) to Earflaps
The best part about knitting your own hats? You get to decide what you like. This hat, for example, includes earflaps, but you can also totally leave them off, if that's more your style. Don't be afraid to be the boss of your knitting.
MAKE IT
5. This Hat is Giving Us All the Feels
Texture: this hat has it in spades. From the woolly alpaca yarn combo, to the nubby stitch pattern, to the explosion of faux fur on top, you seriously won't be able to stop touching that hat. We don't blame you.
MAKE IT
6. Simple Stranding FTW
Ready to move beyond basic stripes? Dip your toes into the world of stranded knitting with this beginner-friendly hat. The hardest part? Deciding which colors to use!
MAKE IT
7. Ombré Your Way to the Perfect Hat
At first glance, this hat may look a wee bit complicated. But don't be fooled! By using a simple slip-stitch technique, you only ever have to handle one yarn at a time, so fading from one color to another is a total breeze.
MAKE IT