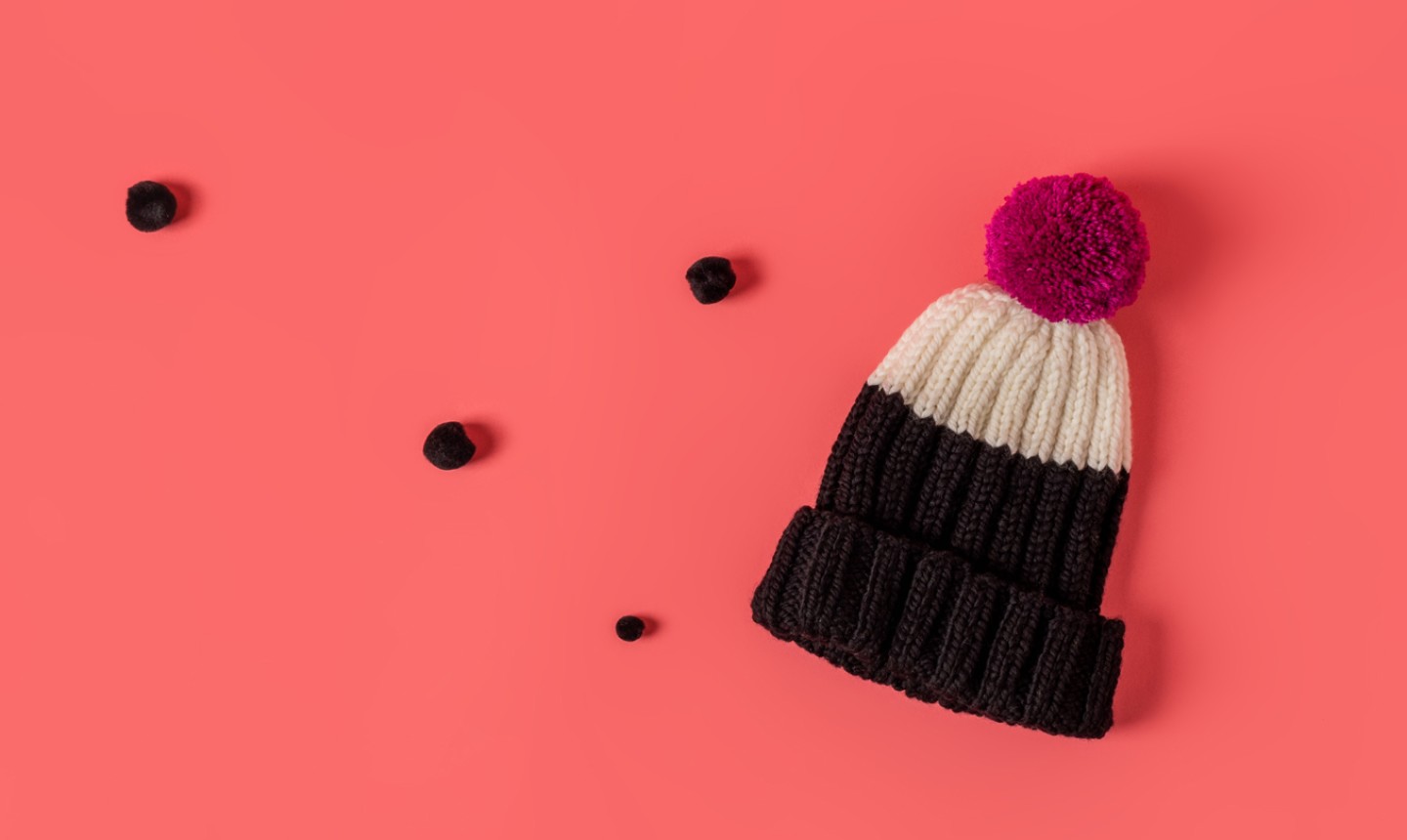 Squishy, cozy and cool: this just might be the perfect hat. It knits up super quickly (thanks bulky yarn!), and you can make a million different color-blocked variations. Seriously, try to stop after knitting just one.
Ribbed Colorblock Hat
Level: Beginner-friendly
What You Need
Main color: 1 hank Cloudborn Superwash Merino Wool Bulky (shown in Black)
Contrast color: 1 hank Cloudborn Superwash Merino Wool Bulky (shown in Ecru)
Pompom color: 1 hank Cloudborn Merino Superwash Sock Twist Yarn (shown in Raspberry)
US 10-1/2 (6.5 mm) 16″ (40 cm) circular knitting needle OR size needed to get the correct gauge
Detachable stitch marker
Tapestry needle
Pompom maker (optional)
Gauge
4 sts = 1″ in 2×2 ribbing (row gauge is not critical here; if you want your hat longer or shorter, knit more or fewer rounds)
Finished Size
15″ circumference; fits large-sized child to medium-sized woman (this hat is VERY stretchy, and the circumference is measured unstretched. It will get bigger!)
Abbreviations
CC – contrast color
CO – cast on
K – knit
K2tog – knit two together
MC – main color
P – purl
Rnd – round
St(s) – stitch(es)
Instructions
With MC, CO 60 sts. Place a stitch marker to mark the beginning of your round, and join to work in the round.
Rnds 1-34: *K2, p2; repeat from * to end of round. Cut MC, leaving a 6″ tail.
Rnds 35-48: With CC, *k2, p2; repeat from * to end of round.
Rnd 49: *K1, k2tog; repeat from * to end of round. (40 sts remain)
Rnd 50: Knit.
Rnd 51: *K2tog; repeat from * to end of round. (20 sts remain)
Pro Tip: Things might get a little tight here as you decrease. If you want to switch to double-pointed needles, you totally can. Or you can experiment with the magic loop method. OR, it's only one round…make it work!
Finishing
Cut the yarn, leaving an 8-inch tail. Thread the yarn onto your tapestry needle, and pull the the needle through the stitches in the order they're on the needle. As you pass the tapestry needle through, slip each stitch off the knitting needle. Gently pull on the yarn to tighten the stitches, and thread your tapestry needle through a second time. Pull tightly to close up the hole, and thread the tail to the inside of the hat.
Weave in your ends to the inside of your hat, and trim them. Block your hat for the smoothest stitches.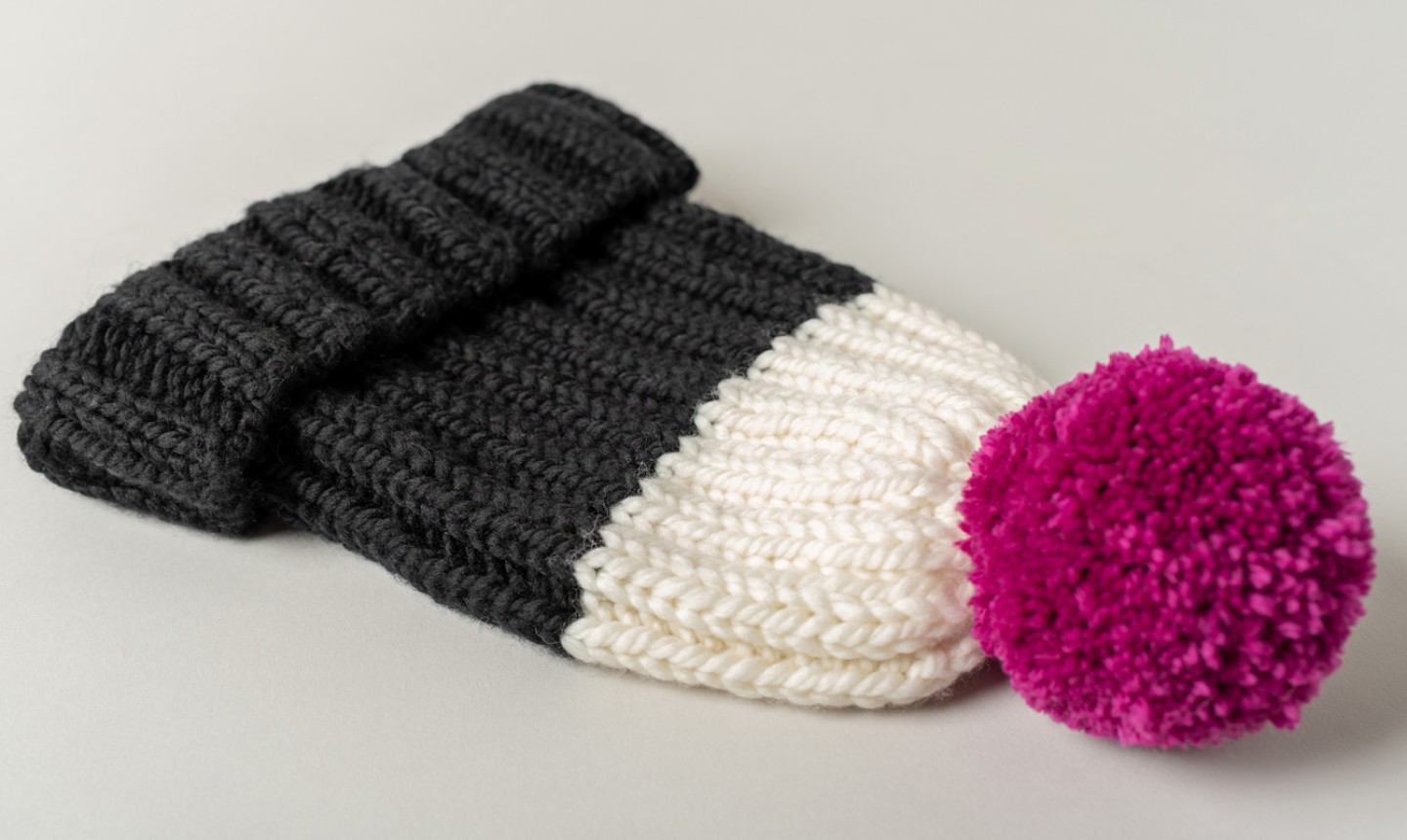 Now, it's time to pompom. Use a pompom maker if you have one, or make your own pompom with cardboard. Use the long ends of the pompom to tie the pom to the top of your hat. Pompoms don't wash well, so tie the strings in a bow — that way you can take it off when it's time to wash the hat.