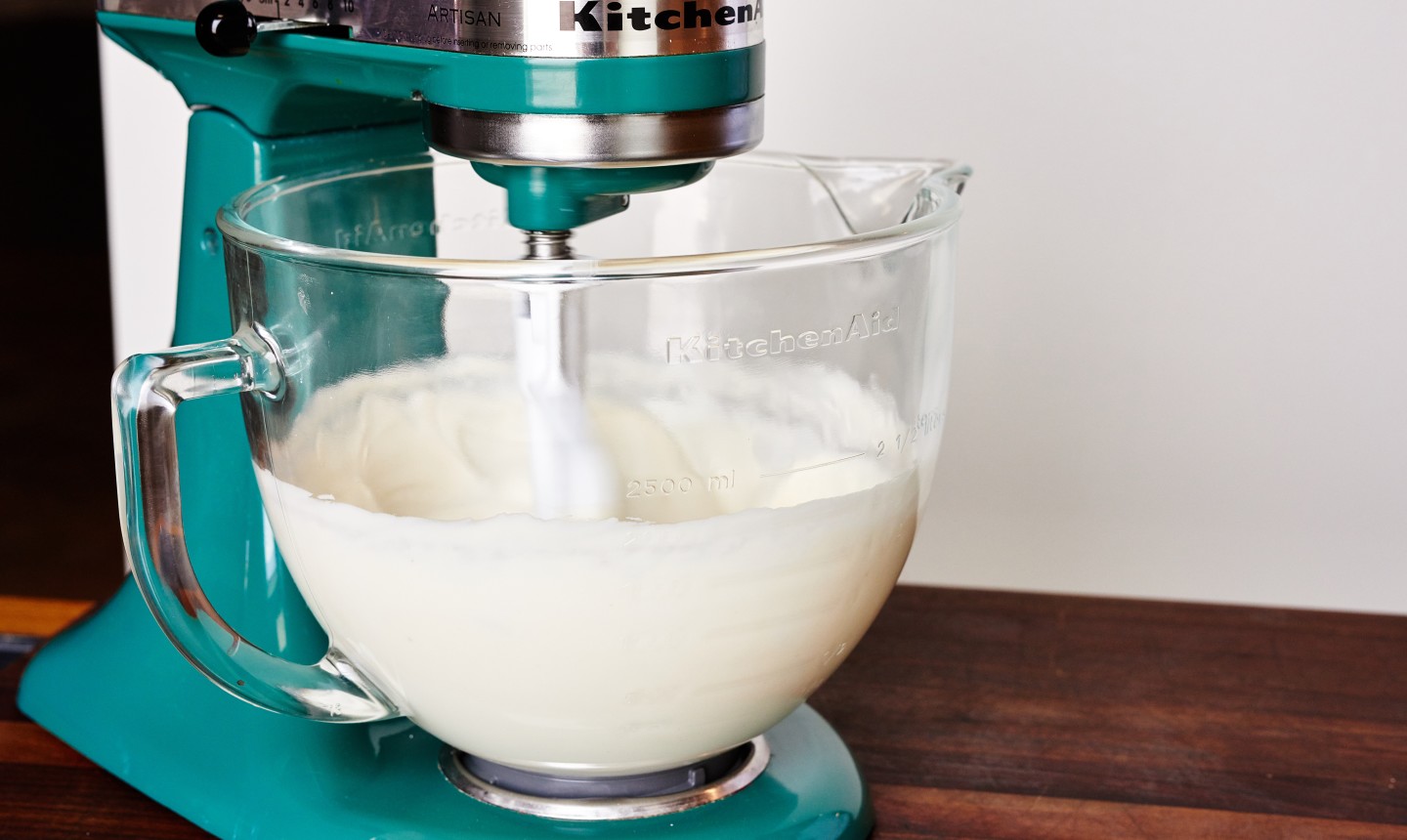 If you've decorated a cake before, chances are you know at least one of the big three buttercreams: American, Swiss meringue and Italian meringue. But you might not know the differences between these types, or that there are SO many more you can try.
For everyone who loves to lick a beater, here's the lowdown on the fluffy stuff:
1. American Buttercream
You've probably made this, and you've definitely eaten it at some point. We're talking classic birthday cake frosting made from confectioner's sugar and butter. It's thick, a little grainy (in a delicious way!), stable and very simple to make. It's the go-to for novice bakers and cake decorators.
MAKE IT
2. Swiss Meringue Buttercream
One step beyond basic American buttercream, Swiss meringue buttercream is made by by gently heating egg whites and sugar, then whipping them to a fluff before beating in the butter. The meringue makes this frosting much lighter and smoother than American or store-bought canned frosting, so it's an ideal frosting for cake decorating when you're ready to level up your technique a bit. It's also sooo easy to customize Swiss meringue buttercream into a ton of different flavors.
MAKE IT
3. Italian Meringue Buttercream
Where Swiss meringue can be fussy about the weather (humidity is the number-one enemy), Italian meringue is much more stable. So if you're baking a cake for an outdoor party in July, you might want to go this route. The technique here is a bit tricky (but totally do-able); you'll whip boiled sugar syrup into egg whites to form the Italian meringue base.
MAKE IT
4. French Buttercream
While meringue buttercreams rely only on egg whites, French buttercream is all about the yolks. Using only the egg yolks makes French buttercream incredibly rich, with a luscious golden color. But it's also very soft — too soft to hold up in decorations. So never ice your cake with French buttercream; use it as a delicious filling instead.
MAKE IT
5. German Buttercream
If you've never heard of German buttercream, it's time to change that. German buttercream is one of the more obscure types, made from a cooked egg custard base. It's sweet and creamy and can be used just like classic frosting. But make sure you plan ahead, as the custard needs a few hours to chill before being whipped with the butter.
MAKE IT
6. Rolled Buttercream
No, this isn't homemade fondant , but we can see why you'd think so. Rolled buttercream is used to cover a cake just like fondant, but it's still buttercream — squishier, softer and much more forgiving than traditional sugar paste. Make sure you have a bench scraper handy!
MAKE IT
7. Cooked Buttercream
Also known as Ermine Frosting or flour buttercream, cooked buttercream is fluffy, creamy and light — not unlike Swiss meringue! The secret here is a cooked milk-and-starch base that sounds a little icky, but actually works like a dream and tastes delish. Cooked buttercream is a great substitute for a meringue-based recipe and is extremely easy to pipe into designs.
MAKE IT
8. Vegan Buttercream
No dairy or eggs, no sweat. This buttercream is made from coconut oil, which is a superb vegan alternative for frosting, but comes with a few challenges: for one, you have to make sure the buttercream is kept cool so it won't melt away.
MAKE IT