Whitework embroidery is an umbrella term for hand embroidery worked with white threads on white fabrics. Although white-on-white embroidery may sound somewhat dull in our color-saturated world, it is one of the most pristine, elegant and timeless styles of embroidery.
Today, let's explore basic whitework embroidery and the stitches, fabric, threads and patterns that you can use to create your own whitework masterpiece.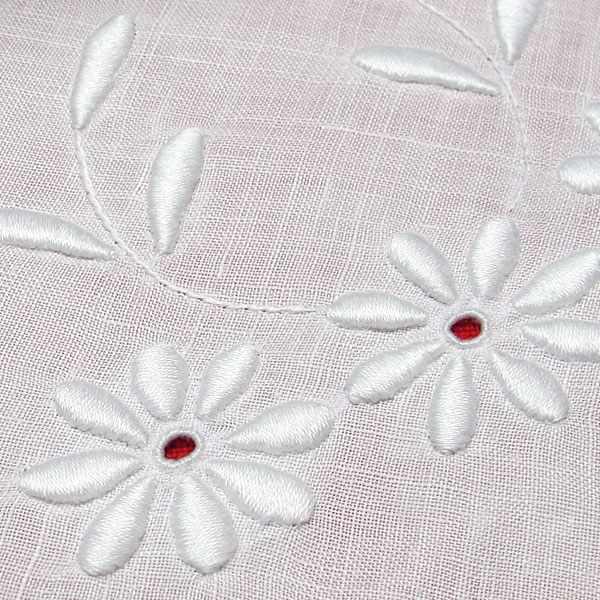 Photos via Needle 'n Thread
Stitches in whitework embroidery
In its simple forms, whitework embroidery features familiar stitches like the stem stitch, chain stitch, buttonhole stitch, satin stitch, seed stitch, French knots and the like.
To me, this is the best thing about whitework — although it looks advanced, just a few simple stitches can yield stunning results!
These basic stitches are easy to learn. Most of them are covered in Design It, Stitch It: Hand Embroidery, by Jessica Marquez, an eight-part Bluprint class that focuses on the basics of hand embroidery. The online class provides an excellent introduction to basic embroidery stitches that can be used in whitework and all other types of surface embroidery. It's taught at a nice, easy-going pace, too, so that you can take your time and really learn the stitches.
It's all about texture and contrast
Because whitework is essentially white-on-white embroidery, the key to making the embroidery really pop — making it very visual and appealing — is the use of texture and contrast.
Stitches and threads that provide different levels of texture and contrast ensure that the embroidery is noticeable and attractive.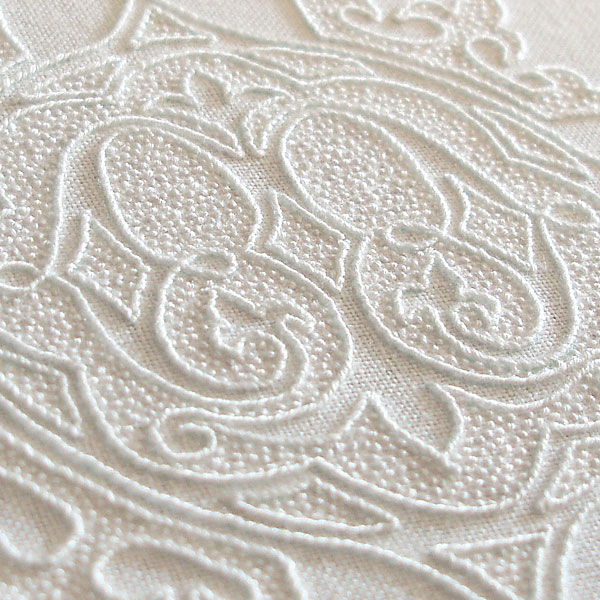 In the photo above, the entire piece (a voided monogram design) is embroidered with only two stitches: whipped backstitch and seed stitch. What could be easier? Simple stitches can yield beautiful results!
The whipped backstitch provides a raised outline around the seed-stitch filling, which provides texture. Finally, there's a definite contrast between the areas filled with seed stitch and the voided monogram area, where just the smooth linen fabric is visible. This combination of texture and contrast makes the embroidery highly visible, despite the lack of color.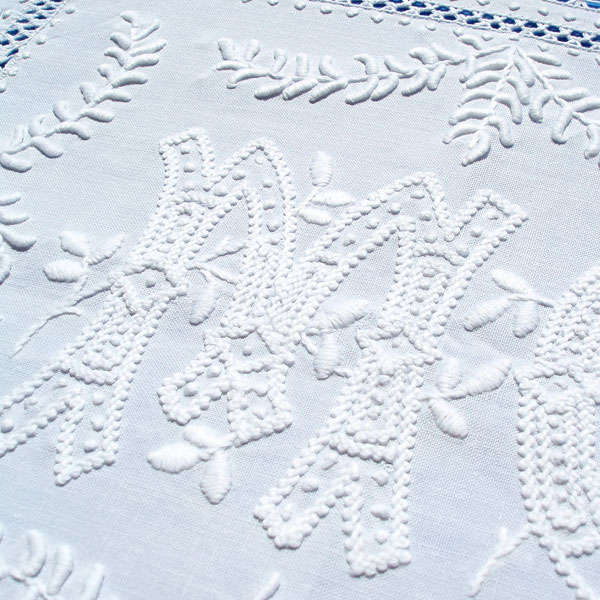 The whitework embroidery above features a monogram embroidered in braid stitch (also called cable plait stitch) and further embellished all around with leafy sprigs in stem stitch, satin stitch and bullion knots. All these stitches provide abundant texture to enhance the design.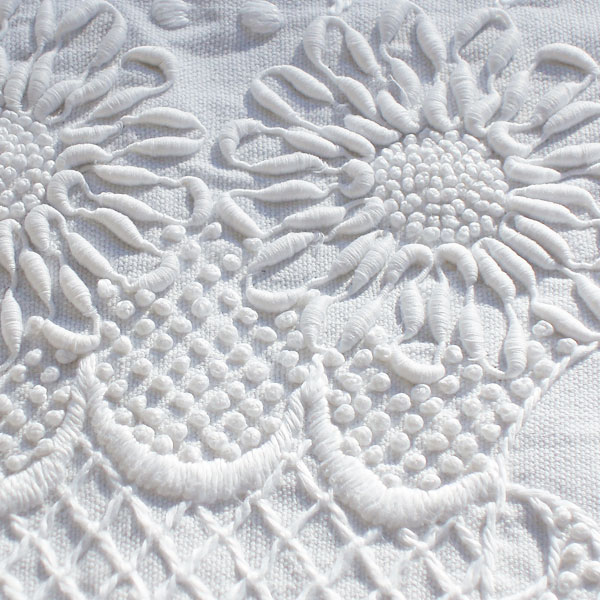 Combining French knots, stem stitch, satin stitch and couched cord creates a bold, textured effect in the whitework sample above.
You can create varying degrees of texture in whitework by using different weights of thread. A heavy thread such as pearl cotton will create a much chunkier French knot, while a fine embroidery thread, such as a single strand of floss, will create a delicate and tiny knot.
Ground fabric for whitework embroidery
The most popular ground fabric for whitework is linen. Because most forms of whitework are surface embroidery techniques (as opposed to counted techniques), it's important to choose a linen that has a close weave, without noticeable holes between the warp and weft threads. Whitework is often densely stitched, and a flimsy or loosely woven fabric won't support dense stitches very well.
Some typical linens perfect for very fine whitework include shadow work linen, handkerchief linen and cambric. For more robust, dense whitework on household linens, look for medium weight linen with a full, close weave.
Today, it's not unusual to see whitework techniques on natural or colored ground fabrics. The monogram above is worked in high relief satin stitch in white threads on linen. Though this isn't technically proper whitework because it's not white-on-white embroidery, it's still gorgeous, and the white threads really display themselves beautifully, thanks to the contrast provided by the ground fabric. In some books written today, you'll see whitework worked on fabric other than white — so don't be confused!
Cotton is also a suitable ground fabric for whitework. In fact, Mountmellick embroidery, a whitework technique hailing from Ireland, relies on cotton sateen as essential to this style of whitework. Cotton twill, a heavy fabric, can be used effectively for bold, rustic whitework projects, while cotton batiste makes an excellent ground fabric for very fine whitework.
Threads for whitework embroidery
When you look at a piece of vintage linen immaculately embroidered in white, you might notice that the threads seem softer, shinier, smoother and a little thicker than regular embroidery floss.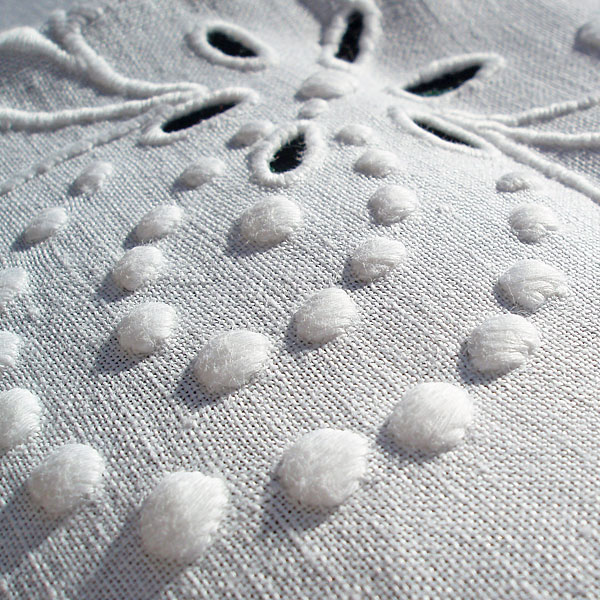 The most common thread used for whitework is called coton a broder, or broder coton, or broder special — all names for the same thread. Coton a broder is a mercerized cotton thread that's non-divisible. In simple terms, it has a sheen to it and you can't break it down into separate usable threads.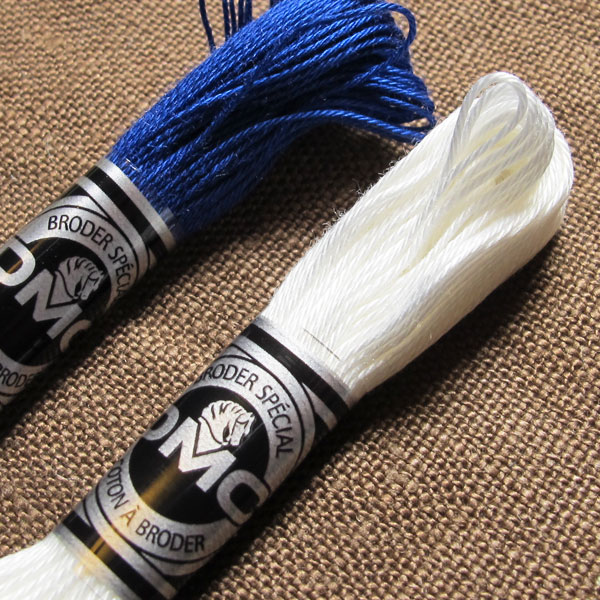 The thread comes in a skein like regular floss. Unlike regular floss, though, coton a broder is made up of four tiny plies all twisted softly into one thread. Think of it like pearl cotton, only finer and not as tightly twisted.
Coton a broder in white is available in several weights or thicknesses, indicated by number. The sizes available in the US are 16, 20, 25 and 30, with 16 being the thickest and 30 being the finest. Number 25 also comes in a wide range of colors (more than 180), and is perfectly suitable for many types of surface embroidery.
The thread is about the weight of 1 1/2 single strands of DMC cotton floss, and it works best with a size 8 crewel needle.
Finally, coton a broder stitches up beautifully! If you've ever longed to make a gorgeous satin stitch, but haven't been able to achieve it, try it with coton a broder. You'll be amazed at how smooth your satin stitches can be!
Other threads for whitework
Besides coton a broder, many other threads work well for whitework. Regular stranded cotton, pearl cottons in various weights, cotton floche, cotton cordonnet — all of these are suitable cottons for whitework.
Silk thread can also be used for whitework, although it isn't as commonly used. Stranded silks, buttonhole silk, flat and twisted filament silks look wonderful in white-on-white embroidery, and the various weights and twists provide good texture. Just be careful about laundering! If your whitework is meant to be laundered, cotton would be a better choice.
Even linen and wool threads in different weights can be effectively used for whitework. As with any embroidery technique, experimenting with different threads will help you develop your own particular style.
Patterns for whitework embroidery
Basic whitework embroidery doesn't require a special pattern! You can adapt pretty much any type of pattern into whitework.
Image via Bluprint member StitchX Cross Stitch Designs
Simple line patterns make lovely whitework pieces. Imagine, for example, working some of the designs from this hand embroidery pattern collection, Glorious Trees, using white thread on white linen to create napkins for your holiday table. The designs may seem more suited for redwork and similar techniques, but they'd be great in white-on-white! The result would be elegant, yet whimsical.
Some of my favorite sources for vintage-style embroidery patterns for whitework and similar techniques can be found online for free. The Antique Pattern Library, for example, has an astounding collection of online embroidery books, many of which sport patterns that are perfect for whitework.
And that's your not-so-brief overview of whitework embroidery! I hope it inspires you to pick up some white fabric and thread and try your hand at creating your own whitework masterpiece.
Now it's your turn to 'fess up and leave a comment below!
Are you a fan of white-on-white embroidery, or do you thrive on color? What appeals to you about whitework?
Add Dimension to Your Hand Embroidery
Learn everything you need to know for stunning, dimensional stitching success!Get My FREE Guide »