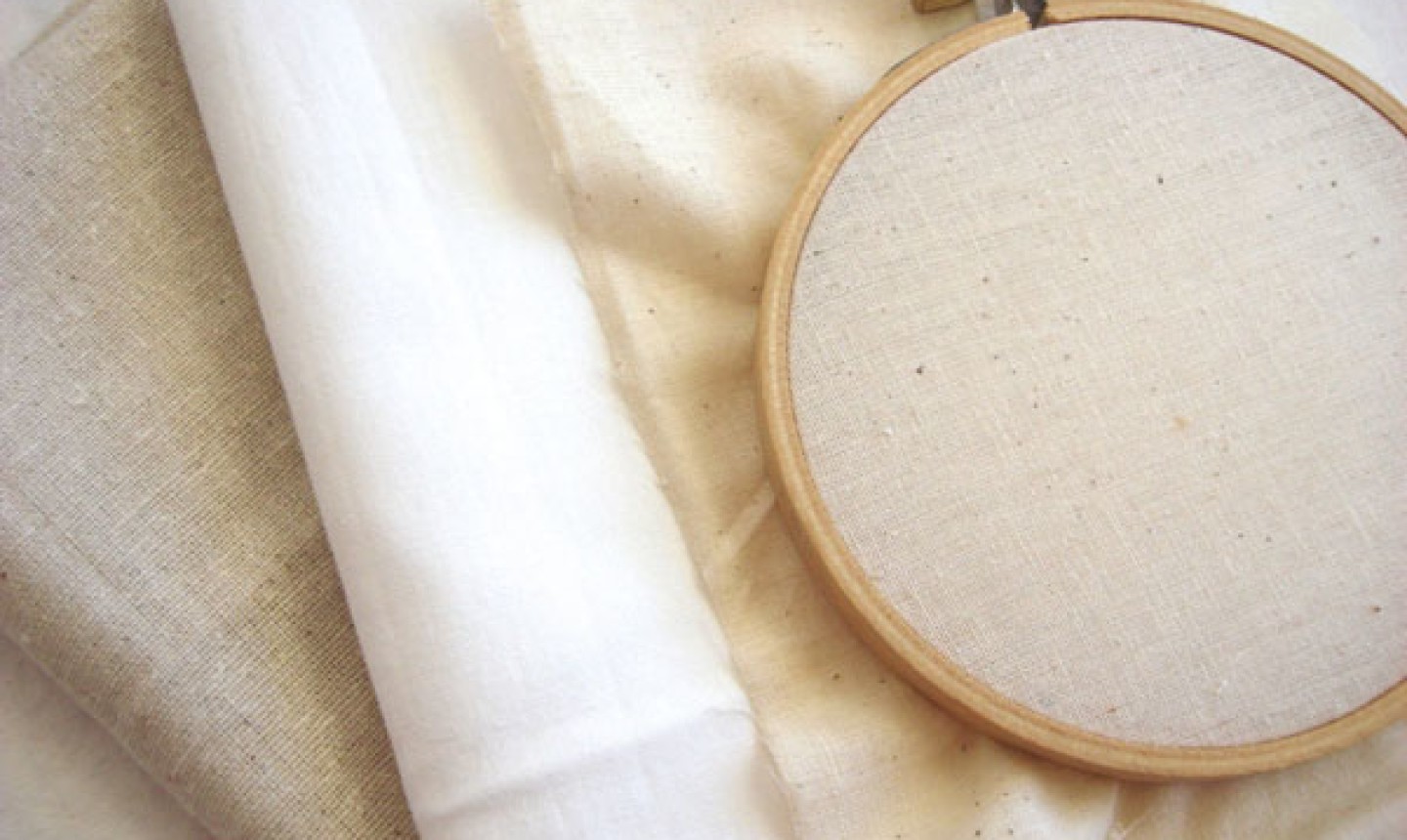 Floss often gets the spotlight in hand embroidery, but the fabric that floss is stitched on is just as critical to the finished look of your project. The right background fabric (or "ground") will support and showcase your gorgeous stitching. But if you use the wrong kind, you can stretch, pucker and even distort your design, ruining all that hard work. Continue reading to learn tips for choosing the right embroidery fabric.
So if you're not a fan of unpicking hundreds of stitches (and we're guessing you're not), here's how to choose — and prep! — the best foundation for your floss every time.
1. Know Your Thread Count
Just as in bed linens, thread count (the number of threads in one square inch) matters in embroidery fabric. The difference is that we're looking for a lower number so that the weave isn't too tight. (If it is, it'll be tough — possibly even painful — to do your stitching.) Generally, fabrics with thread counts under 150, such as muslin, cotton, Aida, linen, Flour Sack and Osnaburg, will allow you to pull a needle and thread through without any problem.
Good to Know Some of our favorite embroidery fabrics are muslin and Osnaburg (both cottons): Osnaburg has a neutral color, which allows you to embellish it with all sorts of brightly-colored flosses, while muslin comes in natural unbleached or bleached white. Both have looser weaves (though muslin is a bit tighter), making them winners for hand embroidery.
2. Go Au Naturel
You can keep your clothes on, but look for fabric made from natural materials, like cotton, linen, silk, wool or a blend of these. Natural textiles tend to be soft, yet are sturdy enough to support decorative stitching. Plus, they have fibers that run both horizontally and vertically, which allows a needle to easily pass through. With synthetics, your needle may perforate threads, causing it to fray over time.
3. Consider Kona for Quilting
If you're hand embroidering a quilt, you can't go wrong with Kona (or "quilters") cotton. It's lightweight, will stay taught in a hoop, and has an embroidery-friendly 120 thread count. It's also less sheer than other types of cotton, which means your stitches won't show through.
4. Pre-Wash to Avoid Puckering
Always launder your fabric before you start stitching. This tightens up the weave, making sure it's consistent across the panel. It also pre-shrinks the fabric, which is key if you'll be incorporating your embroidery onto a shirt, quilt or other fabric project that may get washed.
5. Stabilize the Situation
If you're planning to make any heavy or layered designs — or you'll be embroidering with beads, buttons or other accents — consider adding a stabilizer or interfacing to the back of your ground fabric. This will make it strong enough to handle heavier stitching, but won't change the look of your project.
6. When in Doubt, Try It Out
Really, the best way to choose a fabric is to pick up a few samples, do some stitching, and see which one works and looks the best for your particular project. Every textile you try adds to your embroidery expertise, and pretty soon you'll intuitively know which fabric is the right choice.