Thinking about taking a hand embroidery class but not sure which one is the right fit? Read on and choose the perfect class to get you stitching with wool, ribbon, yarn and beads!
Just starting out? These classes are perfect for beginner stitchers!
(If you've already mastered beginner basics, scroll down to find intermediate embroidery courses that are bound to challenge you and grow your skills!)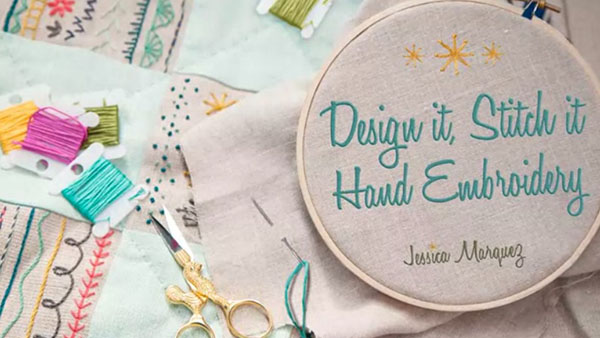 Design It, Stitch It: Hand Embroidery
Jessica Marquez shows you how to embroider 25 decorative stitches, including flat, looped, French knots, fill stitches and satin stitches in her popular online embroidery course Design It, Stitch It: Hand Embroidery. You will also learn three easy ways to transfer embroidery designs to fabric.
What students are saying:
"I find that even after completing the course I often go back to refresh my memory on various stitches as I work on projects. I love her patient and thorough explanations, and how close the camera is to the stitches so you can see how the patterns form." –  JackieB42
Embroidering With Ribbon
Learn gorgeous ribbon embroidery from expert Mary Jo Hiney as you create a beautiful velvet-covered box with embroidery and beading in Embroidering With Ribbon. Creating ribbon rosettes becomes effortless, but it sure doesn't look that way!
What students are saying:
"Mary Jo is a wonderful teacher. I love her stitch library samplers that provide a visual resource. This is a great class for anyone who wants to learn or expand their skills of silk ribbon embroidery." – Sandi from PA

Stitch It With Wool: Crewel Embroidery
Wool is such a wonderful medium to stitch. Learn how to add texture and dimension with embellished and sculpted stitching, and you'll soon see the possibilities are endless! Kristin Nicholas shows you more than two-dozen stitches you can use to create two pillow covers in Stitch It With Wool: Crewel Embroidery.
What students are saying:
"I like the slow methodical teaching style. Each stitch is demonstrated from starting point to finishing off. I am learning a lot, even though I have been an embroiderer for decades."  sandyrumsey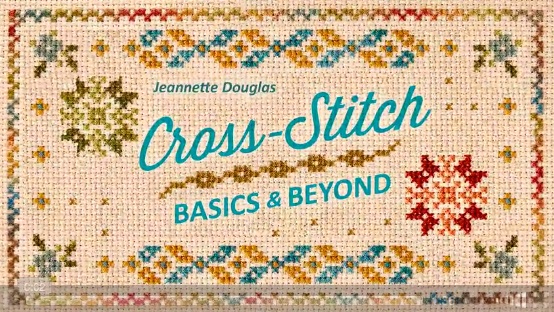 Cross-Stitch: Basics & Beyond
Cross-Stitch: Basics & Beyond is the newest addition to the Bluprint hand embroidery courses. Expert instructor Jeannette Douglas shows you how to cross-stitch by creating a beautiful sampler. Along the way, you will learn how to calculate fabric, work specialty stitches, and add beads for a gorgeous finish!
What students are saying:
"I learned a better way to find a starting point; I learned the advantages of completing a cross-stitch when you're using hand-painted thread or multiple colors close together; I learned why linen may be preferable to Aida cloth if you are embellishing with other stitches or beads; and I could go on…I would definitely recommend this class to any beginner or self-taught cross-stitcher wishing to advance."  – mamamiabarb
Try one of these intermediate hand embroidery courses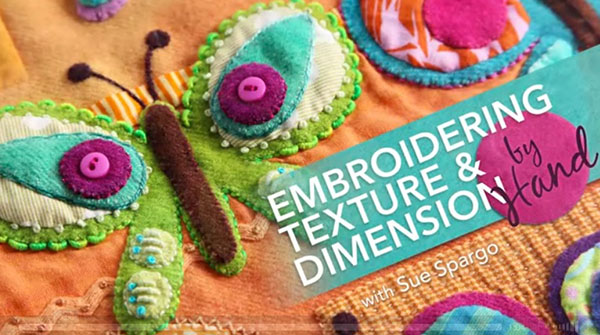 Embroidering Texture & Dimension by Hand
Sue Spargo demonstrates how appliqué can be used as a palette for beautiful stitching in Embroidering Texture & Dimension by Hand. She will show you decorative edge stitches in additional to woven picot, buttonhole filler stitch, and trellis stitch.
What students are saying:
"Sue teaches with great variety and depth. We learn from example which she shows in detail. Couching threads vary with color,size of thread, and types of threads. I learned that many threads and thickness add a creative element to your overall design." – Donna Anderson
Bead Embroidery
How can hand embroidery possible get any more beautiful? With the addition of beads, of course!  Myra Wood offers two classes. In the first, Bead Embroidery, she will show you how to attach single beads as well as create beaded flowers and leaves. You'll stitch up a lovely treasure box or drawstring bag and show off your bedazzling beading skills!
What students are saying:
"Myra is not only a great instructor who clearly shows step by step the embroidery stitches, but the camera work was outstanding too with closeups that allow you to see exactly what is happening. Myra is very talented and creative and passes on not only her knowledge, but her passion for beading in this class."  Sewphistic8ed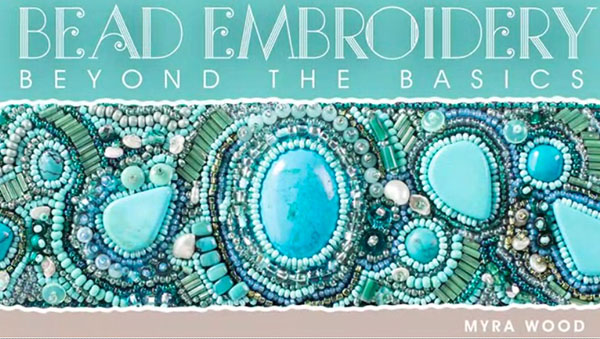 Bead Embroidery: Beyond the Basics
Take your beading to the next level with Myra's second class, Bead Embroidery: Beyond the Basics. Expand on your embroidery skills by creating a sparkling butterfly barrette, learn about proper stabilization and needle usage, then create a beaded bracelet, box, and lampshade with beaded fringe. After taking this class, you will want to cover most anything in beads!
What students are saying:
"I have always been attracted to beaded everything and wanted to learn the basics. This is a PERFECT class. Myra is an excellent and enthusiastic instructor. The camera work is amazing as you can see exactly what needs to happen and where. There are so many really cool beading options demonstrated. I think this is my favorite Bluprint class so far! Extremely well done!!!" – Minicats2
Which of these hand embroidery courses are you most excited to try?