It may be pouring snow out there, but we knitters don't care. Yucky weather just gives us yet another excuse to stay inside and knit. (As if we needed another excuse…)
Instead of dreaming about summer, embrace the cold this month with snowflake knitting patterns. Next time you do venture out into the cold, you'll have a brand new accessory to keep you warm.
These snowflake knitting patterns from Bluprint have winter knitting covered, whether you need a new pair of gloves or a cozy throw for the sofa. Find your perfect winter snowflake knitting pattern, snuggle up under the covers, and start knitting!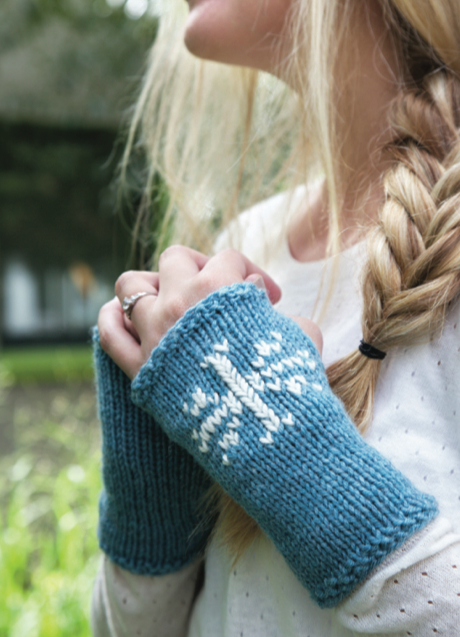 1 Hour Fingerless Snowflake Gloves
Designed by Bluprint instructor Stefanie Japel, these gloves are perfect for ice skating, typing, and any other activity that might require the use of your fingers. Knitting gloves for the first time? Let Stefanie show you how it's done in this snowflake gloves YouTube video.
Get the FREE 1 Hour Fingerless Snowflake Gloves pattern here.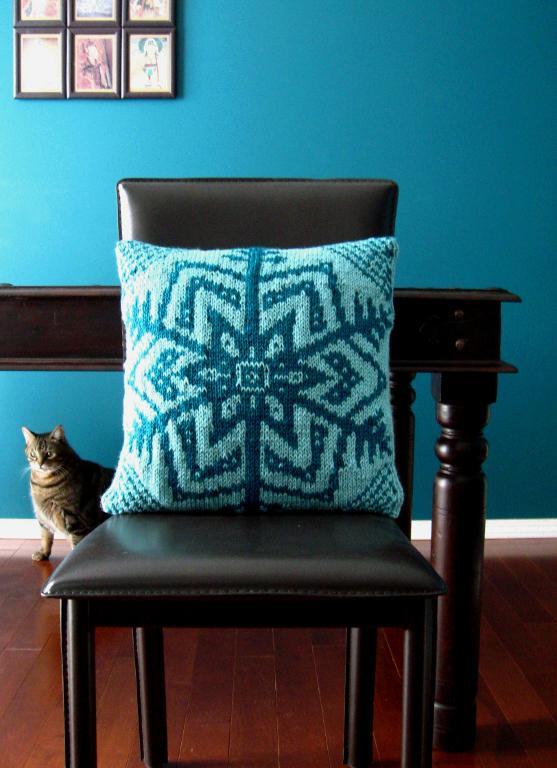 Photo via Bluprint member kraftling
Snowflake Cushion Cover
Snow and gettin' cozy go hand in hand. Why not stitch yourself a lovely pillow cover to add even more coziness to your couch and chairs while you lounge? I love the colors in this one, but you could change it up to match your decor.
Get the Snowflake Cushion Cover pattern here.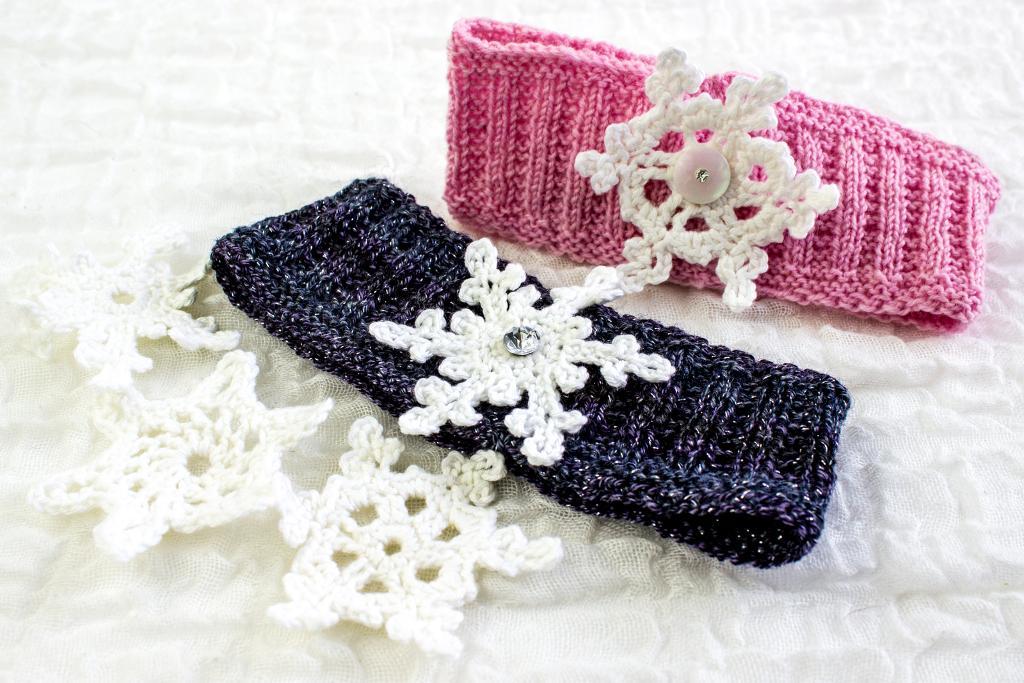 Photo via Bluprint member Alma Mahler
Snowflake Earwarmers
The downside to pretty snow: numb, freezing cold ears! These earwarmers can be knit flat or in the round, depending on what you prefer. The pattern comes iwth instructions for three different snowflake designs that can be used on these earwarmers, plus any other accessory you'd like to sew it on.
Get the Snowflake Earwarmers pattern here.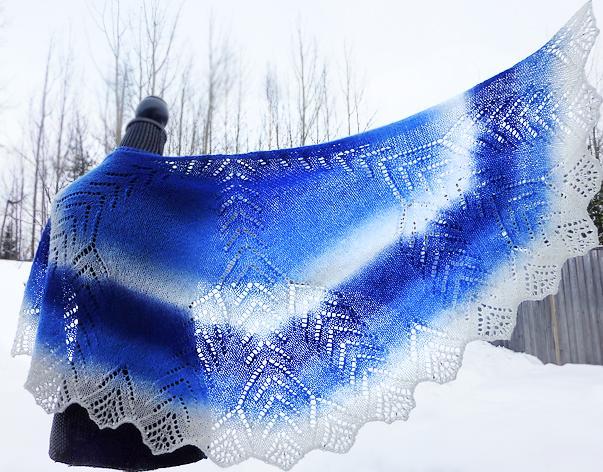 Photo via Bluprint member Mia Rinde
Snow Crystal Shawl
Wow. If  you're crazy about lace knitting — or just want to try it — this is the winter shawl for you. I'm nuts about these colors and the snowflake design created with them. There are also instructions for adding beads to make your shawl sparkle.
Feeling uneasy about the lace? Bluprint's got you covered! Lace Knitting: Basics and Beyond with Eunny Jang will teach you everything you need to know about yarn overs, increases, and decreases. You'll make a gorgeous scarf and scarflette, plus be armed with the skills to make shawls like the Snow Crystal Shawl.
Get the Snow Crystal shawl pattern here.
Photo via Bluprint member Kulabra Designs
Snowflake Mittens
Grab those double-pointed needles to knit up these stunning snowflake mittens. There's no need to worry about multiple sizes in the pattern; use fingering-weight or sport-weight yarn, depending on how large you'd like your mittens to be.
If you're new to stranded colorwork, check out Sunne Meyer's Stranded Colorwork: Basics & Beyond class. You'll learn how to read colorwork charts, secure those floats on the wrong side of the work, and more.
Get the Snowflake Mittens pattern here.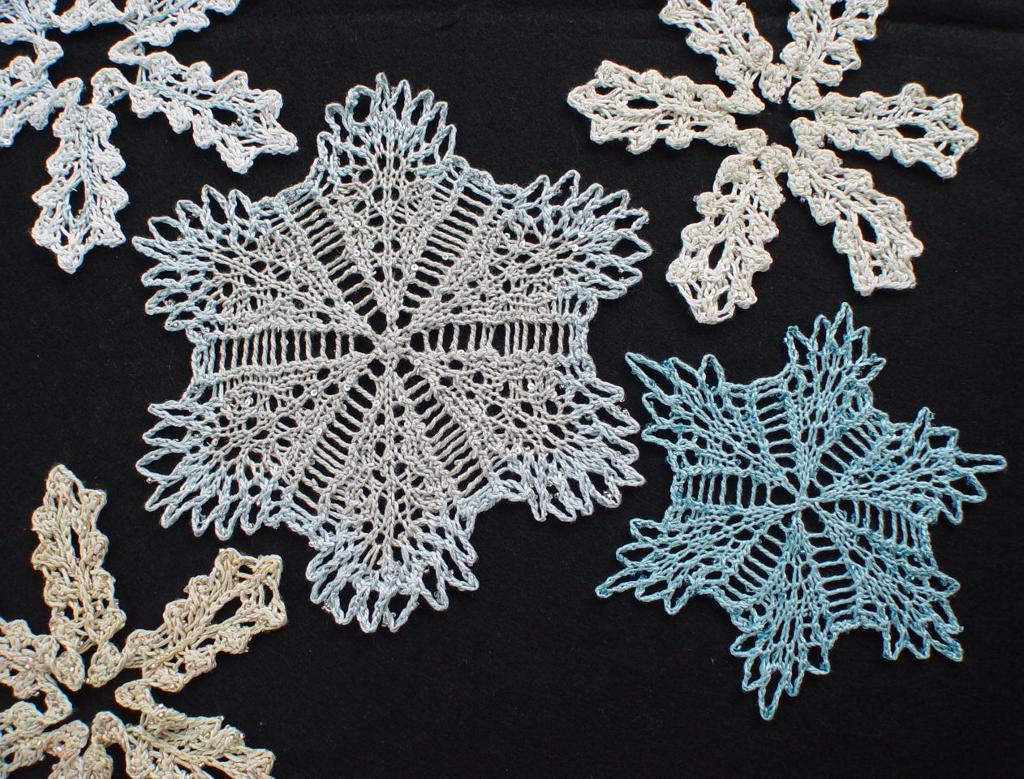 Photo via Bluprint member JackieES
Lacyflakes Knitted Snowflake Medallions
Designer JackieES encourages knitters to avoid limiting their snowflake color to white. Experiment with all kinds of colors, including the sparkly yarns that have beads. Like actual snowflakes, no two have to be alike! You could string these together to make a wintery bunting, or just apply them as applique to sweaters, totes, and anything else that needs a little touch of snow.
Get the Lacyflakes Knitted Snowflake Medallions pattern here.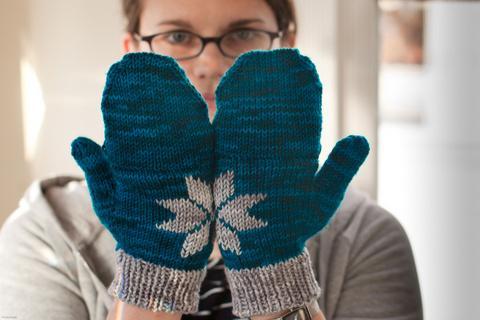 Photo via Bluprint member MariKnits
Two Hands Make a Snowflake
Convertible gloves — the kind that are a mitten and fingerless gloves in one — are my favorite winter accessory. They're so versatile and convenient.  If you're a beginner, don't be intimidated by the snowflake colorwork. You can use either intarsia or duplicate stitch to add the snowflake.
Get the Two Hands Make a Snowflake pattern here.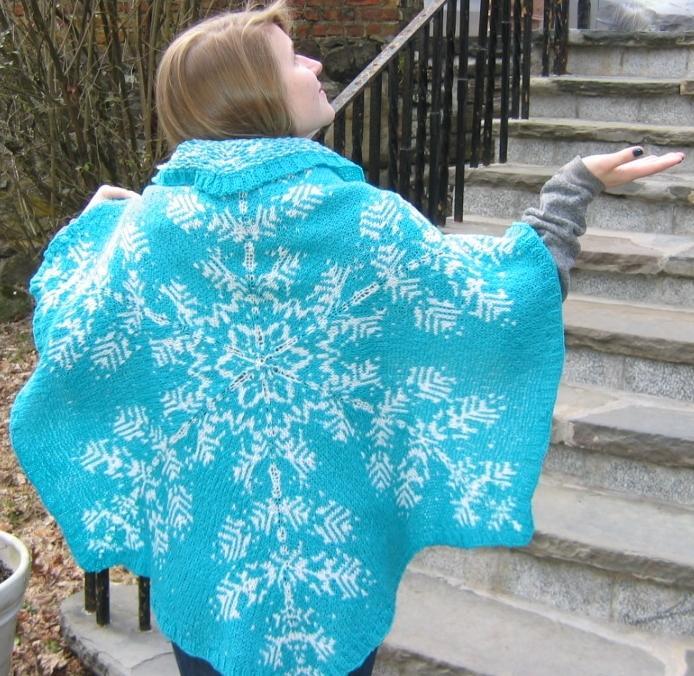 Photo via Bluprint member Patchworks by D
Snowflake Shawl
Shawl or throw? The choice is yours! This versatile pattern can be either. I love the traditional snowflake colors in the sample pictured above, but I could also see this in a nice gray and white, too! You'll need to know how to do a bit of stranded colorwork to stitch this pattern, so be prepared to trap those floats!
Get the Snowflake Shawl pattern here.
What do you knit when the weather is gross and frightful?