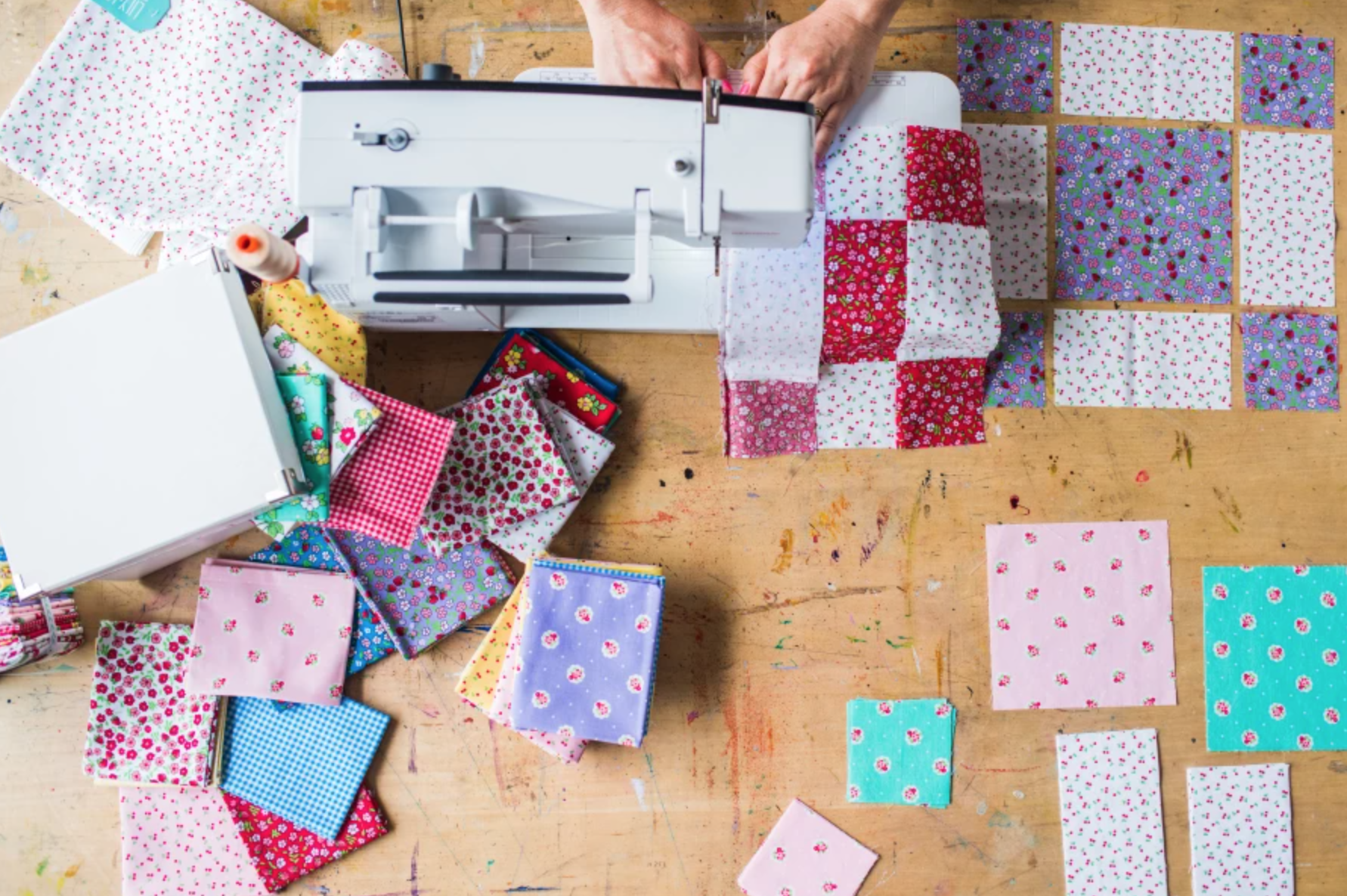 Having a dedicated space for quilting is like having a little haven in your house. But with constant WIPs and late-night quilting sessions (especially for fans of the Midnight Quilt Show), it's easy for your studio to turn from sanctuary to stressful. But don't sweat — it's simple to keep your quilting room organized, especially if you follow these hacks.
1. Store Your Most-Used Items in Easy-to-Access Places
Nobody wants to dig around for items constantly being used, so keep those supplies close to where you use them. For example, you could store scissors and a pincushion next to your sewing machine, and keep cutting mats, rulers and rotary cutters in your cutting area. Waste cans or thread keepers should be anywhere you trim — by your machine, at the cutting table and on your ironing board, for instance.
2. Keep Work Surfaces Clear
Storing supplies at your various work stations doesn't mean everything should be splayed out in a mess. Make sure all your goodies have a place to call home so it's easy to stow away after each creative session. After all, it's much easier to sit down and get in a groove when you keep your spaces ready to use.
3. Have a System for Pattern Storage
There's nothing worse than not being able to find one of your patterns. Having a system in place not only helps you find what you're looking for quickly, but prevents you from accidentally buying the same pattern twice. Here are a few ideas for keeping your patterns organized:
Use bins for frequently used patterns or projects you're going to start soon.
Group unused patterns by designer or type of pattern: jelly roll quilts, fat quarter quilts, table runners, baby quilts, bags, etc.
Store patterns in plastic sheet protectors in notebooks organized by pattern type.
Use a filing cabinet or vertical hanging files to make it easy to move patterns between categories, and to add or change category names.
4. Use Labels Wherever Possible
It doesn't do much good to store your threads, notions and tools if you don't know where anything is. Use a label maker to create labels for every box, storage bin and drawer. You could also make a master list for items used less frequently.
5. Keep Your Fabric Together
There are a ton of ways to organize your fabric depending on your personal preference and space. But keeping your fabric all in one spot will make it easier to keep tabs on what you have enough of — and what you need to stock up on.
6. Don't Be Afraid to Make Changes
An organizing system is only good if it works for you, so feel free to reevaluate and make changes whenever necessary. If you consistently have trouble finding the same item, you may need to come up with a new storage plan.
7. Donate or Sell Items You No Longer Use
Rule number 1 of decluttering: don't keep anything you don't intend to use. Research charities in your area that'll take crafty donations, or look into selling items — like that old sewing machine — to make a few extra bucks.