Having a dedicated space for sewing and quilting is a great way to not only keep projects and supplies organized but also makes it easier to finish things up. Here are some quilt studio organization ideas perfect if you have a sewing room or studio.
Create your dream stitching room with these studio organization ideas!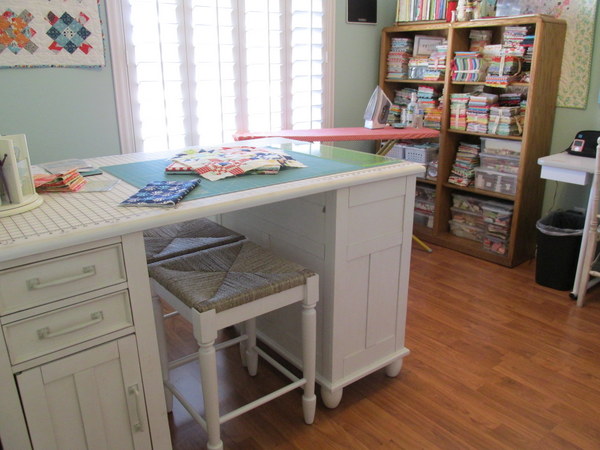 All photos via A Quilting Life
Being organized for sewing and quilting makes it much easier and more fun to accomplish your creative goals. Organization principles that apply to the rest of your home also apply to your sewing area or space. Let's take a look at some of those ideas and see how you can incorporate them to have a more organized quilting life.
Store most used items in easy to access places
Things that you use frequently should be kept out in the open or within easy access of where you'll use them. For example, store scissors and a pincushion next to your sewing machine; keep mats, rulers, and rotary cutters at your cutting area. Keep waste cans or thread keepers anywhere you're trimming — you probably need one at your machine, one at the cutting table, and one at your ironing board.
Keep work surfaces clear
It's going to be easier to sit down and tackle a project or start something new if you are diligent about keeping your spaces ready to use. This includes your sewing machine work area, your cutting area, and even your iron board. I only keep my iron, spray starch, and a small metallic bowl which "sticks" to my board and which holds a small pair of scissors at the end of my ironing board. That way the full surface of the board is available for use at all times.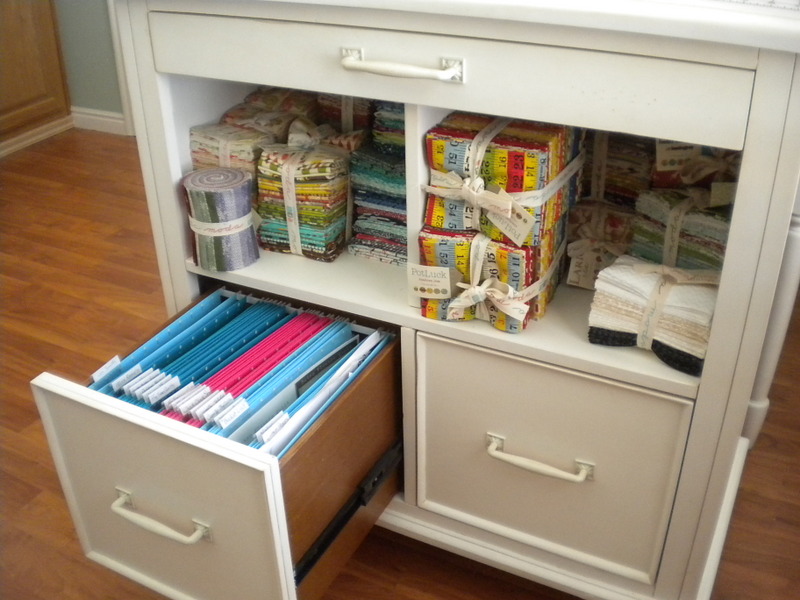 Have a system for pattern storage
It's frustrating when you can't find a pattern that you know you have. Having a system in place for pattern storage prevents you from buying the same pattern twice and helps you to find what you're looking for in a timely manner. Here are some ideas for pattern storage:
Use bins for frequently used patterns or projects you are going to start soon.
Group unused patterns by designer or type of pattern: jelly roll quilts, fat quarter quilts, table runners, baby quilts, bags
Go through magazines and pull patterns for later use. Store in plastic sheet protectors in notebooks organized by pattern type. This also works well for pdf patterns you purchase on-line.
Think about using a filing cabinet if you have space. Vertical hanging files are a very efficient way to store patterns. It's easy to move patterns from one category to another and to add or change category names if you use this method, too.
Use labels where possible
It doesn't help to have threads, notions, and tools well-organized if you don't know where anything is. Purchase a label maker to make self-stick labels to place on plastic boxes. Or make cardstock labels to hang with ribbon from storage baskets or bins. You might also consider making a master list for items used less frequently.
Reevaluate and make changes when necessary
An organizing system is only good if it works for you, so don't be afraid to reevaluate and make changes whenever necessary. If you consistently have trouble finding the same item then you might need to come up with a new storage plan for that.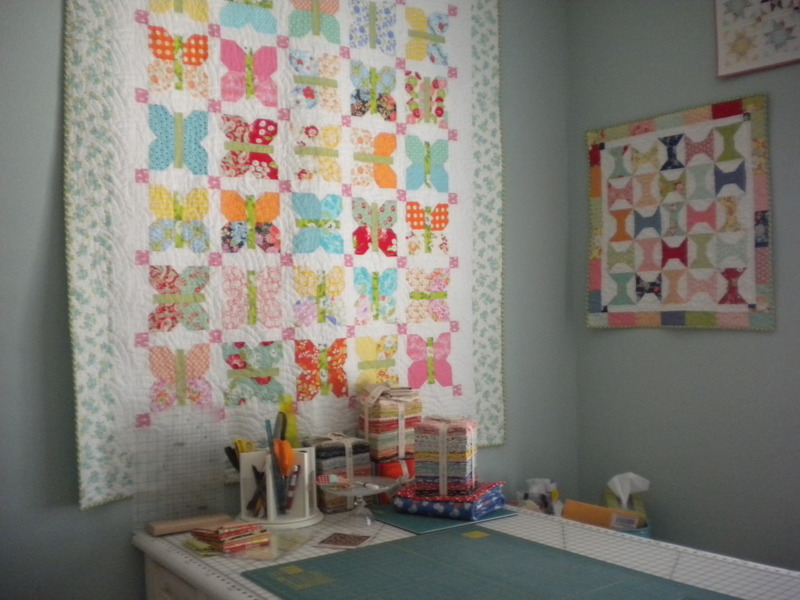 Plan to donate or sell items you won't be using
Senior centers and charity organizations are happy to accept fabric and sewing supply donations. You can also sell unused fabrics and items. Because the old saying "One person's trash is another person's treasure" is also true for fabrics and supplies.
What are your favorite sewing space organization tips and ideas?